Clearly tried comparing Nissin 's "Cup Curry Rice Beef Curry" made with consciousness of cup noodles and eating 3 kinds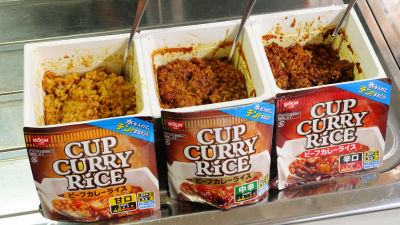 Nissin Foods will be available from September 2 (Monday)Cup Curry Rice Beef Curry Sweet & Medium Spicy - DryWe released three kinds of new products. Speaking of Nissin's cup's rice items, in the pastCup noodle rice dinner curry flavorYaCup noodle riceEtc. are released as new products like every year, but it is the current situation that they are not established. Three types of hotness were prepared for this cup curry rice and I tried to eat it because I was concerned about what it tastes like.

News Details | News Releases | Company Information | Nissin Foods
http://www.nissinfoods.co.jp/com/news/news_release.html?nid=3198

The package of cup curry rice beef curry is obviously designed to be conscious of cup noodle.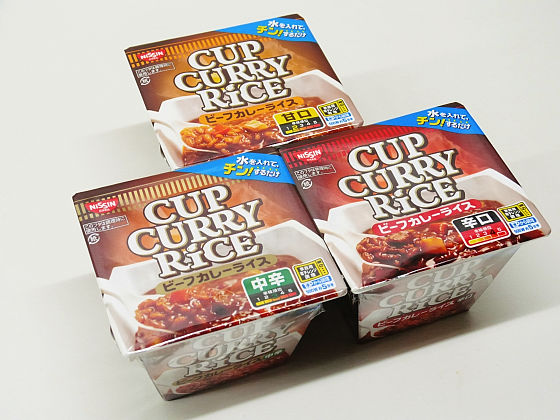 The shape is a trapezoidal cube and is about the size that you can get on the palm of your hand.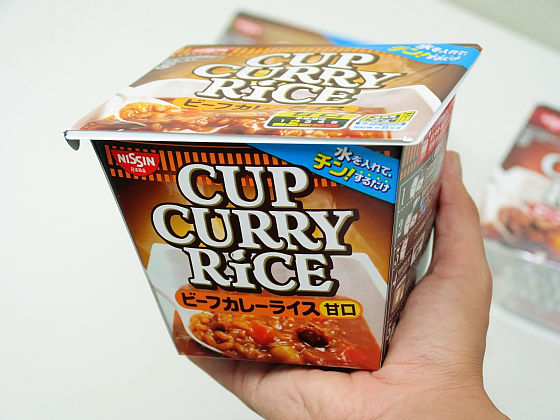 Sweet mouth is a pungent ranking of Nissin Food products and it is 5 in 2 grades, with a light brown package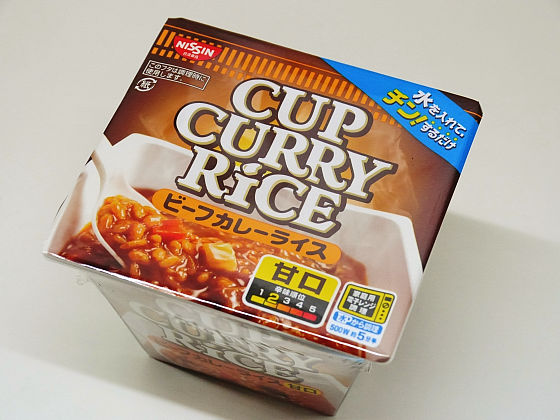 The color of the package is somewhat darker than the sweet, the pungent ranking is 5 stages 3.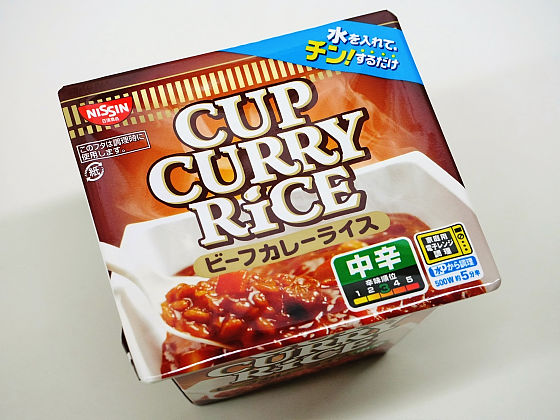 Dry package is slightly reddish brown, pungent ranking is 4 in 5 stages.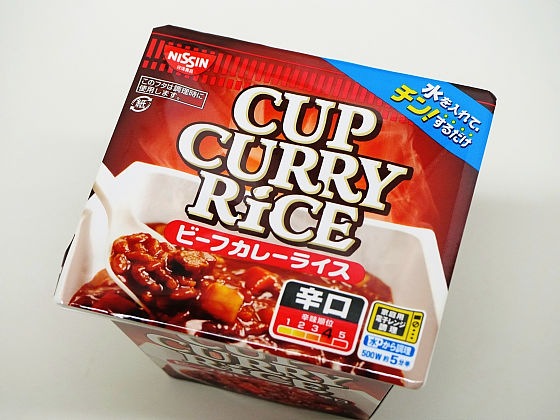 Either way you can just cook water and chin in the range so you can cook very easily.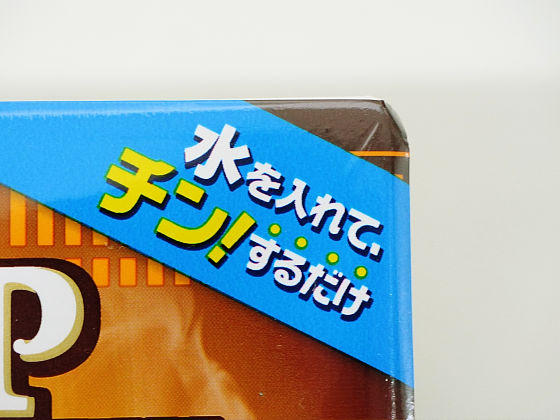 Cup Curry Rice Beef Curry's sweet ingredients look like this. Rice and curry powder can be confirmed. By the way, the same thing is written for raw ingredients basically the same as medicinal, dry.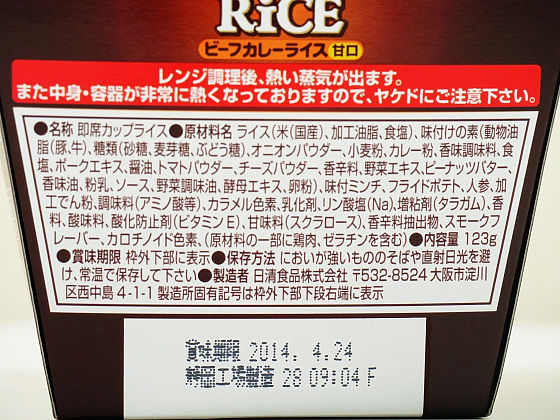 Cup Curry Rice Beef Curry sweet calories are just 500 kcal. Chukyu is 503 kilocalories, dryness is 498 kcal calories, almost three calories are almost the same calories.



Follow cooking method, I will try making it at once.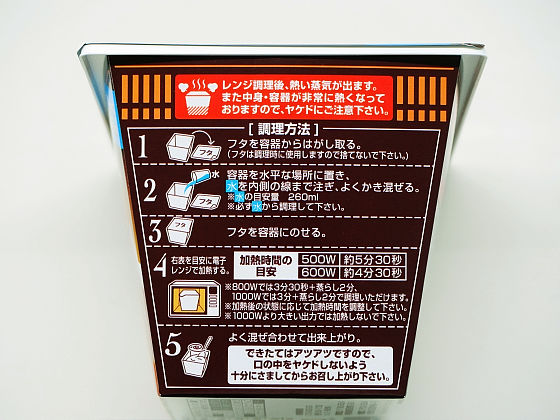 Cup Curry Rice Beef Curry opened like this. It contains dried rice, flaky curry, beef potatoes and carrots that look well in cup noodles.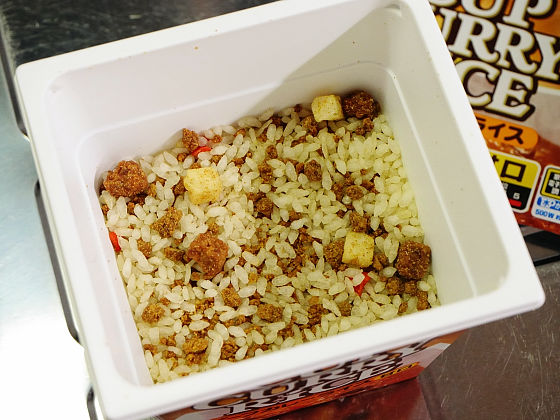 Looking closer at first, it really looks like the ingredients in the cup noodles.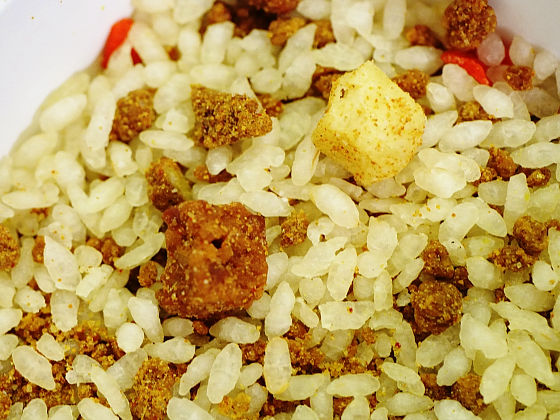 Medium spicy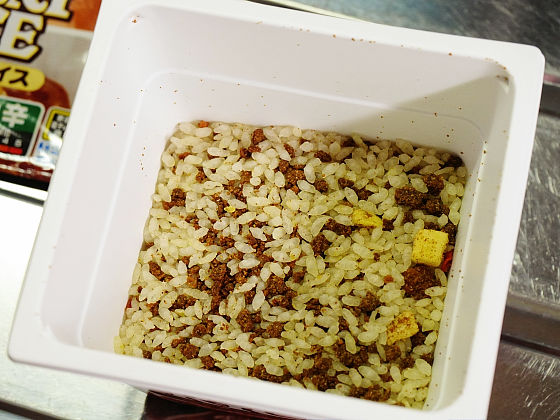 Dry is like this. Sweet mouth is light brown but medium and spicy is dry brown with flakes.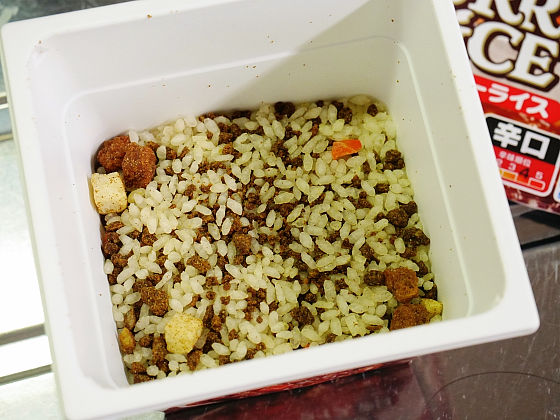 I will put water in the cup. Since it can be heated with a microwave oven, put water instead of hot water and OK.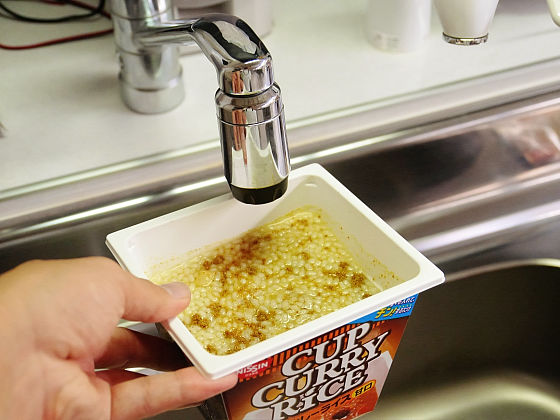 There is a line inside the cup, so put water there. Water to enter is 260 ml.



It is like this when water is mixed and mixed. After all, the spicy, dry even if you put water in the color dark eyes.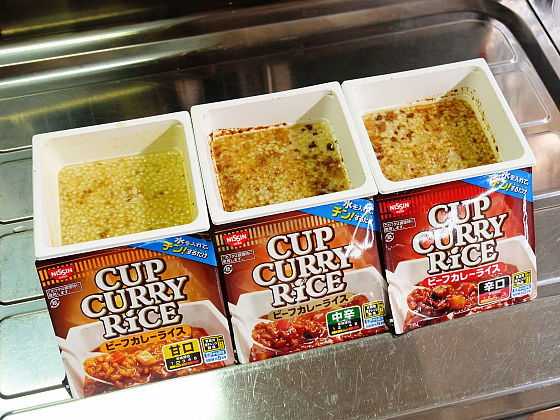 Play the lid ... ....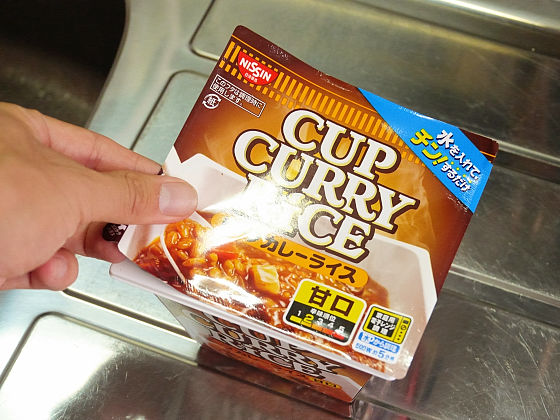 Range into.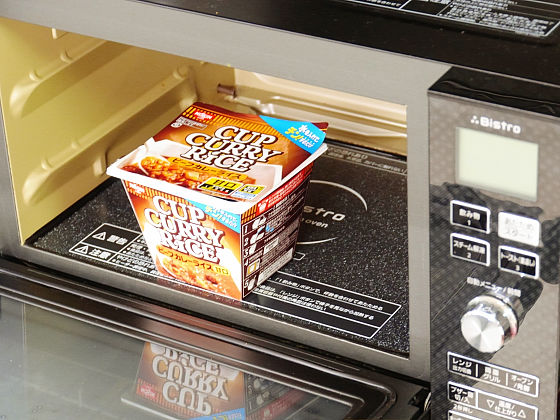 When heating starts in the range, almost the same smell as cup noodle curry spreads in the room.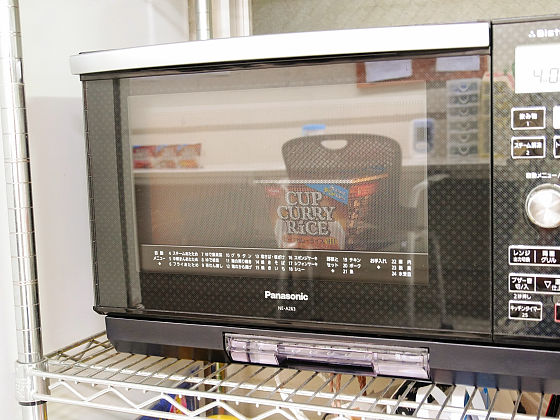 Three kinds of cup curry rice beef curry cooked at the same time using three ranges is like this.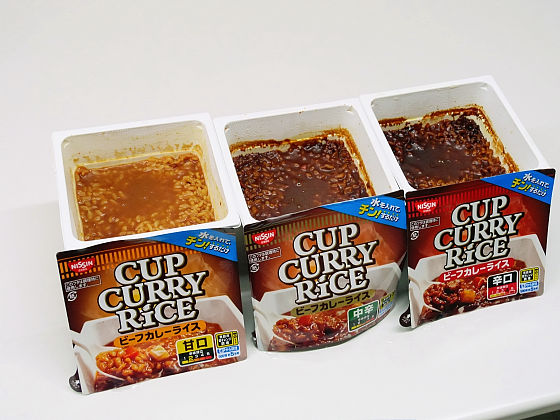 Complete again by mixing.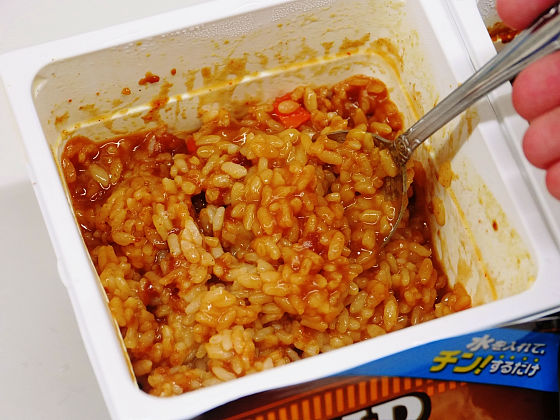 When three kinds of completion forms are arranged, it is like this. Sweet mouth is yellowish color, medium spicy, dry is brown. I will eat it from sweet mouth.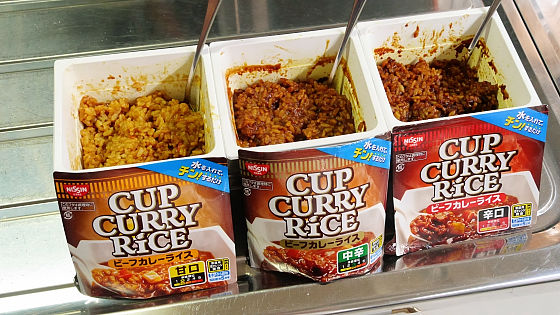 Taste that cup noodle curry taste That taste of junk full of curry spreads in your mouth. The curry rice contains moisture rather than 'rice' and has a texture close to risotto. Because potato was crushed when mixed, I feel the sweetness of potato, I feel a little of cheese. I felt the taste which is the closest to cup noodle curry among the three kinds.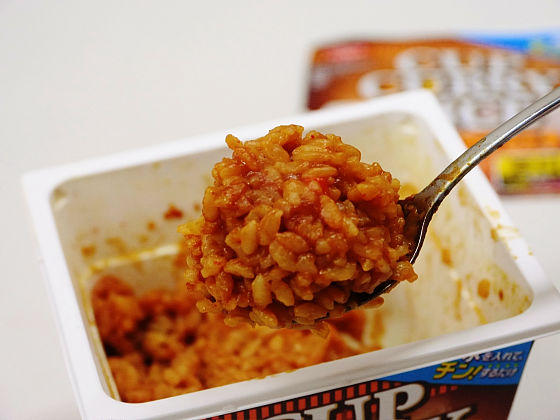 Beef contained as ingredients tastes beef when you bit it. Because the price is instant product at price, we do not feel the taste of beef much from risotto-like rice.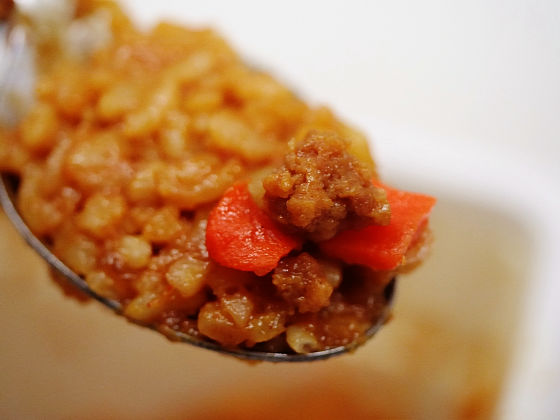 The spicy is slightly more hot. Sweet mouth does not feel hardly at the moment of putting it in the mouth, but when it is put in the mouth, a weak spicy spreads in the mouth. Taste other than spicy taste almost the same as sweet mouth.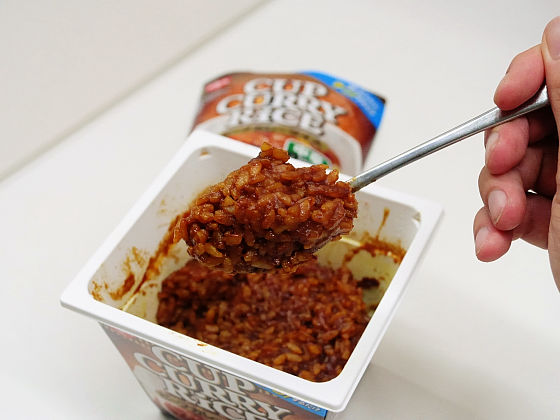 Dryness felt in the hot spicy is further strengthened, I feel hot when passing through the throat, but a bit painful degree. After drinking, it is the best taste of 3 kinds.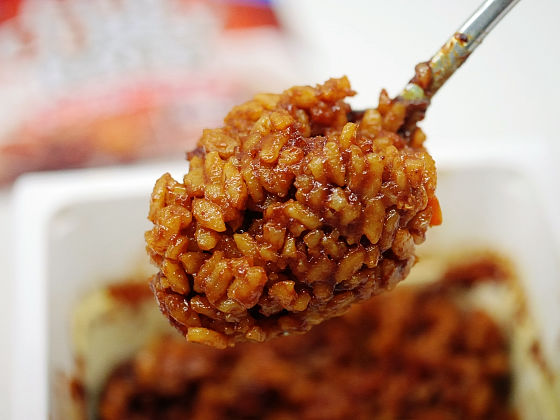 Cup curry rice beef curry is 208 yen for sweet, medium and hot spicy without tax. If you like cup noodle curry, it is definitely my favorite taste. Although it is not a limited-time item, there is also a possibility that it will be lost from the shop front unnoticed, so people who are interested should eat once.