I tried the Olympic Games Japan national team's supportive product "white trio" whose classic products of Nissin Foods were arranged white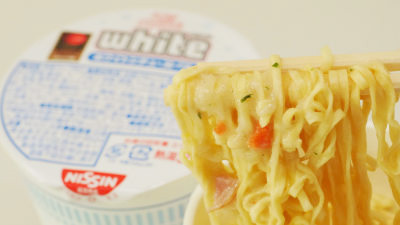 From Thursday, February 6th next monthSochi OlympicsWill begin, but Nissin Food Products, the Olympic Japan representative's "JOC Official Noodle Partner", will arrange three classic items white from January 20 (Monday) "Cup noodle white white stew noodle"·"Denpei of Nissin and white white Champon udon"·"Nissin Yaki soba U.F.O. white white curryWe released the. At the time of the Vancouver Olympics 4 years agoSimilar itemsAlthough I sell it, I bought it and tried it because I was concerned about workmanship.

News Details | News Releases | Company Information | Nissin Foods
http://www.nissinfoods.co.jp/com/news/news_release.html?yr=2014&mn=1&nid=3333

"Cup noodle white white stew noodle" from the left, "Denpei Denpei white white champagne udon in Nissin", "Nissin Yaki soba U.F.O. white white curry". White tones conscious of the color of snow and light blue are on the base.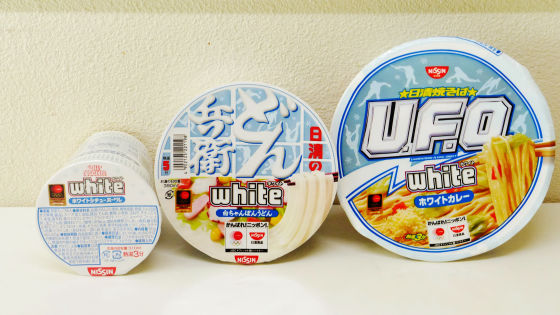 Cup noodle white white stew noodle, a littleCup noodle milk seafood noodlesPackages are similar to, but the ones printed with the Olympic mark are cup noodle white white stew noodles.



In addition to the raw material often found in cup noodles such as fried tofu and amino acid, there are stewy mushrooms such as fried potatoes, bacon, cabbage, corn, carrots etc.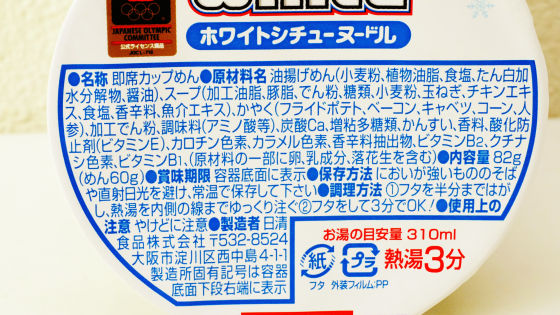 Calories are 394 kcal per serving,Original cup noodlesBecause it is 343 kcal, it is slightly more caloric by comparison.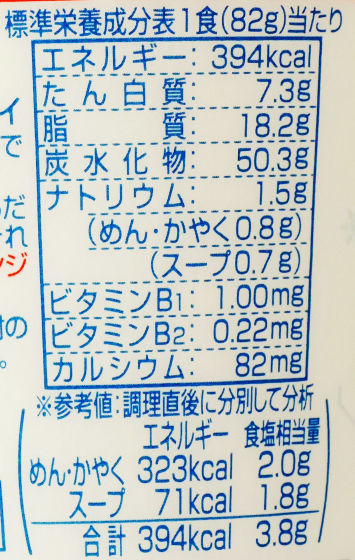 When opening the lid, you can check white powder, french fries, bacon, cabbage, corn, carrot.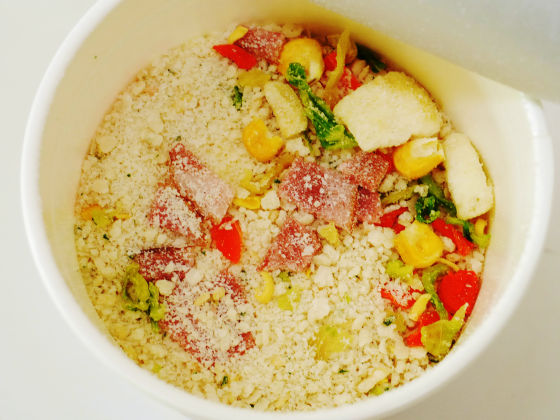 Pour hot water, the sweet smell spread. After entering hot water to the inner line ......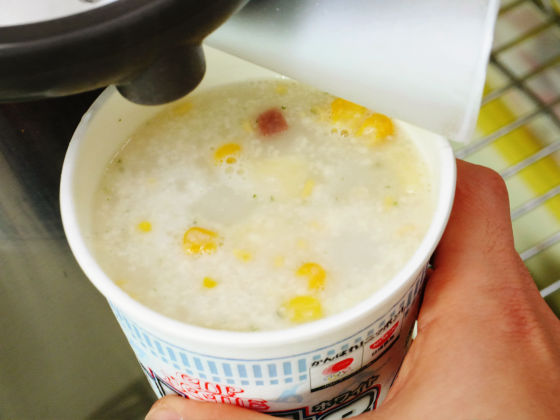 Lid and wait for 3 minutes.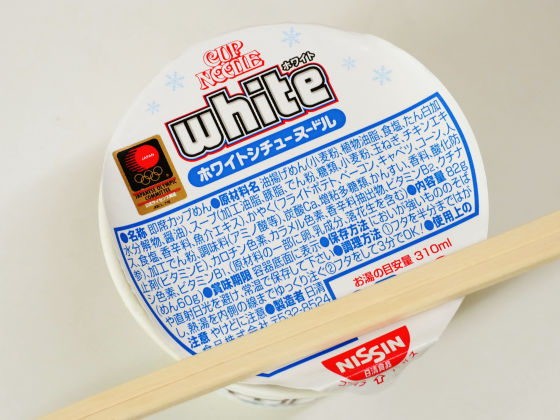 It's like this after 3 minutes. Kayaku is back with hot water steadily.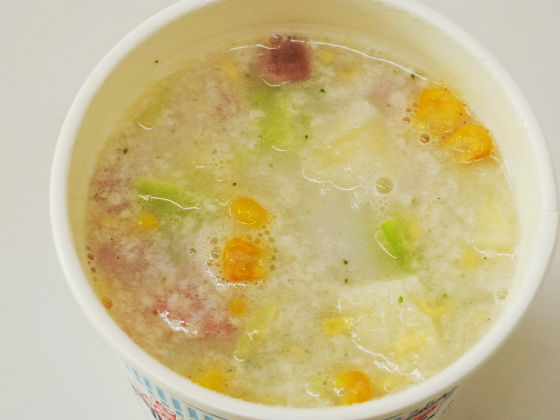 When it is included in the mouth, it tastes like stew, but the taste of milk fat is not felt and the unnatural taste spreads in the mouth. It also feels the sweetness of chicken taste and vegetables, but it has no viscosity and is far from stew. Fried noodle is a greasy noodle with a crispy texture unique to cup noodles.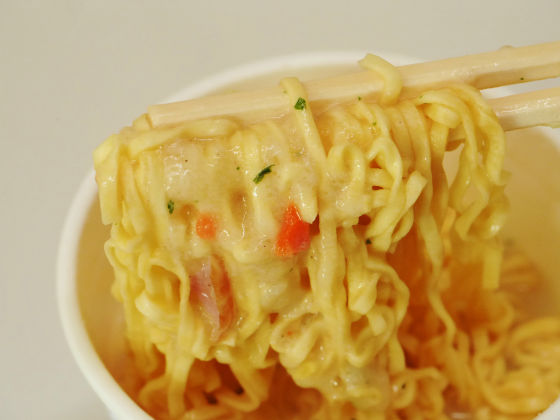 "Nissin no Denpa white white champagne udon" is also a cup noodle white similar to a white stew noodle design.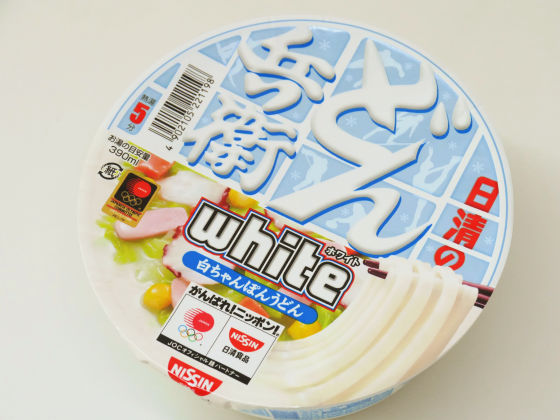 Raw materials are similar to cup noodle white white stew noodles, but there are something like powder, fish meat, fish meat pastry products and so on.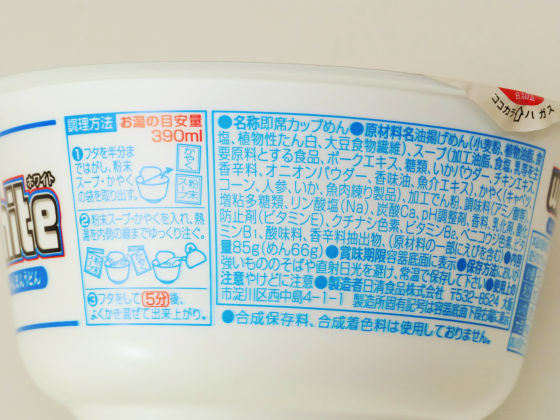 Calories are 371 kcal per serving,Dynasty of Nissin, sold in the East Japan area Kitsune DozenBecause it is 420 kcal, the calorie is low compared.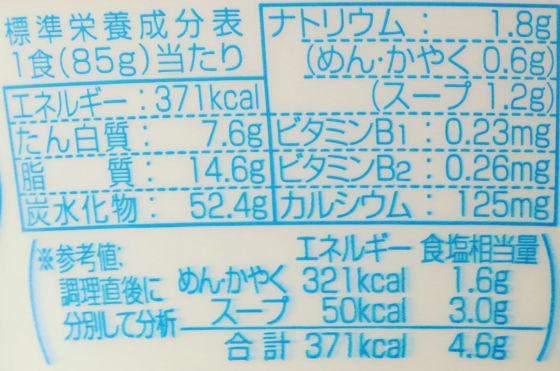 When opening the lid, you can check the powder soup, quickly and oil faucet.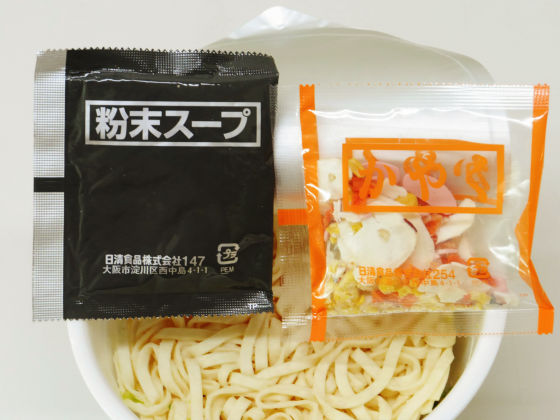 Put powder soup and water quickly, and pour hot water to the inner line.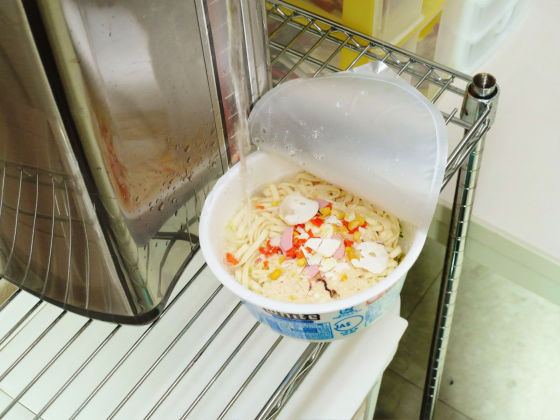 Because the noodles are thick, the waiting time is a little longer than 5 minutes.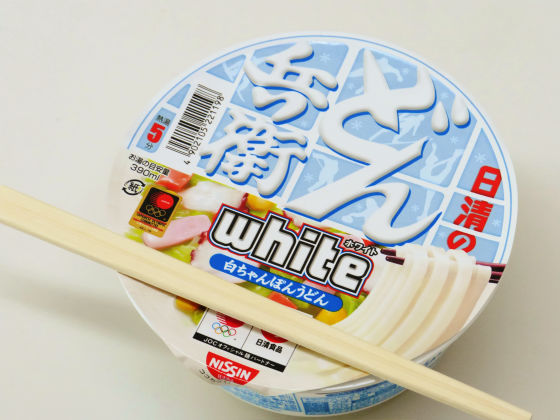 It's like this after 5 minutes. Pink fish meat pastry product · carrot · cone shines in white soup.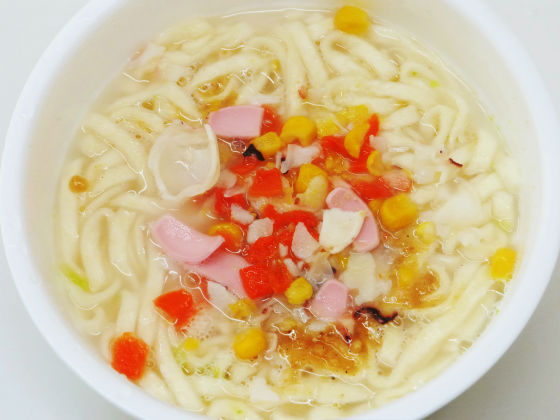 The main soup is the taste of seafood such as squid and the taste like fish sausage. There is also the sweetness of vegetables, but the taste of pork bone is not so much, it is not like Champagne. The noodles are characterized by a thick and rich texture.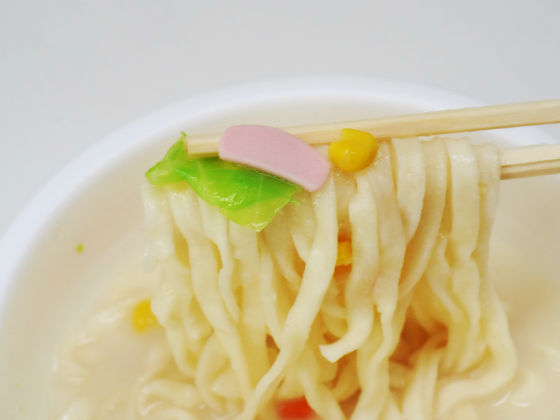 "Nissin Yaki soba U.F.O. white white curry" is an image of the product is white yakisoba, but it tastes like curry.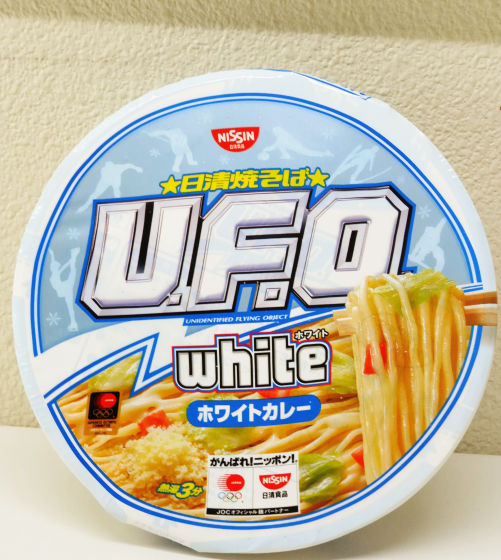 Animal fat and oil · curry powder · powder cheese etc can be confirmed as raw materials.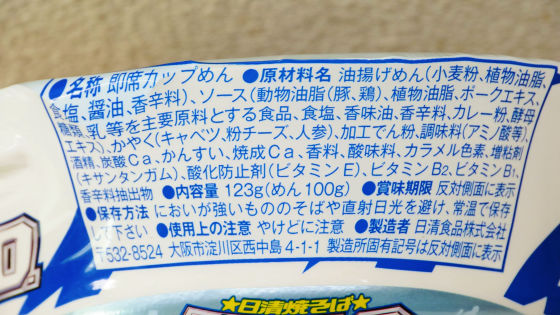 At the bottom of the bowl, there is a simple way to make it.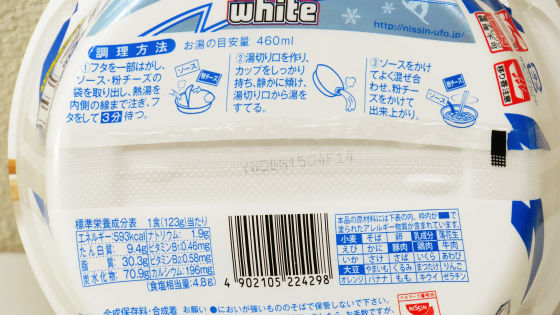 593 kcal per meal, the highest calorie among the white trio series this time.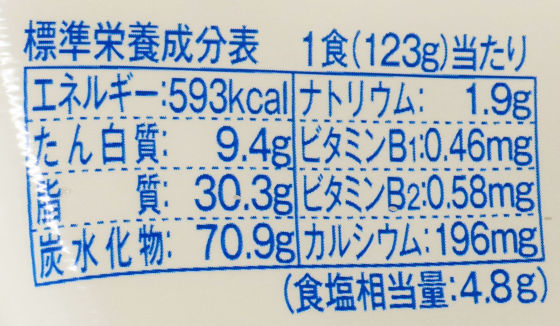 Peel off the vinyl and open the inside with powder cheese and liquid sauce.



First of all, poured hot water into fried tofu ... ...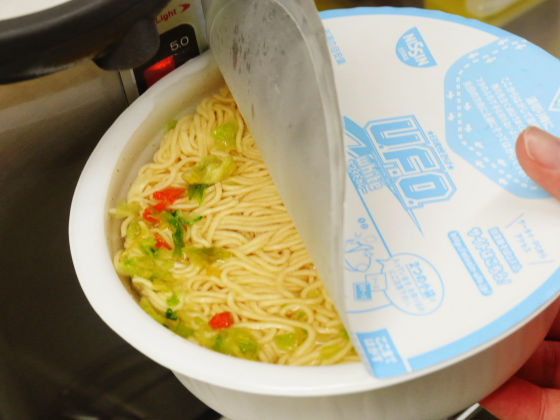 Wait for 3 minutes while warming the liquid sauce on the lid.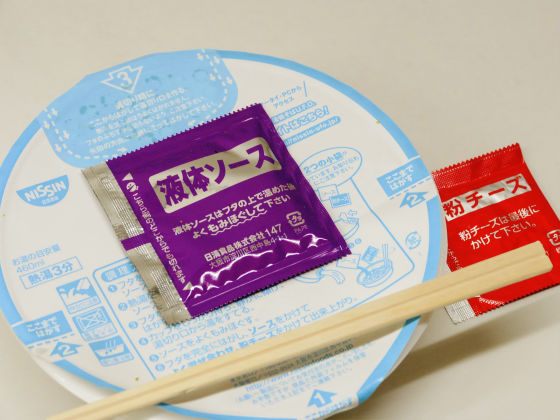 After 3 minutes, cut the hot water ......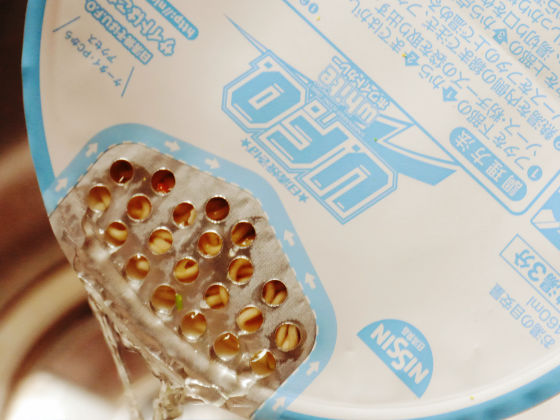 Combine with a liquid sauce and cook with cheese flour.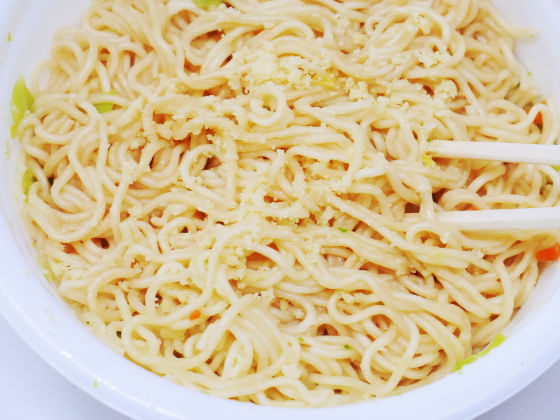 The taste of curry is diluted, the taste of oil is intense and cheese is also contained, so it is quite heavy. It might be good to eat it with a sense of curry-flavored oil soba.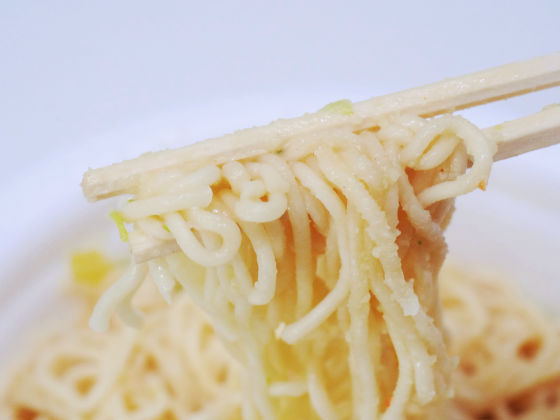 The price is 170 yen for both 3 items. As it seems, it is a limited time item of Kiwamono so it is better to eat the hero who wants to challenge making memories.