"Brabio" which allows multi-function & intuitive task management while using Gantt chart for free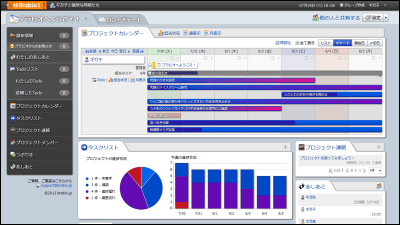 Various functions such as displaying tasks with Gantt chart formula, recording clicks and drags instead of hands and dragging to record period changes and progress, setting the members' permissions to restrict the viewing range of tasks, etc. Task management cloud service is "Brabio". If it is a member of 5 people or less, it is said that it can be used for free for not being limited, so I actually touched the service.

Project management, Gantt chart, Schedule table can be made crisp. Share charting is easy to share! And also for free task management
http://brabio.jp/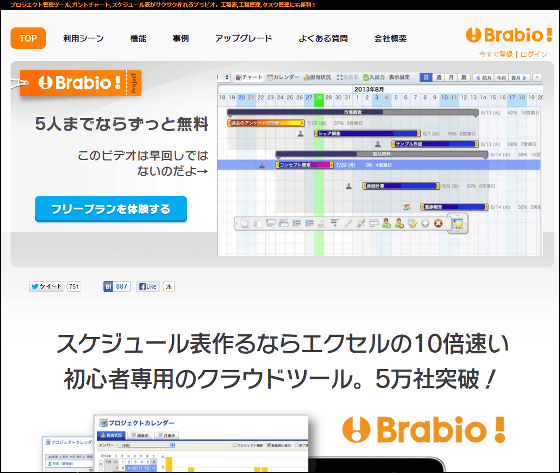 First of all, click "Experience free plan".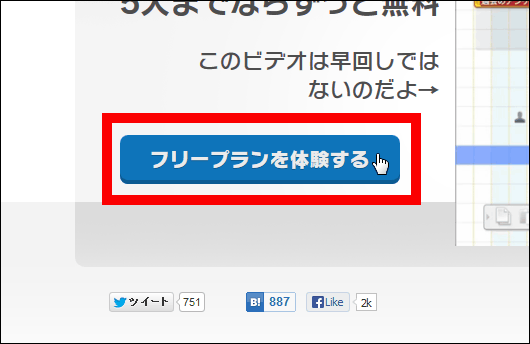 Enter your email address and click "Next".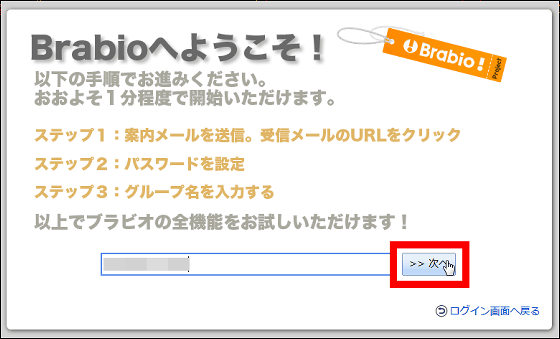 Click "Send" to send the registration information to the mail address.




As mail with the URL is delivered like this, click the URL.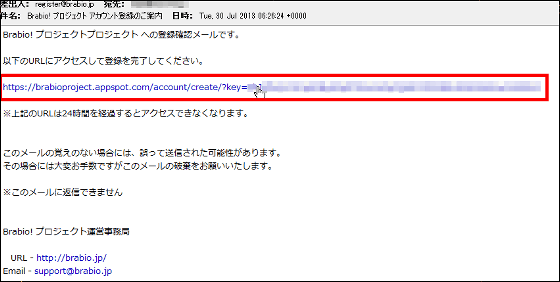 In the displayed page, enter the mail address, login name, name and password, check the agreement to the terms of service, click "Register".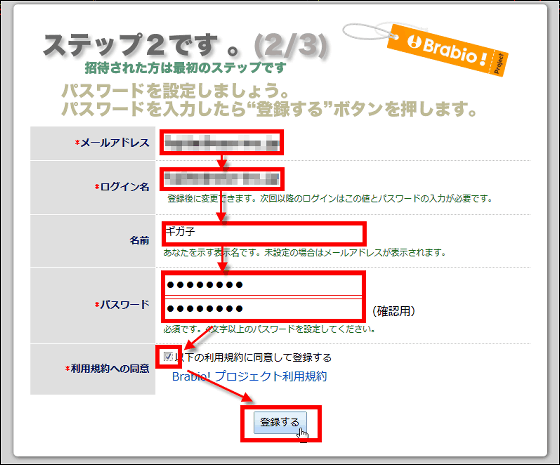 Finally register the group name.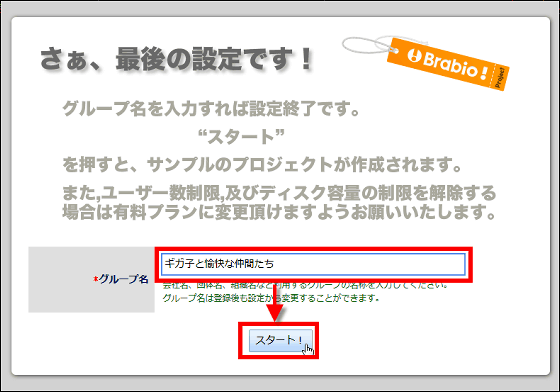 It is complete. By default, a Gantt chart is displayed in which usage is registered instead of task.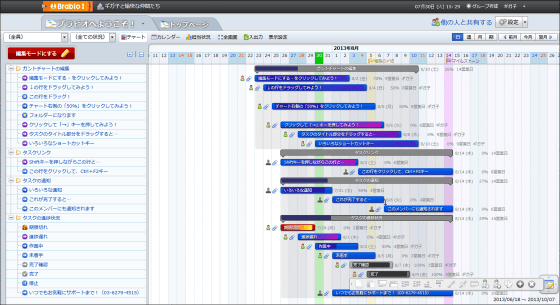 To edit a task, first click on "Edit mode" in the upper left of the screen.



Register a new task. Although you can enter the details of the work period and contents / members etc. in this way ... ....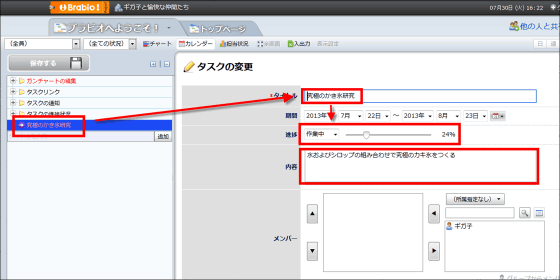 You can intuitively designate the period by dragging the chart, it is quite easy to use impression.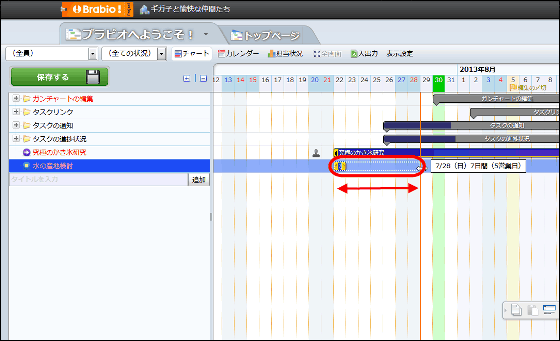 Changing the period of already registered tasks is too quick.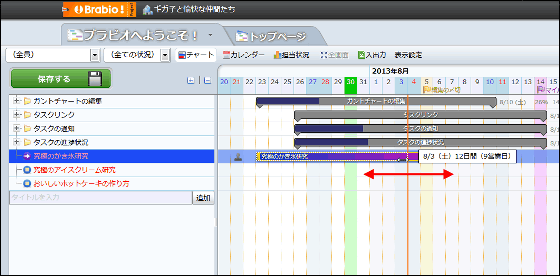 Among the registered tasks, the blue one is an ongoing task, the purple gradation is a task whose progress is delayed, the expired task is orange, and the progress can be known at a glance It is display. Also, click on the percentage next to the task when you want to change the progress.



You can change it by moving the slider.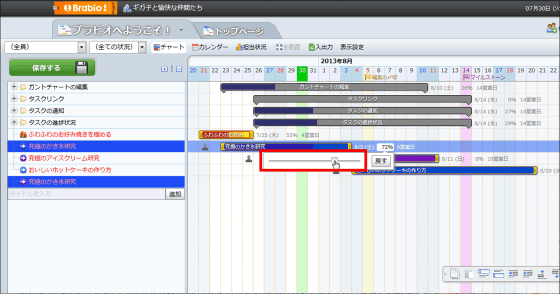 You can easily change the order of tasks simply by dragging and dropping.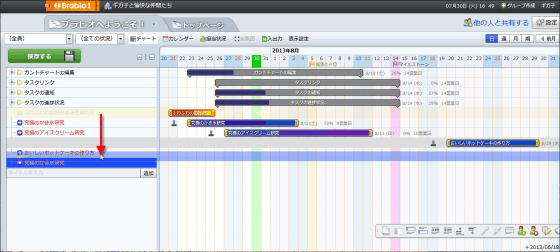 Just drag the task when you want to move the whole time.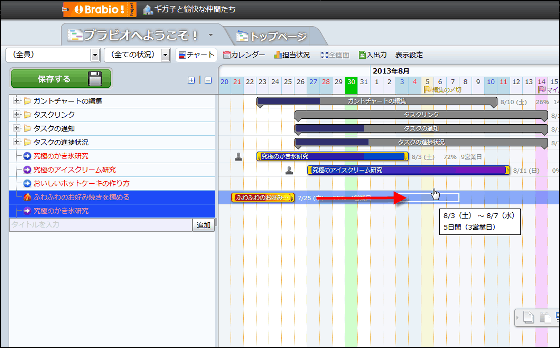 Hold down the Shift key and select 2 of the tasks.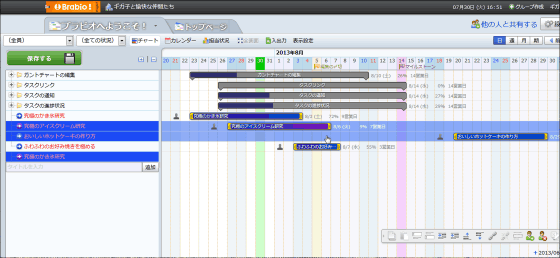 If you press Ctrl + F2, you can connect two tasks with a link line.




You can manage tasks collectively as folders.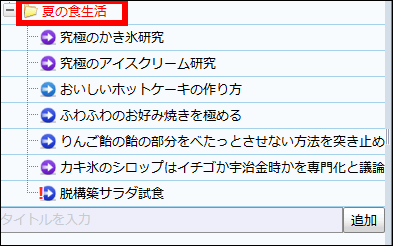 The bundled task was covered in gray.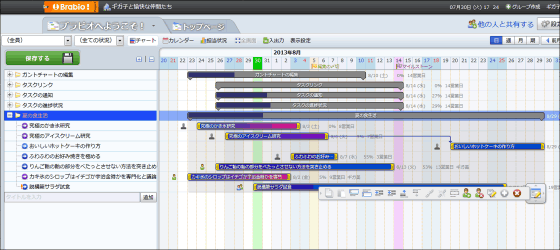 In the BRAVIO Project Ver. 3.0, there are 4 user modes of "administrator", "staff", "partner (external member)" and "guest (external member)" so that information sharing can be performed smoothly with customers and affiliates I will.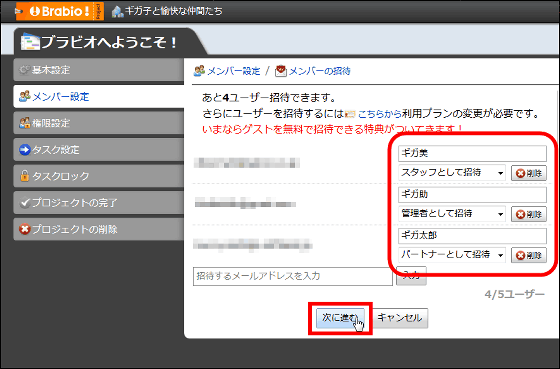 Specify the name of the member and assign the task.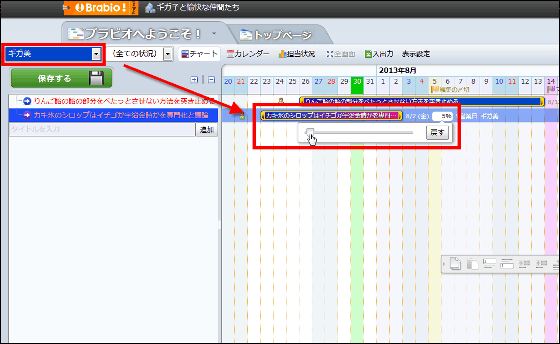 Looking at the task management screen from the tablet looks something like this.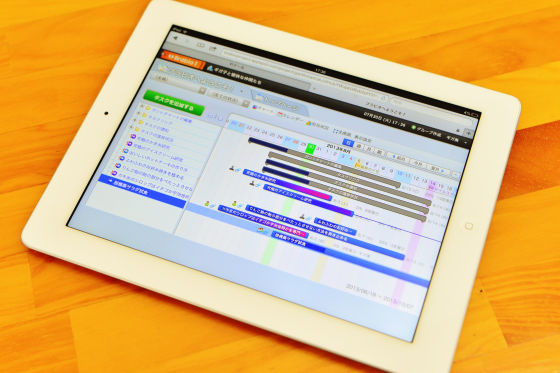 "Staff" can add tasks themselves, but because they do not have administrative authority, we can not make changes.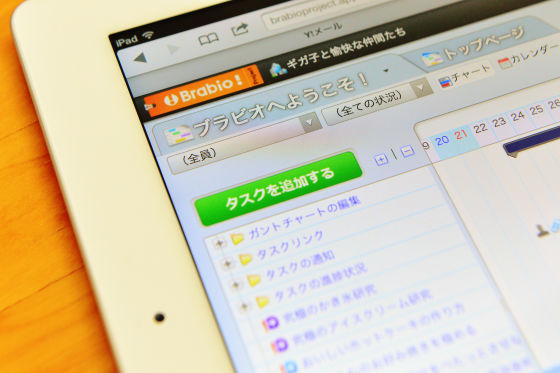 Also, users who are set as "guests" are allowed access only to the tasks they are in charge of, so that only a small part of the project can be shared with external people.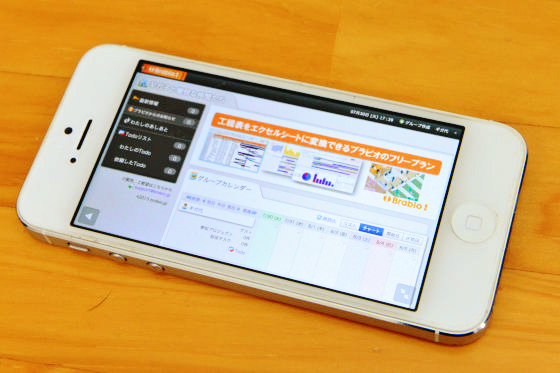 Of course, it is also possible to display it in a calendar expression rather than a chart.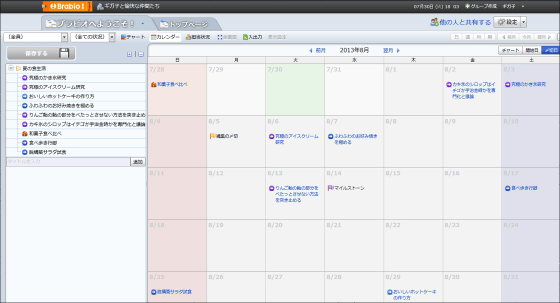 In "responsible situation", tasks sorted out to each person overlap, so you can see when and who is busy.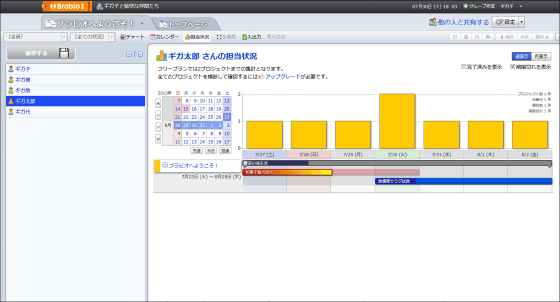 With a very good interface, you can understand it just by watching the information you want to know, operation is also intuitive and it is easy to use even with the touch panel. Since it can be used for free up to 5 people, it was an item that seemed useful not only for work but also for free study and group work during the summer vacation.