I tried a new sensation snack "Shashashuwa Coke taste corn snack" that Pepsi Cola became a corn snack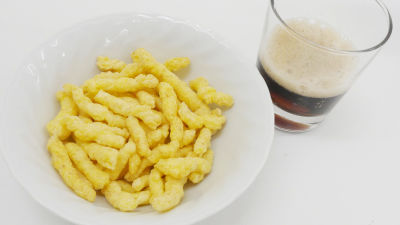 Speaking of Pepsi Cola, cucumber flavored "Pepsi Ice Cucumber"And the taste of chestnut"Pepsi Mont BlancWe sell sensational items regularly, but this time it is not a drink but a snack confectionery manufacturerJapan FritoCollaborate with "Schwaszowa Cola taste corn snack"On July 1st (Monday) on convenience stores precedent. Because I can not imagine the taste with a different color collaboration, I decided to buy it and eat it at once.

Schwarzwa Coke taste | NEW SNACKS | Japan Frito LTD
http://www.fritolay.co.jp/newsnacks/shuwashuwa_cola_1307/index.html

Blue package "Shuwashuwa" and large letters are printed.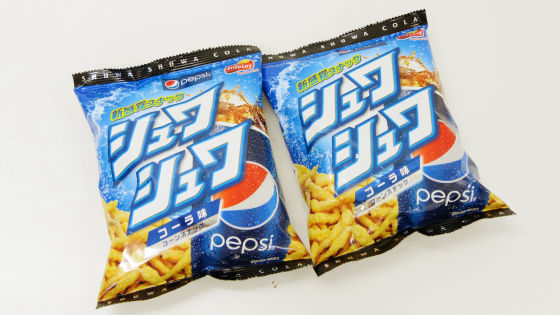 Very similar color to Pepsi Cola selling in 500 ml can.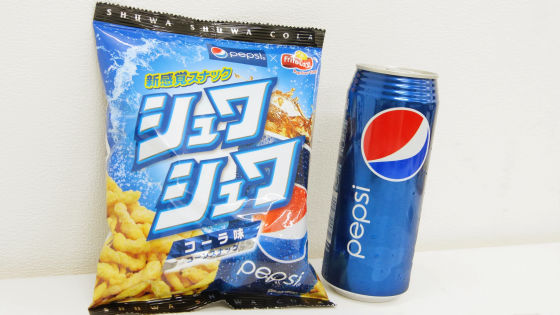 I understand salty taste and soy sauce taste, but it seems a bit strange for the word "cola taste corn snack".



The back side looks like this. Characters are also printed in blue on the back side.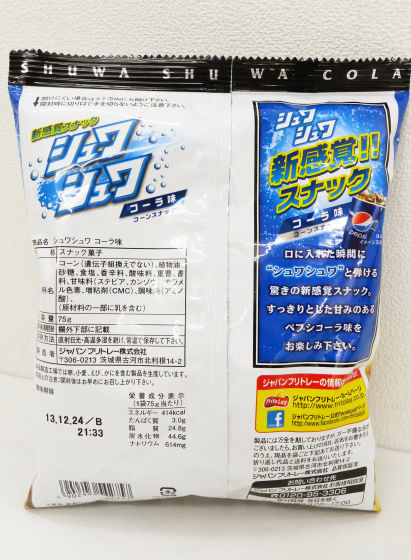 Pepsi cola's sweetness looks like a conservative cone snack at "corn snacks that you can play with Shuwashwa at the moment you put it in your mouth." How does it taste?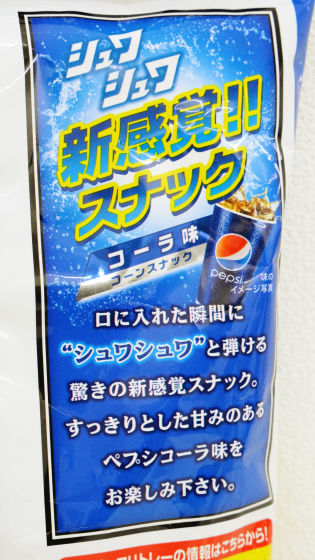 As raw materials, you can see that more sugar is contained than salt.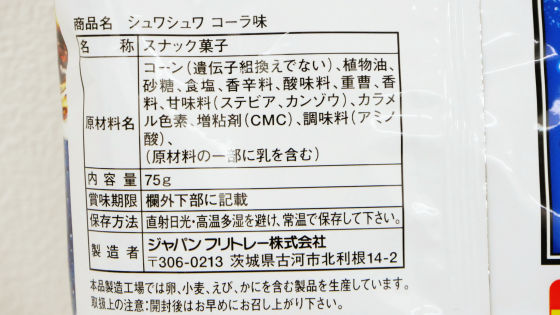 Contents amount is 75 grams and 414 kilocalories.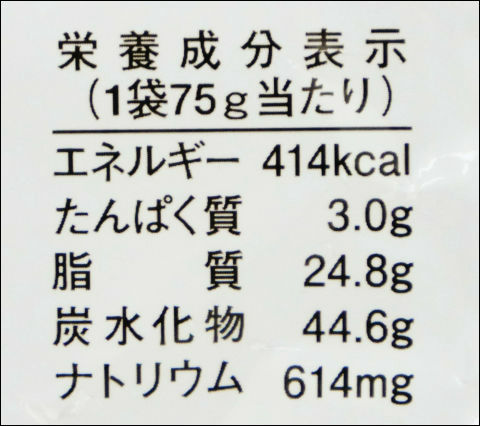 As you open it you will slightly smell the scent of Pepsi Cola and the corn sweets like curl.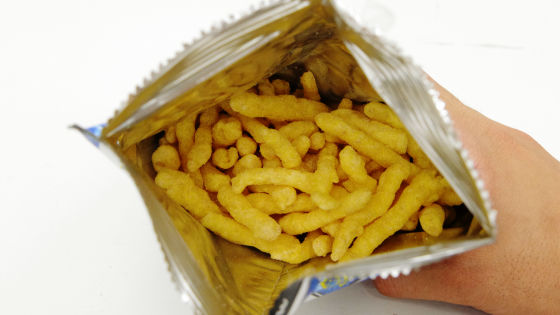 I will move it to a dish. It looks like an ordinary cone snack ... ...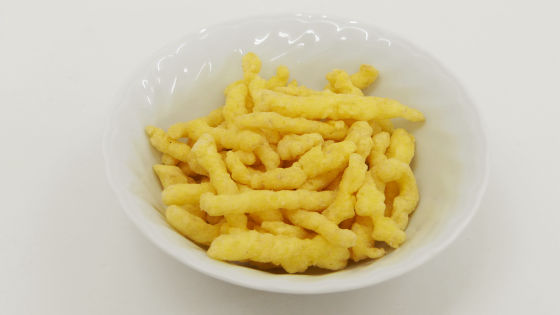 Looking at the nearby, brownish powder is applied to the surface, it seems that Pepsi Cola smells out from this powder. I decided to eat it at once.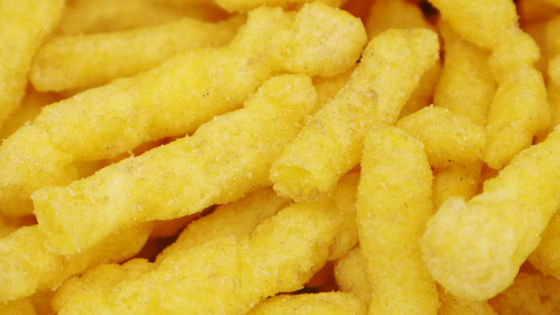 When I try to eat it, although I do not feel like "I can play" Shuwashwa "at the moment I put it in my mouth, as it was written in the package,WatashiThere is feeling like sparking lightly with crackling like. The sweetness is modest, and you can feel the taste of salty and fried corn. There is no sweetness like a caramel cone that also uses a corn, sweetness is superior to somewhat salty, it is a new sensation snack without a similar product, but it is not a particularly exquisite combination, but the item you want to buy and eat again Or rather "I wonder if it is OK".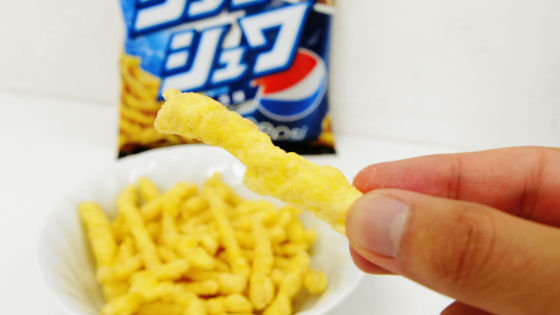 I will try to compare the taste with Pepsi Cola. Naturally, because it enters carbonic acid, it is foaming with Schwaszwa.



After having eaten snacks, the difference in the sense of showering feeling between corn snack and Pepsi Cola is evident. Drink's carbonic acid spreads throughout her mouth, but snacks are crackling on the tongue.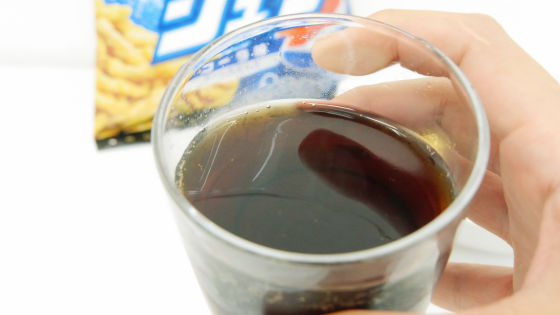 Incidentally, even if you eat a Schwasthwa Coke taste corn snack while drinking Pepsi Cola, the sense of Schwarzwa never doubled.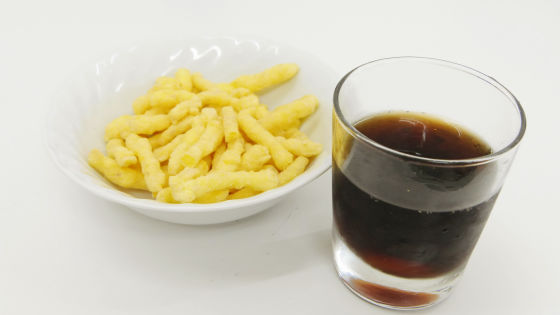 Price of Schwaszwa taste corn snack is 124 yen including tax. People who like Pepsi's occasional outrageous products, please do not try to challenge Kore too.