Pururun Pon de Ring and Pon de Lion also tried all 2nd round of missed summer such as ice cream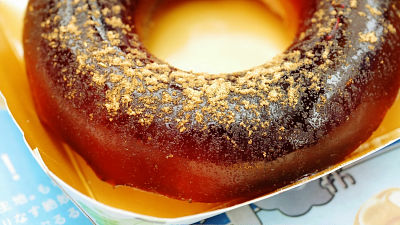 Mr. Donut already on the 10th of June as a Cool Misted seriesA donut collaborated with CalpisWe released a signboard product that celebrated its 10th anniversary as a second stepPon de RingAnniversary version and banana flavored donuts, shaved ice and Pon de Lion ice etc on June 26th (Wednesday). I went to Mister Donuts to eat it to check its taste.

Which is your summer guess? Pururun Pon de Ring × Pon de Ring raw green tea
http://sp.i-misdo.com/member/pc/cp/natsuponde/index.html

Banana Donuts | New Items | Mister Donuts
http://www.misterdonut.jp/m_menu/new/130626_003/index.html

Arrived at the store.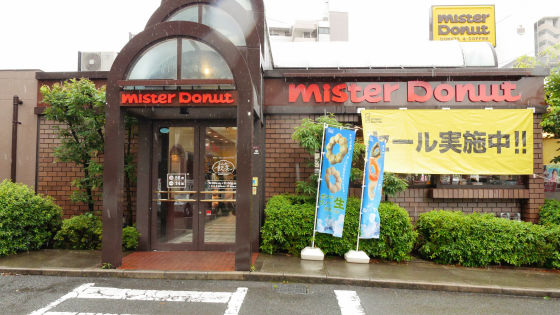 The climb is wet in the rain, but it appeals new products.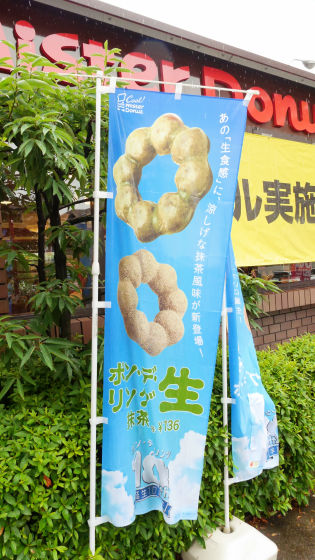 When entering the storeMatsuko DeluxeAlso found a poster announcing new products.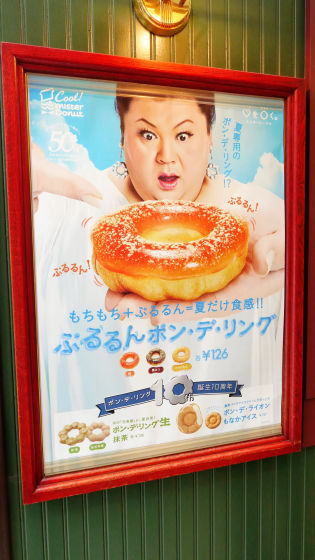 New items were also placed in the most prominent position. I decided to order it at once.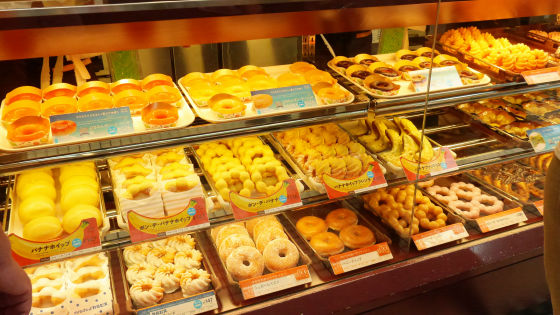 New products arrived at thirteen kinds of tables for a long time.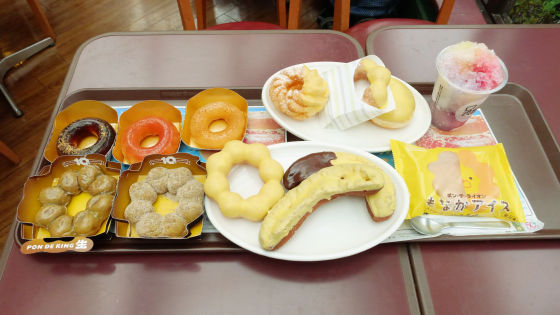 Before it melts first,Colorful missed shave ice(210 yen including tax) "I will eat from. Shave ice is shaked ice as it looks.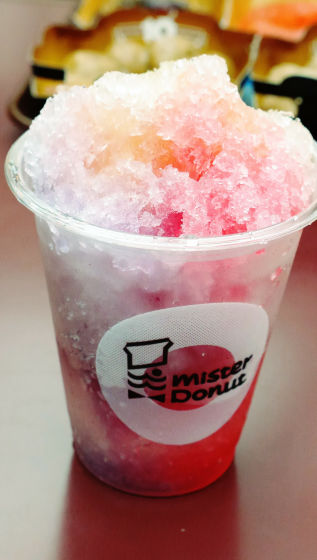 From the top, you can see the yellow of red soda, lemon yellow and strawberry red with blue mixed with red. It is an artificial color, but natural coloring is used.



It was both high temperature and high humidity so it began to melt in less than 3 minutes.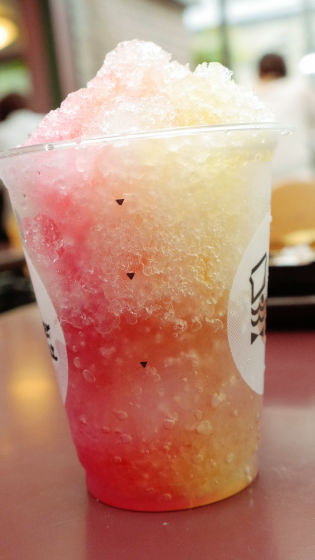 The shaved ice is the same taste as eating with each color on fair days, especially the mixed part does not become a new taste. The ice itself is not a thinly sliced ​​ice, but a texture that is shabby and crunchy with fine flake-like ice. We also sell products called Shake ice Sheikh with Shave Eye on top of Shake.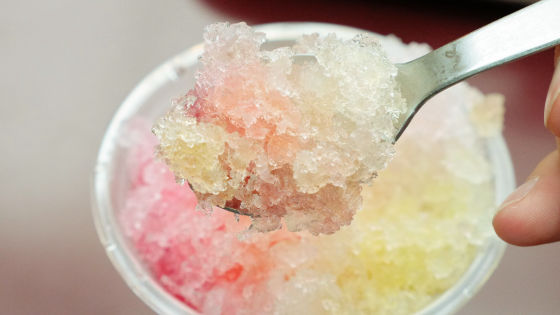 Pon de lion also ice cream(157 yen including tax) is ice cream with motif of pon de lion.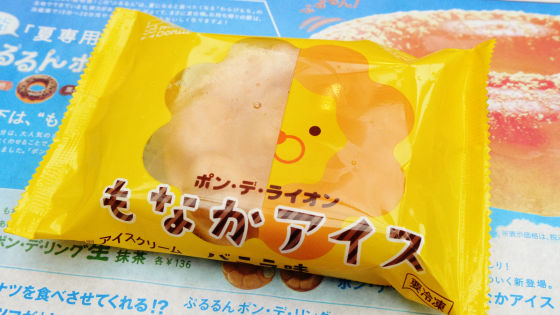 The raw material is like this and the content volume is 100 ml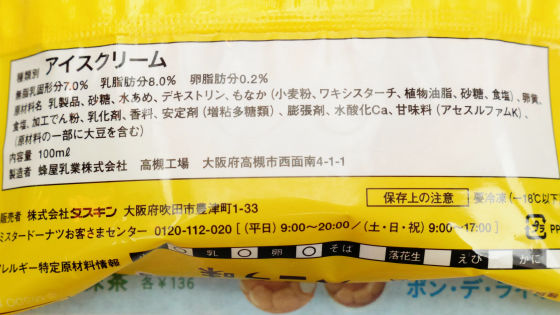 The size is about the same as the diameter of the Pon de Ring.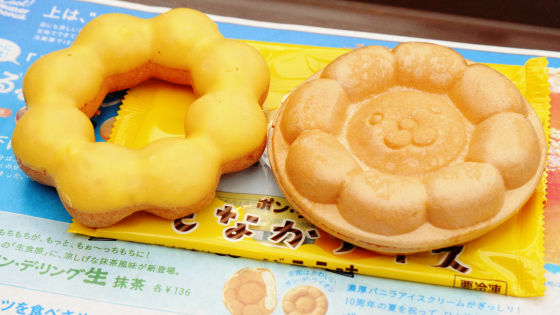 The illustration of the lion is drawn in the middle part.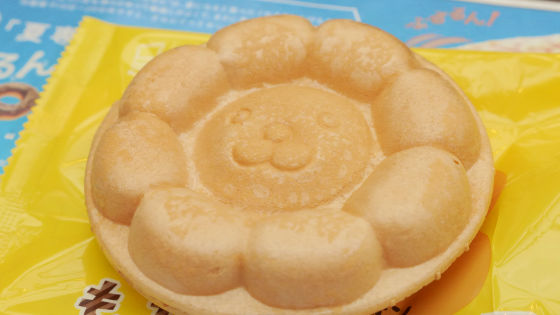 The unique roundness of Pon de Ring is also expressed.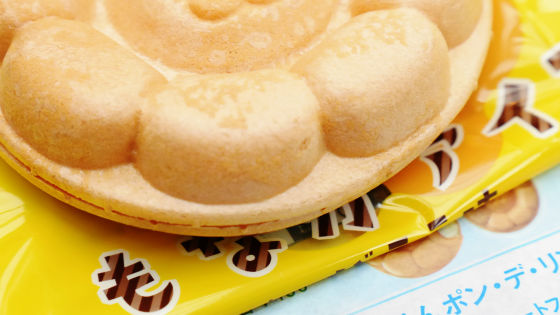 It does not have a texture like rice cake like pong de rings, even ordinary ice cream. Vanilla is not used as raw material Perhaps vanilla feeling is weak and milk fat content is also low, so it is easy to eat ice in summer.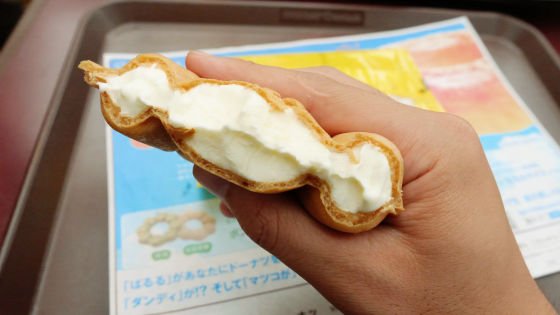 Followed by the 10th anniversary version of Pon de Ring's "Pururun Pon de Ring(126 yen including tax) "series and"Pon de Ring raw green tea(136 yen including tax) "series.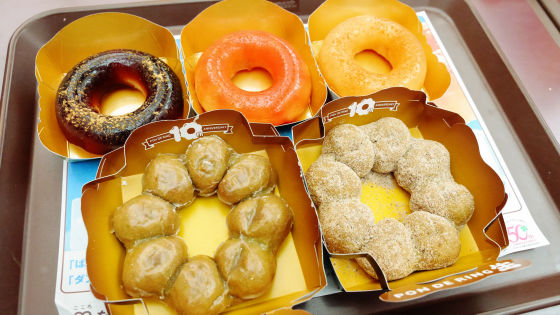 First of all, from Pururun Pon de Ring black Mitsui taste. Black mochi rice cake is on top of Pon de Ring fabric, and further Kurosu Kinoko is dressed.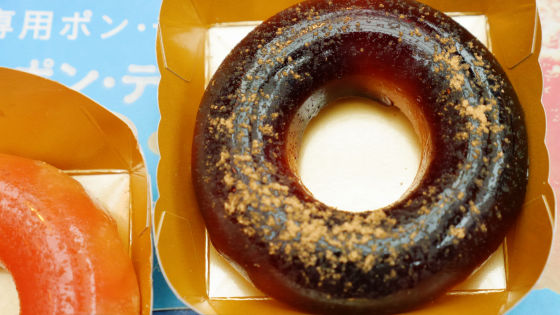 As the product name "Pururun", you can press the layer of Warabimonchi with a fork and it has elasticity.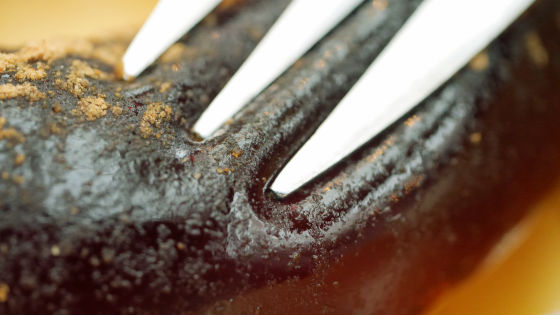 The mouthfeel which is made as pulp and while feeling as bouncing back of rice cake and mouth feeling of pon de rings combined is interesting texture. Although the black mattress is not a sweetness with a habit like eating brown sugar, the taste of black mattress is about the flavor level. Although the mushrooms were covered with a reasonable amount, they did not feel the taste strongly to that extent.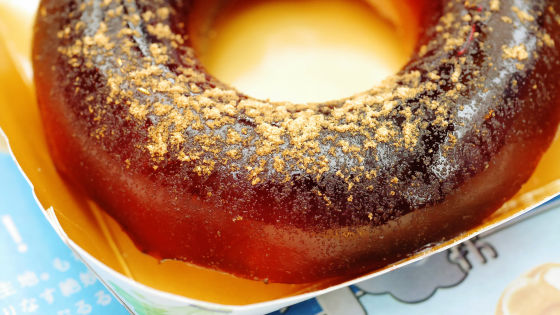 The peppermint Pururin Pon de ring has a pinkish peachy warabi mochi, and Kurosu Kinoko is also being smuttered.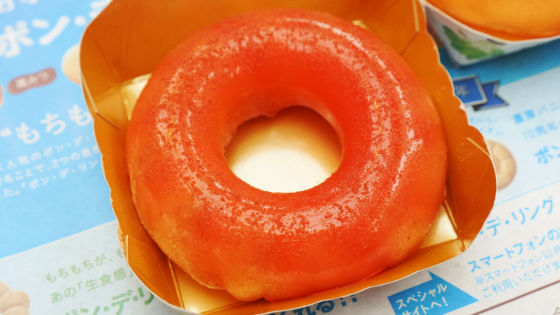 Peach jelly like a part of the wild cherry mochi is just sold on the market. Just a peach warabi rice cake and mushrooms are bad, the taste somewhat irritated. Pururun Pon de Ring is said to be able to enjoy a different taste even if it is chilled in a refrigerator for 10 to 20 minutes, peach is the most jelly, so be cool and eat it might be good.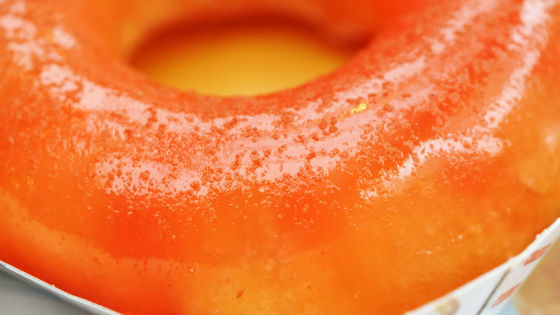 Pururun Pon de Ring Warabi mochi is a donut where you can enjoy the taste of Warabimochi with a slightly salty taste.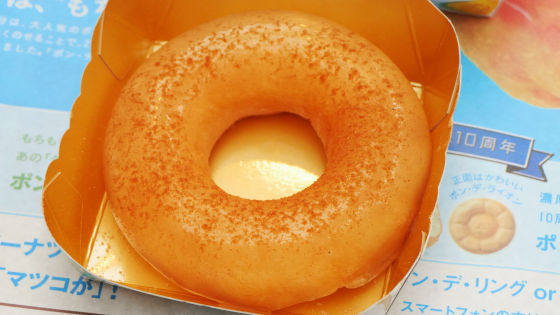 It is the simplest seasoning among the three kinds, and you can feel the taste of mushrooms. It is the simplest of the three types, so it is recommended for people who like royal roads.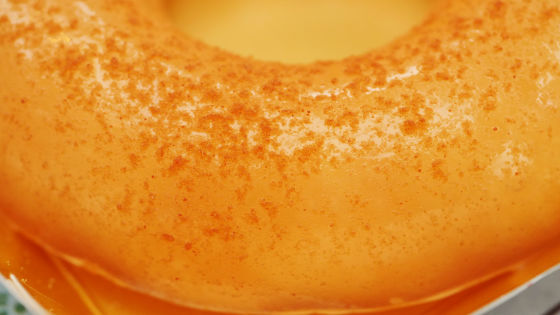 Pon de Ring · RawThe series is in a container printed as "10th". The price is 136 yen including tax for both Matcha and Matcha Brown sugar. First of all from normal green tea.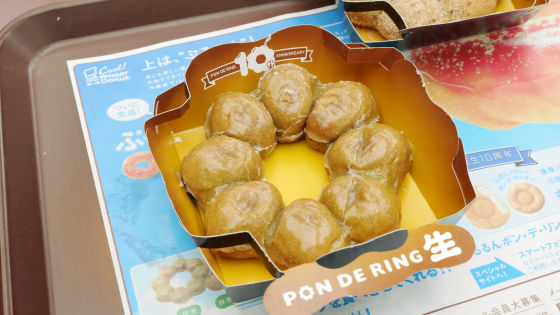 The dough is bright green of matcha.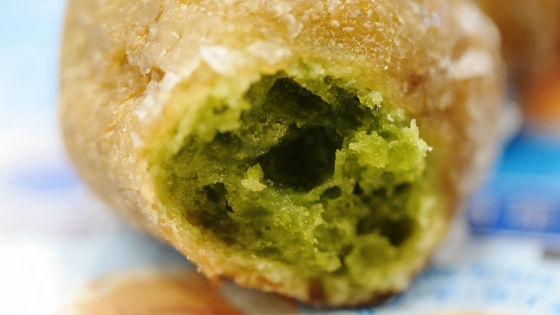 Good feeling of texture is good as it is soft and rich texture of Pon de Ring student. Although it is impossible to sense until the bitter taste of Matcha, it is finished in a doughnut of Matcha flavor. The honey glazed glaze is used for the coating part, which is the same as normal Pon de Ring student.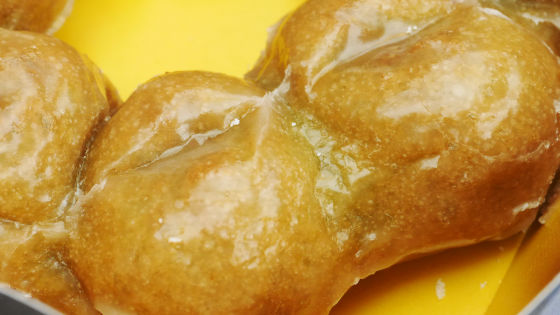 Pon de Ring raw green tea brown sugar is covered with black five sugar sugar instead of glaze.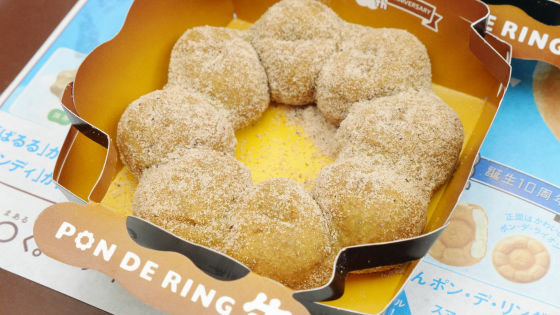 The taste of brown sugar is thin like the color. It is a taste that feels sum as you enter brown sugar, and of course the texture of Pon de Ring student is intact so you can enjoy the texture.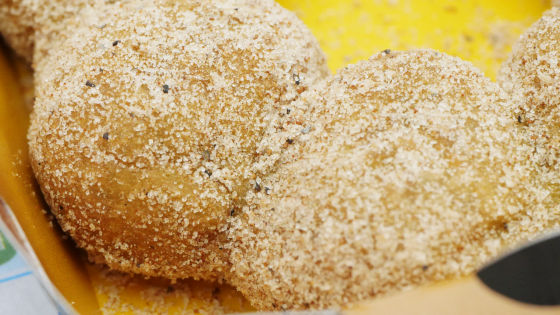 Banana donutIn the series the yellow banana flavored chocolate coating is brilliant.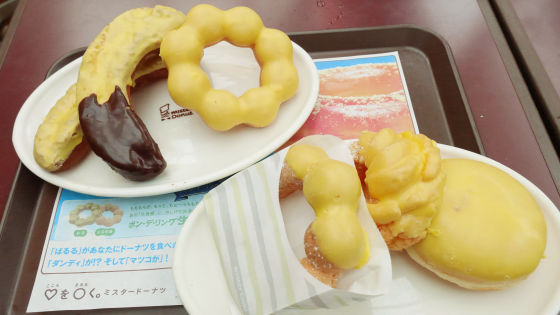 Banana fashion (126 yen including tax) is coated with banana in banana type old fashion fabric.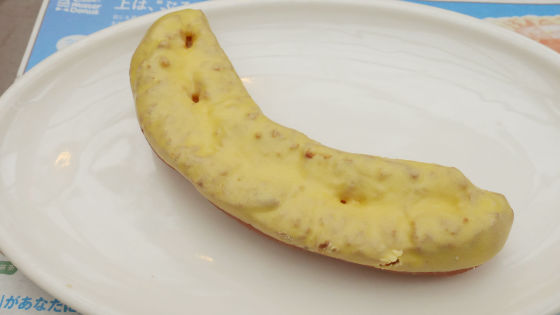 Although chocolate brown color is not done, since chocolate is already in yellow banana coating, I also taste a bit like a banana chocolate. Eating a coated part with old fashion never feels strong sweetness, sweet enough.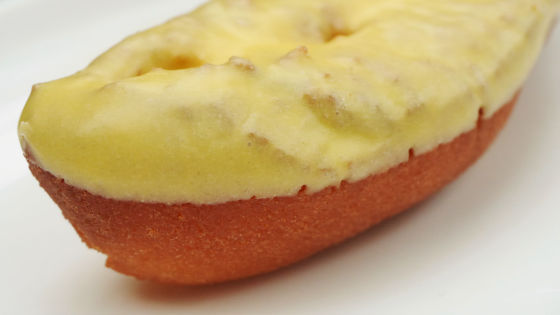 Chocolate banana fashion (136 yen including tax) is further coated with chocolate at the end of banana fashion.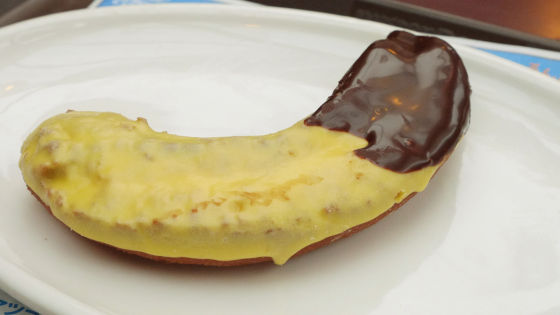 When you eat chocolate coating and banana coating, you will approach the taste of banana chocolate like selling at the festival stalls. If bananas are kneaded in the dough or chocolate has a bitter taste, it seems to be more realistic banana chocolate taste.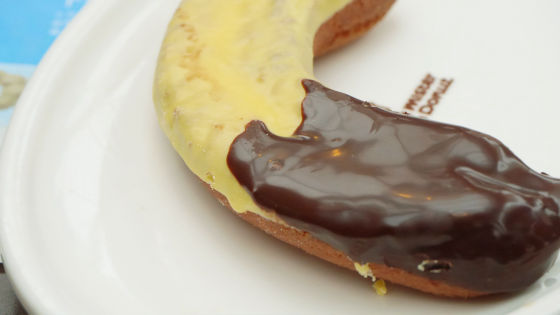 Pon de Banana (136 yen including tax) has a banana yellow coating on Pon de Ring. It looks like a little angel.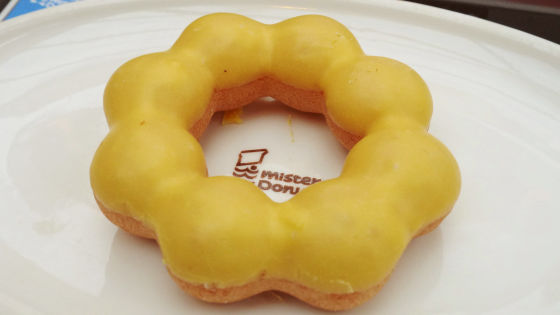 Although the taste center becomes a banana, it becomes a taste similar to other goods, but it is made the most smooth among the six kinds.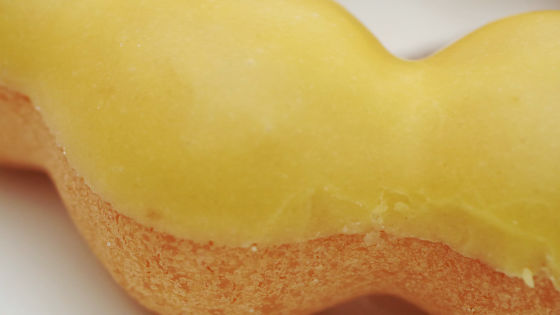 Pon de Banana whip (147 yen including tax) was made with powdered sugar and banana coating on the pon de rings.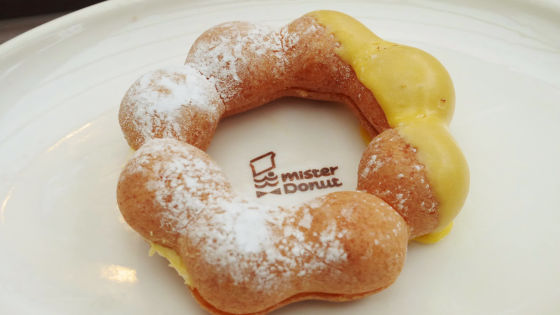 It contains a banana whip, which makes it more rich in flavor. It is recommended for people who like cream · banana.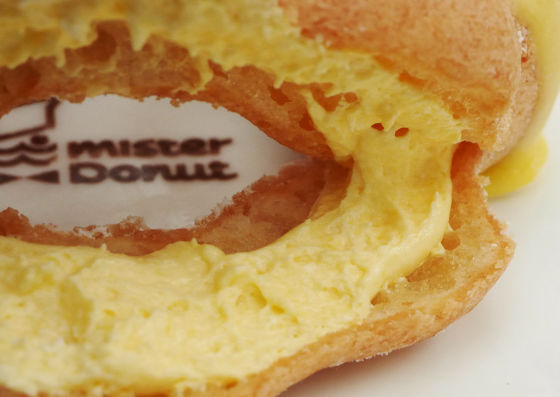 Banana whip French (147 yen including tax) seems to be the same making except that the fabric of Pon de Cream of the previous time became a French culler.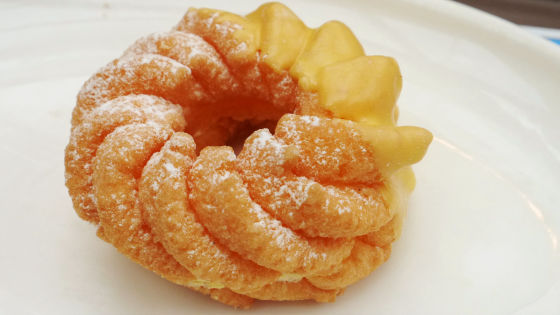 French cloakers with banana whip and slightly heavy. Since seasoning is the same when eating many kinds, place where you want a change in one article at a disposal such as vanilla etc.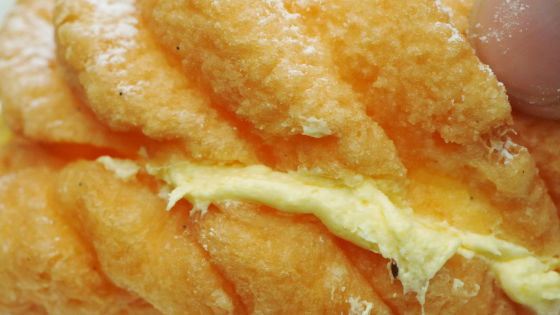 Banana whip (147 yen including tax) is coated with banana in yeast fabric donut, plenty of banana whip.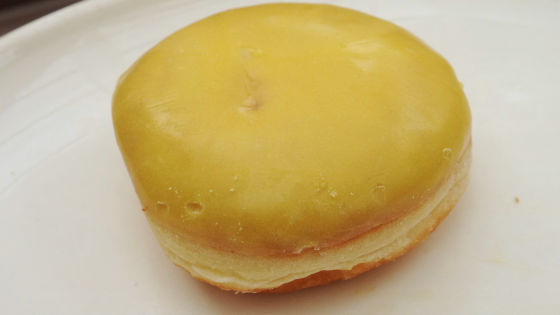 Anyway, the amount of banana cream is large, and the taste is intense so it may be good to eat with coffee etc.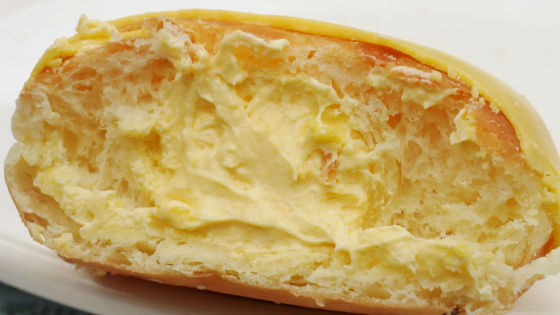 Three types of donuts are scheduled to be released in Mister Donuts in the first bullet, five items in donuts, the second in 11 donuts, and in the third round in late July three types of curry bread donuts are scheduled to be released and considerable power for summer products We are putting in. While summer seems to have been pushed by ice cream etc. and the sales of the confectionary shop seems to drop, Mr. Donut seems to have no news in countermeasures as Mr. Donut has thrown in new products one by one so that there is no such thing.