It turns out that 36 countries including Japan use spyware for nationwide surveillance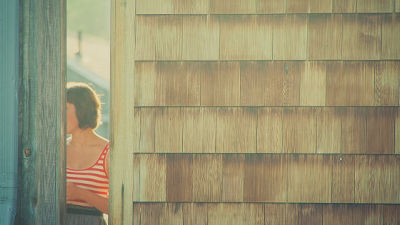 ByAarongilson

I am at the University of Toronto in CanadaThe Citizen LabAccording to the latest report of the current world, in 36 countries around the world, UK Gamma International "FinFisherUsing the software, it turned out that government agencies are monitoring the citizen's IT trends.

For Their Eyes Only: The Commercialization of Digital Spying
https://citizenlab.org/2013/04/for-their-eyes-only-2/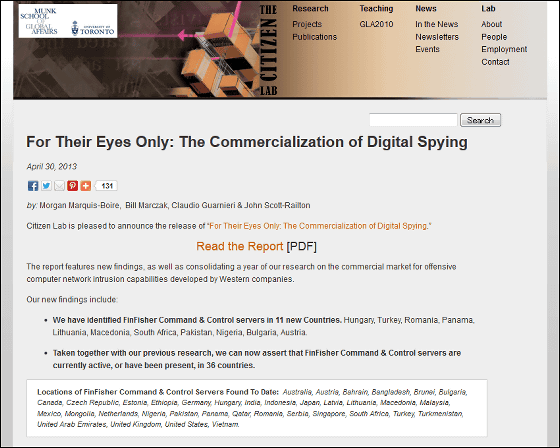 36 governments (including Canada's) are now using sophisticated software to spy on their citizens - Quartz
http://qz.com/80153/36-countries-now-use-finfishers-governmental-it-intrusion-and-remote-monitoring-solutions/

FinFisher is "FinSpyAlso known as the name of,Record every action using PC or smartphone without being detected by antivirus softwareSoftware has been confirmed to be used in 25 countries around the world for a while, but this time, it was confirmed newly in 11 countries.

This software can write letters from right to left for Arabic language etc.Right-to-Left Override (RLO)By using the control symbol of camouflage the executable file as if it were a normal image file and invade the PC or smartphone. For example, it looks like an email from a reporter in Al Jazeera, and as a photograph of an activist in Bahrain "Exe.Rajab1.jpgAlthough I am sending a file saying "I am sending a file called" image file "instead of"Gpj.1bajaR.exeExecutable file.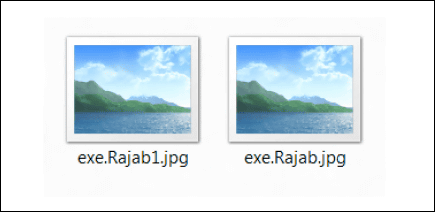 When I try to open it, the image is displayed as expected, but FinFisher fulfills its intrusion behind it.




Once a terminal that FinFisher has invaded,C & amp; C serverYou will be able to monitor all movements via Via.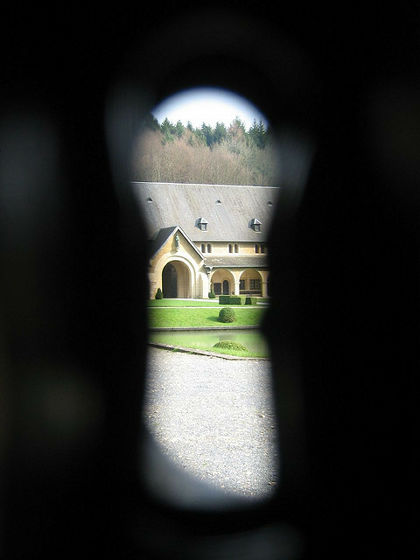 ByLilia Efimova

Information on FinFisher published by WikileaksAccording to government officials, FinFisher is used for a wide range of Internet cafes to monitor "suspicious communication" which is done in Skype, and to monitor trends of crime related organizations such as gangsters and mafia It seems to be using it. Actually, some activists have discovered information that will be evidence that the Mubarak regime was intercepting Skype calls at FinFisher as a result of invading government servers after the 2011 Egyptian Revolution. In addition, we sell FinFisherGamma denies selling FinFisher to the Mubarak regimedoing.

According to the Wall Street Journal, The government market surveillance market is about 5 billion dollars (about 500 billion yen) and it is confirmed that FinFisher is used in 25 countries around the world The Citizen Lab report Although it was only two months before the announcement, use in eleven countries has been newly confirmed during the two months from there. Using these spyware is considered legitimate in many countries.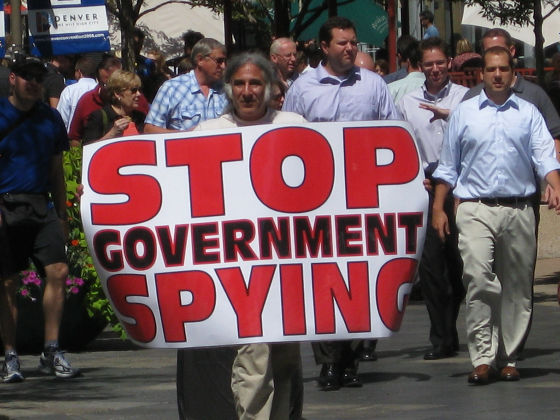 ByScriptingnews

It was confirmed that FinFisher was used in Australia, Austria, Bahrain, Bangladesh, Brunei, Bulgaria, Canada, Czech Republic, Estonia, Ethiopia, Germany, Hungary, India, Indonesia, Japan, Latvia, Lithuania, Macedonia , Malaysia, Mexico, Mongolia, the Netherlands, Nigeria, Pakistan, Panama, Qatar, Romania, Serbia, Singapore, South Africa, Turkey, Turkmenistan, United Arab Emirates, the United Kingdom, the United States and Vietnam.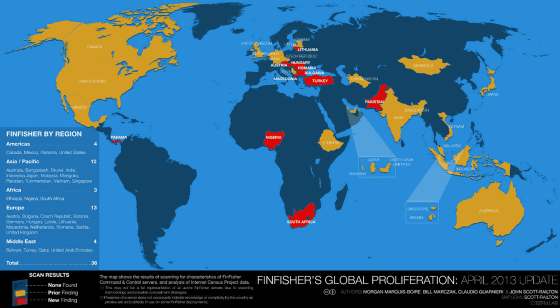 In addition to FinFisher (FinSpy) software for monitoring and eavesdroppingWikileaks clearly shows that there are numerous and sold for government, police, military, information intelligenceIt is made to.