"Game and Twitter and Facebook are not wasteful", Gunosy development team rooted digging interview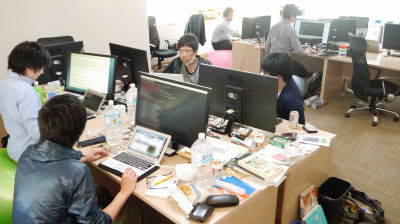 It automatically gathers news that suits you with its own algorithm"Gunosy"Is made mainly of engineers from the University of Tokyo, and since the release on October 25, 2011, the number of users continues to grow with the momentum of bamboo fighting, becoming a corporation in the fall of 2012, and finally in April 2013 registered users Has reached 130,000 people. In order to clarify the core part of what kind of team is developing and operating in what kind of environment, I tried to attack the office where the Gunosy team is working.

Gunosy (Gnoche)
http://gunosy.com/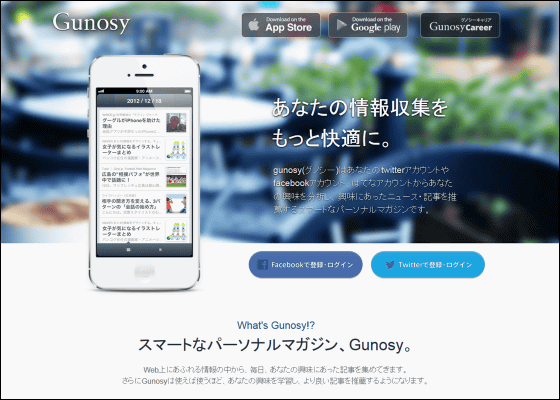 ◆ To the office at the moment

Gunosy has a new office in this building near the Kamiyacho station on the Hibiya Line.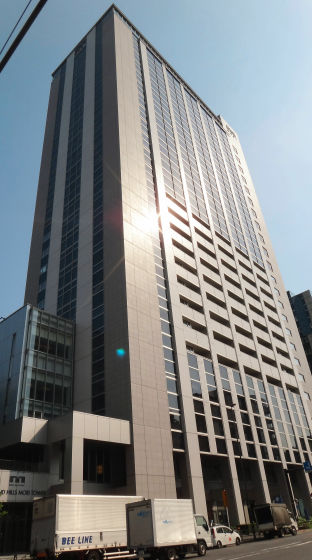 Go through the security check and move to the upper floor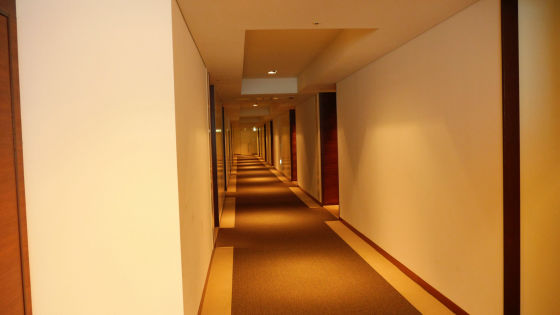 Arrive at the entrance of the office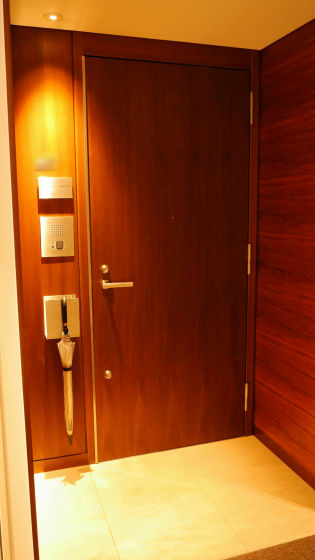 There is no mistake here, the letter of "Gunosy" in the nameplate properly.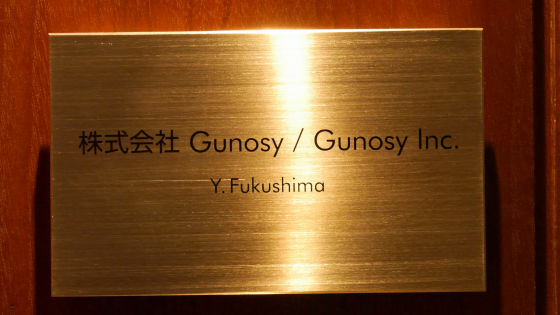 Gunosy development team members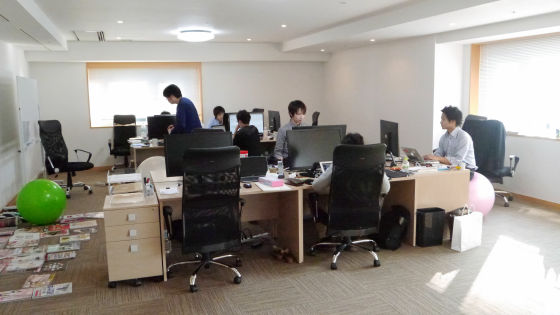 What is the bottle of sake in the window sitting on the window, saying that when development has progressed to a certain extent it opens up in alphabetical order and everyone is drinking.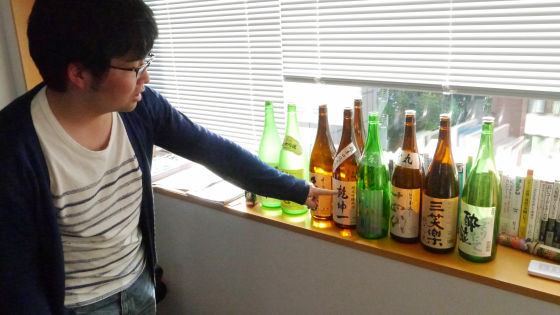 On the other side of the liquor, the books used for reference in development are also slick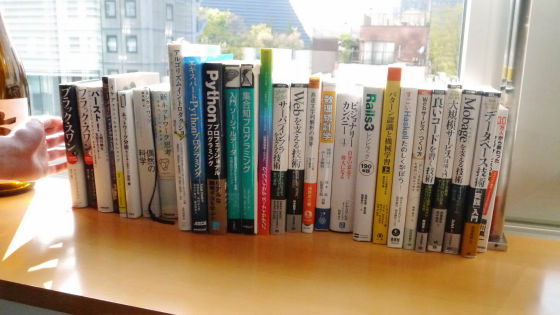 Order of joining in order from the back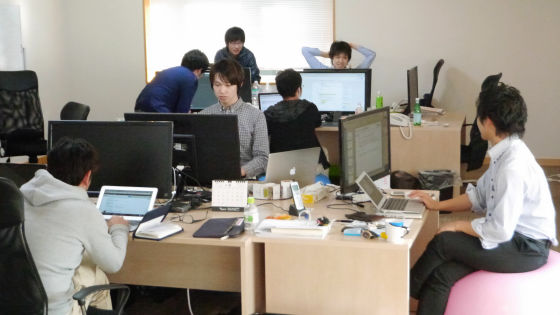 Balance ball is very popular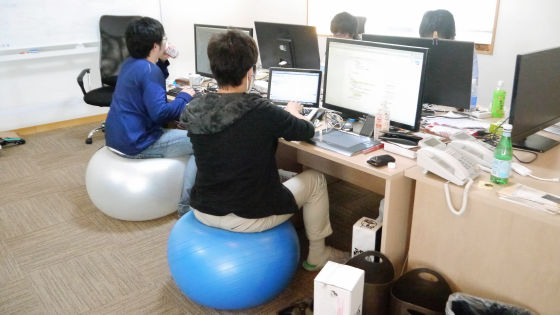 Powered by Translate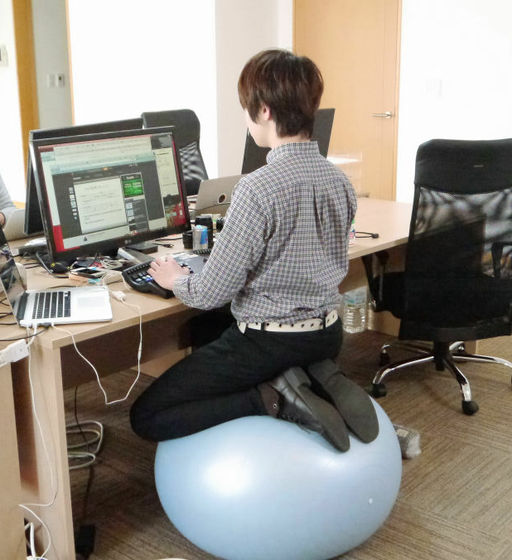 Something about this magazine on the floor is a sample of what kind of information the general public is getting. It is a material used for analyzing Gunosy and developing recommendation engines.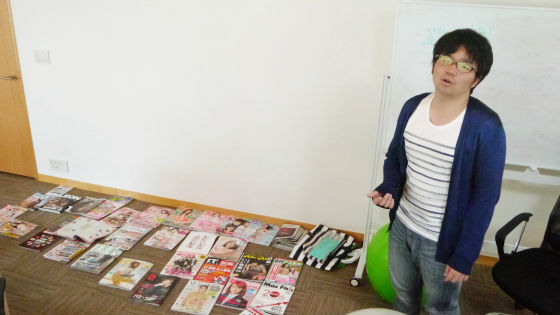 Garbage classified neatly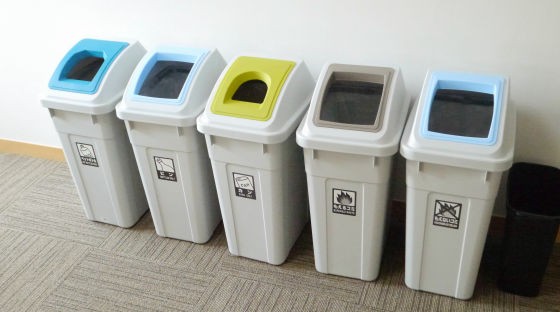 On the other side of the multifunction machine such as copy, the veranda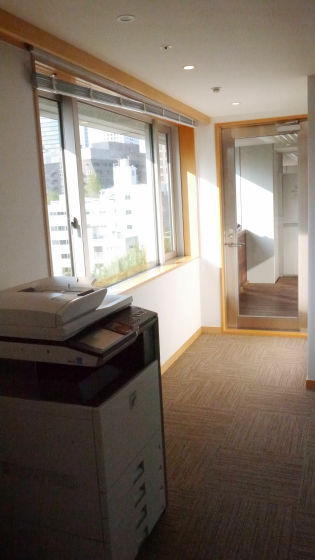 If you get tired of development and work refresh here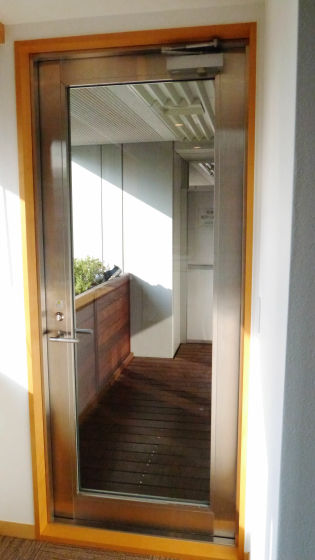 In this way we are trying to recover from fatigue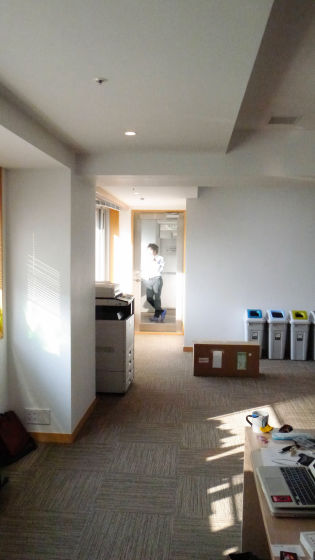 There are other ways to refresh, for example from cardboard at the desk's feet ......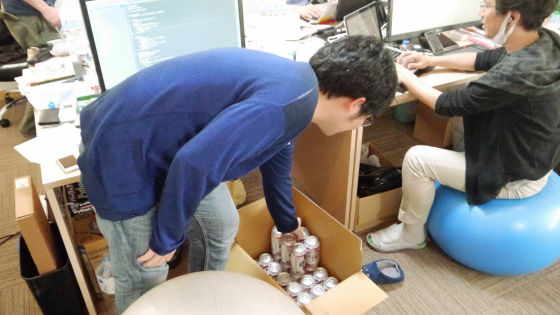 The oldest carbonated drink in the USA "Dr Pepper"Appearance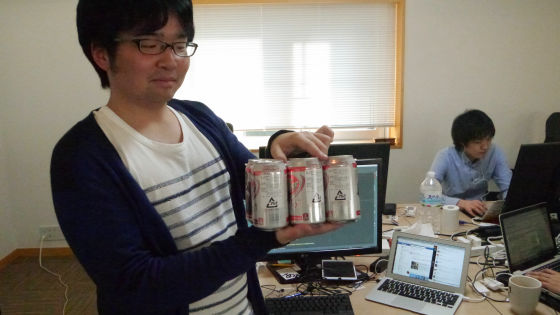 The reason for putting mineral water and doctor pepper in the feet like this is because "I do not have enough time to go pick it up." The secret of explosion development is hidden in these places as well.



The kitchen looks something like this, I drink coffee, put my own cup.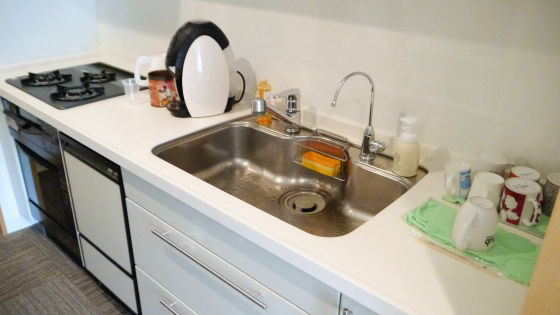 Huge refrigerator is also provided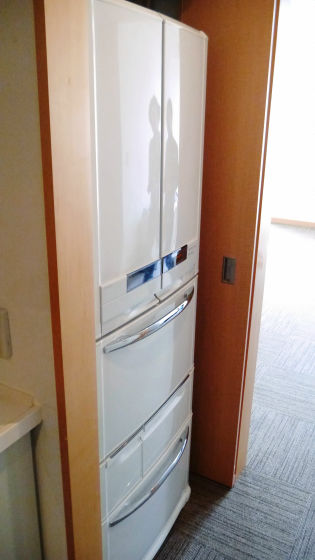 This is the whole picture of the office. Something unfamiliar to the office can be found.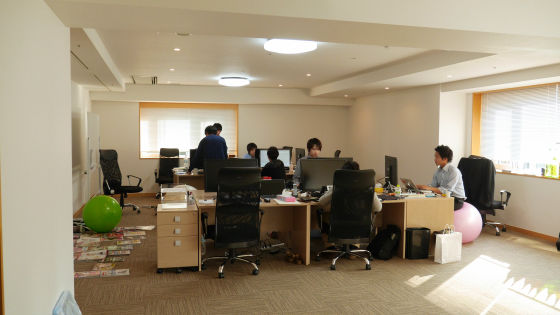 The reason for using a keyboard of a special shape and arrangement is that "Because the feeling of fatigue is dramatically reduced". In front of the eyes I'm trying to interview, I am under development with early work on my eyes.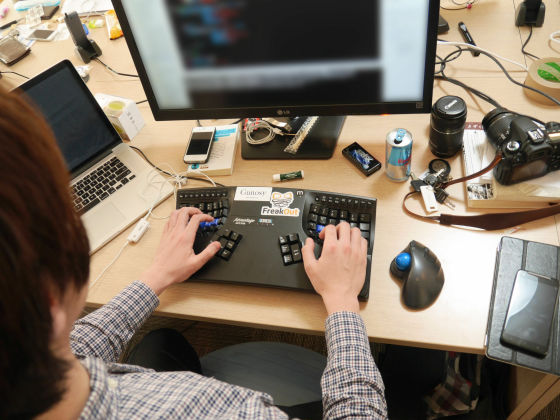 This employee is using the pen tab. Each seems to be using easy-to-use tools.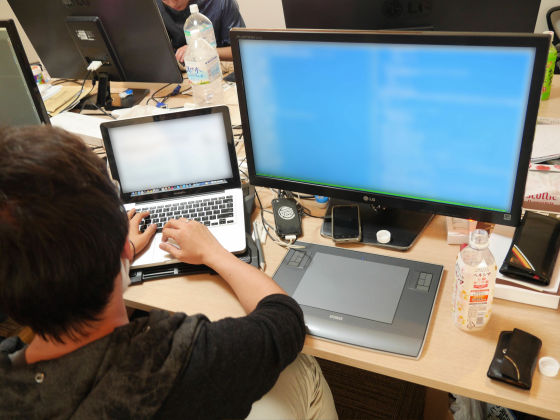 It seems to be very simple with only laptop computers but if you look closely it uses a huge display.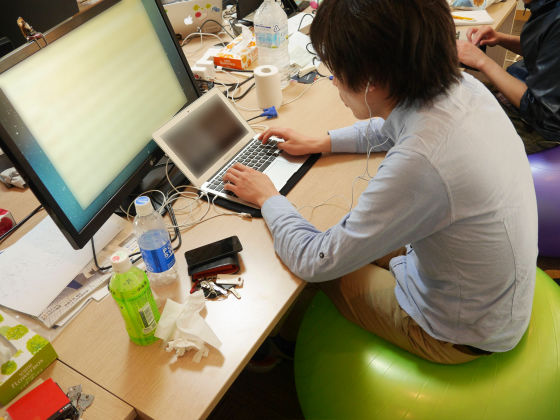 Then I moved to the conference room and started an interview.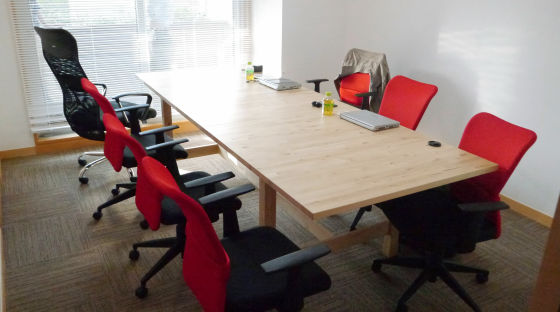 ◆ Interview

Mr. Yukinori Fukushima, who is CEO of Gunosy, is on the left, Mr. Seki Fumiaki, who is in charge of analysis and recommendation engine development, is on the right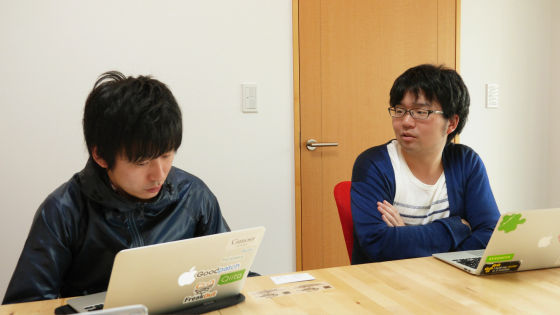 GIGAZINE (hereinafter abbreviated as G):
What kind of service did Gunosy's service make?

Yukinori Fukushima (hereinafter abbreviated as Fukushima):
The reason for himself is that Yoshida and I are developing at the office now that I was free.

All together
Lol

Fukushima:
Seki and others are serious so I went to interns or something, but there is something I would like to try to create a service rather than going to an intern or something, it is a feeling that took some time for those people. Between me and Yoshida, Seki are college classmates in the first place. I went to a different graduate school only at the graduate school, but the contents of the research which I am basically doing are similar in data mining and machine learning.

G:
Did you choose data mining or machine learning because you were interested in that kind of thing from the very beginning?

Fukushima:
Originally I was doing simulation of resources, but I liked the net more than those fields so I felt like moving towards data mining close to the net.

Seki history (hereinafter abbreviated as Seki):
I have been doing data mining since about 4 years of undergraduate, because the programming laboratory had only data mining. Even among engineering departments we are doing special economic system. Among them, since I was doing programming for a long time, I went to a web mining system laboratory which is programming system and matched my interests there so I studied at such a web mining system even at my master and went to interns etc. You did it.

Fukushima:
Because I am doing research so much, there are things that I want to make something using such skills, and if I make something, I have tried to make things I want to use. From the beginning I started with a stance of making something that I can solve, that is, creating what I want, rather than producing something with consciousness of the business side. It was Gunosy, the most intersecting part of what we want to do and the skills we have, the field that is problematic in our life and can make use of what we have studied.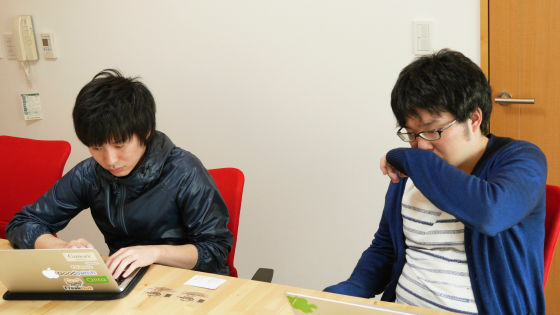 Fukushima:
The problem within me is that,RSS readerEven if I registered a lot of blogs and so on, I did not read at all. Starting there, I began to think that I could send information that matched my personal interest a little more. SNS such as Twitter became popular from 2006 and 2007 around, and I think that individuals have left information on the web, and from information such as SNS, personal hobbies preference with a slightly higher precision I guess you can guess that. I feel like I started Gunosy from that.

G:
How many sites did you register when using Google Leader?

Seki:
Do you think that you are going to start using it and register a lot of things like "Engineers Register 10 Sites to Register". About the next day it will be 40 unread notices and it will be "Wow", and after about a week I will look like it will be 400 unread and never open again.

G:
In short, the first problems were their own.

Seki:
I agree. Well, it is like making things that we want to use.

Fukushima:
I thought about seeing various widely, RSS and ordinary news, but I was not interested in the Nikkei newspaper. I think that it is fun for businessmen in their thirties.

G:
It is said that the reader layer is different from what the reader is requesting.

Fukushima:
That's right. GIGAZINE is also with me, I do not think it is interesting to see this girls. After all I guess it is for geeks, is not it for those who like a little stuff? Although the content has increased so much, the way to convey information is 200 years ago and nothing has changed. I also wanted to change this.

Seki:
There was something to make the next generation newspaper.

G:
There was an announcement that the number of registered users reached 130 thousand on April 11, 2013, but is the number of cooperation with Twitter or Facebook to be 130 thousand?

Fukushima:
The number of registered IDs is a bit more, it is the number of Gunosy minus the number you left. Is it real number of users?

Seki:
Active userIn a story like 40% if it is daily. If it is a weekly it is about 80%.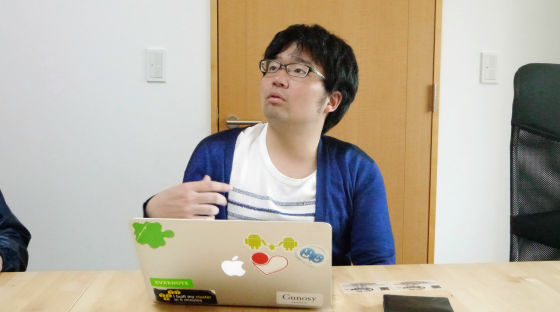 G:
The first release that was released on October 25, 2011, when you are watching an interview per May 2012, it is 7,500 at that time, to 15,000 in July 2012 two months later It is doubling, furthermore in December it is on the scale of 30,000 people, 70 thousand in February 2013, 130 thousand in April 2013, and so on, it is increasing tremendously, but this is increasingly graphical Is it going to rise sharply to the right, or is there something wrong with it and how is it going up like a step with the bonbon bonbon, how does it increase?

Fukushima:
It is basically right shoulder up. There are times when it increases suddenly in articles such as blogs, but it never lasts.

Seki:
At the time of the initial release, three of our development team merely muttered on Twitter, so it was quite user registered, and after that it continued to increase frequently in the word-of-mouth. From one time many bloggers took up it and had it posted on a big blog, so it did increase a lot. After that, I got a proper interview for the first time around May, so it spreads a lot there, and the number of users increased by 1.5 times in three days or four days.

G:
In other words, you will be breaking the wall once at that point.

Seki:
After that, I got an article written for a while and received an interview and the number of users increased steadily. We incorporated it as a corporation at the end of 2012 and we left user acquisition to nature until then, but it was like a little strategically doing it, I improved user registration and landing page day by day, It is feeling that we are building up the improvement and increasing the number of users now.

G:
In the interview per May 2012, I was talking about "I am not considering incorporation", but after about half a year I am incorporating it, but what was the reason for deciding to incorporate it? Is it?

Fukushima:
It was about autumn when I decided whether to continue the service or not, and there was something about their path, and Gunosy would end as soon as it was. At that stage I was doing Gunosy 's service for about a year and a half, but there are quite a few users who have been using it since the service started, and that there are users who use it so that the service It became the best driving force in keeping it going.

Seki:
The timing we decided to keep on was about autumn, when the number of users exceeded 20,000 people. We know that the active user of Weekly is over 70% and you hear about other services, but Gunosy's active user rate of 70% at that time is a very high figure. However, rather than feeling the possibility of businessization or the like, Gunosy is supported by the users who are using the voice of others, etc., "the service which stops being the best" was the first trigger Was not it.

G:
Then we have to continue to incorporate it.

Seki:
I agree. It was a feeling that I would like to answer those who are using it.

Fukushima:
It was great that users without face were properly attached, there.

Seki:
At the beginning, I was losing something even though I was a student competition presentation contest. But when I started the service many people spread it without asking anything, more and more users are with me. I say that it is possible to have hope or something, I feel like I'm trying to do it.

G:
When you actually do it, the growth in the number of users is incredible. Is there anything else that it was tough to incorporate into something else?

Seki:
Gunosy got better use of Gunosy 's development than before, the influence Gunosy gives to myself has become bigger. The pressure is great, and the reaction that comes back more than ever is great as much as we are working on earnestly. While it is fun to have good results, on the other hand, if the numbers do not go up a bit or the like, the way of dent is larger than before. As I thought, there are places where it is hard for a company to do things like doing something or taking a life.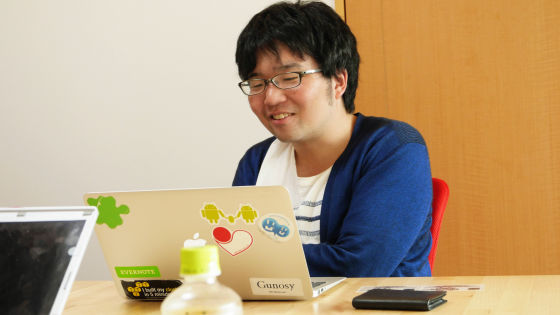 G:
I have been investigating from three people, Ms. Fukushima and Ms. Yoshida Yoshida, how many people do you have at the moment?

Fukushima:
About 6.5 people. There is a person who is helping one person.

G:
Three people involved in the establishment often see articles on the net, but how did they increase from there to about six people?

Fukushima:
First of all, they are friends around me, they are referrals from that person because they are financed.

Seki:
Since three of us did not have social experience, those who first got in were experienced people with social workers. It seems to me that project management focused on teaching me how to do my job.

G:
Because those people are properly in there, it is supposed to proceed forward as a company.

Seki:
I guess it was over if that person did not enter, maybe he was around a corrugated cardhouse in Yoyogi Park.

Fukushima:
Today is warm so I'm saying good, is not it? (Laugh)

G:
The story changes, when CEO Fukushima released Gunosy, he wrote on the blog "Reason why I made GunosyThere is a story saying that he failed making a company in the third year of university, but is that experience alive?

Fukushima:
You are alive. Because it is not now unless it is there.

G:
To what extent are you living in what part? In overseas talks I often hear stories about getting a success with success and failing to hear such story in Japan.

Fukushima:
I guess everyone does not say it. Everybody imagining failure is a dramatic thing. In my case, my mistake is to say "I do not feel motivated" in short. If there is no motivation there is not to do the company, but it is not such a simple story that you can not fight. My heart is broken. I think it is the cause of most failures.

G:
How can I take care to keep my heart from breaking?

Fukushima:
I think that there seems to be a feeling.

G:
Motivational.

Fukushima:
It is not as easy as motivation.

G:
More complex.

Fukushima:
It is not difficult though (laugh). While I have a problem, I'm OK with Gunosy, someday I will visit someday, the increase of users stops and the daily active users are steadily descending and I wonder if I can not help feeling. I think that the experience of that time will live at such time.



G:
Even though the coming days will come, if you have Fukushima-san, that's fine.

Fukushima:
It is not such an exaggeration, but I think that I am founding paralyzed now. If we do not produce results within a year and a half after our foundation, I think that ordinary people will break heart. I can not afford to pay such a salary and everyone is paralyzed, so I do not notice, but they actually cross the dangerous bridge. There are few people who wake up the company in the same generation in the same generation, so it is concerned about the part not understood from those circumstances. I think that it is important to work hard so that the heart will not break in such a situation. We had good parents' understanding, but it would be more painful if parents do not understand.

G:
It was a parent of understanding.

Fukushima:
I do not understand it seems to have understood.

Seki:
When saying to make a company to parents, I was told that it was good to make a company. I thought that it might be said that I would go to university and go abroad wandering.

All together
Lol

Fukushima:
I think that the most difficult thing is to do it normally. I will do it normally, for example if it is at 9:30 in the morning, it will come properly. People who are late are properly blamed. I decide on goals and see what measures I could not do if I could not achieve it, it looks like. All ventures can be decided by themselves, it is really hard to decide them all by themselves. It is a part of how I try to keep my heart out of it.

Seki:
As we went there, we had never worked, so it was really good that a fourth person entered. Because I had never talked to Fukushima this kind of fresh (lol)

Fukushima:
(See)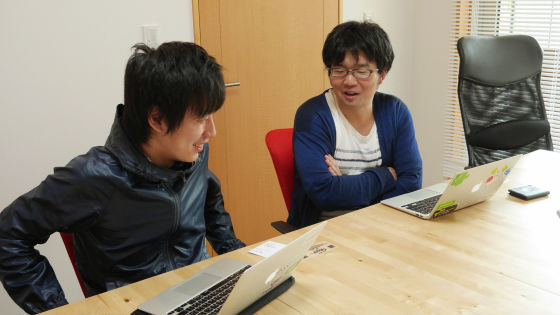 G:
I'd like to listen to Seki from here, but if I look it up in articles on the Internet in the past,Seki is a member of Silicon Valley who traveled together with offices such as Google, Apple, FacebookAlthough it had a name because it means that it is, how does the experience at that time live?

Seki:
I liked the technology very much, so I thought that I wanted to do something. But when I heard various stories as an engineer's seniors or the like, I totally preceded the image that it would be difficult for such management to be difficult on actual sites. I hated it and came to the laboratory where the engineering department could learn the management system.

Silicon Valley engineer is amazing, is not it? I was thinking what this is saying, but I also thought that I should try going once and I tried going. The great thing about them is that they have technology to prove their skills because they did something like this. Silicon valley technicians are not going to do what they taught as if they were recruiting new graduates in Japan, because they can do this kind of thing, it is a stance of doing this kind of thing. For that, I felt it was great to build a means to prove skill sets to raise my skill set and do what I want to do. But if technology says that it is insanely good, it is not so, we can also be like this. I felt strongly that I felt that it is important that if you want to do something like this, you have the power to do it and have enough results to convince others.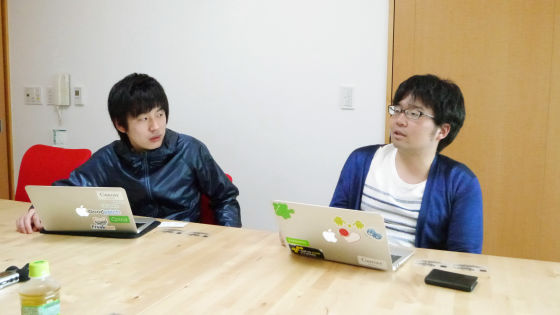 I thought that I should also keep track of my achievements, I tried doing a few data mining interns, I was able to get results as it was, and in that sense I will do web services that make use of my data mining technology I thought that I was absolutely interesting. So Fukushima invited me to join in, so it became a wind. It was a big turning point in the sense that it was understood that it was necessary to create a track record that could explain my skill to anyone, as it is necessary for living to like it.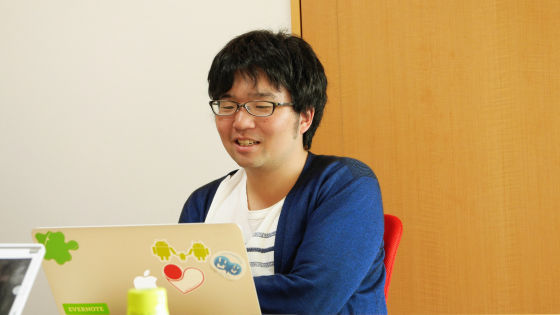 From Fukushima's failure, I think that there was an idea that it is important to make products first. I think that it is said that if you make a web service, 500 people registered for the first time, and you come to venture capital people as soon as they are ordinary people, they say they start a business. But he definitely said "Do not do business easily or not."

G:
I understand if you see the past that you are not scared. Indeed, Gunosy is a service that I was able to do.

F & amp; Seki:
I think that luck was also good.

G:
There was a foundation just to grab luck. It is very interesting that Mr. Fukushima and Mr. Seki's experience are deeply tied to Gunosy. Also, I think there is a server that analyzes Gunosy, but how do you build the server?

Seki:
The first time I was doing it with a rental server of 500 yen a month. It was the setting of the server and for the first time, it was doing with the server of about 1000 yen a month for Sakura VPS until about summer. I think that data mining is misunderstanding that it only has the specs of the server. Computer shogi's story is going on, but the first ranked computer shogi who appears next week is the one who arranges 700 computers of Tokyo University in parallel, but it is third in the worldTsutskanaThe CPU of the memory 32 GB is the server of the level which gamers have like Corei 7. Like this Tsukakana, I think that it is a problem to be solved around by algorithms rather than throughput and hard specs. So if it is about the size of Gunosy's less than ten thousand people, in our case it was enough enough for a 1 GB server. I am happy if you think that it is not because the computational power is low and the level is not low and you are thinking that you are building the algorithm firmly.

G:
Next time the story will change again a bit, is Gunosy's specific story, is there any plans to increase the types of services that account settings can work with in addition to Twitter, Facebook, Hatena accounts in the future?

Seki:
I think that I should think more about the meaning of increasing it. Even if you do not have an account, it seems to do the initial setup well. I think with directionality that you can use it comfortably if you do something well. We thought that "ordinary users have accounts on Facebook or Twitter and will use it." But when it exceeds 100 thousand people, it is time to think about the case without SNS account. Rather than a better service for people using various services, people who are not using Twitter or Facebook can use a bit of patience to deliver good information. I am working hard on the part of making such a worldview now.

G:
Somewhat like a Gunosy account.

Seki:
I agree. That person has high priority.

G:
I see. Also, although Twitter and Facebook are the basis for sharing, do you plan to respond to other types of applications to read later?

Seki:
There are places to share what you share, but if you do not hurt the experience of the user that we aim for, I would like to do such external service as well. "PocketI wonder if I can tell you a story of concern.

Fukushima:
I guess it's OK.

Seki:
The thing that is concerned about Pocket and others is that if you get into anything in the Pocket, you do not really know what you really want to see. Gunosy thinks that the article clicked by that person has high value, so we are turning the flow of optimizing Gunosy for individuals more and more. But when I get to see all the things going into Pocket and RSS readers or sinking it, I think that the value of information delivered to users as Gunosy will be low. So, we must be careful in cooperation with the service around that because we do not have to lower the convenience in the medium to long term in search of temporary convenience.

G:
Is it that "convenience" that I said from the previous time can provide correct information?

Seki:
That's the most important core value. If I do, I'd like to get some confidence that if I get thrust all into Pocket, it will do something. I think that people who can thrust into Pocket are a person with high literacy in a sense in a sense, so I wonder if those people would be able to create situations that would allow them to return appropriate feedback even though it takes a while I will. Basically, we are also positively thinking about cooperation with the outside, but I did it without damaging Gunosy's core value "that person wants the information I want in mid- to long-term" It is a place that is not it.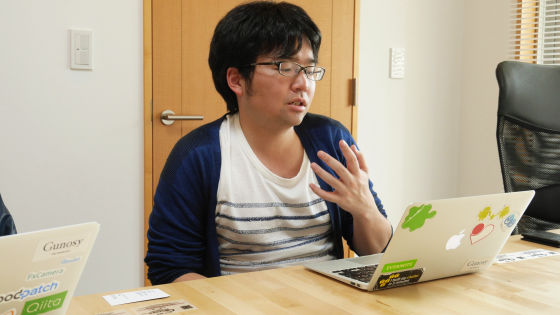 G:
There is a connection with the current story, but Gunosy has a user experience that allows users to optimize for things that are interesting. In the service on the Internet now each personalize it to each user too much, there is something that really interests other than your own interest, but that thing has become as if there is no such thing,Filter bubble problemI think that there is something countermeasures against the question of whether information that is outside the categories of such interests might not be able to touch the necessary information?

Seki:
I try not to only have one type of information. But I think that there are many differences in interpretation of filter bubbles.

G:
What is the difference in interpretation.

Fukushima:
When I talked in a polar theory, I thought that there would be no filter bubble at all. I think that it is a problem of information access cost. As a concrete example, you do not have to talk about Republicans because you like the story of the Democratic Party. Because it is a story about how much it flows in the news. Not all media will personalize, but since information is being added too much, if you do not do things like personalizing something or filtering, people who do not have time can not know what you want to know I think that it is also for those people, Gunosy.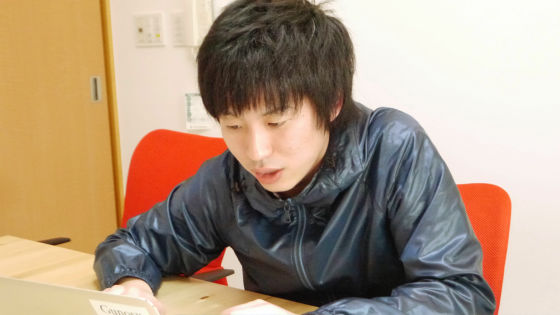 It is interesting information for that person, but information with high access cost tends to be buried. For example, if you are next to Kanji history, I'm from Toyama so I like J2 's Cataret Toyama. But basically it does not appear in media such as national news so much, so we have to apply some sort of filter. I think that this is a filter bubble. Current news is the main stream because people are most likely to be interested in the greatest common denominator. Which is filter bubble, I think that this one is a problem.

Seki:
I really do not receive the information I want.

G:
Is it that filtering is more filterable?

Fukushima:
If it goes one step further, it may be a matter of the filter bubble that is said now, but I do not have to go there yet.

Seki:
As a social problem, I think that the information that everyone should know is in an infrastructure situation that everyone can know. You do not have to know about Twitter or Facebook, do not you come out? Even if it is not SNS, basically if you are watching TV, it surely comes out, you know what information you have to know. I think that the risk that you can not find what you want to know is higher than that. I hope to find out what you want to know with Google, but how many people can you search on Google? about it. People who are accustomed to the net may be able to do but I think that imagining a search word is more difficult for people around the world than I imagined. The information I want is more subdivided than what I am trying to search, and may be in the back. I wonder if I can think about filter bubble for the first time as I can deliver such things.

G:
When Gunosy becomes the ultimate form, is it about a filter bubble occurrence?

Fukushima:
I think that filter bubble will occur for the first time when it comes to "You do not have to look at the news, you should look at Gunosy".

Seki:
People who can feel the filter bubble can feel it because they are also looking at the information not filtered, so those people do not have to think about that kind of thing separately. There is a person who does not see information, not only with or without filter bubbles, I think that it is worth to deliver better information to such people.

G:
That means that rather than Google beginner searches, Gunosy would be a perfect fit.

Seki:
That's where I'm most targeted right now. I think that there is some information I want, but I feel that I will deliver information every day to those who do not know exactly what to look for. Gunosy distributes 25 articles a day, but I think that it is good enough to have about 2 or 3 articles you like.

G:
Is not it okay with such usage?

Seki:
RSS reader with only titles ~ There are some life hacks like ~. I thought that that was very inhuman. I think it is worthwhile to carefully read a book. I think that it is more worthwhile to carefully read the contents of the Internet, etc. because I like the things I like, a few items a day.

Seki:
I do not want to be junk food, do you want information? I do not want to be satisfied, only seeing the title.

Fukushima:
Well then I do not know.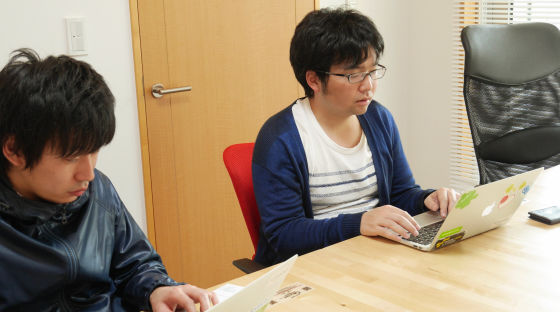 Seki:
People doing dozens of retweets a day think that they are really looking at it, I think that it is happy if they see the information they want, as a couple of cases a day or so Then. Though thanks to something smartphones are supposed to be able to see information anywhere, games and Twitter and Facebook are not wasting nothing. Because there are lots of interesting contents on the Internet, it seems that there are lots of fun contents on the net even if school girls see it. I would like to provide good information without giving such people the cost to find it.

G:
How is the percentage of users who are doing what you are supposed to use?

Seki:
I think that Gunosy is still for the early adapter. But I think that the users of the target group are increasing little by little.

Fukushima:
When thinking about how people's interests are made, I think that Google does not make people's interests. For example, searching "machine learning" on Google is also a wiki and a textbook. However, when examined by "sushi machine learning"Susiro reduced the disposal rate of sushi from 9% to 4% by predicting the sushi that the customer would like to take next by machine learning and sending it to the laneThe news comes out. Is not this content that you can not search if you do not know about Susilo? But I think that it is something interesting to make people's interests with interesting news.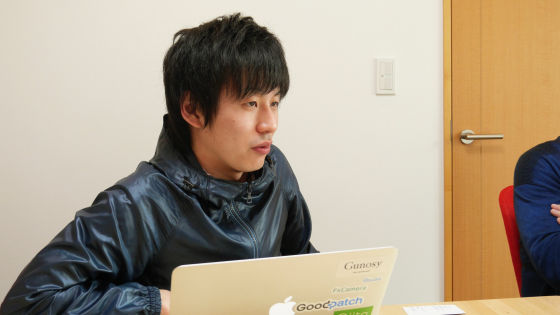 Fukushima:
So it is meaningful that different information flying in a way that Google can not fly. I think that everyone is doing Twitter or Facebook, because information comes from over there, I think that they are doing it. But the contents are quite junk, so there are almost no means on the net to passively receive such junk information.

G:
I see. By the way, how do you plan to monetize?

Fukushima:
I am considering a general business model.

Seki:
I think, but I have not done anything if I told you what I am doing now. I raised funds for that.

G:
Procurement of 31.6 million yenis not it.

Fukushima:
To raise money is to sell stocks. I think that it is a manifestation of intention to improve the service as it is good even in the deficit during that time owing to a certain risk. If you only earn money, there are lots of companies that make recommendation engines, so if you accept it, it is easy to make the current employees live well in the wealthy. But that is why we lose to other companies at speed. Overseas services are coming in at a very high speed now, localization of service is also fast.FlipboardEven if it is in the red like the deficit, it will be easily destroyed by companies that make huge media first and make entrance of news.

Seki:
Overseas ventures have understood that Japan is money, do not you think? From the perspective of Silicon Valley, America is a country that uses new services, and Japan is a country that pays for new services. It is not resistant to 300 yen charge or so, Japan.

Fukushima:
In such circumstances, if you do it like outsourcing while building engines for a long time, it took 5 or 10 years to go to one million users ... ...

G:
Is that the priority for growth speed now?

Fukushima:
I have to fight now and I can not keep up with my life.



Seki:
Because we started business for the service called Gunosy. It is meaningless to start a business as long as earning money and making engine development. Because I wish I had employed a job then.

G:
I see. Also, within Gunosy's company "Every Wednesday we are conducting a roundtable reading of PRML machine-learning textbooks, and marketers and infrastructure engineers also participate in this roundtable reading and have knowledge. In Gunosy it is difficult to participate in decision making without such knowledge. In addition to doing it, we also carry out circulation of papers (mainly web mining, machine learning, recommendation system) in order to know the latest research results. Some employees post papers using holidays. Gunosy encourages such research activitiesIt is said that it is, but since when did this start?

Seki:
I was saying that I will do the study group itself, but since I received my master thesis until the end of January, I have been doing it since around February. Because I'm having to go getting the whole bottom up or catching up with the latest technology. Also, since you can not make decisions unless you know the background by looking at the background, we also have people in charge of marketing participate.

Fukushima:
After that, the reading speed of the article rises. It is us that eventually become a bottleneck. I have not read the papers yet so I do not see new ideas.

G:
Also, are you doing development on this MacBook in front of you?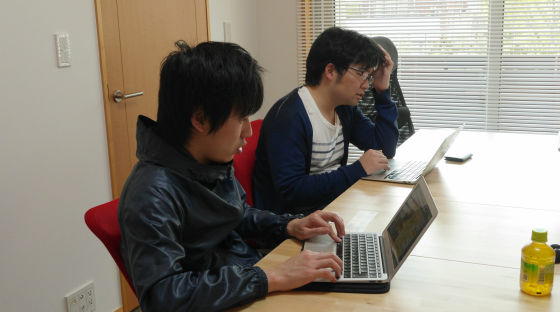 Fukushima:
Well, it's money to buy a company PC! It is a feeling.

G:
The editor you are using.

Seki:
Everyone uses something sticking. Everyone sticks to themselves and is making a development environment.

G:
Although the story changes a little bit again, what kind of things are interesting in the services of other companies from the standpoint of Gunosy?

Fukushima:
ICook padIs not it? This site is amazing. Firstly, as a fact, a quarter of Japanese women are watching every day. It is amazing to be able to make relationships with users up to that point, changing the design by weekly unit or user,A / B testDoing it. I think that such fine accumulation leads to the portion that 900,000 people are paying 294 yen a month now.

Seki:
As i thoughtNico Nico Dougais not it. In terms of the value of delivering information to people, I think that we are making more and more services that go beyond the limits of the media so far. It is live broadcasting of chess' masterpieces and the like for 2 days and this is impossible for ordinary media for needs and resources. It is amazing to surpass the things that can not be done with existing media. It seems that something is cool as a method of delivering information, or it really seems possible to drive TV out.

G:
Although it is the last question, what kind of plans are planned for future expansion?

Fukushima:
Increase the user thoroughly. It is planned to extend to 1 million people this year. As an aimed world view, if active users exceed 50% at Gunosy 's dailyy, it will become a news media with a scale of 500,000 people everyday, so it seems to aim for that.

Seki:
I want to do whatever is necessary for achieving the goal of 1 million users within the year and 50% of that goal to become a daily active user.

G:
How do you move forward with recruiting people?

Fukushima:
A few are elite. "A company that is more inclined to enter than Facebook rather than Google, Gunosy.It looks like.

All together
Lol

Fukushima:
I'm looking for a person who wants such a high spec.

G:
I see. Thank you very much for today.