What is the unprecedented pachinko business front that revived the popularity of Eva and Aquarion?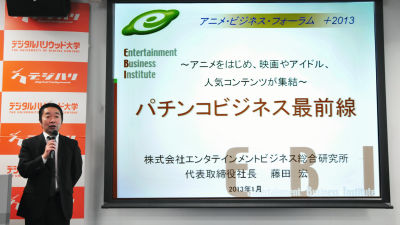 There are some cases in which anime like "Genesis of Aquarion" "Neon Genesis Evangelion" will be talked about again as time goes on after animation has been pachinkoized. As pachinko / pachislot machines evolve and animation becomes an indispensable element, the relationship with animation is deep, but what on earth is the business going on?

Hiroshi Fujita, President and Representative Director, Entertainment Business Research Institute Inc., sponsored a pachinko parlance on the front line of pachinko business in anime / business forum + 2013 hosted by Digital Hollywood University International Anime Research Institute It was.

【Digital Hollywood University】 Anime · Business · Forum +2013
http://www.dhw.ac.jp/e/anime_business2013/

Mr. Fujita started talking about things about pachinko first. For example, the diameter and weight of a pachinko ball. Actually, it is decided by law that the diameter must be within 11 mm and the weight must be between 4.5 g and 4.7 g. Pachinko balls seem to be easy to roll, but as soon as a lot gathers it will not move easily. This is because when a person's dirt gets stuck or the balls cling to each other and it will not move. Therefore, it seems that the former pachinko machine industry was how to smoothly flow balls. From there it shifted to computer control, becoming a content business like now.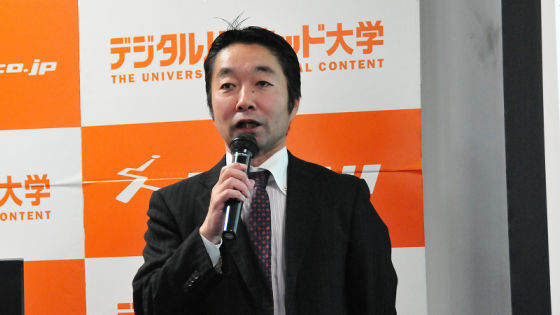 The scale of the pachinko industry is approximately 19 trillion yen, and the participating population is approximately 17 million people.Leisure white paperAccording to Mr. Fujita, this is data after the Great East Japan Earthquake, play has been stagnant after the earthquake, and we received a strong bashing on the net It was also a time when I was told that the figures were depressed. According to the survey of Entertainment Business Research Institute, participants are on an upward trend compared with two years ago.

As for the number of pachinko parlors, there are 12,000 in the same way as the gas station ENEOS. Peak at the peak was about 18,000, so it has decreased considerably, but still in all cities and towns and villages every now and then. Meanwhile, the number of machines is 4.5 million. The number of stores has decreased to 2/3 of the peak hour, but the number has decreased slightly. This is because the number of each store is increasing. Although saying "4.5 million units" is a number that does not come with pins, according to Ms. Fujita "It is a figure with amazing power."

In the pachinko industry, it seems to be said that "If building a hit model one will build, the building will be built", and in the case of pachinko machines it is in the red if it is several thousand, but if it is 10 thousand to 20 thousand, so so, "Well done" will be. Supposing that a hit model that can sell 150,000 units is issued, it will be a business of 45 billion yen if one sells for 300,000 yen. You can find out to a certain extent how much manufacturers are profitable because you can see securities reports and income statements on the net as well. In this industry,Gross marginThere are also manufacturers whose ordinary profit margin is said to be excellent if 10% is said to be excellent, so that we can do business of 45 billion yen is that it is natural to build a building I understand.

So, how does the pachinko business originate in the first place?

First of all, it begins with "the customer rents a ball (in most cases one yen 4 yen)". Customers = A player losing 300 balls if he said that as a result of playing with 2,500 balls, increasing or decreasing, if "2200 released". The shop will generate gross margin due to the difference between "the one borrowed by the customer" and "the ball finally issued." When lending a ball for 4 yen, the law stipulates that you will receive a prize equivalent to 4 yen per ball when you return it. If you borrow 2500 balls and give out 3000 balls, the customer will win 500 balls and you will get prizes equivalent to 12,000 yen at 3000 balls x 4 yen, but because there is also a cost rate of the prize Even when Mr. won, there are occasions when the profit is rising for the shop as a result. "There are few places where the ball sharing rate of 100% or more is now, but before that it was a lot," Fujita said.

Thus, pachinko has two sources of profit, "offering a place for play" and "as a retail business." It is this retail aspect that is drawing attention. As "1 yen pachinko" has increased, premiums such as chocolate and CD have been replaced more than before. It is possible to utilize digital contents as one of the prizes ... Will it also lead to an animation business in the place.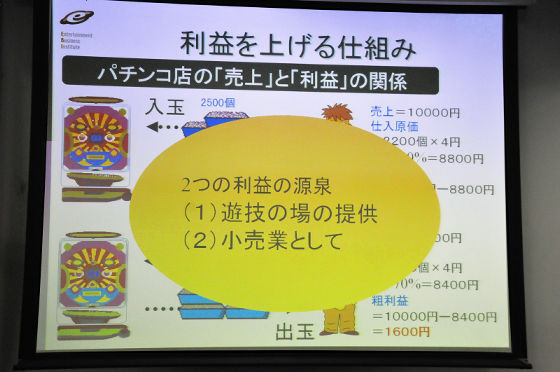 Next is the story of the industrial structure. This industry is largely divided into "game machine manufacturer" and "peripheral equipment manufacturer", and among the game machines it is divided into pachinko and pachislot machines. And in the case of sales companies, pachinko machines and pachislot machines, although there are parts of direct sales, 70% seems to be "sales company business" via sales company. Pachinko machines are thus wholesaled to pachinko parlors and services are offered. The peripheral service under it is that it is servicing the pachinko parlor. For example, advertising agency, personnel service, consulting etc. falls under. Manufacturers and sales companies have high barriers to entering, but since the service is not so much, there are many companies that enter quite a lot of companies, for example, even companies that make upstanding POPs and model description sheets in stores have companies that are listed only by them It seems that it is about. As a business volume is large, roughly speaking, 20 trillion yen enters the pachinko parlor first, and the player takes it home from there about 80%. Of the remaining 4 to 5 trillion yen, over 2 trillion yen goes to the manufacturer, and it is in the form of ... to peripheral service ......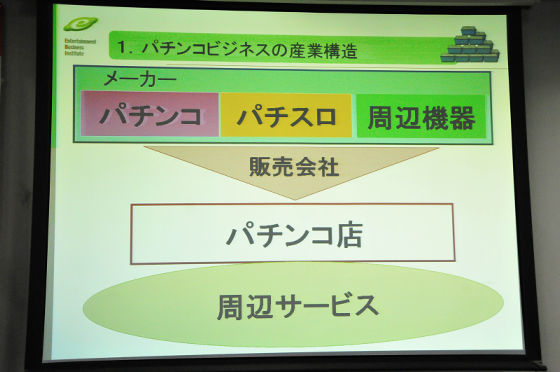 Even if you say a maker, you do not do everything. In development of a game machine, first of all, if you plan a project, if the copyright is necessary, copy processing is done, scenario writing according to it, spec development, the development of "role goods" where the platform glows and the steering wheel vibrates, etc. The work will come out. In the case of the main manufacturer, although it has all the functions, there are times when it makes 4 to 5 lines at the same time, so at most the part handled by our company is half, and the rest will be left to the external business partner is. As for the planning, it is said that there is a great deal of bringing in now. Here's what you have grown skillfullyFieldsIt is a company called. Originally it was a major sales company, but not only to sell what was made but also to plan, to leave the development to the manufacturers, the resulting pachinko / pachislot machine got bigger by the method of selling themselves That's right.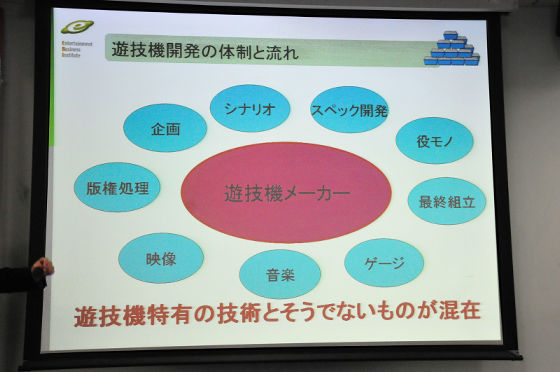 Since pachinko and pachislot are licensed and approved businesses, they can finally sell it after being certified by the Public Safety Commission of each prefecture. Therefore, it is supposed that the game machine should not be put out to the world until it goes through this inspection. Planning and development was going on for about half a year until about the beginning of liquid crystals, but now it is becoming necessary for about a year and a half to two years since the start, for example, we are making a stand for an idle unit And there are laughable and nonsmooth stories that the child recorded on the table and the child advertising when the table comes out are different.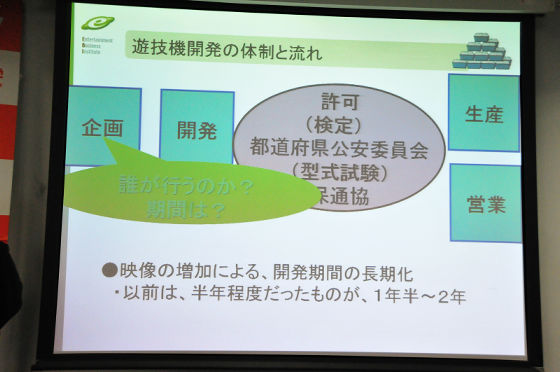 As for why it takes so much for development, "Because various things come into play." Recently, various images flow in the liquid crystal part, and it is necessary to link music and role matching things according to it. However, there is a problem that there is no problem on the whole though it is shifted when it matches with what was moving on a single body, and there is a problem that only a part of the reach action does not move, and once it got permission it will be redone again There seems to be things. So, recently the role of 'comprehensive producer' and 'planner' has become important. As a job, I am in the position to manage "what kind of things are going to be done" and "how to finish it as an interesting pachinko machine" in industry people, I guess that the producer surely will be able to go there so much Then that.

In 2012Safety and Communications AssociationThe number brought to Pachinko is 291 type, pachislot is 90 type. Because it counts as one for the same car type and cars with the slightest specification differences in the car, it will be about 300 models as the model name. As the pace of coming out about one day almost every day, Fujita san who is an industry person sometimes says that "this was going out" sometimes.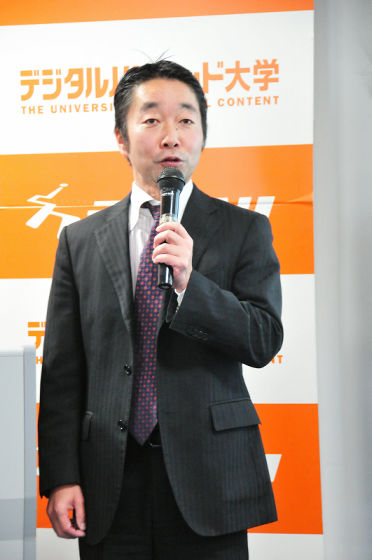 Specific contents include models ranging from TV dramas, cartoons, animation, sports, movies, songs, games, collaborations to a wide range of genres, for example, the daytime melodrama "Peony and a rose"Has come out. In the case of late night broadcasting sex appeal variety "Scouting !! Muscat", it is not used as content, but simultaneous parallel plan of tie-up. In the case of cartoons, confrontation things, good-than-good things things are often used. There are "Eva", "Aquarion", "Cyborg 009", etc., and animations are popular because they were picked up in pachinko and pachislot, and they also do movies and collaborate. "Absolute impulses"We decided only the settings of the main characters, and other than that, Shochiku and Aristocrado were the center, and media mixes including animation, video, comics, games, mobile contents, figures, etc. were carried out.

However, although many models are out, mega hits are getting less. There used to be a series of things like "Ocean Story" that could sell 1 million units, but in 2012 it is said that AKB, which is said to have hit the most, has 200,000 units. However, even if 150 thousand units are sold as mentioned above, it is not less than a small number, because it is 45 billion yen.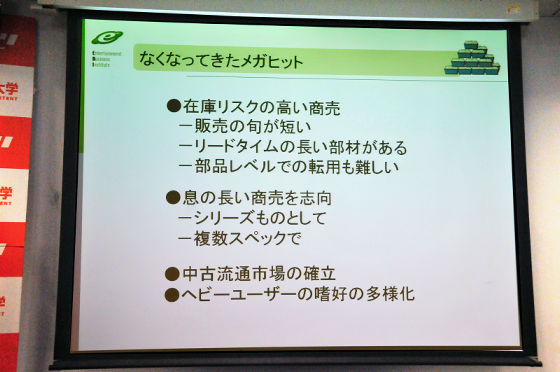 Pachinko / pachislot is a business with high stock risk. We can not sell or do not do business until inspection passes, but we have to sell at a stroke since we are short from installation to installation. On the other hand,lead timeThere are many long items, and we can hardly divert parts. In this regard, manufacturers were also bullish, and even though consultants estimated their sales forecast to be around 200,000 units, they were producing 400,000 units and eventually sold 300,000 units. However, in this case it is supposed to have 100,000 units of stock, so it seems that if you think about the opportunity to sell it is better to withdraw sales loss than holding inventory. It seems that it is also caused by the establishment and maturity of the second-hand market and user-oriented becoming "hitting one model" from "hit one model all the time".

Factors of the hit model. Whether or not you have a name recognition if you use content, and whether the world view is easy to use with pachinko / pachislot is important. There are also many cases that companies outside the industry are in charge of development capabilities. The point of promotion method and budget is how seriously do you make it? To say that there are 300 models annually, each manufacturer is 4 to 5 models a year, in many places it is about 10 models, but not everything is all about power and 2 to 3 models are the main axis. The thing that you are doing well is that there are a lot of 幟 's in the Akihabara neighborhood, and how to put power is different.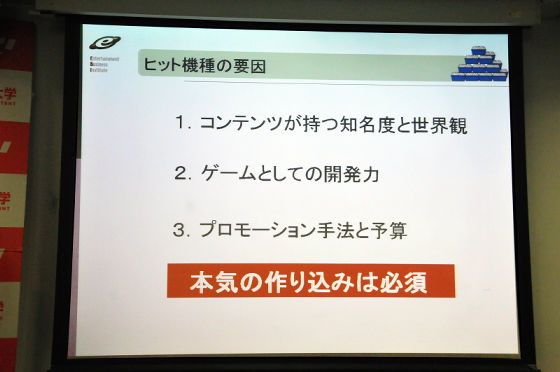 The history of pachinko machines has changed significantly in 1990. As a pachinko machine using full color liquid crystal for the first time "Mahjong story"Has appeared. In addition, using popular content "Lupine the Third"CR Lupine The Third World is mine"Appeared in 1998, the contents spread from original to copyright goods.

Here, as the one that can prove the power of 12,000 stores and 4.5 million units concretely,Creator of Aquarion"there is. Originally it was a work that was broadcast as a TV animation, but I only knew people who are familiar with animation. However, when it is converted into a pachinko game machine manufacturerSANKYOHad struck a tremendous number of television commercials, so the theme song came in the best 20 of the Oricon Daily Chart, even though it had been two years since its first release.

As the number of units increases, the contact frequency increases accordingly. When the table of AKB came out in 2012, Mr. Fujita says there were also AKB leaflets in it as every day, as each pachinko parlor in the neighborhood put in a newspaper folding flier.

In the case of AKB48, I also did an interesting trick and made new songs on pachinko machines instead of television and net, the pachinko machine has a real time lock function, it is possible to run this song at what time and what day So I took out a new song every 12 songs on Saturdays every week and released it in other media around 4 days later. In addition, "gravity sympathy performance" in which all the amusement tables flow the same concert pattern once per hour was also implemented. There are 60 songs on the table, original video has been recorded for more than 2 hours, and it is enriched to about a little concert DVD.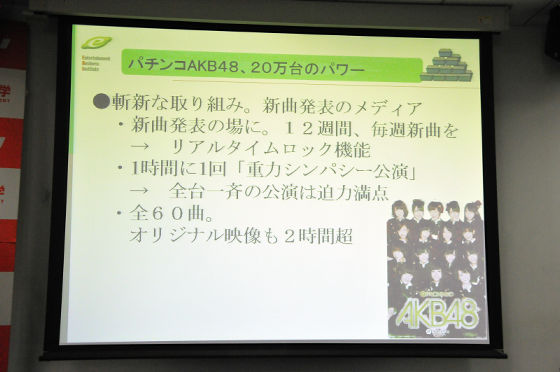 It also has power as media, synergy is born when using original content, original can now be sold. Also, co-promotion like Media Mix is ​​also getting more because it got accepted to a new generation. Media mix is ​​the current trend, there are things that the pachinko industry side is trying, but there seems to be a place where it is deploying using pachinko. As Mr. Fujita expressed as "to use because it uses copyright", as pachinko / pachislot based on the original "Umi Mononoke - Kotto you were there -"Or"Kaito Tenshi Twin Angel Kyunkun ☆ Tokimeki Paradise !!"Sengoku Otome - Momoiro Paradox ~"Rio RainbowGate!Animation such as "was created.

Finally, Mr. Fujita touched on a collaboration to a mixed-type entertainment such as production of copyrighted work, production contracting, joint development of copyrighted material, exposure, peripheral business and so on by saying "utilization of pachinko business". Because the store develops nationwide, it is possible to utilize the location business and also said that it can challenge because there is a profit engine.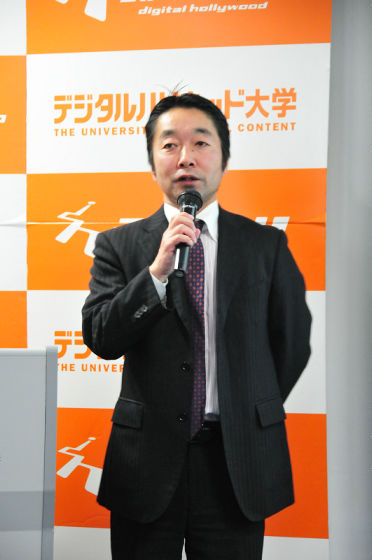 The contents of the question and answer are as follows.

Q:
The pachinko machine may be animated as a sequel to a new one. For example, the Ghost in the Shell has also been pachinko parlors,A story about a new project "Ghost in the Shell ARISE" came out. Is there something related to the pachinko machine manufacturer from the planning stage of animation?

Fujita:
Recently it has increased. Companies such as Fields and Sammy are talking about whether they are making money from animation making and making it a easy to use story for pachinko in the form of a co-production committee system of movies And I'm making requests for animations that can be used immediately by reprinting. It is becoming common to do together.

Q:
There was a story about utilization of location business, but what exactly is it?

Fujita:
Since stores are located throughout the country, for example, there is now a "convenience store payment", but there was also a talk about whether it may be done in a pachinko parlor in the same way. I have not yet reached the point that it is still being utilized, but that there are 12,000 stores nationwide can be utilized, there is a chance.

Q:
It is about circulation and stores. Will the unit be bought, and is the same price for each store?

A:
Basically it is almost purchased what you are using at a pachinko parlor. Although there is place of lease, basically the pachinko shop side has to pay for that amount. There were also manufacturers trying to make rental methods, but they are not rooted. The price is basically the same, but there are also discounts depending on the number. However, basically the manufacturer is a strong industry.

Q:
Although it is said that affinity between animation and pachinko is high, there are vocaloids if it is a popular movie. Is there any movement between Bokaro and Pachinko? For example, Hatsune Miku.

A:
I do not understand it for a moment, but there may be such movements anymore. Because development takes quite a while. For example, AKB's hits are hit, but this is not planned after AKB 48 was sold, because AKB 48 was on sale while making pachinko machines.