Square Enix's animation business "Animation is a business, it guesses exactly"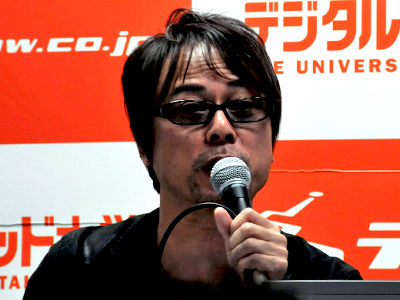 February 3,Digital Hollywood University"Animation · Business Forum +2011" was held in. As a subheading, "Restructuring animation business and cutting strategies of each company", it became a forum for employees to talk about strategies on animation and business of the five companies that participated.

Kurashige Producer of Cross Media Division appeared from Square Enix, and he talked about the company 's animation strategy. Although the company which issued a magazine and has many animation originals, its policy was "Animation is a business" and explained that "I am measuring the scale sense perfectly".

Details are as below.
Akihabara Daibiru became the venue.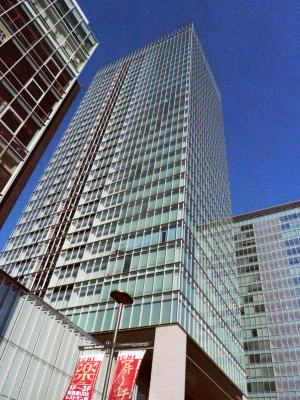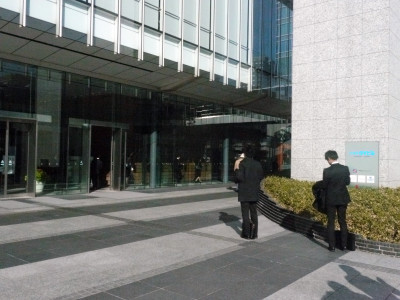 The forum was held at Digital Hollywood University on the 7th floor.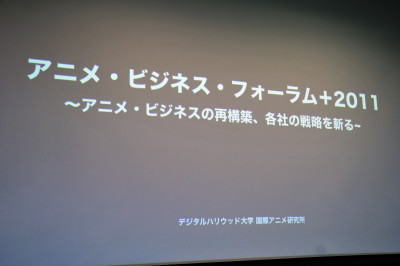 Mr. Noriyuki Kurashige, General Manager and Producer, Cross Media Division, Square Enix Cross Media Division, Ltd. Program name was "Animation effect for comic publisher".

About Municipal Ordinance Problem
First of all, Mr. Kurashige touched the problem of the revised city ordinance. What I am interested in is that the process concerning the case approval process and the Tokyo International Anime Fair (TAF) boycott are told together so that they should think about separately. Regarding the metropolitan ordinance itself, there is no such thing as unlawfulness, but that does mean that there is a feeling about this process of regulation. On the other hand, Square Enix does not participate in TAF's own booth, nor does it participate in Comic 10 society, so it does not seem that it will not be issued this year. Each work is thought in the form of being shared by the production committee, so it is said that there is nothing to do with SQUARE ENIX 1 company 's choice about putting out / not putting it on TAF.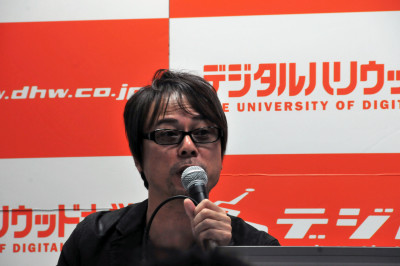 About Square · Enix Publishing Division
Square Enix has fewer than 150 people in the publishing department. Its comics sales are ranked fourth in number following the well-known publisher Big Three, and the top five publishers are "S, K, S, S, S, S (Square Enix), K" when they are initials, and these two alphabets I heard that there may be some good effect.

The comic magazine issued by such Square Enix is ​​"Monthly boy gangan"Monthly G Fantasy"Young gang"Monthly ganggan JOKER". Gangan has achieved a cumulative total of 50 million copies as an animation title "Full Metal Alchemist」Has been serialized for 9 years, this work seems to be the monument of Square. Also, co-invested in animation of the original Dengeki Bunko "Toaru Magical Index"Published a manga version. It has become a work that crosses the fence of the publishing company.

To G fantasy, boasting top sales in this genre of genresBlack Butler"Is posted. Also,"Pandora Hearts"It seems that gothic-style beautiful works for maidens are gaining popularity.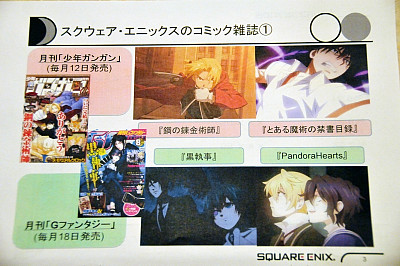 "Young Gangan" published in "Sekirei"Is a beautiful girls colorful battle work," It's a bit different in TV broadcast version and DVD ". "Arakawa Under the BridgeIs a great breakthrough in animation, and in Young Gangan it is realizing animation of a wide range of genres.

From Monthly Gangan JORKER, "Summer storms!"The time leap thing called animation is made.

Although it is not a comic magazine, as a subscription free web magazine "Gangan ONLINEThere is also. This is free at the time of serialization, the comics are released like a regular magazine, and it is becoming a business model "Please buy comics that I liked at the time of serialization".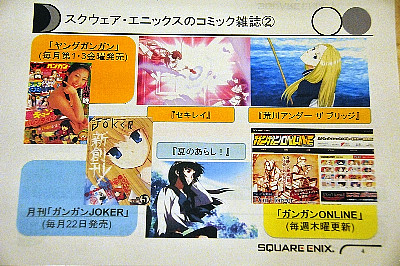 The circumstances that Square Enix started as a publishing company seems to have been said to publish guide books and supplementary readers of games that were released since they were originally game companies. When there is this, "Dragon Quest 4 Coma Theater"When I started planning to make a book as a book by a number of manga artists, the flow is that the boy cancer began as a result of making this manga artist in this magazine debut this 4 drama queen cartoonist That's right. Incidentally, Mr. Kurashige also said that there was a time when editing 4-frame manga.

◆ The relationship between Square and animation
The relationship with animation began in 1992. "Tropical boy Papuwa-kunIt is said that it is the first animated work of Sueni. At the time I was broadcasting anime for the longest time in the golden time, the TV Asahi Saturday was broadcast for two full years by the frame from 19:30, and the average audience rating was over 11%. In 2001 the editor-in chief of the publishing division changed and in the same year Kurashige san said that he launched the cross media division.

In Square Enix original animation after 2002, first of all in 2002Tokyo Underground"Spiral ~ The Bonds of Reasoning ~"Smash hit. In the following year Papuwa was animated again "PAPUWA"When"Full Metal AlchemistIt started and it became a big hit. The theatrical version was also made for Hagaren, "There was a great enthusiasm for female fans Hagaren," Kurashige looked back.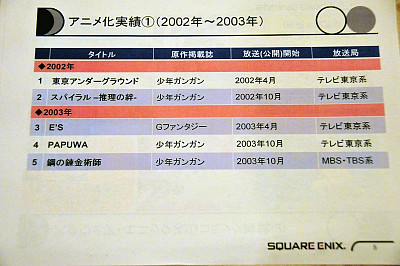 Made in 2005 "Mahoraba"It seems that it was the first late-night animation of the square. Mr. Kurashige from this time seems to have come to feel that "both the sending side and the receiving side (compared to the time of Papuwa) changed a lot.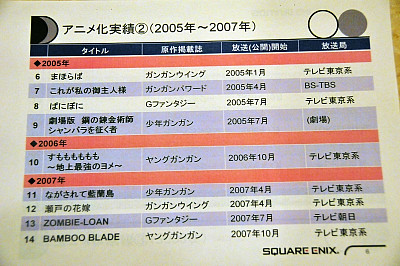 As a work from SquareBlack Butler,Celestial Warrior Sun RedAlthough it was decided to be produced up to the second term due to its popularity, in Square it seems that there is no such thing as to force the second term in animation, so the work made the second term is viewed It seems to be thought that it is a result that was loved by a person very much.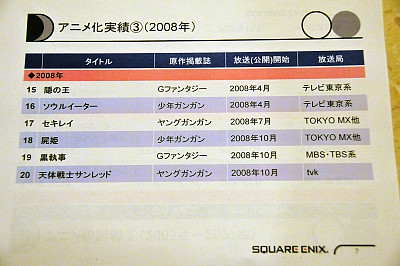 In 2009 Hagaren reanimated. In 2010, the animation and the original match exquisitely, and it ended almost at the same time. At this time, as soon as Mr. Hiroshi Arakawa's original work draws up the name, it is called a studio (animation productionBonds) And it was said that there was a flow that the scenario was made immediately after two days, and it was said that it was a very memorable work by having a beautiful ending. As works of these days, "Saki -It seems that it was quite popular, and if powerful rival's "K-ON!If there was not "more" ... Kurashige said a little disappointingly.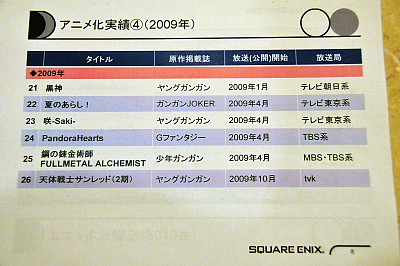 Recent Sieni is "A certain place"Series and many other non-original animation works, and if it is a work currently on air and Noitamina's"fractalIt seems to have also invested in. In addition, the new theatrical version of Hagaren "Steel Alchemist Holy Star of Mourning Hill (Milos)"Will be a national road show on 2 July 2011.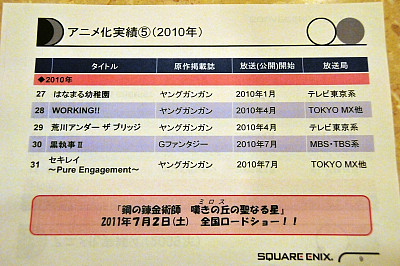 ◆ Square Enix's animation strategy
Kurashige who told the current situation of the publishing industry before the animation strategy. According to the data, the market size is gradually decreasing. In 2009, it decreased by 6.6% from the previous year, and even comics only seems to be down for 4 consecutive years.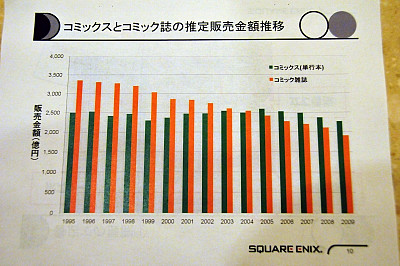 Mr. Kurashige avoided mentioning the cause, but in fact it pointed out that the trend of "buying only comics that I like" and "I can not sell magazines" has settled. A magazine is in the catalog state, many publishers have issued magazines with cost cracks and talked about whether they are going to win a game against the book. This game will earn the top popular works firmly ... .... "Anime", will be there.

Like Square Enix, from the publisher with the original, the view that animation is the advertising tool of the title, the view that it is the biggest advertisement tower can not be denied, in the case of Hagaren, 150 thousand copies hit before the animation broadcast Although it was an animation, it seems that it became a hit work of 1.5 million copies by animation. The strategy of Square is keeping in mind that "Animation is a business", I estimate how much the title produces after animation, then limit the maximum amount to invest in animation It is calculated. Because there is a history that animated many works so far, it seems that you can measure the scale feeling of the work exactly and it will not be removed largely. Specifically, it is said that "80% batting rate is inconvenient".

Kurashige says that "I would like to be a publishing company that contributes to making good works" in making animation. As a matter of principle, I talked with animation production companies etc. regardless of up and down, and sometimes the original author made me to make background setting materials and I firmly form a trusting relationship and will make a work, at that time the Cross Media Department He seems to be doing his work fairly and neutrally, rather than having the shoulder of the original author unilaterally.

Also, since animation is an opportunity, he seems to have a consciousness of "trying to promote it firmly". Those who deployed animation with Square are said to be saying that "they are wonderful in promotional cooperation," but in fact, the sales promotion force is a big success, and by casting advertising expenditure, he creates signs and posters, It seems that they are asking for them. Also, I made an animated PV with my own expenses, changing the contents every 1 course and inducing it.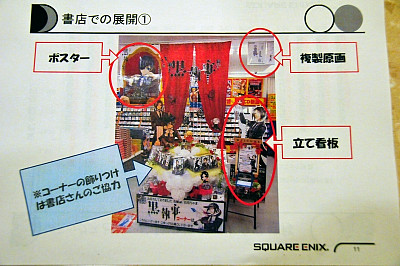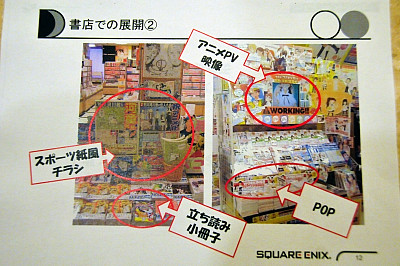 "Profit induction" "Serious cooperation" "To advertise in a clinging manner" seems to be the SQUARE ENIX's anime 3 principle, and furthermore the original workers also doing "attack" while preserving what they have cultivated with fans That's right. On top of that, I was aiming for a balanced and happy project.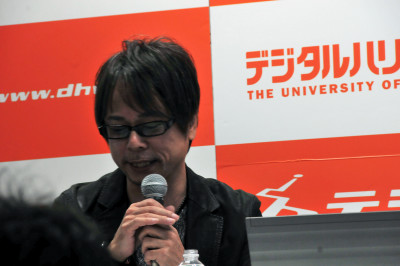 ◆ Q & A
Q:
Many works were responsive in Nico Nico Douga, but how about there?

Kurashige:
There are times when there is a doubt about "delivery", but consider the idea at the production committee and think about how far you can show and where to pay for the money, I am going with it.

Q:
I think that there are many original works easy to develop in animation and games, but are you considering from the stage of the original?

Kurashige:
I often accept this question, but I have not done anything. As an editorial policy, the cross-media department does not intervene (for animation).

Q:
I am selling very well but I think there are also works that are difficult to play games and animation.

Kurashige:
There is no sense of "becoming an animation because it is a manga" or "feeling into a game if you become an anime", and I am doing it for the first time with the raising of "I want to play a game, I think I can sell". The only exception was Hagaren, and that work was done with the game division firmly.

Q:
I think that there are also things that did not make an effect unfortunately because it was out of the initial expectation, but the probability of success?

Kurashige:
It is the case of our company that said "80% 90%" before, but it is over 90% in that simple diagram.

Q:
What are the factors of success?

Kurashige:
One thing to be honest about is to do risk hedge in the right direction. After all, I am already blessed with many things, it is an excellent production ... .... As I mentioned earlier, I am doing my best to win, "to make various movements".

Q:
What about animals' original comicalization?

Kurashige:
The earlier "aaru", "STAR DRIVER Tact of shineSo, well, I think whether you can win with cartoons or win a project with manga. When developing this into manga it becomes the basis of a judge whether to make interesting cartoons. Regarding the future prospects, we would like to do a place called comicarization in the sense that we support the primary original, animation.

Q:
I think that various sorts of cross media have been done at Square, but is there anything other than animation?

Kurashige:
I am specialized in animation, so I will be out of specialty, but I am also in charge of the merchandising team such as Dragon Quest and FF. Previously developed "Star OceanI also did comics and did animation and there are also things that made such a triangle. However, the idea of ​​"with framework first" is thin.

Q:
There was a story of Gangan ONLINE, but what about responding to e-books?

Kurashige:
Ganggan ONLINE is a framework different from (originally) a magazine at the time the place of presentation is online, but development that can be read on the mobile is putting its strength as it is. In Japan, it has not been long yet, considering the national circumstances and user trends, we began distribution in North America and France first. I think that digitization is indispensable from now on.