President of the Institute of Motion Picture Association talks about 'The current situation and future of Japanese animation industry' whose business structure is undergoing transformation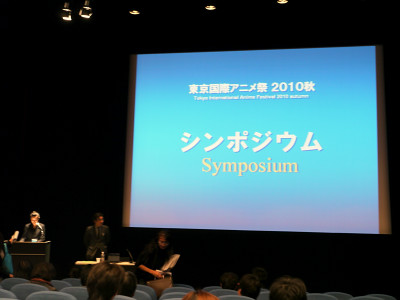 Tokyo International Anime Festival In autumn 2010, several symposiums were held, but among them the special lecture by the organizer was "The present situation and future of Japanese animation industryIt was done on the theme of "Theme.

Panelist is Mr. Ikuji Fibukawa, general director of Japan Video Association, and moderator Takakazu Fukutomi of Senshu University School of Network Information. Mr. Norikawa is producing "Bleach" and "Naruto-Naruto"Studio PierrotIt is also the president of.

The contents of the symposium where the current situation and future of various animation industries such as the business circumstances knowing mainly the current production committee system and the current situation of oversea market were told were as follows.
Analysis of the current situation of the animation industry was done using data of "Animation Industry Report" produced by Japan Video Association. Mr. Fukutomi sits on the left, Mr. Nogawa sitting on the right.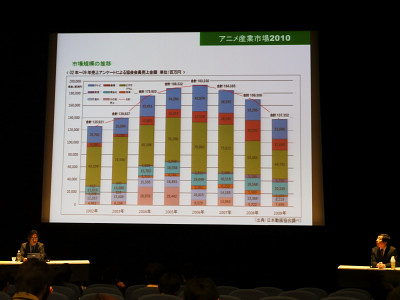 ◆ Business model of animation
This is the result of the questionnaire on sales made to members of the Japan Video Association. It seems that it is coming down in the peak of 2006. About this, Mr. Nogawa said that more than 90% of animation production companies are engaged in television work as a business, there is a feeling of uneasiness about the destination of television media, Specifically, I analyzed whether the decline in the number of TV series might be reflected.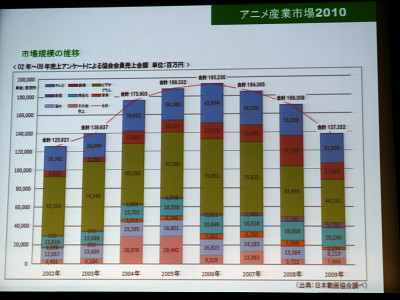 According to Fukutomi, the structure of the animation industry is TV animation +Video gramIt has been growing until 2006 in the business form, but after that the merchandising and distribution business has been growing, and while music CDs are not selling, it is rather increasing about Anison and the structure of the industry Mr. Fujikawa was nodding in this, saying that it is changing.

Originally a business model was a style that one company established a program about sponsors, in a form that all sponsors pay for frame periods and production costs, but that model gradually declined, and now in the TV series it is between 2 and 30% About It seems that the remaining 7 to 80% are in the production committee system.

Although it says animation, there are various genres ranging from those of super-long market such as "Sazae-san" "Doraemon" "Anpanman" to "Moe system" broadcasting at midnight, it is not possible to put together in one section Possible. For example, "Sazae-san" is broadcasting with a feeling like a home drama, and it has become a genre that can be linked with old merchandising. In addition, in the comic-linked genres such as "NARUTO-NARUTO" "BLEACH", etc., it is established with the addition of various business schemes such as calculation of audience rating based on serial data and sponsorship It is said that it is.

The production company thinks how to extend secondary use with merchandising, videogram, domestic record, overseas edition version based on television, how to control production cost to payline (breakeven point), how about secondary I've been doing it on models that use it, but recently this has changed and merchandising is also spreading out of genre for children.

This is sales data of commercialized secondary use. In the data of the Japan Video Association Member Company, 2009 seems to be the best sales ever. Mr. Nogawa said that it could be the result of children's data can not be this number and that it would be the result of the growing merchandising in youth culture.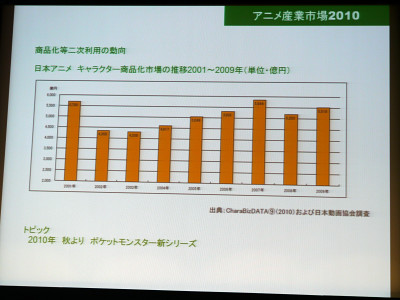 Although the number of animation productions peaked in 2006, it has not increased or decreased so much, but it seems that the total number is decreasing. There are a lot of production committee systems currently being broadcasted at midnight, and there are many contributions from video affiliates in this production committee, but at present the video relation is in a state of commercial cold and it is quite As a series, the number of productions of 26 in six months, 52 in one year is not finished, 13 series of 1 course (3 months), 6 series are increasing, it is increasing. Therefore, even if the whole number does not change so much, it seems that it drastically decreases when it sees by the total number of series. As a production, cost is lower as long series as production involves hundreds of staffs when making a series, while cost is difficult if the series changes a lot.

It is said that it was "Neon Genesis Evangelion" from 95 to 96 that introduced this "production committee system" on television. Mr. Nogawa said that if the sponsorship model is the model that sponsors are all funded, the program will not be established unless the sponsor is notified and will be forced to produce under severe circumstances where the sponsor decides immediately before production will not make it on time for on air It seems there is also there, and although it was said that the production committee system has the merit of being able to start production when the plan is OK, as an investment effect the revenue is not so much I do not have that ... ....

◆ Anime for theaters, animation delivery
Theatrical animation has low box office revenues in 2008, recovering considerably in 2009, 33.8 billion yen. Among them, "Ponyo on the Cliff by the Sea" gave out an overwhelming figure of 15 billion yen, but even if it surpassed this, 18.3 billion yen, it seems that it was a good 60% increase over the previous year.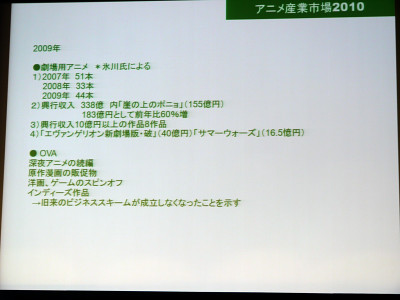 It seems that the situation that Japanese movies exceeded the performance of Japanese movies in recent years has been continuing in recent years, but Mr. Nogawa showed pride that Mr. Nogawa would be an animation that is underpinning the big picture. In fact, Evangelion is 4 billion yen, Summer Wars is 1.6 billion yen, and we are flying a lot of hits.

In other markets, the distribution has been growing considerably, and it seems that the video association questionnaire is roughly 5.7 billion yen market. Although it is a small market to look around, it was almost zero ten years ago, so it has increased considerably and Mr. Fukutomi acknowledged the outcome. According to data of the mobile content forum, the mobile phone market has reached 11.2 billion yen, probably half being animation. As video associations and production are content creation side rather than infrastructure side, it seems that we are closely watching how television changes and how other infrastructures change.

According to Mr. Fukuto, the number of mobile phones has been growing since last year smartphones, including the iPhone, appeared, receiving mobile images on mobile phones became relatively common, becoming a favorable factor It is said that it is.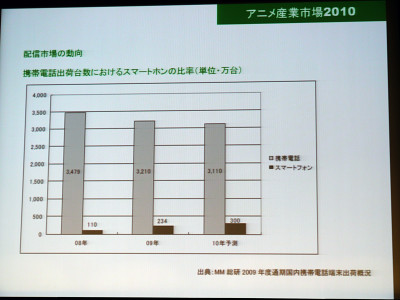 ◆ Anime in the music industry
Music has declined about 30% in the last 10 years, but the animation soundtrack seems to be an important position in the whole as 113% compared with the previous year in 2009 data.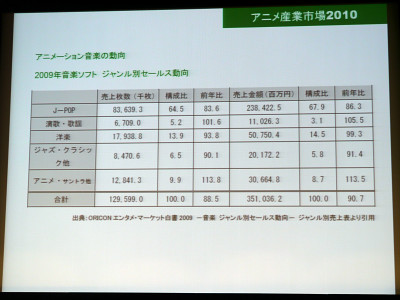 Even with new sales, animation is quite solid, while other genres go up and down considerably. Although the number is small, it seems that sales are definitely growing. It seems that in the music industry it is now in a direction to collect live rather than music CDs, but this is said to be said that it is said to be an animation series including a voice actor concert about half already this.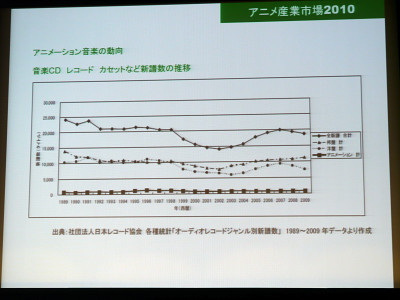 ◆ Business with foreign countries
Fukutomi says that while investment in Japanese animation and games is high (so-called "cool Japan") overseas, the investment effect on domestic animation gradually comes out and it is no longer dependent on Japanese animation It seems that there is a situation, it seems that even if it has pierced the contents such as "NARUTO - Naruto" or "Yu Yu ☆ white paper" it has suffered considerable damage.

According to the data on overseas box office revenues of Japanese movies, the live action movies of the successive entertainment income in the United States had only Sony Pictures versions "Godzilla" and "Shadow Warrior", others were animation films such as Pokemon, Yu-Gi-Oh, NARUTO is. Mr. Fukutomi analyzed whether such anime in Japan would be reduced, as it seems that America seems to be a considerable distance. Meanwhile, Mr. Norikawa says that he may meet with a Hollywood producer, although he shows interests that are not half the story, he said that the wall is thick for television. However, he seems to have various stories about movies, he says that he expects that "If you think about the future, you can do something funny."

Mr. Nogawa also touched the illegal downloading problem of animation. It said that in every country has a positive aspect of knowing Japanese animation and a negative side not to be money, he told us how seriously we should think about how to do business. Mr. Fukutomi added that Japan's pirate content in China is about 1 trillion yen, so I wonder if the circumstances may change if all of this can be collected.

Since the market size of domestic contents will reach the maximum of 13 trillion yen, in order to increase this, we have to sell overseas, but when Fukutomi examined the industrial data, the business with the fairly new country increased It seems that it is.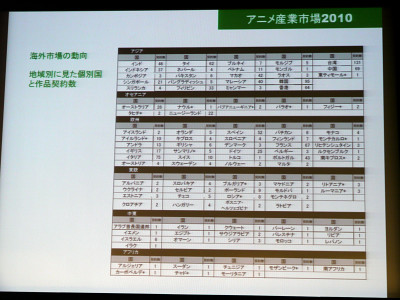 According to Mr. Nogawa, firstly Japanese animation was bought in the vicinity of Asia and Europe. In the past, as Japanese had been buying American animation and home drama during TV early years, Japanese animation has been broadcasted in various countries, now European animation generation is about the 3rd generation.

About 10 years ago when Mr. Mt. Niboro was in Europe, Japanese animation was told by Boroxo, Heidi which is a masterpiece literature that is unknown in particular is animated with characters like "Otama yan" in Japan It seems that a great child literary came angry with cancan when this came to Europe. However, European children also shed tears at that Heidi, Heidi's face eventually settled. When Dragon Ball was hit in France, it seems that there was a time when "imported Japanese animals harm children" as imports were reduced, but still the Japanese animation survived so far, the fun and enjoyment to other countries I am spreading it.

When there is only terrestrial broadcasting, it is very sensitive to the media coming from overseas, so there are many countries in which anime in Japan does not enter, but now, with the spread of satellite broadcasting and cable television, Japanese animation has spread to various countries I have entered a work contract with San Marino, Nauru, Ireland etc in recent years. However, there seems to be a talk about whether overseas earnings may not increase in proportion to the number of work contracts. Mr. Nogawa analyzed that people who were hungry for entertainment jumped to Japanese animation and that it is still time to do business. If the idea of ​​paying for copyright spreads further, I confirmed the hardship.

◆ Originality of Japanese anime
In connection with the copyright, Mr. Fukutomi introduced the copy work "Daemon" (?) Which Doraemon found in Thailand. Although it is not a cat but a tiger, it seems that it was Thailand, and it was 3D animation as well, just by seeing which one corresponds to which character, while the contents and the story are the same though it is the same. Why can not you make characters and stories, even if you can make only this? I heard that it was in doubt.

Mr. Nogawa who is the producer side said that Japanese animation's awesome thing is not just a fashionable thing but preparing carefully and raising the character setting properly and making it all up and making it up . Because of the budget, there is a limited number of pictures or things like full animation can not be made, but since there are also many comic interlocking works, it is fairly detailed about story and character making, and other countries can not imitate a bit I talked about making it at the level.

In the past, in conjunction with the merchandising of the toy company, Gundam was born, Yatterman was born, but since there is no back where the original is born now, there seems to be a situation that it is impossible to publish even if you want to put out the original . Since it is not that there is no originality in the animation world, Mr. Nogawa concluded that it might be our responsibility to create such media and places.

◆ Q & A
Akiyama
It is Akiyama of Digital Hollywood. The numbers used today are basically based on the numbers of the Japan Motion Picture Association, but what is the ratio of animation association to the animation industry?

Fukutomi:
Is the number of members?

Akiyama
How many figures added to today's figures should be considered "Japanese animation industry"?

Futagawa:
This is a very difficult question. One question is whether we are sales only in the animation industry, or in terms of DVD sales or total sales that even sold something, even if I include it, I heard that it is a trillion yen scale, but " Is there a trillion yen scale in our industry? "And it is also a doubtful number ... .... The exact figures are those numbers accumulated only within our industry, so how much do you add around the sales here ... ....

Fukutomi:
I think that the sales of the animation industry outside the video association members' membership number should be increased to how much this number.

Futagawa:
I do not really understand.

Akiyama
While listening to a variety of stories, Japanese animation is so momentumed that there are quite a lot of markets, but when the data of the Motion Pictures Association actually comes out, it is not that big. I wonder where the deviation state comes from.

Fukutomi
Even if it is not large, it is over 100 billion, so it's not small. Also, people outside the members ...... Because this is a count in the place of animation production, it is counted in another place like television. I think that there is not much error as content industry.

Akiyama
understood. Anyway, it is difficult to see such numbers.
I understand that animation receives and does not accept is not technology, it is not a drawing mindism, but 3D animation is powerful against 2D which is Japanese handicraft in the world wide flow I think I'm on. Although I think that there is no chance of winning even if Japan fights in 3D animation, I think that there is not much umami, but in such circumstances, the element that will expand 2D animation which is the future Japanese art of the future Well, how about the idea of ​​that place where I have to hand on the thing called 3D again?

Futagawa:
As for this, we finally completed the preview by finishing the work which I had difficulty at all during our time. In the movie released to the Golden week next year, it is titled "Demon Den", which took nearly seven years. This is almost all hand-drawn, I said that the number of works drawn on site is close to 200,000, but I feel a sense of uneasiness as to whether this difficulty can be continued from now on. After all the hand - painting 's goodness is also the extreme part of Japan' s animation, which makes it impossible to do in 3D, but since this is also overwhelmingly overwhelmingly that human beings are overwhelming, this kind of animator, Whether the creators' people are growing up reliably, if it is said that it is very unpalatable, on the other hand it is one of our animation.
As you are asking from Digital Hollywood, in terms of what to learn and how to mutually cultivate people while talking with each other, it is quite difficult to put the cost of nurturing people up in production There are also stuff like that and from the viewpoint of ourselves there is an opinion that people at such level want to win at learning place somehow, so the animation industry and the educational world are not a stance apart a little I also have a kana feeling. From my point of view, if we do not deepen it further, people will come neither in the place to learn nor in our industry human resources will grow up. I feel like becoming such a bad thing, if you ask, it is the same as 3D or 2D in order to further activate this industry again, but I will nurture engineers as creators I think that I would like to make an assignment.

Akiyama
Yes. Thank you very much.

Ito:
My name is Ito of Brother Industries. From now on I think that mobile phones and distribution will become mainstream, but when the media and infrastructure are changing in that way, what kind of things will be made, such as quality and how to make it as a content site, I would like to ask you if you have any idea of ​​that kind of development.

Futagawa:
As I mentioned earlier, whether it is mobile or television, the creation of animation itself has not changed at all and there are lots of fun and ideas to make it, but how to use it I do not think about infrastructure, so I'd like to suggest that more and more to such things. So I want you to drop all the money (laugh).

Fukutomi:
As a production method, for example, it is comparatively lightweight like Flash animation, and some way of making it specialized on the net is also done partly.

Futagawa:
It is not an obsession anymore, because it is a means of making one thing. Even with Flash. I guess you probably do not do professional production, do you?

Ito:
Then, for example, if you are not a pro, making Flash animation, the difference when you do so will be the difference between quality as well.

Futagawa:
I agree.

Machida:
My name is Machida, CCC. Now, when animation is made in Japan, I think that there is a tendency that the original is made into animation in general, though the original depletion, now the light novel is positioned as the original, but I will create an animation in the future Whether there is a way of thinking that it does not rely on the original from the production side in doing.

Fukutomi:
Is that the original animation, is not it? Is not it much on television?

Futagawa:
Of course, we are not denying everything, and when we talked about it a few years ago we did the "Twelve National Records" at NHK, but that work is not a cartoon. I made animation from novelization. To make a work on television is not that easy. It costs high cost and walks along the road of considerable difficulty in making the program, so I can not say that I can absolutely do this kind of things, but as many of our productions I am trying and trying to watch attention to, attentive, and make the program interesting ... ... Thank you for everything you advised (lol).

Fukutomi:
Like Fuji TV or NHK, there are also directions that you are daring to make original animation. Since I think that there are also cases where we are organizing a committee from a game company, I think that it is increasing. However, since the number of comic books is quite large there are so many, I think that it depends on that there can not be helped.

Machida:
Thank you very much.

Nakazawa:
I am Jack In the Box's Nakazawa. Although there was a story saying that there was an original work earlier, recently, if you think that recently, original game of games, it is late night animation or something like animated cartoon original animation is recently many, but on the other hand, especially when rating, especially comics I think whether the regulation of two-dimensional relationship and the like became loud in the world, but I wonder whether future animation will be an original adult game or animation with a sharp scene will increase or decrease , I wish for a moment let's hear about the situation as it is, I would appreciate it.

Futagawa:
I do not know the neighborhood for a moment, but what about it?

Fukutomi:
Even with the original adult game, when it comes to television it is different from the game, right? It is supposed to be content like TV.

Nakazawa:
Well, it's totally excluded from that kind of thing, but the title is not changed.

Fukutomi:
I think that it is spin-off. I think that I do not agree with the regulation basically as a motion picture association (laugh). Is not it?

Futagawa:
There was something a bit like something when creating and selling so-called adult video. Is that coming to the broadcast? Since it is basically freedom of the press and there is freedom of expression as well as doing on television, there is nothing to say that the association does not do what you put on television, that is a little difficult question to answer.

Fukutomi:
I think that it does not mean that adults will increase. Is it OK?

Nakazawa:
Thank you very much.

Matsuoka:
It is Mr. Matsuoka of a writer. As I mentioned before, there was a story in Thailand, but also in China I am making an animated cartoon as a national policy as well, but the circumstances are the same with Thailand the character and the story can not be made, the thing I made is a copy of Doraemon, Although it is the present situation, although it thinks that it becomes a threat of Japan when it became mature and it became possible to make a story that can make a story after 10 years and 20 years, but how about that Is it?

Futagawa:
I do not know if it will be a threat, but cooperation can not be done quite easily. Until now, various productions have also challenged several times, but I do not hear anything quite successful. However, it is a very technical level story, for example when it is a certain part of China's production, or when receiving a presentation about a 3D television series from a certain Korean production, the quality is very high and the production budget As I heard it, I have information like "Can you do it at this price?", So I think that Japan is better in terms of planning and business. So, I'm receiving feeling that tying up with such technology well is not a distant story. Especially Korea has a very close cultural feeling, especially in a certain part, I learned a thing from a Japanese model as a model, The walls of various things are finally melting and I feel a lot of things can be done. I think that I want to make models as soon as possible.

Fukutomi:
Rather than thinking like a threat, it's rather that you do it together.

Futagawa:
Yes.