"Miro Video Converter" which can convert movies with one shot for free for iPhone, iPad, Android, PSP, KindleFire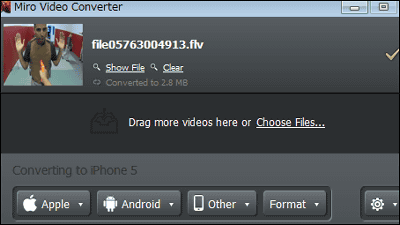 Free software that can convert movie files for formats such as MP4 · WebM and devices such as Apple products · Android smartphone · PSP · Kindle Fire is "Miro Video Converter"is. You can convert it by specifying the screen size and aspect ratio, and it is compatible with Windows, Mac OS X, Linux.

Download, installation, operation method etc. from the following.

Miro Video Converter FREE - Convert any video to MP4, WebM (vp 8), iPhone, Android, iPod, iPad, and more.
http://www.mirovideoconverter.com/

Since this time install it to Windows, click "DOWNLOAD MiroVideoConverter" on the above site.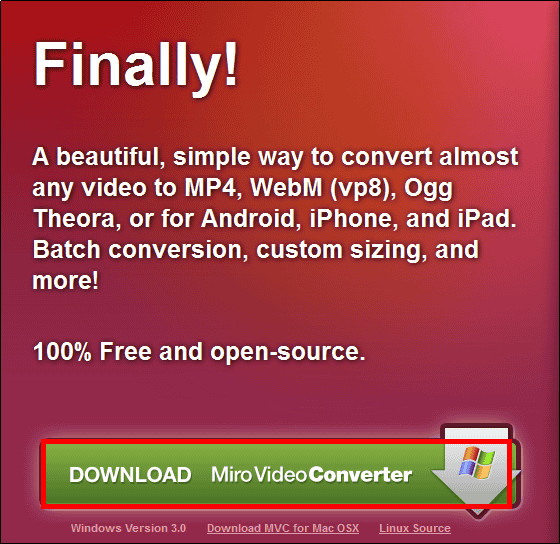 Run the downloaded installer.




Click "Next >>".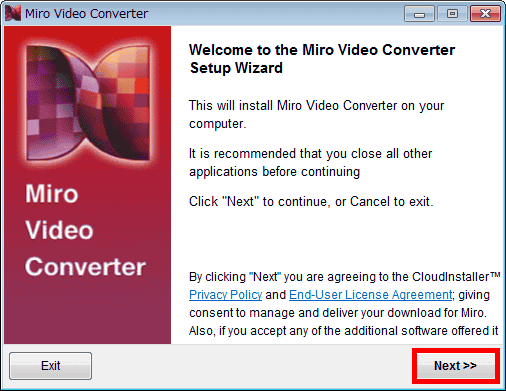 Since I will not install extra things, please remove the check at the top and click "Next >>".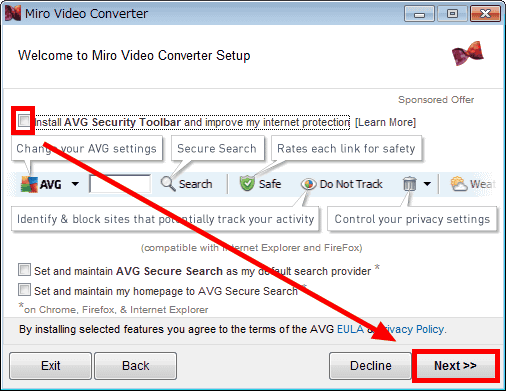 When the installation is completed, the operation screen is displayed.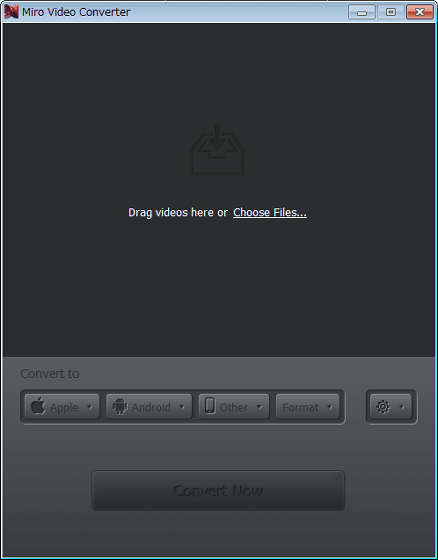 To convert, drag & drop the movie file to be converted to the operation screen.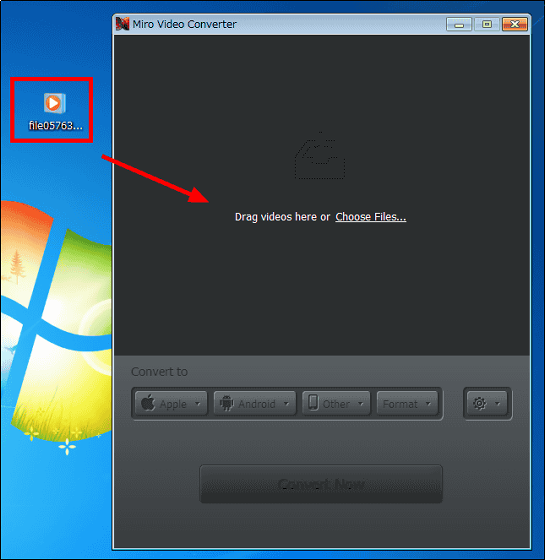 Videos are added to the operation screen as follows.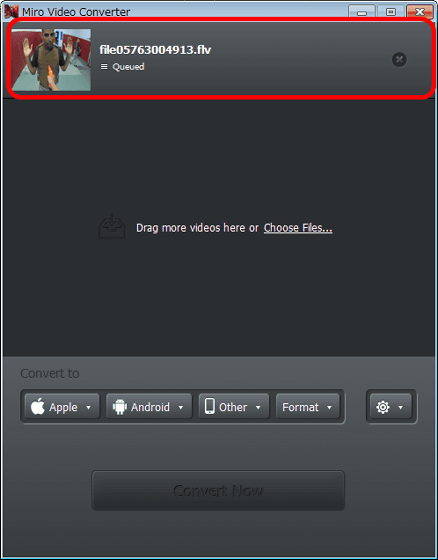 To convert videos for iPhone 5, click "Apple" and select "iPhone 5".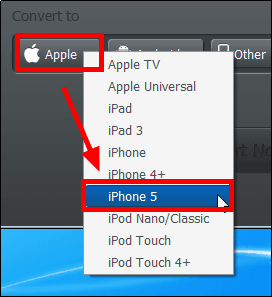 To convert, click "Convert to iPhone 5".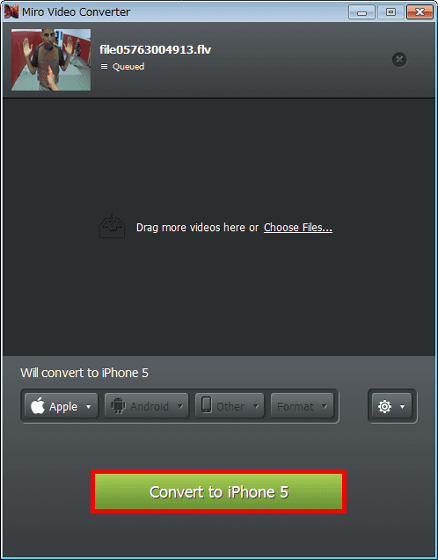 Conversion in progress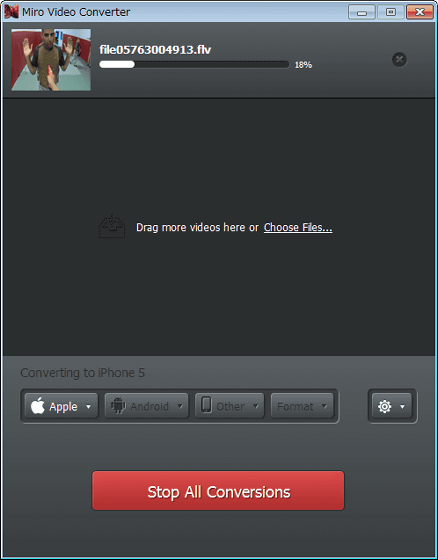 With this, the video is converted. To check the video, click "Shoew File".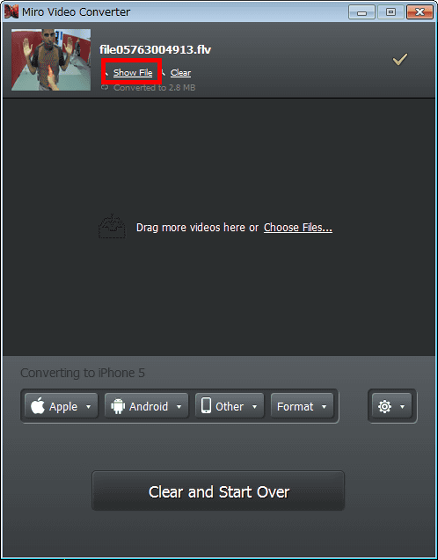 The destination folder will then be displayed.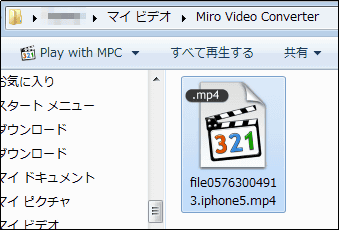 Apple products that can be converted are iPod (Classic / Nano) / iPod Touch / iPod Touch 4 + / iPhone 4 + / iPhone 5 / iPad / iPad 3 / Apple Universal / Apple TV.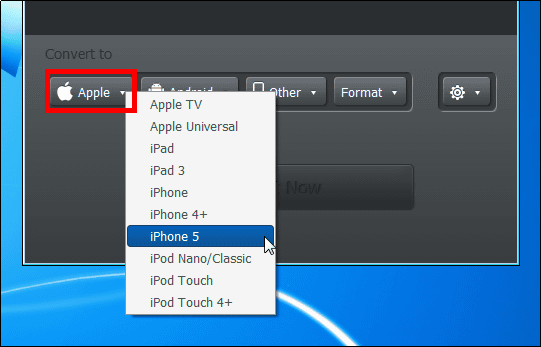 The Android-powered smartphone is as follows. Samsung Galaxy Y / Samsung Galaxy Mini / Samsung Galaxy Ace / Samsung Admire / Samsung Droid Charge / Samsung Galaxy S / SII / S Plus / Samsung Galaxy SIII / Samsung Galaxy Nexus / Samsung Galaxy Tab / Samsung Galaxy Tab 10.1 / Samsung Galaxy Note / Samsung Galaxy Note II / Samsung Infuse 4G / Samsung Epic Touch 4G / HTC Wildfire / HTC Desire / HTC Droid Incredible / HTC Thunderbolt / HTC Evo 4G / HTC Sensation / HTC Rezound / HTC One X / Motorola Droid X / Motorola Droid X2 / Motorola RAZR / Motorola XOOM / Sanyo Zio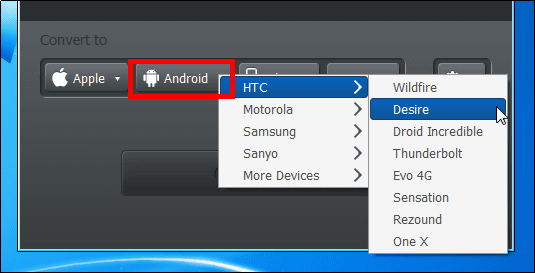 Conversion to PSP, Kindle Fire is also possible.




AVI / H264 / MOV / WMV / FLV to Ogg Theora Video from AVI / H.264 / MOV / WMV / XVID / Theora / MKV / FLV from AVI / H.264 / MOV / WMV / XVID / MP4 / MKV / From XVID / Theora / MKV / FLV to WebM. Moreover, conversion to MP3 etc. is also possible.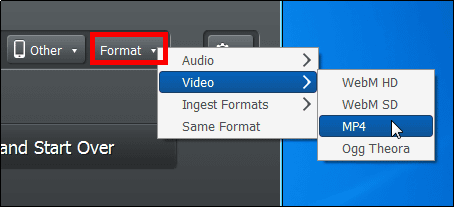 Thumbnail creation, screen size specification, aspect ratio setting are available from the gear icon setting.