"Japan direct sales" of TV shopping applies for civil rehabilitation law application, liabilities are 17.4 billion yen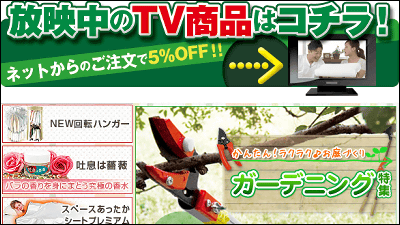 Known for shopping programs and TV program intervalsJapan direct sales"The general affairs corporation applying for civil rehabilitation law applied to the Osaka District Court on November 9, and a maintenance order was issued. The debt was about 17.4 billion yen.

Japan direct shop TV shopping internet shopping
http://www.666-666.jp/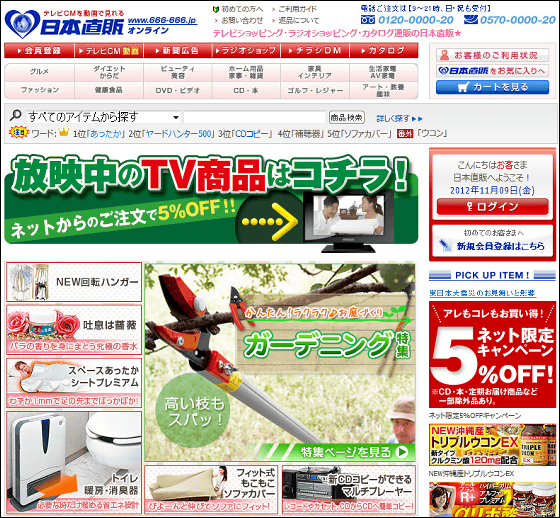 Big bankruptcy bulletin | Teikoku Databank [TDB]
http://www.tdb.co.jp/tosan/syosai/3693.html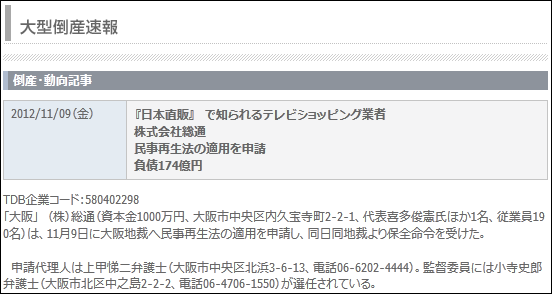 Toshiba Corporation | Bankruptcy Update | Latest Articles | Tokyo Shoko Research Inc.
http://www.tsr-net.co.jp/news/flash/1223051_1588.html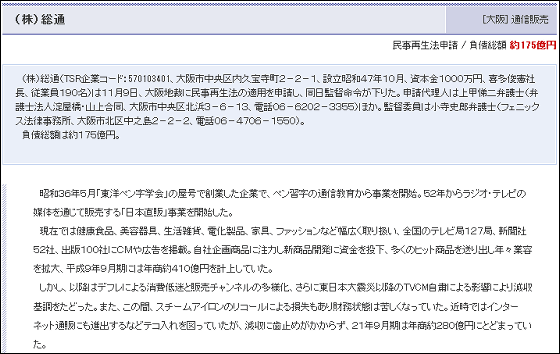 According to the information, general affairs develops "Japan direct sales art club" handling arts and crafts, "Japan direct sales foods" handling foods, in addition to "Japan direct sales". Boasting a wide publicity in television shopping, we sent out hit products such as "high branch cutting shears" and posted sales of 52.5 billion yen in the fiscal year ended September 1995.

However, after that, pushing for overseas mail order and online mail order, sales declined to 25.6 billion yen, and earnings remained sluggish. In June 2012, we requested renewal of principal and repayment schedule for borrowing from financial institutions, and when we conducted financial due diligence (financial DD), we saw a dressing settlement and fell into excessive debt. Although we aimed for the rebuilding with the cooperation of financial institutions, it was difficult to procure settlement funds and it was decided to rebuild by legal arrangement.

The company announces that orders and shipments of goods will continue as usual because civil rehabilitation procedures are procedures to rebuild the company by continuing business.

Notice to Customers | Direct Marketing of Japan Direct Sales TV Shopping

Dear Customer,

Thank you for always using it.
We filed a complaint to the civil rehabilitation proceedings to the Osaka District Court on November 9, 2012. Civil rehabilitation proceedings are procedures to continuously reorganize the company. Therefore, we will continue to operate in the future, we will continue to accept orders and orders for products as usual.
We sincerely apologize for any inconvenience and troubles you have caused. In the future, we will work together on a company-wide basis for rebuilding. We appreciate your understanding and we appreciate your continued patronage.
in Note, Posted by logc_nt