Summary of what can be done with Toshiba's eBook reader "Book Place (DB) 50"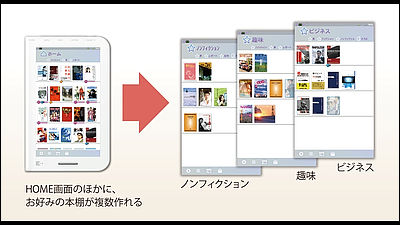 From February 10 7.0 type wide WSVGA (600 × 1024) with TFT panel color TFT LCD with built-in TFT color liquid crystal display E-book reader as a new product "Book place (BookPlace) DB 50"Was announced by Toshiba. The body weighs about 330 grams, the thickness is 11 mm, the internal flash memory is only 8 GB (user usable area is 6 GB), but it seems that there are memory card slots (microSD, microSDHC compatible) once.

the price isYodobashi.comaccording to,21,900 yen including taxIt has become.

Toshiba: dynabook.com | Ebook reader BookPlace
http://dynabook.com/pc/bookplace/index_j.htm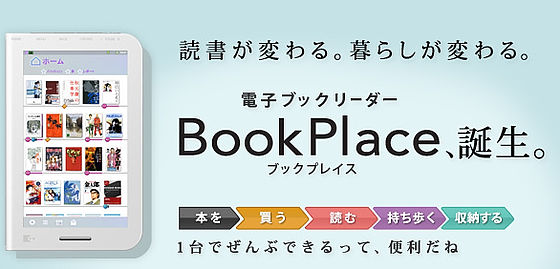 Toshiba: News Releases (2012 - 01 - 26): On sale of ebook reader "Book Place (DB) 50"
http://www.toshiba.co.jp/about/press/2012_01/pr_j2601.htm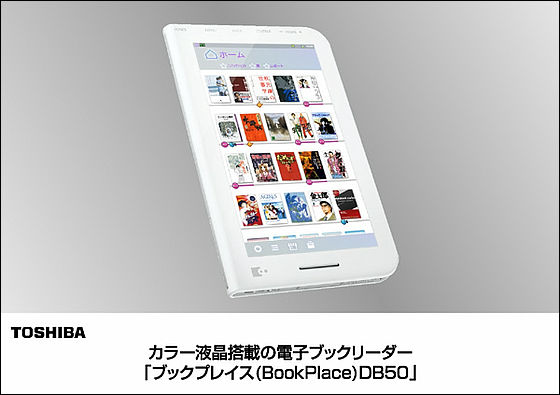 · Return to the bookcase on the top screen with one touch regardless of which screen is displayed "Home button"
· Call the page you read immediately before "Continue Button"
· "Back button" that allows you to return to the previous page immediately after displaying the incorrect page
It has a dedicated button, such as 7 type wide viewing angle color liquid crystal with color LCD, enlarging / reducing the size of letters and brightness adjustment can also be operated intuitively with fingers. In addition, it is possible to switch the screen in vertical and horizontal directions, and it is possible to browse homepages as well as e-books and send and receive e-mails.

Each dedicated button will be used as follows.

◆ HOME (Home) button
As soon as the power is turned on, home bookshelf screen starts. Also, you can easily go back to the bookshelf screen at startup by watching "BookPlace Store" or using other applications even with "Home button".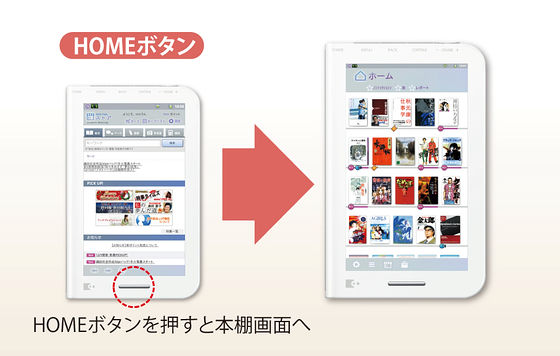 ◆ CONTINUE button
Even while reading the e-book, even if you open other screens such as the Internet and e-mail, you can read the book from the continuation of the page you read until a while by pressing "continue button". Also, if you press and hold, you can display the reading history, so even if you are reading multiple books simultaneously you can select the book you want to read immediately and read from the rest.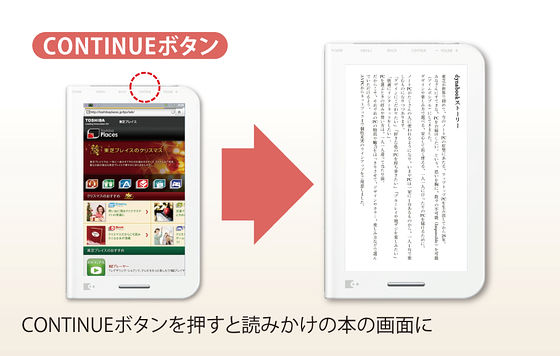 ◆ BACK button
Buttons used when you accidentally moved to another screen, or when you want to return to the previous screen, such as when you are viewing a web page. When you press on the bookshelf screen, you can scroll to the top shelf.

◆ MENU (Menu) button
Displays the setting menu related to the contents used at the time such as bookshelf screen, screen reading e-book, browser screen etc.

◆ VOLUME button
Adjust the volume with the "+" and "-" buttons when you read the voice of an e-book or when you watch movies and music on the Internet

◆ Enlarging small letters "Slider & touch operation function"
Small and difficult to read characters can be enlarged simply by tracing the slider displayed on the touch panel with your finger.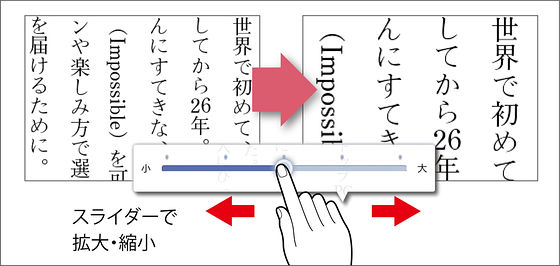 Magazines and comics can be scaled up with pinch out and pinch in.



◆ Call the page you want to read "Bookmark function"
You can pinch bookmarks on pages that you read halfway or on pages you care about, so you can recall that page later. If you choose from "Bookmark list" screen, it is possible to open that page.

◆ "Internet dictionary function" to examine words and phrases of concern
It is possible to quickly examine words or phrases that you do not recognize during reading or on the internet. It is also possible to draw a marker on an interesting phrase or attach a memo and then open the corresponding page later.

◆ Ability to create multiple bookshelves
In addition to home bookshelf screen and reading screen, it is possible to create multiple new bookshelves. It is also possible to create bookshelves by genre such as "hobbies" and "business" or manage them by family name. However, the number of bookshelfs that can be created is "7 pieces".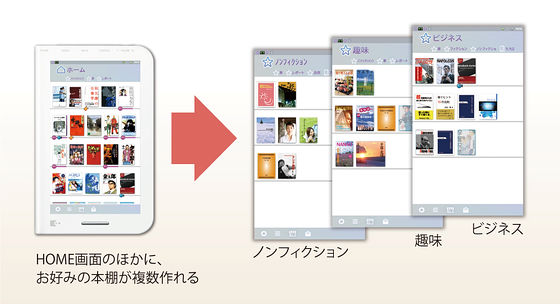 You can also quickly find the book you want to read by swapping the place in the bookshelf or by tapping the bundled series of books. It is also possible to import photo data from the SD card and set it as the background of the bookshelf (JPEG · PNG format).




◆ Built-in software
In addition to "Browser" and "Mail" that allow you to browse the Internet's homepage, "Gallery" etc. which can play the files such as still images and video saved in the memory card are loaded as standard. Music files on the memory card can also be played from the exclusive widget. Also, Adobe Reader that can read PDF files is also installed.

Communication is done by wireless LAN (IEEE802.11b / g / n compliant), "BookPlace StoreThe style of purchasing e-books from. In addition, when purchasing this "Book Place (DB 50)", it seems that as a bonus, it is possible to acquire a point where 5,000 yen worth of books can be obtained free of charge.

Specification details are as follows.

【BookPlace DB 50】Release / Open Price from February 10 (According to Yodobashi tax included 21,100 yen)
· Model name / model number: DB50 / 25E / PDB5025ENAW
· Processor: Freescale i.MX535, 1.0 GHz
· Screen: 7.0-inch wide WSVGA with touch panel (600 × 1,024 dots) TFT color LED liquid crystal (wide viewing angle / LED backlight)
· Storage capacity / memory 8 GB flash memory (eMMC compatible) / 1 GB
· Dedicated button: HOME, MENU, BACK, CONTINUE, VOLUME button
· External dimensions (not including protrusions): about 120 (width) × 190 (height) × 11 (depth) mm
Mass: Approximately 330 g
· Driving time: Up to about 7.5 hours
· Communication: Wireless LAN (IEEE802.11b / g / n compliant), Bluetooth installed
· Sound function: Monaural speaker
· Interface: micro USB2.0 (micro-B), memory card slot × 1 (microSD, microSDHC compatible), headphone jack

According to Toshiba, "E-books are expected to spread in the future, but in order to expand the market further, we will need to enhance book content, develop products that emphasize ease of use and readability, This time the product development in the belt was an issue.This time we sold these e-books by solving these problems by commercializing the e-book reader "BookPlace DB 50" and strengthening cooperation with partner companies distributing contents in the future, With the expansion of the market, we aim to increase the sales scale in terms of both products and services. "

For Amazon 's "Kindle" also overseas there is a color compatible version properly, for black and white version 4th generation Kindle you can purchase from Japan as well$ 109(About 8400 yen), Apple'sIPadShortlyIPad 3"Is expected to appear, how far can you dig into the e-book market ...?