A coming future of Japanese e-books, thorough commentary on Amazon's Kindle strategy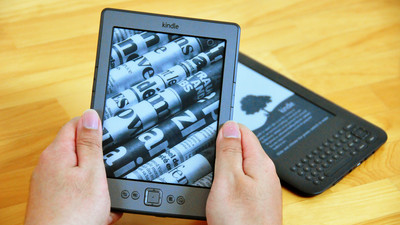 Amazon on September 28New Kindle including full color "Kindle Fire"Has been released. According to iSuppli's estimate, Kindle Fire, which is priced at $ 199 (about 15,000 yen)Production cost is $ 209.63 (approx. 16,200 yen), low price setting to promote product sales at online storeI am doing it.

On Amazon.com, Kindle books are already sold rather than hardcover, and pricing is aimed at explosively spreading, but Japan is still against that trend. With the spreading Kindle with the stone's strategy, we will clarify what kind of future Amazon is trying to depict Amazon.

◆ Kindle as a terminal
This is the fourth generation Kindle announced on September 28. The size is 114 mm in width × 166 mm in length × 8.7 mm in thickness, weighing 170 grams. The vertical size is smaller than the 3rd generation Kindle (Kindle Keyboard), the weight is also lighter by about 70 g, but the display maintains the same size. Although it looks somewhat cheap material, this makes it possible to offer at a low price.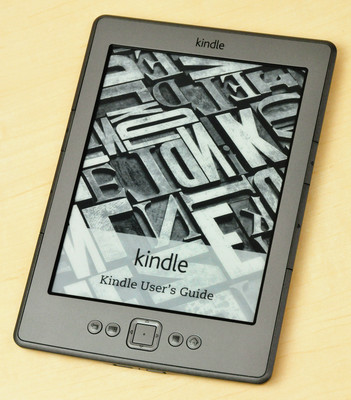 Where easy to use as an e-book reader is "light". When reading hardcover books or reading books converted to PDF with notebook or tablet, it is "heavy" that will become the biggest bottleneck. If you think about reading in the posture you put on the desk, there is not much difference between Kindle, books, and laptops. However, in fact it is lying down, reading, and reading while traveling, but if you have a light Kindle you can endure the burden on your body even if you keep it all the time.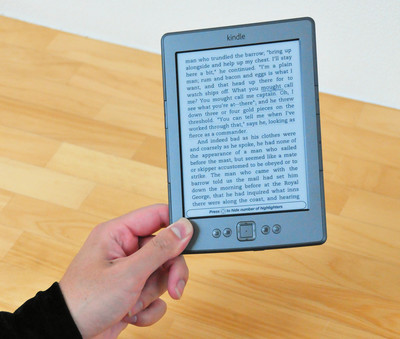 The visibility is also very high, so you can read the text even from nearly straight side. Even in an environment where you can not take a place widely around you, you can read a book if there is a little space at hand.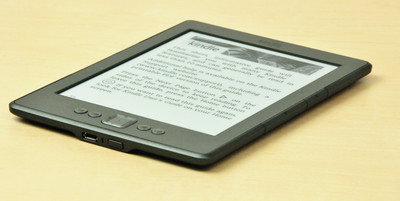 Confirm readability of letters in Kindle from 360 degrees


Also, the battery is very long lasting, once you fully charged it is about 1 month available for use. This is because Kindle is electronic paper, since it consumes batteries only at "display switching" if there is no communication. At this moment of switching "just" consuming the battery. That is why Kindle does not have any problem even if a built-in still image is continuously displayed as a screen saver when the power is turned off.

Switching screens with electronic paper is unique, and you can see how it feels when you watch the following movies.

Kindle's page feed moment


In addition to the wireless LAN model, Kindle can also select 3G models such as smartphones, and if you purchase the 3G model, since Amazon is fully responsible for that communication fee, you do not have to pay a communication fee. If you think "I want this book", I can download it anytime and anywhere.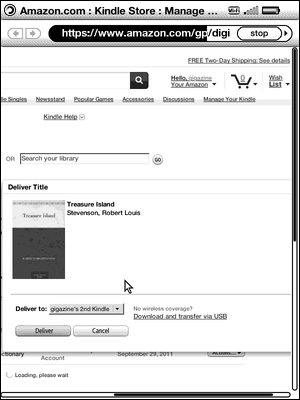 Since this fourth generation Kindle is a low-end model, the price is set lower than the Kindle Keyboard. As of writing, Kindle KeyboardThe WiFi version is 17,600 yen,3G + WiFi version is 20 1699 yen. On the other hand, the fourth generation KindleWiFi version $ 79 (about 6000 yen).

The left is the latest 4th generation Kindle, right is Kindle Keyboard (WiFi model).



Even if you think "books are meaningful as having books in the form of a book," Kindle's convenience is spectacular. Although it is simple, "It is very useful to have books in the device even if you do not have books." In the case of Kindle, since data "Buy this book" is registered with Amazon, you can retrieve data from Amazon cloud when you need it. The built-in memory is 2 GB, of which 1.25 GB is available for the user. It is quite small in consideration of the storage capacity of a notebook PC or tablet, but this is because it is not necessary to always enter data as it can bring data at any time if connected to the net.

It is impossible to rescue all of the books if you are a favorite person, even if there are no bookshelves to store the collection, no matter what the earthquake or fire will be. However, in the case of Kindle, it is like keeping an original in the library and copying it when reading it at hand. Even if the Kindle terminal at hand is damaged, the book you purchased will not be useless, and if you use a new terminal or Kindle app you can get the same book again.

◆ Kindle as software
Kindle's device is priced at cost cracks, but for Amazon Amazon is only one way to read Amazon's e-books. Evidence that it is okay not to be Kindle, even for iPad that is regarded as a rival terminal "Kindle for iPad"Is provided.




For smartphones to use Kindle, "Kindle for iPhone"Kindle for Android"Kindle for Windows Phone 7"Kindle for BlackBerry"Has come out.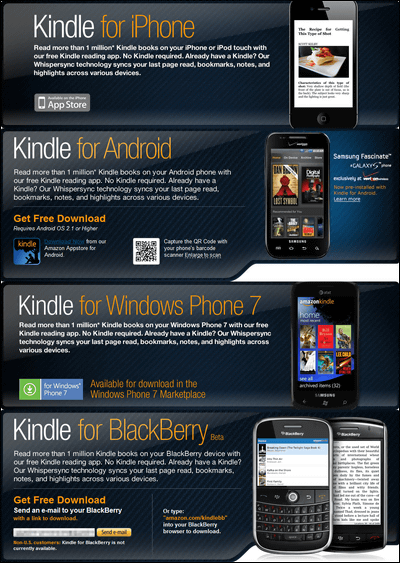 To be able to use it at home or work PC, for WindowsKindle for PC, For MacintoshKindle for Macthere is.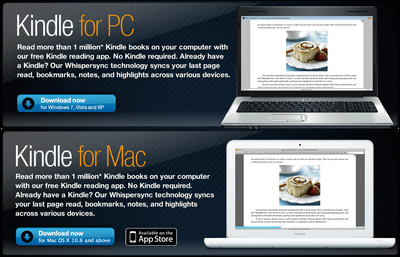 Furthermore, if you can not install applications and software, it works via browserKindle Cloud ReaderIt is prepared up to. It is a state that Kindle can be used in all kinds of environments. In addition, this Kindle Cloud Reader can be read by offline downloading and saving,Changes to Apple's TermsIt appeared when it became impossible to purchase from the application by the application, and if it is from here, it can be purchased without being bound by the contract. I feel obsession with Amazon's Kindle.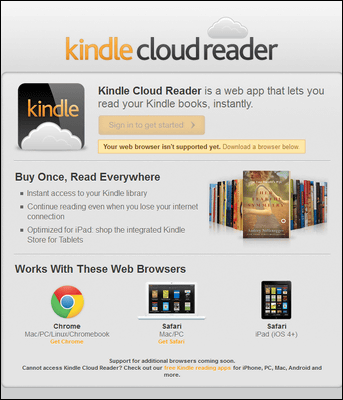 ◆ Anywhere Kindle
By using these Kindle you can live like this. For example on Sunday, reading at Kindle relaxing at home.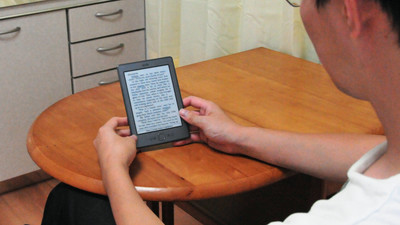 Today, so far we will have "bookmarks" in between.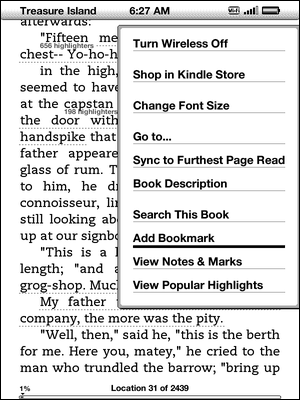 Next day, during work on Monday I can read continuations from this "bookmark" position with Kindle for Android. By the way, since automatic synchronization is done without pinching bookmarks, you can choose whether or not to open the page that was opened last time.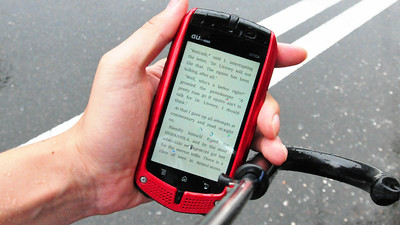 When I arrive at the company, I disconnected my mobile phone, and then I read on a PC ... ....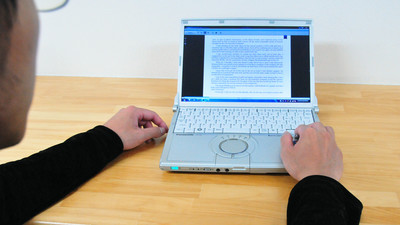 On lunch break I returned to Kindle and read again. Time and place are fully utilized.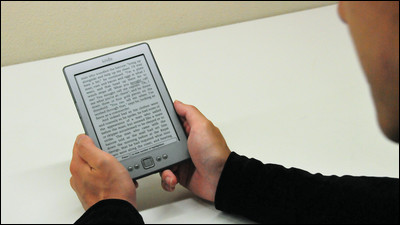 ◆ The appearance of a real e-book
Unlike ordinary books, e-books can change their font size freely, so the number of pages increases if the letters are bigger, and the number of pages decreases if the letters are smaller. The notation at the bottom of the page is not the number of pages but the percentage notation to indicate what percentage of the whole was read.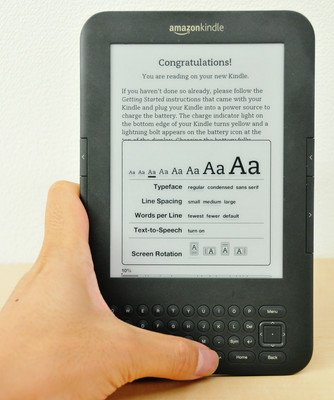 In addition to this, you can set line spacing, spacing adjustment, speech reading, and rotation. According to the Amazon Japan spokesperson, it is easy to read even for elderly people such as eyes tired and can not read in ordinary books50% of users are over 50's, 30% are over 60'sIt has become. Also, because it has a reading function, it is also used for blind people.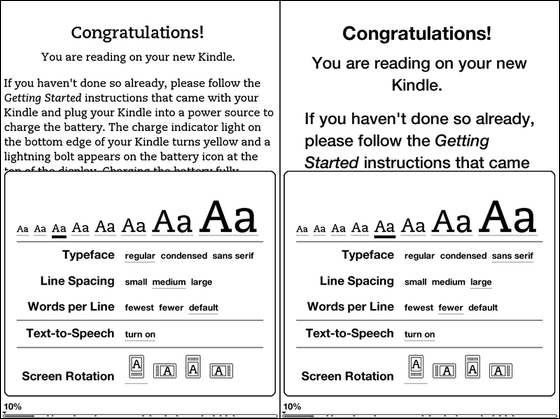 If you do word search during reading ...




The built-in browser opens and the search results are displayed.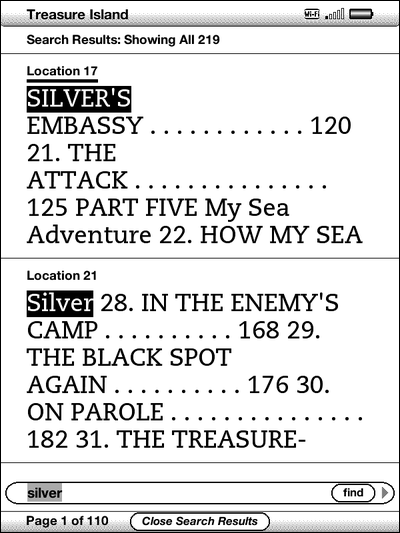 It is also possible to select a certain part of the sentence and underline it as it is.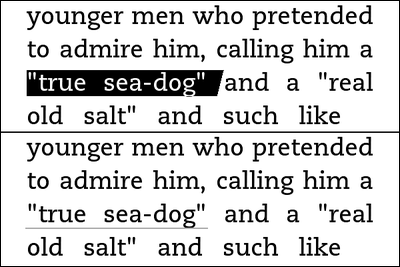 You can also pinch bookmarks and post that information on Twitter and Facebook.

Since it also supports PDF files with embedded images, you can also read books and manga scanned by cutting books yourself, but in that case you can only adjust the contrast. This is because Kindle is not an image viewer but an e-book reader to the last. If Kindle Fire appears in the future, color gravure, magazines, photos will be easier to read. The picture below is the contrast adjusted to lightest (left) and darkest (right).



As you can see, the hardware named "Kindle" is only part of Amazon's e-book strategy, which should also be called "Kindle World". Whether it's a smartphone or a personal computer, you can prepare an environment where you can purchase e-books anytime and anywhere you can read, and fine-tune the size of letters that you feel pain when you read, make your reading more comfortable, Because we are using it, we realize an environment that makes it easy to read "read care" as well as just read.

In addition, as long as it is a person who likes a book, the more troublesome "bookshelf" or "book storage space" becomes unnecessary, and as long as Amazon continues to exist, if it is a book purchased once again, it is free to obtain again . Furthermore, since the hardware Kindle is small and light, and the display is electronic paper, the reading experience itself is almost equivalent to "paper book".

From actual experiences reading e-books for about half a year actually on iPad 2 · Kindle · PC, these are more suitable for "reading with knowledge on their own" than "reading as fun". In other words, it is a style of reading books that will give us as much as useful wisdom in a limited time that is busy every day, and the style that I was reading a book unexpectedly changes drastically. It is not a convenience but a feeling that it changes from mere "reading" to "acquisition of knowledge".

◆ Current status of Japanese e-book market
Not only did we release the terminal, Amazon will come closer to presenting a lifestyle using Kindle "With any device anywhere you can read!" There is not yet a remarkable movement in the Japanese e-book market against this, and the e-book selling site that publishers gather is "Electronic bibliography publicationBut format is divided from dot book, XMDF, PDF, and not all books are sold in all formats.

Matsushita's Sigma Book, which was a domestic e-book reader, corresponded to a spread widely used in manga, but it was finished in 2008 due to the issue of monochrome and price problems. Sharp launched a content distribution company in collaboration with TSUTAYA and expanded "GALAPAGOS", but in order to prevent price collapse of the terminal, initially it was not disseminated at all by mailing and selling directly on the Internet, from release Just ten months, I fell down before fighting on the battlefield.

Meanwhile, after failing once at Libriier, Sony assembled with KDDI, Asahi Newspaper, and Toppan PrintingBooklistaEstablished. In this "Reader"Sites that officially handle Japanese booksHave been prepared, and this time sales have been performing well. On October 20New model also releasedIt will be.

Kindle already supports Japanese in 3 rd Generation, sales of Japanese books in the Kindle Store, and the appearance of Japanese version of Kindle are no longer a matter of time. Before that happens, Sony will be forced to fight hard if you do not control the market, but when you think of the future of e-books in Japan, what they really want "readers" It should finally survive if you presented.