Creative ZEN Touch 2, an inexpensive player that can be enjoyed other than music on Android, will be on sale, and models equipped with GPS will also be available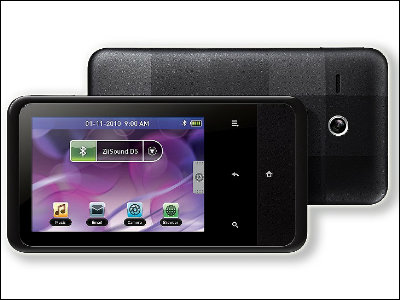 EarlierAndroid tablet terminal "Creative ZiiO" seriesWe announced that the creative will be released, but together with the first Android adoption model portable music player "Creative ZEN Touch 2"Was also announced.

In addition to the video playback function, Android allows you to use the Internet and applications etc, GPS equipped models are also available, so combining with the mobile wireless LAN router etc. realize very high usability It is going to be decided.

Details are as below.
Creative's press release says the company will release "Creative ZEN Touch 2" as an entertainment player with Android 2.1 in late December.

"Creative ZEN Touch 2" is a portable entertainment player with a touch screen and Bluetooth in a compact body. By adopting Android OS, you can access the Internet via wireless LAN and download various applications It is also possible.

This is "Creative ZEN Touch 2". 3.2 inch (480 × 320) display adopting the resistance film system not supporting multi touch, wireless LAN compatible with IEEE 802.11 b / g / n, Bluetooth 2.1 + EDR, 2 million pixel rear camera, monaural microphone, monaural speaker, acceleration sensor , MicroSDHC slot installed.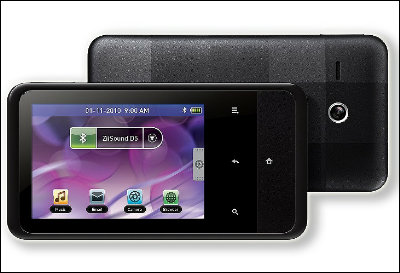 In addition, GPS-compatible model "Creative ZEN Touch 2 (with GPS)" is scheduled to be released at the same time, GPS, electronic compass and FM radio are installed.

The main correspondence format is as follows.


Audio supported format
MP3, AAC, WMA 9, FLAC, OGG, MIDI, WAV, Audible
Video format
H.264, MPEG 4, WMV 9, AVI
Photo compatible format
JPG, BMP, PNG

By the way,Creative storeIn the case of the direct selling price at, the 8GB model of "Creative ZEN Touch 2" is 19,800 yen, the 16GB model is 24,800 yen. "Creative ZEN Touch 2 (with GPS)" has only the 8 GB model line up, and the price is 20,800 yen.