Cheap, high-performance, high-quality Android tablet "Creative ZiiO" is officially released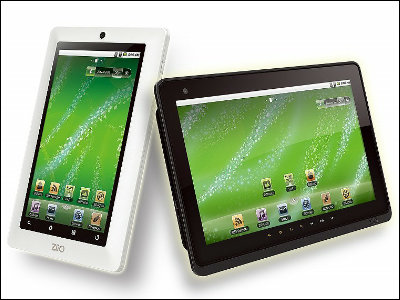 The other day I worked on GIGAZINE sound card for PC "Sound Blaster", DTM product for professional, cheap high performance music player etcThe creative is developing a tablet terminal called "ZiiO Tablet"We announced, but the official announcement was done at last.

The new product"Creative ZiiO" seriesAlthough it is high performance, such as HD movie playback function and high sound quality technology etc. adopted, it is a very inexpensive model.

Details are as below.
According to the creative press release, the company says it will release two types of tablet devices, the 10-inch model and the 7-inch model as the "Creative ZiiO" series. The release time is scheduled for the 10-inch model in January 2011 and the 7-inch model in late December 2010.

Either modelApplication processor compatible with HD content "ZiiLABS ZMS - 08", 30,000 pixel front camera, IEEE 802.11 b / g compatible wireless LAN, monaural microphone, stereo speaker, acceleration sensor, SDHC memory card slot (7 inch model microSDHC), resistive type touch panel . The Android OS version is 2.1.

In addition, it has creative unique high-quality sound technology "X-Fi audio technology", application "Pure Android Audio" to control sound quality enhancement, apt-XR compatible Bluetooth audio function to perform high-quality wireless audio transmission I will. The main correspondence format is as follows.


Audio supported format
MP3, AAC, WMA 9, FLAC, OGG, MIDI, WAV, Audible
Video format
H.264, MPEG 4, WMV 9, MOV, AVI, MKV
Photo compatible format
JPEG, BMP, PNG
10 inch model. The resolution of the display is 1024 × 600, the weight of the main body is about 650 g.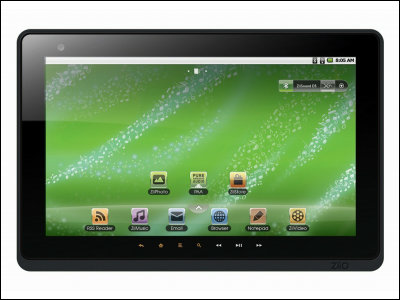 Coloring is only black.



Next 7 inch model. The resolution of the display is 800 x 480, the weight of the main body is about 400 g.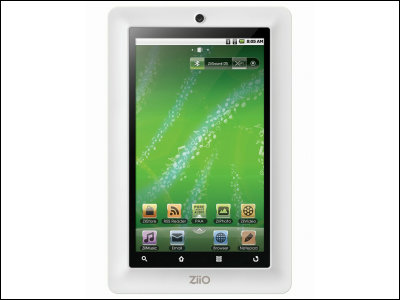 Color only white.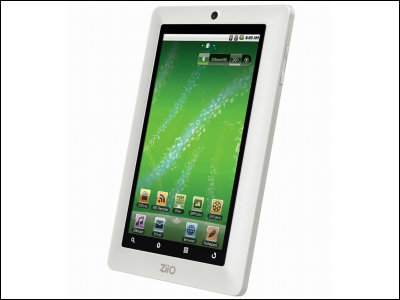 It looks like you are playing games. By the way, since voice can be transmitted to the speaker wirelessly, it will be possible to enjoy various contents with a powerful sound.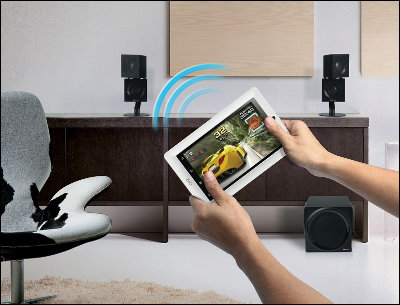 Although it is an anxious price, in the case of the 10-inch model,Creative storeThe selling price in the 16GB type is 34,800 yen, the 8GB type is 19,800 yen. For the 7-inch model, the 16 GB type is 27,800 yen, the 8 GB type is 24,800 yen.

Also, high-quality Bluetooth headphones "Creative WP-300 Wireless Headphone" that realizes "Pure Wireless Entertainment" by supporting "apt-X" capable of high-grade wireless transmission will be released in late December, This is 9800 yen.

In addition to excellent audio performance by premium neodymium drivers tuned by sound professionals, it is also possible to intuitively control corresponding devices with control buttons of the ear cups. The body weighs 107 grams and is lightweight.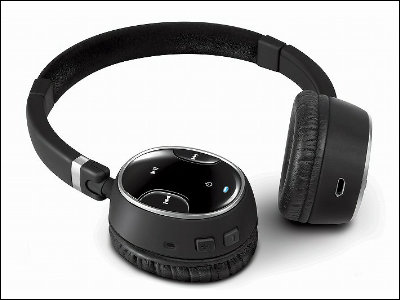 Combined with "Creative ZiiO", it realizes high sound quality sound environment.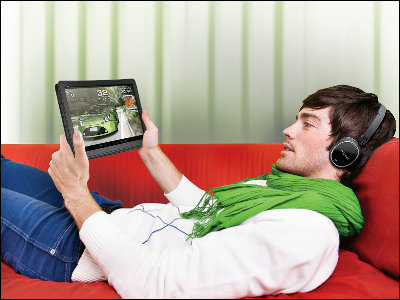 In addition, it is newly decided to develop an entertainment solution "Pure Wireless Entertainment" to be realized along with high-quality audio, and a combination of the wireless speaker "ZiiSound T6" and "Creative ZiiO" 8GB model, "Creative WP-300" "Pure Wireless Entertainment System 300 PWE - 300" and so on will be available for cheap purchase only at creative stores.



· Next article
Creative ZEN Touch 2, an inexpensive player that can be enjoyed other than music on Android, will be on sale, GPS equipped model - GIGAZINE