Gabon is in Africa and is not in Africa, the busy shops and the uninhabited jungle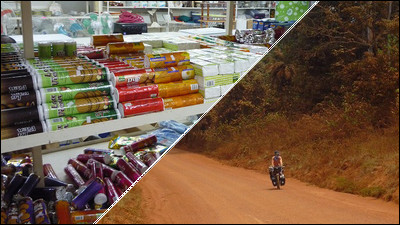 Hello, Bike around the worldTakuya SAITO @ Chalidermanis. I will enter Gabon from the southern part of Cameroon.

Gabon is an old French colony, with an area of ​​about 270,000 square kilometers and a population of about 1.47 million people. It is a country that has only the population of Fukuoka city and Kyoto city in about 70% of Japan. Besides, many people live in the capital city Libreville, so they were running quietly in the quiet jungle while driving. We are not crossing the capital city Libreville, we have crossed Gabon from Bitam in the north to Ndende in the south. There are many things in shops in Gabon with high incomes with oil. I was able to cover the pattern as well. There was also beef rice.

Gabon in central Africa is around here as seen on Google Maps.

View Larger Map

As soon as I entered Gabon, a traffic signboard appeared a while ago. And ...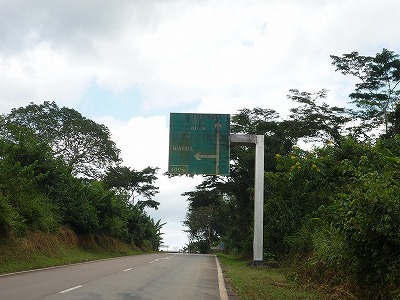 Signs for distance display to the city also came out. Tension also rises. It is different from Africa to date.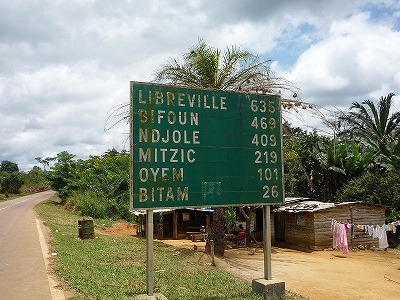 The hotel which I stayed at the city called Bitam on the first day of Gabon.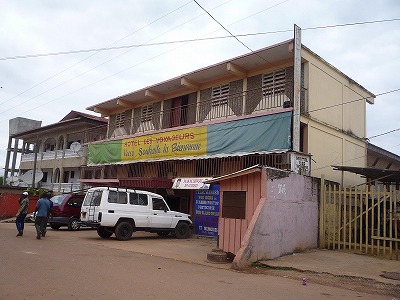 Toilet shower common room 5000Saffer Franc(About 850 yen in CFA, Japanese yen), it was cheaper than I thought. Because it is a country with high income, I expected that prices are high.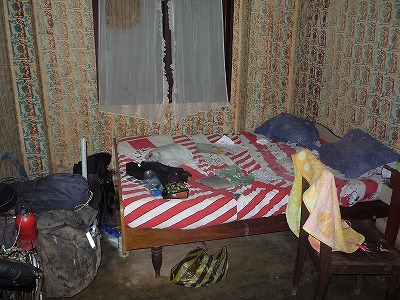 A view spreading out from the hotel I stayed in the city called Oyem. The leaves of the banana give out a tropical atmosphere.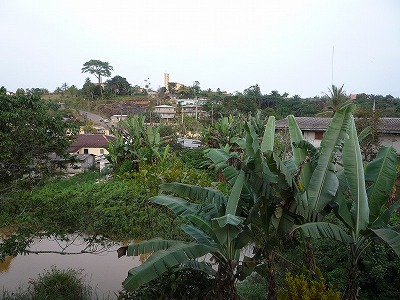 Responsibility checking photos taken. The height of the grass behind is too violent.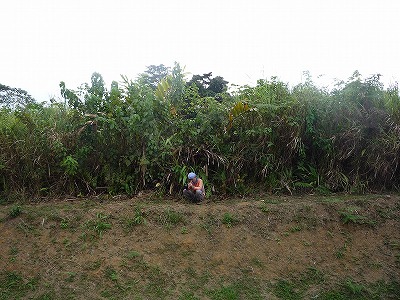 I ran inside the jungle.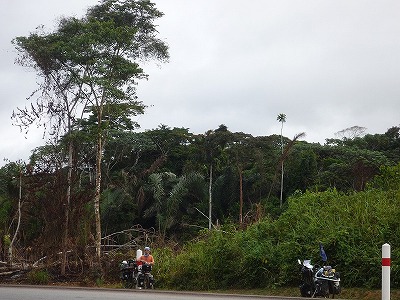 Proceed through the crowded road that opened the forest.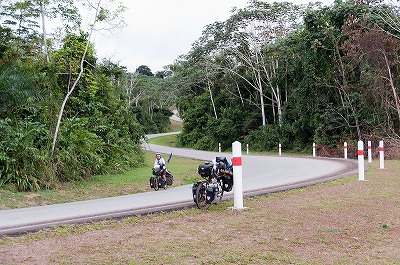 The boys who were fine.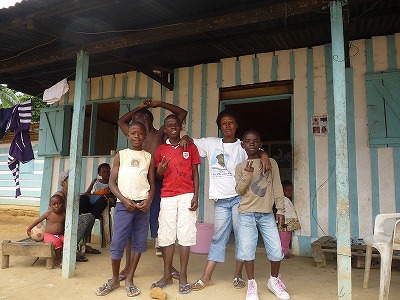 The plant with this fan-shaped leafTabibitonokiIt is said to be called. Even so, it has a nice shape.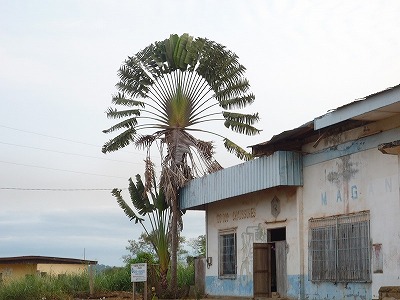 There is only one place in the village of Lalala (La La la). This Lalala has a name on the map, but there is no such thing as a village, etc. There were nothing like plenty of houses lined up mainly at three junctions.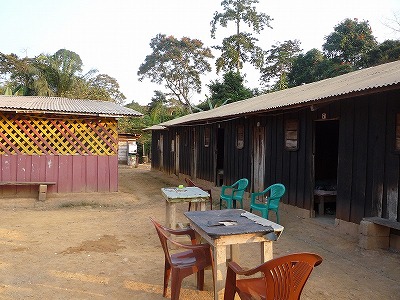 No electricity, no water supply. It was a lodge just having a bed.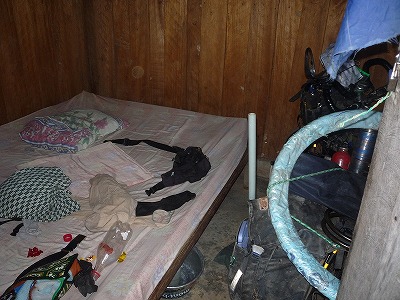 A boy who took care of this inn.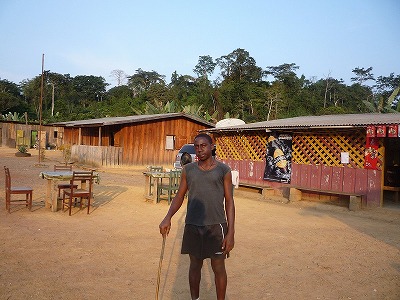 When running, a heavy truck that transports timber will overtake the side.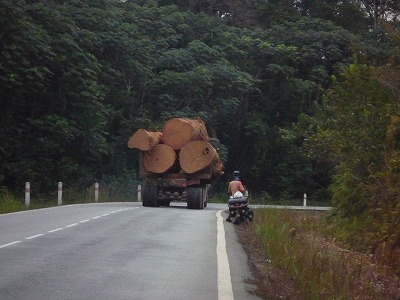 We will go through five tracks at a time, six at a time. That power is overwhelmed.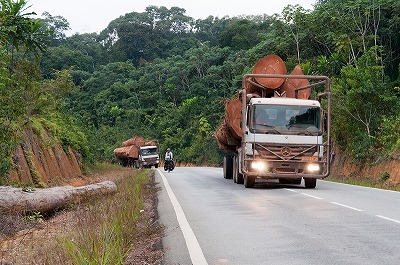 This heavy-duty truck is a special vehicle, which is folded in such a small way when not carrying wood. The shaft of the connecting part protruding into the sky was as if it was a gun barrel of a tank.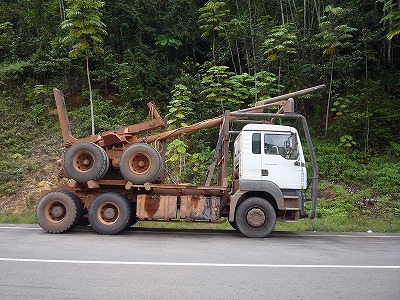 Large trucks not loaded with wood are easy to use.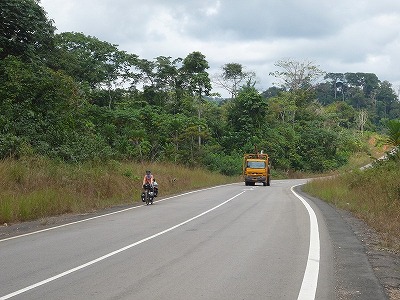 Children who ate lunch. The girls in Gabon knit hair and put beads etc, it was fashionable.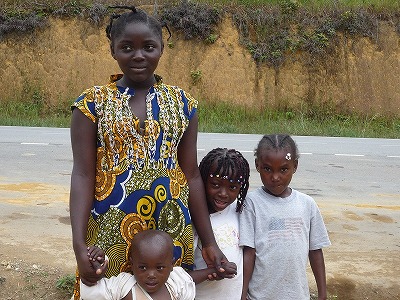 As I was doing it, Madam got a voice.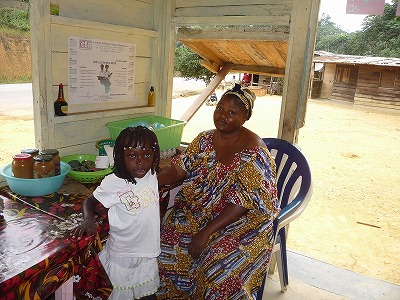 Furthermore, a voice from the elder sister said "Please take a minute too!"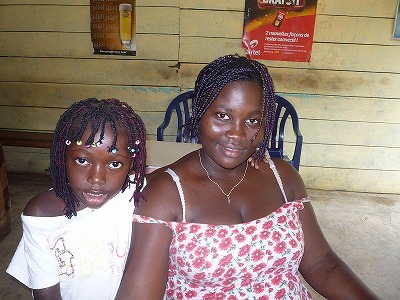 This place is displayed as "N 00.00000" by GPS.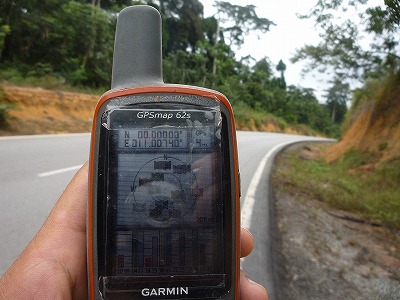 This means that this is on the equator. Finally we entered the southern hemisphere, saying "everyone in Japan in the northern hemisphere goodbye". I am in Norway last AugustNorcupIt took about one year from here, 71 degrees 10 minutes 21 seconds north latitude.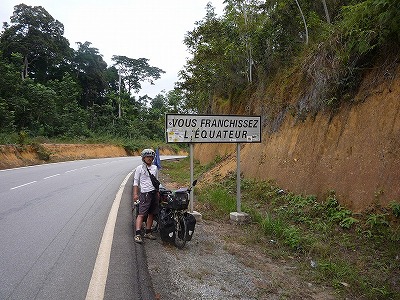 When I departed from a cheap hotel in the city called Ndjole, "I came from Cameroon and it is hard to head to Congo," I talked with a person in the hotel a little.



I crossed Ogooue River in central Gabon.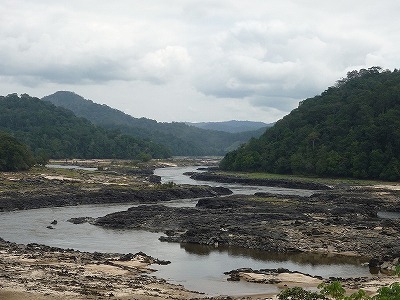 In the middle of this river there is a town called Lambarene. It is near the estuary here, so there is almost no altitude. I have been moving from the Cameroon to the highland for a long time, so I felt that I finally got off to the ground.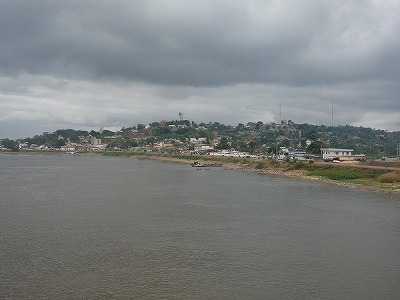 The green of the jungle growing thick. Plants are densely packed so as not to have a treadmill on the ground. An ivy wraps around a tree and aims at the sky. It does not seem to be related to the bustle of the earth, etc. In a big tree whose stature is stretched higher than its ivy. The branches stretched in all directions cover the sky and are living in sunlight overflowing.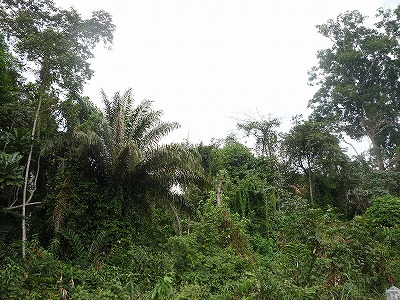 You can only see green if you turn your eyes on the jungle.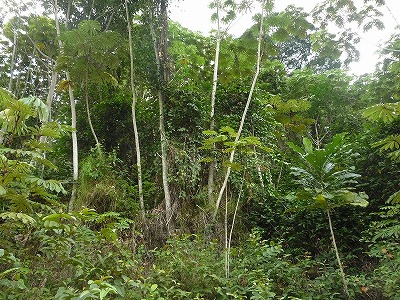 While running on a quiet jungle with no one.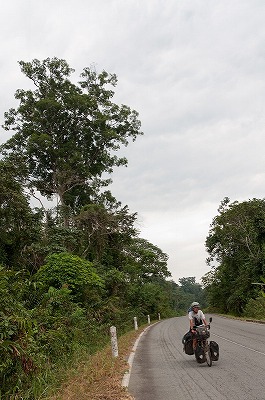 Mixing with these tall trees ......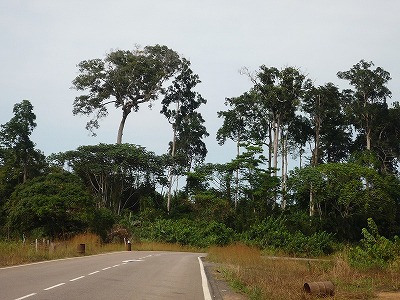 There was a massive big tree like a monster with power. Being overwhelmed by its absolute existence, I breathe in unexpectedly.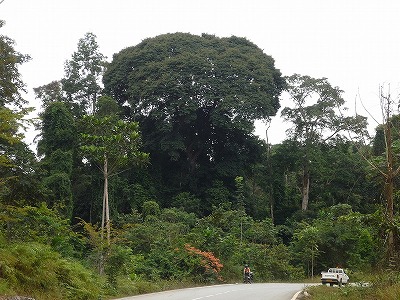 Only here are green and asphalt.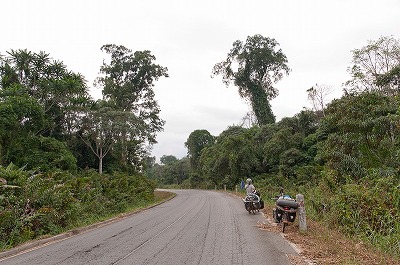 Road meandering the jungle.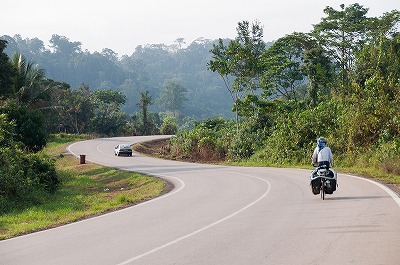 Gabon 's road also had many ups and downs, and it was serious to respond to the legs.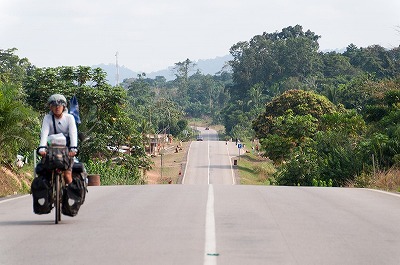 In Gabon a dog often barked. Unlike Africa so far, dogs are kept in Gabon. Since it is a job for a dog to bark, there is no choice. Otherwise you will not get food. Because I do not want to be bitten, I understand each other and want to build a good relationship.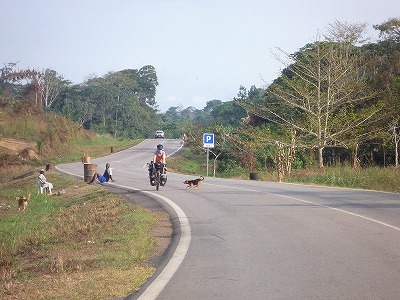 There was a rest area on the new road in the southern part of Gabon. This is also different from Africa to date.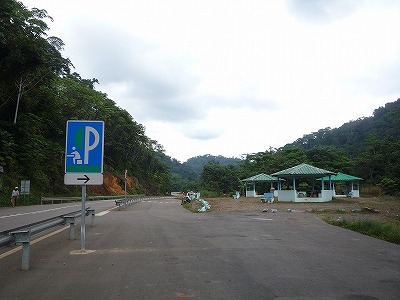 It became a dirt road from the city called Mouila in southern Gabon. On the map it was a dirt road from Lambarene, but about 200 km to Mouila was newly paved and it was saved. This pavement work was at the stage of finishing, making a bridge over a small river, drainage grooves and the like beside the road. The road here is also constructed by China. Besides that, not only the director, but also a truck shipping and one worker of physical labor were strangely reflected in the all - Chinese system. In most places the local Africans are also working together ... ....

It is unpaved from Mouila to the border of Ndende and the Congo. Tension feeling from anxiety as "a bicycle to a place where no one goes out" and the high-felt feeling and "Is not it dangerous from now on?" I went to a place where I could call it a secret place.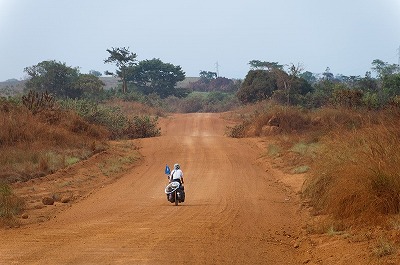 It was easy to run because it was a beautiful road even though it was unpaved.



I was able to run steadily and steadily.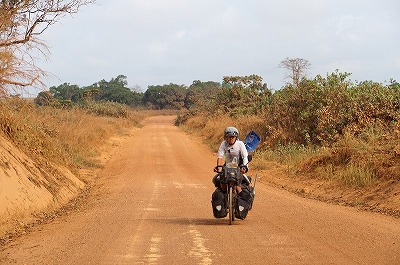 There is almost no traffic.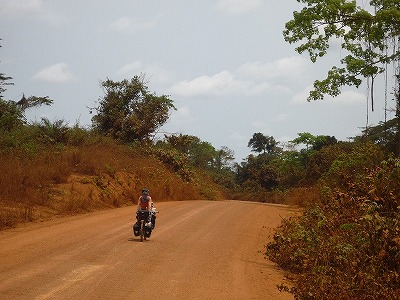 Cross the small bridge.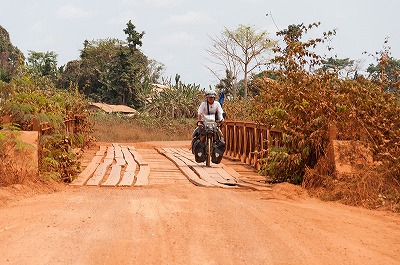 I went quietly in the southern part of Gabon where no one was present.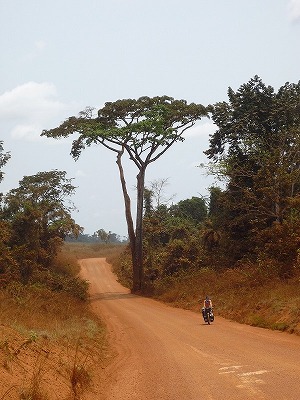 However, sometimes when you pass by the car, the dust rolls up and it is serious.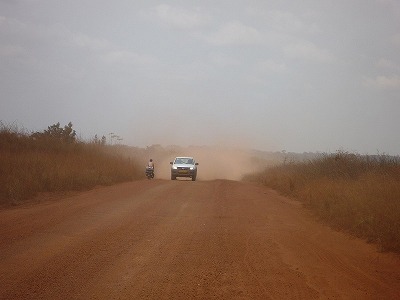 This will hit your body. If the face hits the dust directly, visibility will not be effective for a while.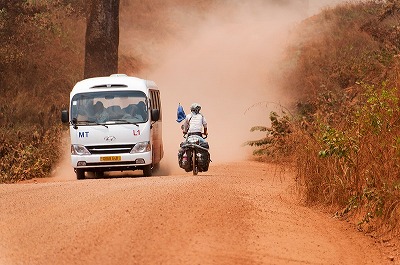 Both sides of the road are dyed brown up to the height of the height by the wrapped sand.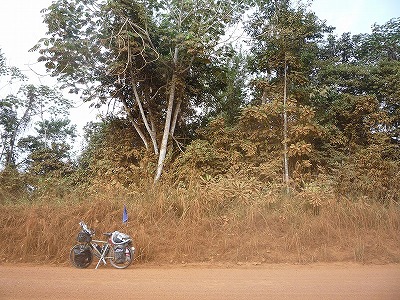 In Gabon there is a supermarket that is deployed nationwide, and you can show the difference from Africa until now. However, the price of the same goods was tripled by the shop, around the cash register was cluttered with the shop clerk's personal items, the inside of the shop smelled the same as Africa as before.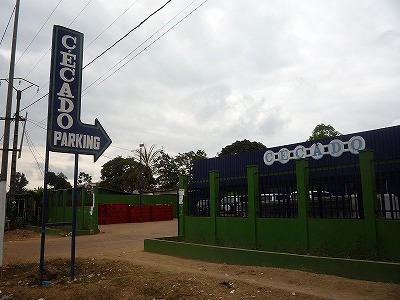 This cookie is made from Saudi Arabia.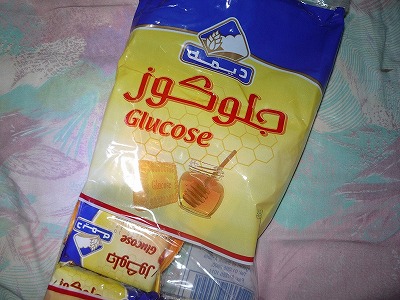 There are many other big super markets. The store is big everywhere, the inside of the store is a rich product lineup.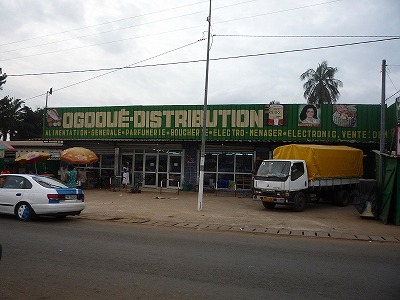 In the meantime, I succeeded in photographing the inside of one supermarket shop.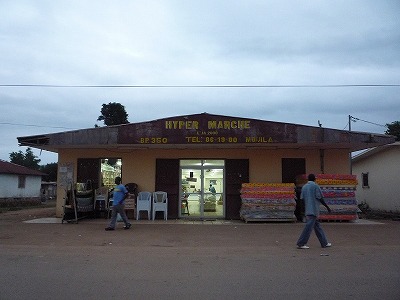 Spacious shop inside.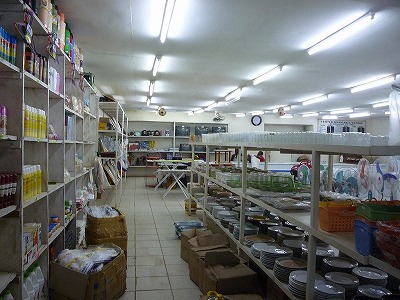 A lot of items arranged in shelves.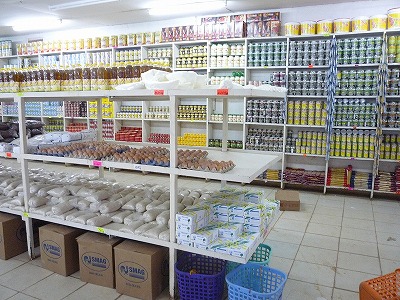 It is lined up with dishes and appliances here.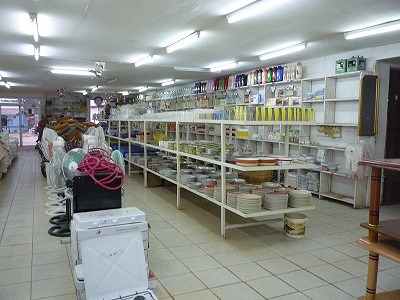 Notes and toothpaste.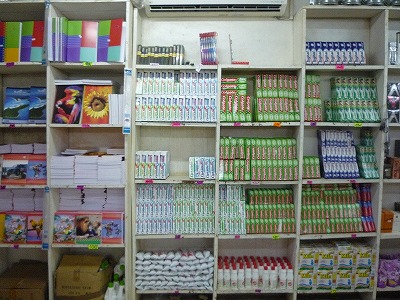 A bottle of mayonnaise.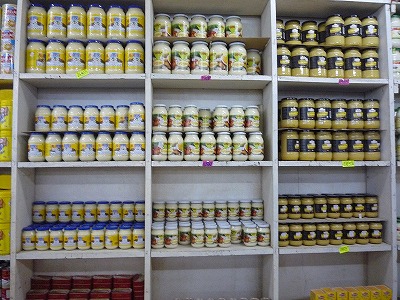 There are so many cookies too.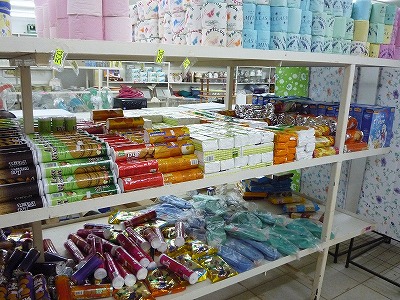 Laundry soap, bicycle and even rice bag. A lot of everything is put here.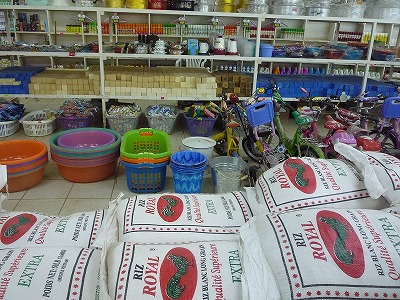 There was a freezer in the back of the store.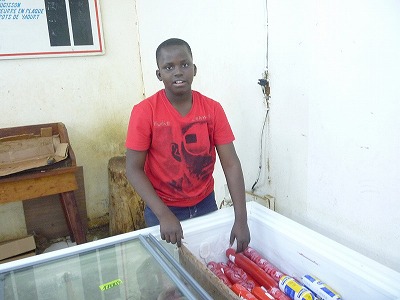 Frozen fish and ... ...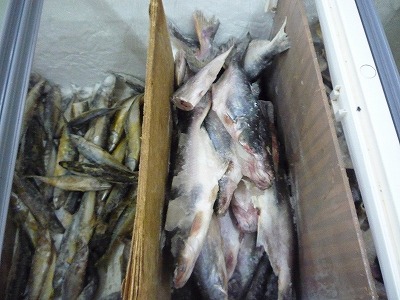 Chicken is put.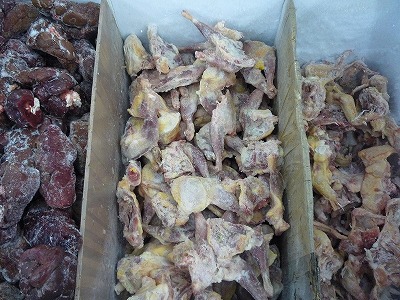 Chicken meat was sold at 1350 safer francs (about 230 yen) per kg. Such a freezer is everywhere if it is a slightly larger store. The electrical circumstances of Gabon were good.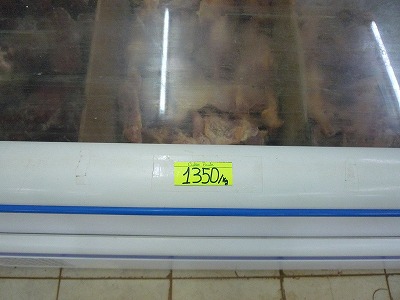 Owner of a friendly shop that allowed shooting for coverage. Thank you very much.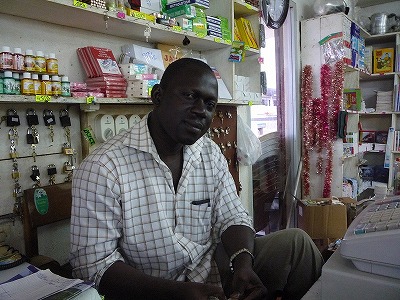 Thus Gabon was a rare country in Africa, overflowing with things. However, this is not the thing produced in your country but imported items. Therefore it is expensive and I can not shop fun. The per capita income is top level even in Africa thanks to oil that can be taken in the Gulf of Guinea. Therefore, there is money to buy imported goods. There are Malaysia and Romania as countries similar to this. But whether it is a rich country ....

Country settlements.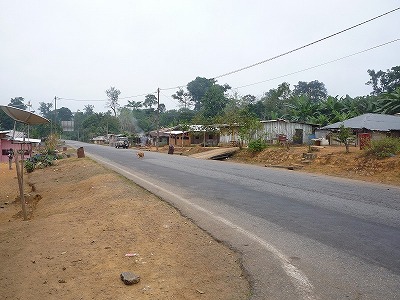 Rustic rustic house.



When looking at the countryside, it is almost unchanged from Africa so far. I have not been to the capital city Libreville, but I heard that it is a city with skyscrapers and shopping malls. If so, the difference between rich and poor will be endless. Industry never grows, mostly imported goods. Although Gabon did not have a civil war after independence, even the main road could not be paved. I just told him, "What on earth did this country do?"

Since I entered Gabon, in Africa there was no street stall of a common aunt, so I had difficulty in places to eat. You have to find a cafeteria or restaurant. The classic menu there is beef rice.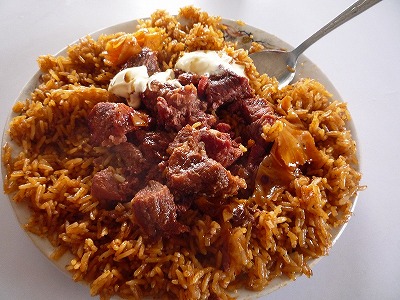 You can take it home. I did breakfast as well.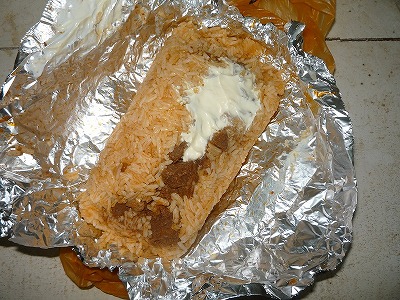 Two people who always eat beef rice. Since it is 1,000 safer francs everywhere, it is no exaggeration to say that it is cheap and has a volume with the national food of Gabon. Everyone is eating.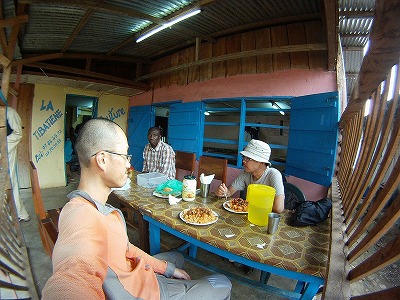 From Gabon 's Ndende, I aim for the Congo border village Ngongo. It is a mysterious name with Nendende and Ngongo.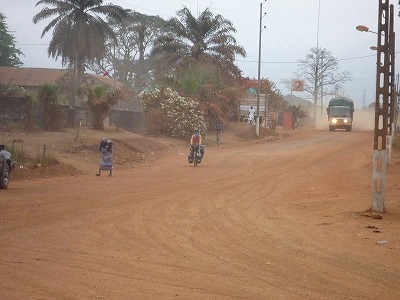 When you pass through Gabon, you enter Congo. I saw a sign called 48 km to the border.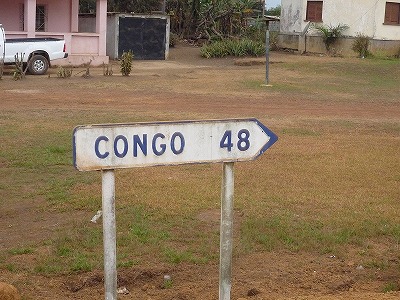 I felt that the Congo is a country farther than Gabon.NinjaI was worried whether I could be attacked by, but I will continue the south. Well then, please also look forward to your success in the Congo.

(Sentence / photo: Takuya S. Narou Charriderman
Cycling around the world for a bicyclehttp://shuutak.com)