Omeletz spaghetti, bush meat, cassava, grilled fish .... The food of Cameroon was rich and tasty too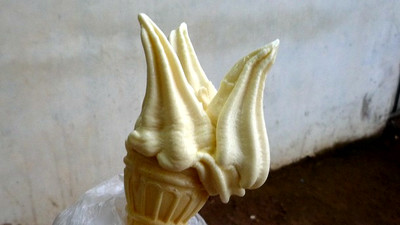 Hello, Bike around the worldTakuya SAITO @ Chalidermanis. I saw a lot of different foods in Cameroon. Potatoes are long time ago. Banana does not enter the snack. I remember Japan with grilled fish, but Bush meat is definitely Africa. Alcohol is abundant too, so it seems like a dying place for people who like it.

In this time, including the stay of the capital Yaounde, from the dietary situation of Cameroon, I summarized the trip to go through to Gabon. The food in Cameroon is satisfactory, but the journey was tough with only unreasonable things.

Yaounde, the capital city of Cameroon,

View Larger Map

Cameroon is a rich country of food. Such a fast food of Cameroon is "omelet spaghetti". Put spaghetti in the melted egg and bake it.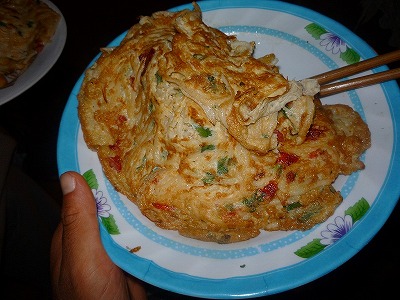 Even better if tomatoes are contained. You can eat with bread, sometimes even as a sandwich.



It is meatless meat jaga, but I can not mind. Because potatoes are seen only in Cameroon in southern sub-Saharan Africa so far. This is because camellias that like potatoes prefer a cool weather, Cameroon with a plateau exceeding 1000 m may be suitable for cultivation. That is why, potato dishes to eat after a long absence were very delicious.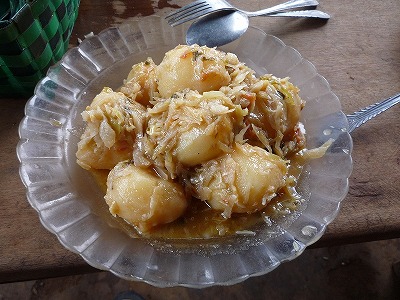 Cassava is also called potato manioc, a potato grown in the tropics. Peanut paste I received it with a sweet sauce.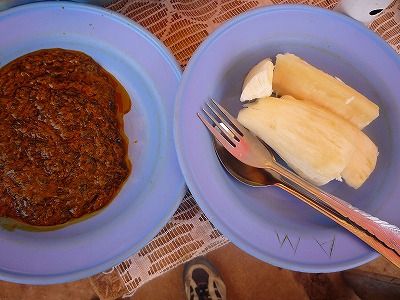 An unsweet banana appeared in the phrase "Banana goes into a snack?" Which can be returned as "staple food in Cameroon". The taste is like a sweet potato. I will eat it with sauce.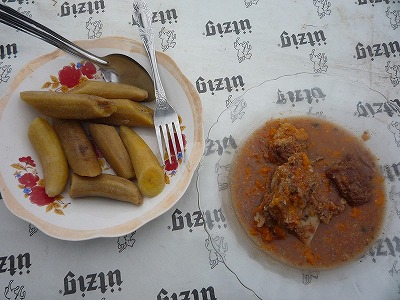 Although it looks completely banana, I did not become a partner even if I asked for "I want a banana." You must call it "planty" properly.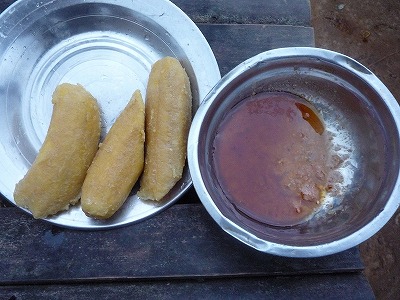 You can eat rice as usual. This is boiled rice with fish.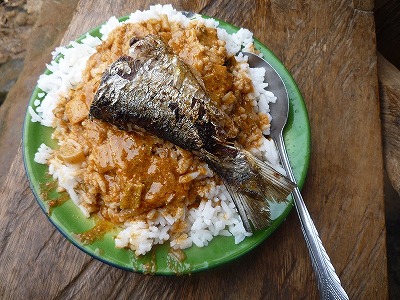 There is fish in black soup. It seems to be a dish called "Bongo-Tcaobi".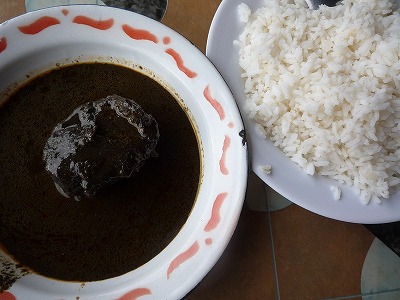 Boiled chicken meal.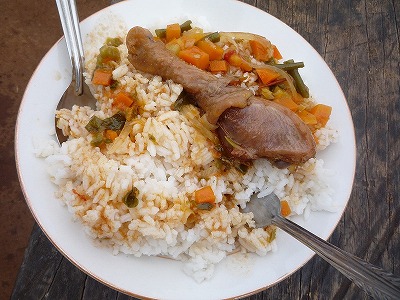 Bukkake 's buffet meal. Buffet meal in Cameroon is characterized by a lot of rice. It's as if it is a large bowl of tea that comes out in Japan's old days. Although I said "Can you eat such a thing", I ate firmly.



In Cameroon I could eat grilled fish. My aunt is burning on the street with charcoal fire and net.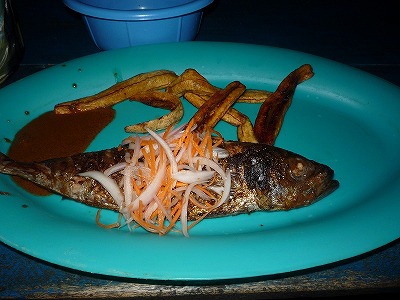 I remember Japan by pinching freshly baked fish with chopsticks. I was happy.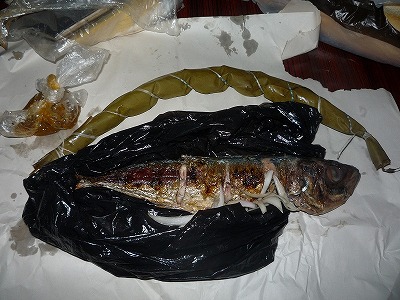 A food called a baton, kneaded maniok powder. This is also one of the staple food of people in Cameroon. It is easy to understand if you imagine a sweet little beak.



It is skewer meat or chicken.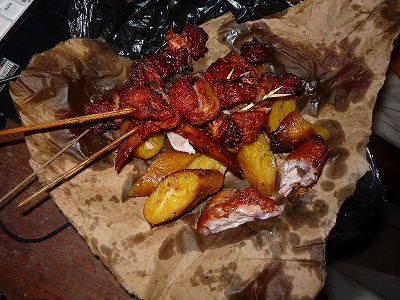 I ate bush meat on the way to the capital Yaounde.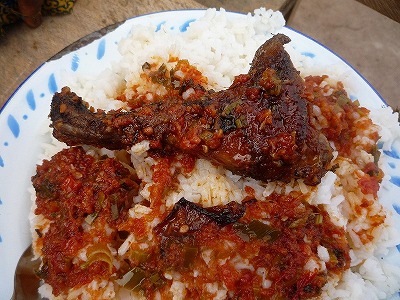 I can go with a fresh white taste like chicken.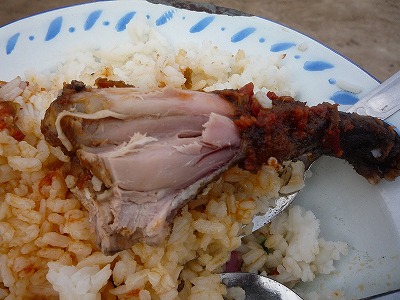 By the way, what kind of flesh is this? He taught Edison in French, coaching ras in English ... ....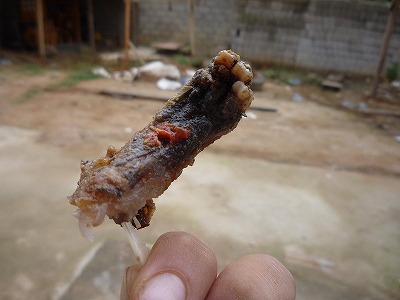 Cameroon is a country rich in beer, wine and alcohol. There was a bar in the middle of the city, there was a beer bottle not only for men but also for one woman. "Pilsner Beer" is a Cameroon brand of beer.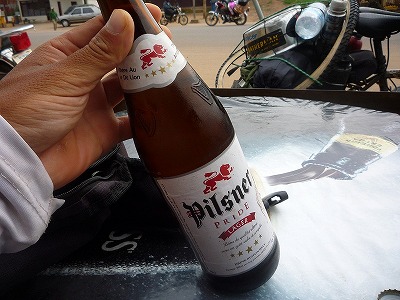 "Castel Beer"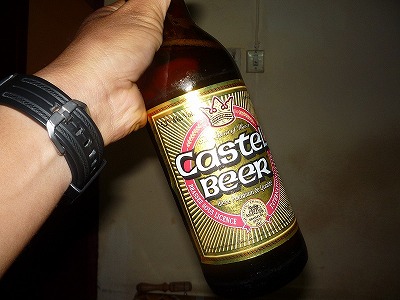 "Mittzig Beer"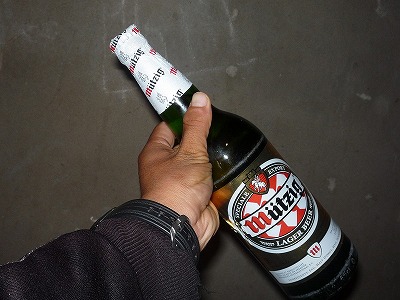 "AMSTEL Beer" is a beer brand proud of the Netherlands.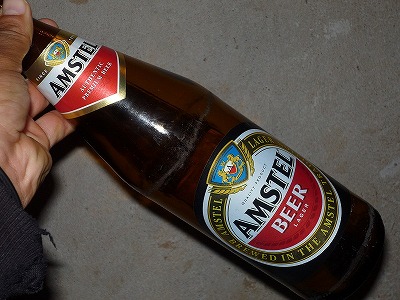 "Beanfort Beer"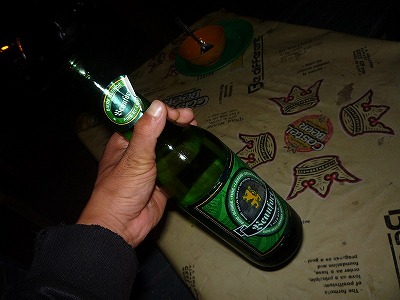 Brasseries du Cameroun"33Export" "Beaufort" "Castel" "Tuborg" "Amstel" "Heineken" "Mutzig" We sell a lot of beer brands. I did not think that I sold a lot of beer brands in a company. This company also sells local soft drinks called "top" in Coke. It seems that they hold 75% share of beer and soft drinks in Cameroon.

I also saw lamb and jin in a bag. The alcohol frequency exceeds 40 degrees in 50 ml. This is 100 safer (about 17 yen).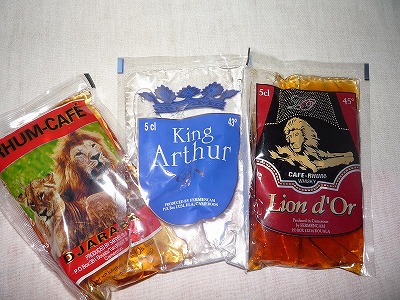 It is a natural sake made from palm and so on. My aunt puts it in a plastic bottle and sells it. A cup of 50 safer (about 8.5 yen).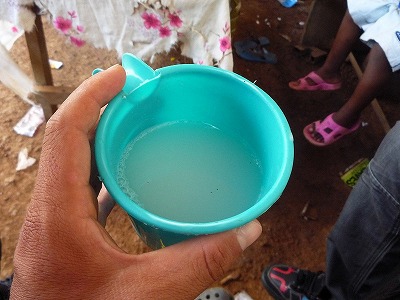 Fortunately, in Cameroon everything sweet sweet soft cream was eaten.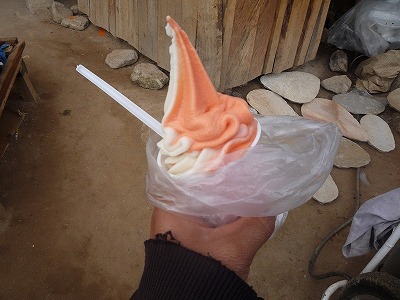 It is a pity that mildness is not enough, but 100 safer (about 17 yen) So I can not say luxury.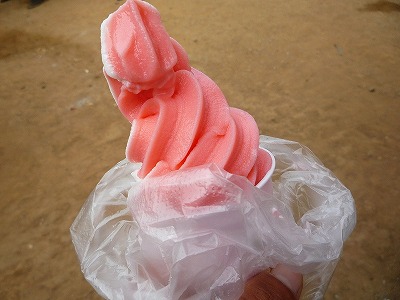 He did a funny dish arranged in three.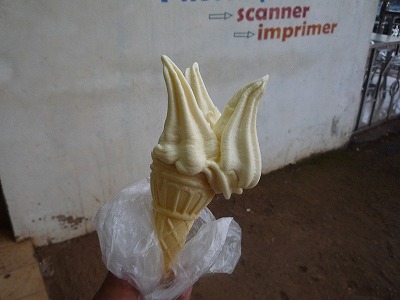 Even if you get a soft cream machine, you can do business anywhere. This will also be possible because it is Cameroon who has high per capita income after Morocco when coming southward from West Africa. It is also important that the power is stable.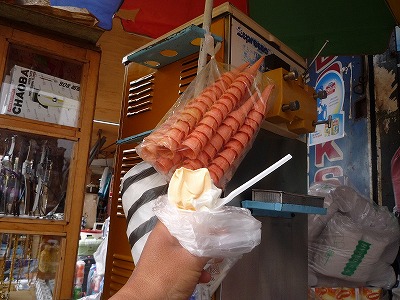 In Cameroon there was a Cameroon brand of chocolate. It is genuine chocolate that melts when put in your mouth. This is 125 safer (about 21 yen).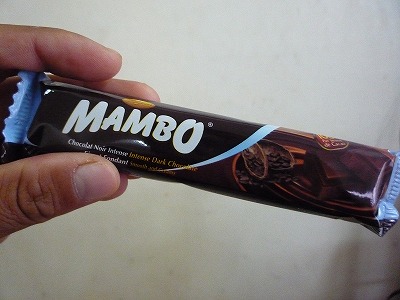 The common soy milk drink found in Cameroon is 250 safer (about 42 yen).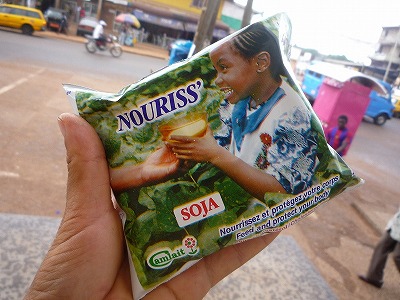 Yaounde, the capital city of Cameroon, has parts for bicycles for Central Africa, which is worried about supply. I caught a local cyclist who was running through the town and had Yaounde show me the first cycle shop.

I put too much force and damaged the bolt, and the bolt remained in the screw hole. Pour another metal into this screw hole, weld the remaining rod and the remaining bolt and cool it. Then the rod and the remaining bolt hooked up, and when turning, the bolt escaped without breaking the screw hole. I was impressed with the breakthrough method.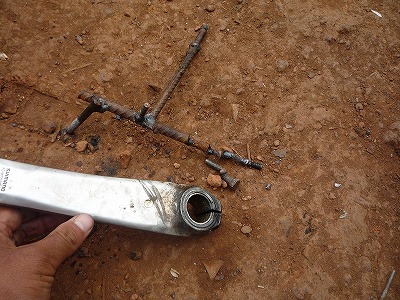 There was play in the bottom blanket so I had it replaced. To replace this part, you need a special spanner in the special groove. There is no problem in Europe, but here is Africa. But the cycle shop here has this spanner and it was able to be replaced.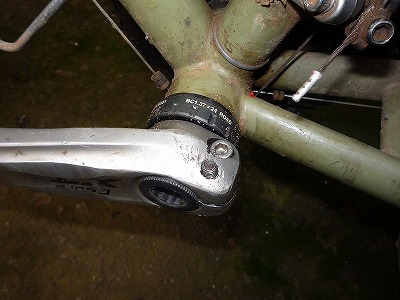 Here is the old bottom blanket parts. I was in trouble with the state where the crankshaft swayed to the right and left due to a gap in the shield part that should be in close contact with the bearing. I did not expect that this bottom blanket could be exchanged in Africa, so it was very helpful.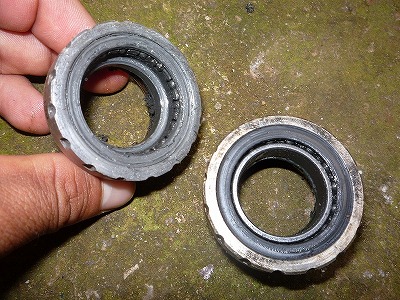 I got a new tire as the sidewall of the front tire is torn and sewing. I would like CST to be a proper brand. If you put on a super-heavy bicycle for traveling a bad tire, the tire wears and the tube bursts before running 500 km. That is why you have to be cautious about choosing a tire. I got another European tire though it is another used. I would like you to have southern Africa where you can supply it.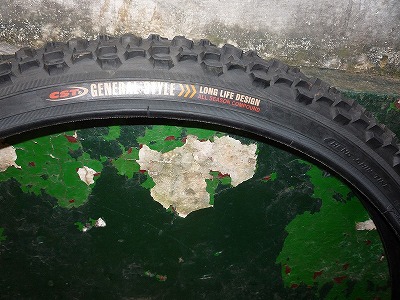 This is a mechanic that exchanged parts.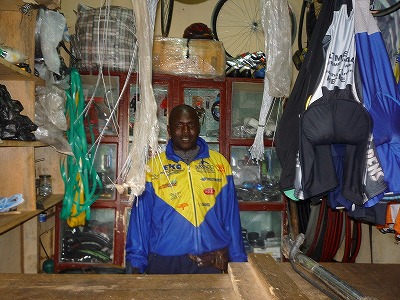 The hottest cycle shop in Yaounde was hooking a bicycle to awkwardness. If you have a bicycle trouble with Cameroon, you may be able to do something if you come here.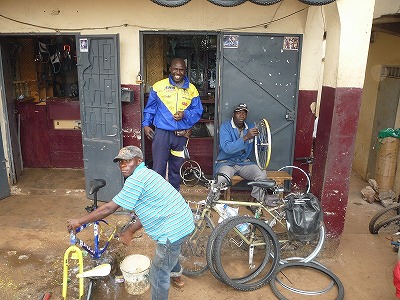 At the Yaounde sports shop adjacent to the French supermarket I also got chains and tubes.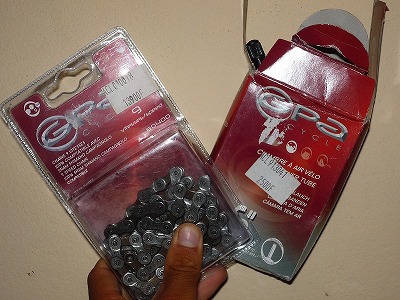 At Yaounde I was indebted to Canadian French men and local women 's families.

There was a state that the water service was stopped there, so we purchased water in the neighborhood and saved it in the tank. Yaounde's water situation is bad.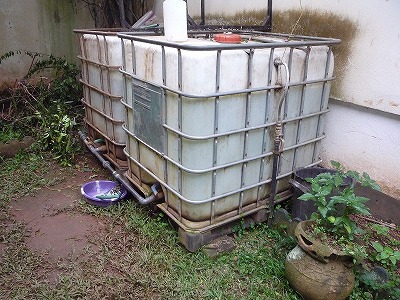 A squall fell several times during my stay. In order to use this rainwater, a water trough and a trough stand by.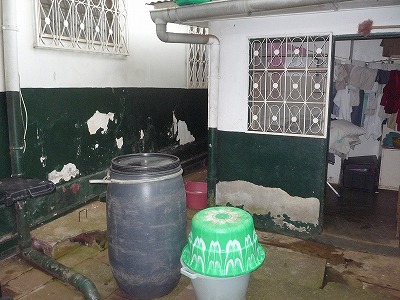 It began to rain soon.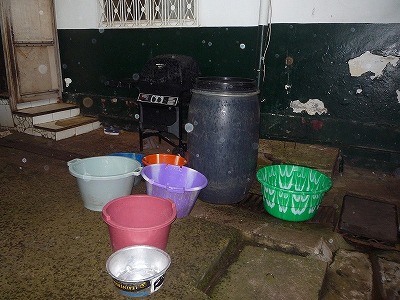 Rain water falling on the roof will be collected through the rain.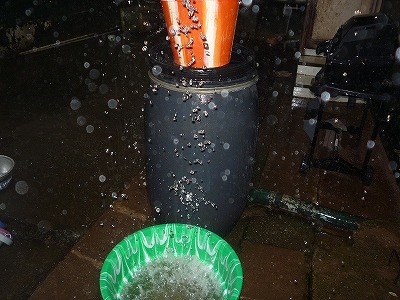 Even so, it's amazing momentum.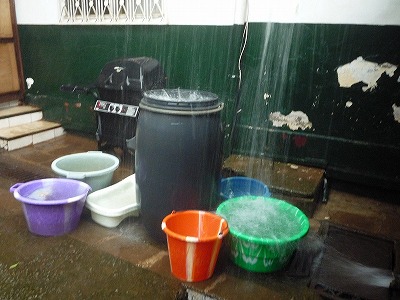 All the tubs and tuffs became full. This rainwater is used for cleaning and washing.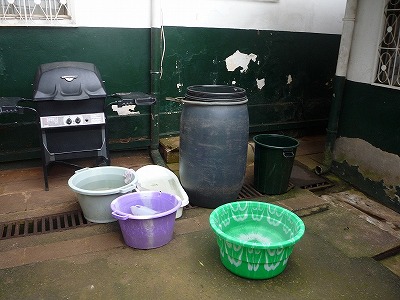 There was a rainbow in the city of Yaounde after the rain.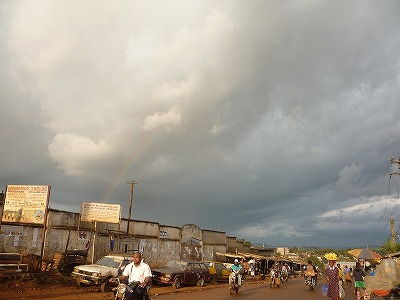 At the house where I became indebted, there were three children with lots of cunt.

I climb on my bicycle and play.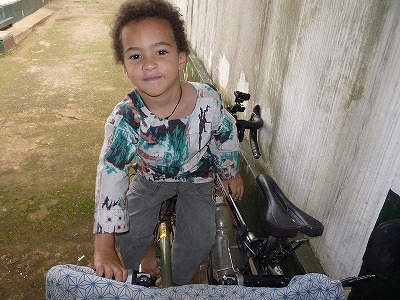 I like saddles like favorite.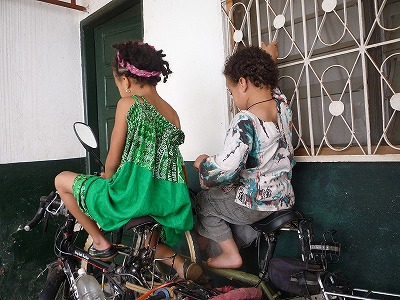 I am doing nothing but mischief.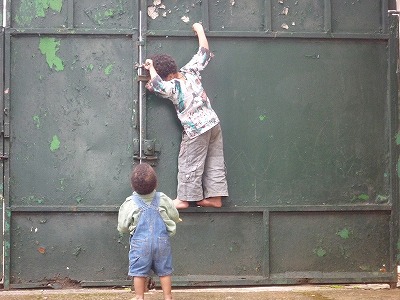 The youngest child full of energy.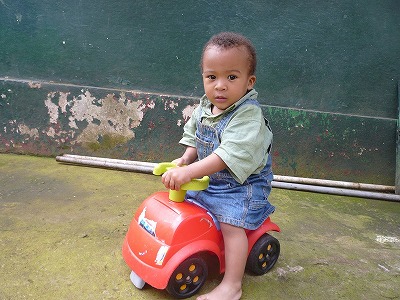 These children were cute children. Their eyes, who did not know anything, were transparent like glass without cloudiness. Especially the youngest child less than 2 years old shows a smile unbelievable even to others' own self. I always move around with full power. Such a situation seemed to be pleased that "I am born and happy." The couple who were blessed with such cute children seemed very happy and said, "Children will change our lives." Although I am anxious only about my journey, I also want to build a family some day.

From Yaounde, go south and aim for Gabon.

We stayed at a boro inn at 2500 safer (about 420 yen). It is rare that this is cheap, but still a cheap hotel was found if you put out 5000 safer (about 840 yen). Cameroon was relieved with plenty of cheap accommodations.



A lake in the city of Ebolowa in southern part of Cameroon.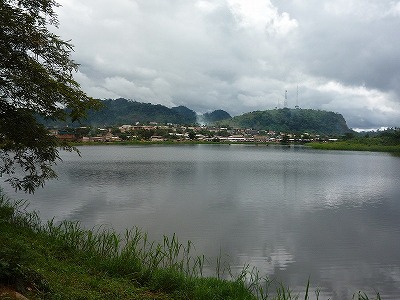 There is market of Ebolowa and there is a crowded street.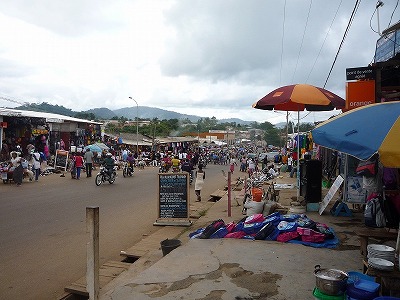 I stayed in Cameroon for a month and longer. My stay in Cameroon was tough as it was unreasonable.

It is nice to have stayed at the inn in a small town, but it is not likely that you can spend the night with fluorescent lights in the room. When I said that to my aunt, "You confirmed the room ahead of me," I was oppositely grateful. I doubted my ears what I was told. Because she is angry. It certainly confirmed the electricity, but now the fluorescent lamp that is shining is your hotel room. Forced her to replace it, replacing it with a new fluorescent light by forcefully replacing it as "not playful", "I will go to the police if I do, replace it quickly". This was my first time in a long journey and it was very unpleasant.

Speaking of what surprised the hotel, it was that the employees wanted to drink a bit of beer. There have been strangers to strangers like shops and cafeterias. Of course, I ignore it. However, in the place where I am indebted to you, I doubted my ears that I would say such a thing. Common sense does not pass well in Cameroon in many cases.

If I enter the Internet cafe, my daughter accompanied by my mother is typing something with a keyboard. The keyboard is at the knees, the chair is disturbing and the back can not pass. Every time she goes by, she goes by seat. Every time I say "Chinois (editorial note:" chinois "means" Chinese "in French)", he says, "Hey, how can I put a keyboard on the desk and pull the chair? I will explain it carefully. " Still I did not fix it. There were people disgusted who did not care about people's troubles with their parents and children.

If you ask me for dinner at the cafeteria, I wonder if there is no fishing or it is troublesome, finally deceiving the monetary amount. Because I felt as "funny, funny", I told the surrounding guests, "Listen to me for a moment, do not calculate fishing properly" and talk with the customers, re-calculate properly and correct the amount I got fishing of. In Africa, such experiences have only been experienced in Cameroon.

When walking on the road in Cameroon, there were usual Africans who stupidly Oriental people, "Chinois, Hee Hon (editorial note: local accent of Nihao)". Among them, Cameroon was bad with a loop around. It is strange that there is no wonder their attitude which is always doing what is wrong. A certain female clerk in the supermarket always gets cramped whenever she passes. To be amazed and say "I want to talk to the chef (boss)", a proper Cameroon man who has experience in staying in the UK came in. "Why are they always doing good?" "Why are you laughing with a laugh and saying Nihao?", He folded "You dislike Asians, so they will discriminate," he said. It is clear that it is not the same attitude to Caucasians. Although he said "There is no such thing", he explained women side by side. It seemed as though the child was getting angry.

People are friendly to Cameroon, too. But what is important in traveling is not to be uncomfortable than being gentle. Cameroon was extremely tired after only unreasonable things that have never been experienced have continued.

Children who came out on the way when running.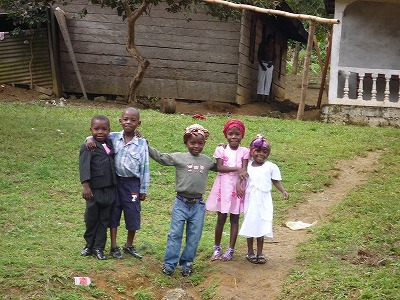 One piece of catching the children who ran after running. Children in the previous picture, so Sunday is a Christian worship day, so everyone is doing a draft. Sunday's tight kids are too cute.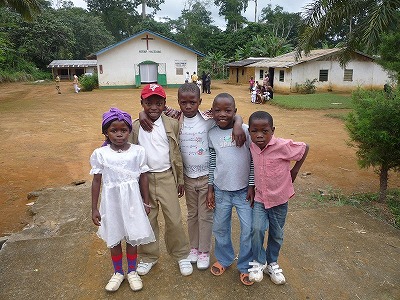 When asking the students who said "Snowwaa, Ni-ha, Hee Hon", "Noisy, please let me take a picture" and asked a camera, it became like a cacer and it was like this. I am rude but I am not a bad guy.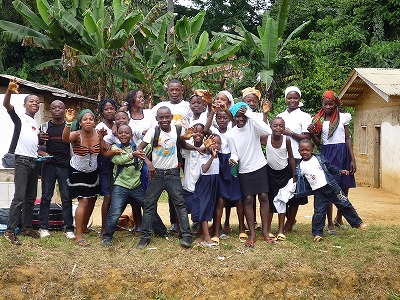 Going further south of Cameroon will enter Gabon where tropical rain forest grows. The equator was waiting.

(Sentence / picture:Takuya SAITO @ Chaliderman
Cycling around the world for a bicyclehttp://shuutak.com)