Nintendo 3DS which we reduced the price by 10,000 yen is deficit every time we sell one, compensation to retail stores also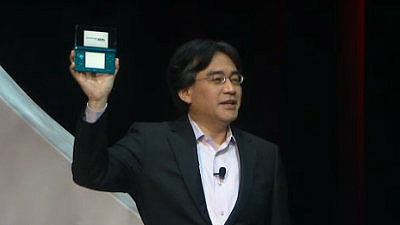 Although it was only five months since it was released as "Before release, immediately after release and at the present time we recognized that the situation is very different"Nintendo announced on July 28 that Nintendo 3DS will be sold at 15,000 yen, which will price down 10,000 yenIt was an event that gave a huge impact, but it became clear that the deficit will come out every time one sells because of price cuts.

In addition to providing compensation to retail stores, the background to deciding to cut down prices is also explained.

President's explanation | Friday, July 29, 2011 First-Quarter Results Briefing Nintendo Co., Ltd.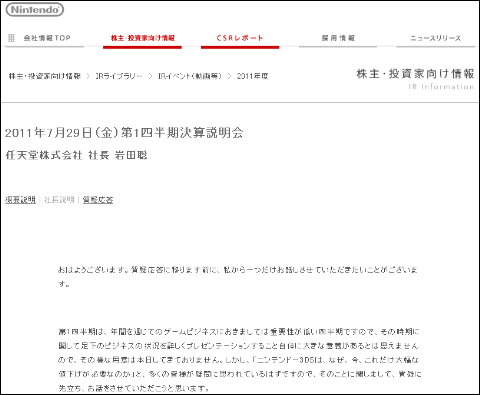 Nintendo posted on the official page on July 29, 2011 (Friday) First quarter earnings briefing data, before the company's president Iwata accepted the question and answer, it was decided to cut the price from August 11, not the year end I explain about the reason for doing as follows. We emphasize the need to maximize the effectiveness of leading software to enter into the holiday shopping season by promoting popularization to users at an early stage.


First of all, as one of the things that we have recognized since launching Nintendo 3DS, there are times when it takes more time than our prediction to convey the appeal of this product. Customers who understand the contents of Nintendo 3DS have a response that is appreciating the appeal, but it does not necessarily spread at the speed you expected. Before that, in order to maximize the effect of leading software at the end of the year, before doing so, considerably more than the number of hardware is spread and environment such that the appeal of new software spreads among customers in a short period of time If not, I thought that we would not be an explosive end-of-year selling battle. This is one reason.

Basically, the pace of popularization of such products grows, and as mass production the more you can expect "mass production effect" which lowers the manufacturing cost per unit, but at present it sells Nintendo 3DS main body when price cuts of 10,000 yen It is revealing that it is a so-called "inversion" state where loss occurs every time it is done.


The implementation of such a bold price reduction at the moment before the mass production effect of the hardware at the moment will result in a loss in hard sales and as a result there is a very significant negative impact on earnings this fiscal year Although it will come out, in order to grow up as a platform that Nintendo 3DS can support our business, even if short-term revenue is affected, it is judged that the maximum hand should be done right now did.

Friday, July 29, 2011 briefing session for the first quarter results - Q & A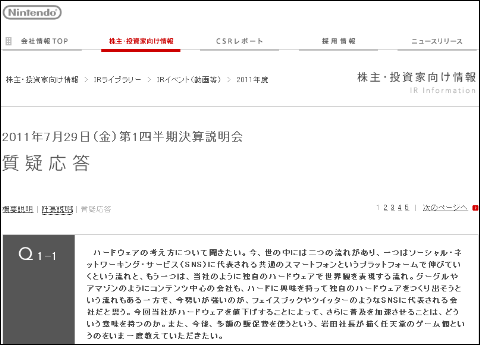 Also, in the question and answer session, I explained to the retailers and software makers that they did not announce that the price of the main body will be reduced in advance. This price cut announcement seems to be a surprise for not only the user but also every part concerned.


After announcing price cuts, that was communicated in Japan and overseas, and of course it was communicated to our business partners, software makers and retailers. About our company's domestic sales department and the person in charge of our local subsidiary communicated after the announcement, first of all, concerning the price cut this time, software makers and retail stores were very positive I would like to say that.

For retail stores that purchased Nintendo 3DS at the old price, "Price protection (inventory compensation)" to compensate for price cuts was implemented. Nintendo announced earnings forecast for the period from April to September 2011(PDF file) We have revised from 18 billion yen surplus to 35 billion yen deficitHowever, the loss caused by this measure is also included.


Regarding the retail store, there is implementation of price protection (inventory compensation) as one of the reasons for our influence on this settlement of accounts. In other words, we must compensate for price cuts for inventory of products sold at the old price. Because that is included, I think from the retail store, Nintendo accepts that it takes appropriate consideration.

Friday, July 29, 2011 briefing session for the first quarter results - Q & A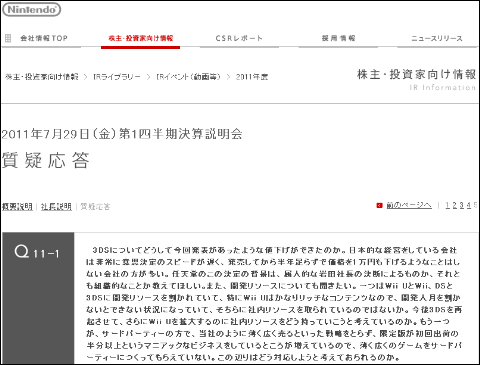 We made a decision to cut prices in less than half a year from the release, and as to the reason for announcing "I had a chance at the time of the GameCube, but I could not make use of itExplained that it is a lesson learned from experience. By the way, GameCube was released on 25th September 2001 at 25,000 yen, and revised to 19,800 yen on June 3rd, 2002 in 9 months. Although the price was revised down to 14,000 yen on October 17, 2003, the domestic market share is second only to PS2, overseas share PS2, third place behind the first Xbox, was forced to struggle.


Is the lesson of the GameCube the reason why I could decide the price cut? So, in that sense, it is a bit subordinate, that is, all the current management team has experienced "I could not make use of it even though there was a chance at the time of the GameCube", so this is one person It is not that I think that it is great that such consciousness is shared among the management team who is making decisions now.

Nintendo aims to expand its share by drastically reducing the price of 10,000 yen on the premise that short-term profits will be affected, but the two Mario series to be introduced at the end of the year showed strong sales, and at the pace of dissemination of the main body If it gets a lot of momentum, it seems that you can expect to get out of the wrong way before you are far away.
in Game, Posted by darkhorse_log