I saw the wild hippopotamus in the river of nature in Ghana, an ecotour of 2,000 yen discount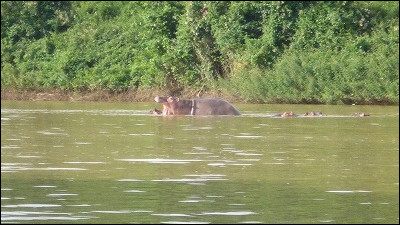 Hello,Around the World Bicycle WorldIt is Takuya Sudo @ Chaliderman. I will aim for Burkina Faso from Bamako of Mali. That Burkina Faso 's Bobo di Uruso is a big city, but it did not seem like West Africa. And I will enter Ghana. So, I went to see the wild hippopotamus. There is a tour that goes to see a hippopotamus in a river of nature in a canoe. Moreover, it is cheap. Mari and Burkina Faso are meat everyday, when entering Ghana pineapple came out. And as usual I am playing with children. It may be being played. I tried collecting the days of Burkina Faso and Ghana from Mari like that.

West Africa, Ghana where hippos existed around here

View Larger Map

I was running with Mr. S from Bamako of Mari for a while. Although there is no one in West Africa, there is nothing more encouraging than Charader friends.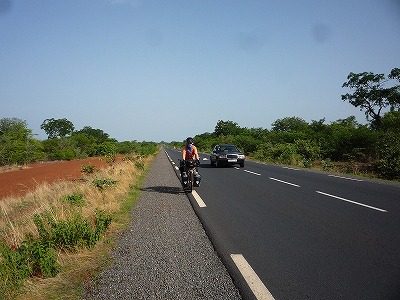 Suddenly a small monkey was kept at a break.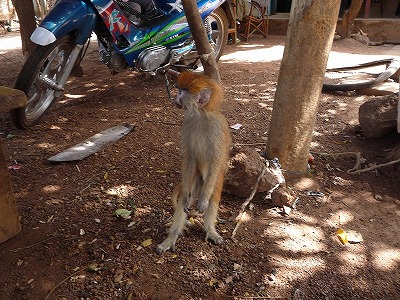 Telling the loveliness of the children watching it.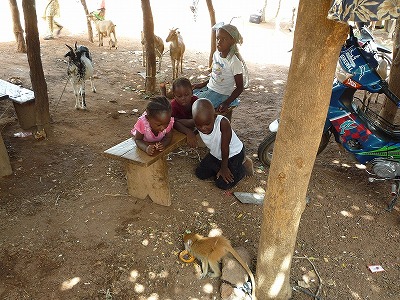 In West Africa, all the pictures of the baby shoes.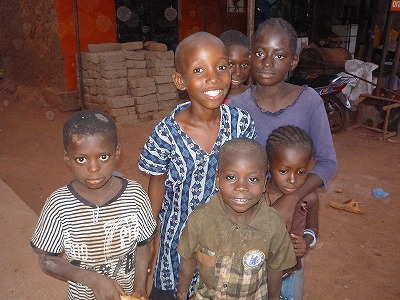 The reason is also gathered. Children who gathered while taking a break with two children.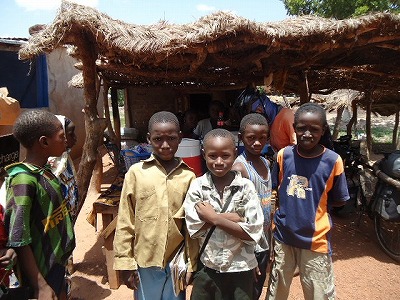 Stop the bicycle on the bridge ...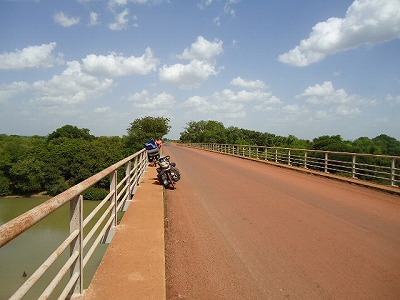 I look over the river that flows.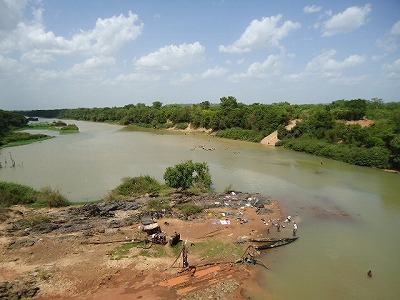 People doing washing in the river. However, children who waved their hands. I was playing with PET bottle water on the children who found themselves on the bridge. Such small things are fun Africa, right?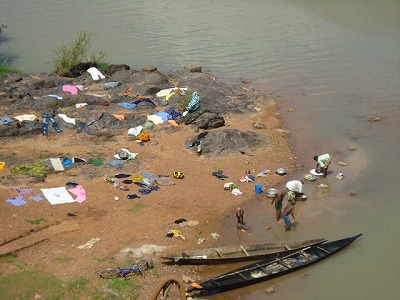 Birds were making nests in the windows of the hotel, and chicks were left.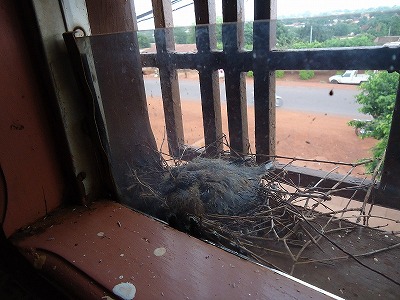 I will enter Burkina Faso on the 5th day after leaving Bamako, capital of Mali. Burkina Faso, meaning "the country of innocence and innocence," is an inland country of West Africa with approximately 154 million people living in about 274 thousand square kilometers. A peaceful country landscape surrounded by gentle greenery spread.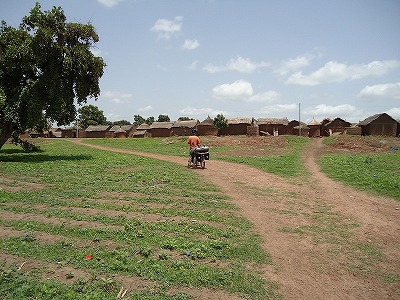 And we will arrive in Burkina Faso 's second city, Bobodi ulasso. I was surprised because the central station was very beautiful.



Central market. It is unusual to walk here as usual in West Africa. The parcels are organized, not as garbage.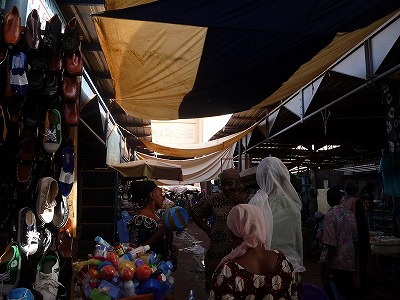 There was a bicycle parking lot in the central market. This is also beautiful.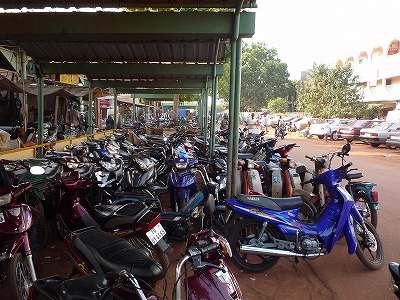 The street trees and Bobo D'urasso on a big road are planned cities where towns were created with go crosses. In West Africa cities, the expansion of the city progresses due to the rapid population increase, and it will become cluttered, but Bobo Dyurasso was in order.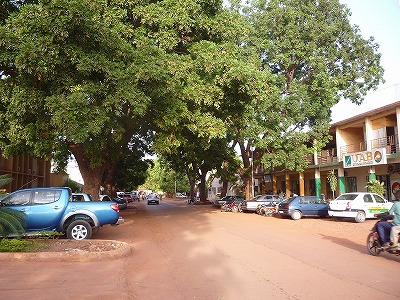 I felt Tashkent of Uzbekistan who walked ahead and the former Soviet Union like Almaty in Kazakhstan in this large streets. That should be that, Burkina Faso was a short period, but once promoted the socialist route, built friendship with the Soviet Union and eastern countries. The restlessness of this boddy urasso may be its effect. A small mosque in the country town.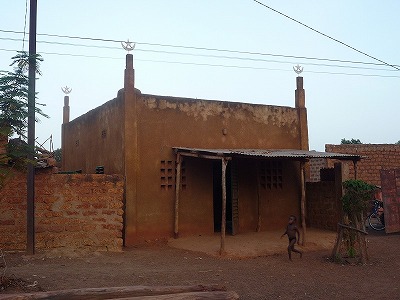 If it is a countryside, it is a paved road other than the trunk line.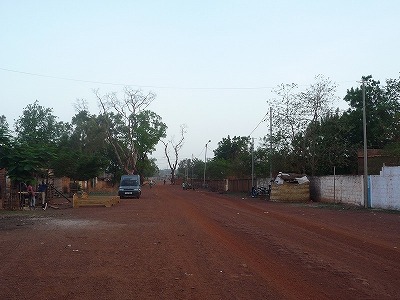 I will go through PA (PA). The sense of the place name is good. Although I planned to go to the capital Ouagadougou as it is, I will change the course suddenly as "I will go see the hippopotamus" and aim for GANA's WA (W). This is also a nice word. As a result, I stayed in Burkina Faso only on 5th.



That may have been good. Burkina Faso was recommended by the Ministry of Foreign Affairs for evacuation recommendations. Shortly before entering the country, military officials who reported dissatisfaction with trial judgment against military personnel and nonpayment of allowance occurred continuously in various parts of the country. A soldier plunder. Who will crack down ... I can not believe it. A victimized merchant demonstrated a protest and the government related facilities were burned down. Even in Bobo D'urasso who did not have this series of disturbances, I learned that a similar riot by the same soldier occurred the day after they left, at a later date.

This series of turmoil will lead Burkina Faso to a bad direction. Just like Côte d'Ivoire in a neighboring country that was called a West African honor student. Cote d'Ivoire was exhausted by the civil war and confusion. Is it that civilian control can not be heard for Burkina Faso soldiers? A soldier who has grown up with this uproar does not know what to do in the future. I can not wipe out the distrust of the citizens whose existence that should protect themselves was a threat. Dark air will cover the whole. However, this may not be Africa. Why are they poor? Is Japan's aid meaningful in such a ridiculous situation?

I just awoke and became a sleepy eyebrow. I was sleeping with the cloth laid in the cafeteria of the dining room. cute.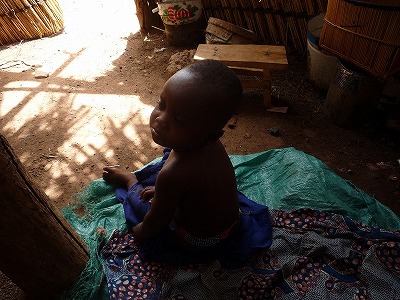 Children who run and children seeing.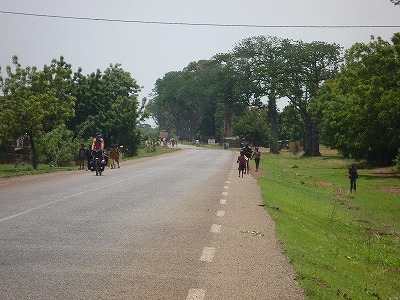 Some kind of food like rice cake came out.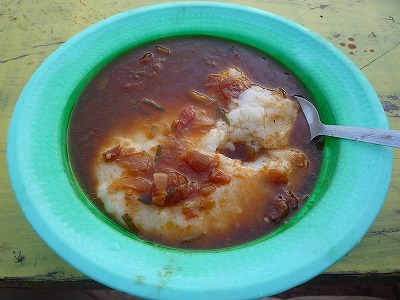 I feel a change in eating habits.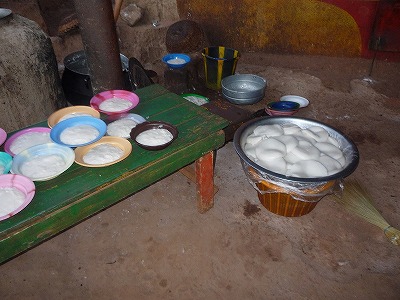 Speaking of eating habits Mary and Burkina Faso had plenty of meat. It is happy everyday for Charrid. There is such a "kamado" when walking in the city ...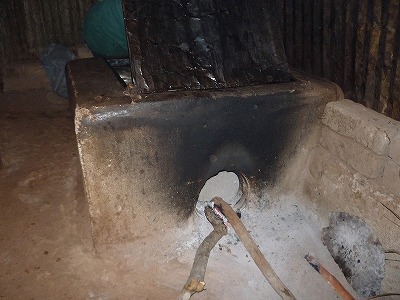 Meat is being cooked. I will have them cut as much as I want.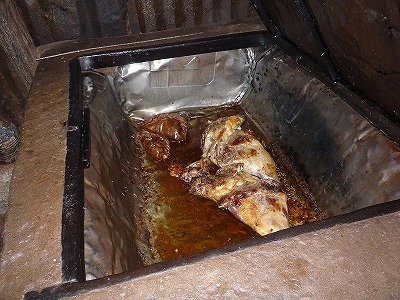 There is a goat to be handled near the picture of the goat written in the furnace and it is surreal.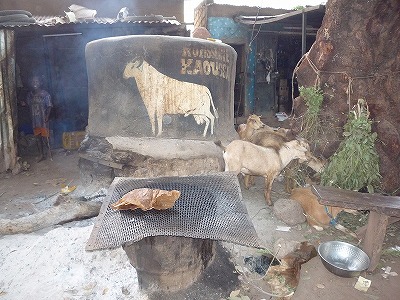 This gravy does not accumulate. It was definitely beef at this time.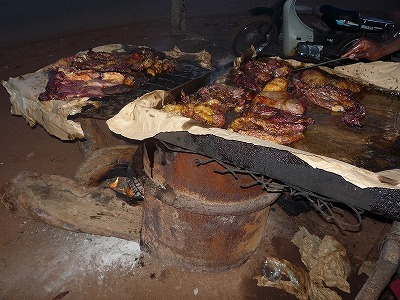 I will add potatoes fried by my aunt on the street. Unfortunately the potatoes are sweet.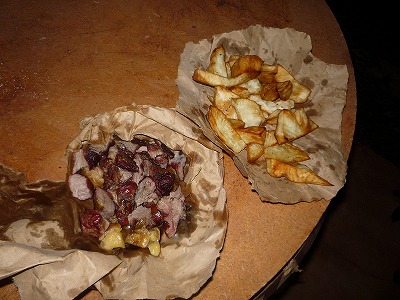 After entering Burkina Faso, I finally made it to my mouth.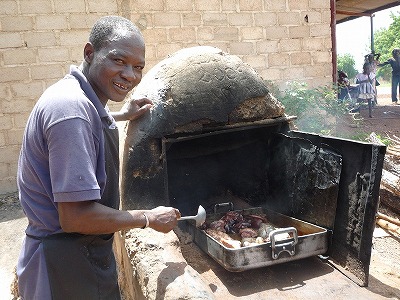 Pork lifting. Pigs could not be obtained as it was far more severe Muslim places. This will cost about 100 yen. There were truly lots of goats, sheep, cattle, pigs and meat around here.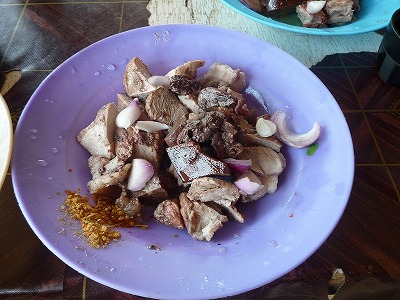 After five days of Burkina Faso 's driving, I entered Ghana in the 62 nd country. It has been followed by French-speaking countries for Guinea, Mali and Burkina Faso, but it will change to English-speaking countries.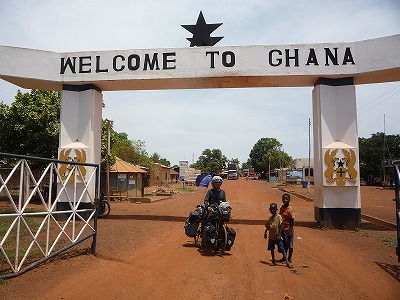 Ghana is easy to do in English, but there are also subtle places. One of them is a verb "meaning" ask "" ask "" Aksu ". When saying "I'll ask somebody", "You have to" aks "somebody". Come on.

According to the story I heard, the mosque is also a mox, and the disk seems to be a disk. That spelling is not like aks, it seems to be like ask, so it is wonderful how it got this way and there is no choice. Also, I am struggling because it is cramped and hard to hear.

Surrounded by children even in Ghana.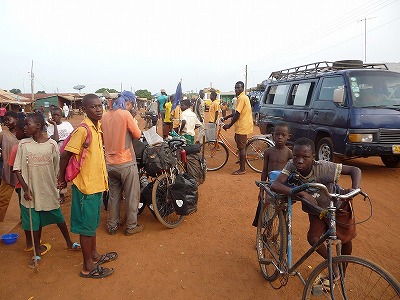 When I entered Ghana I chose a remote border so there was no paved road for a while.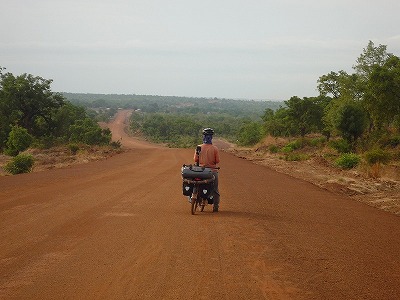 I am drinking home-made beer in the city. I could not say anything about cold beer that I was missing.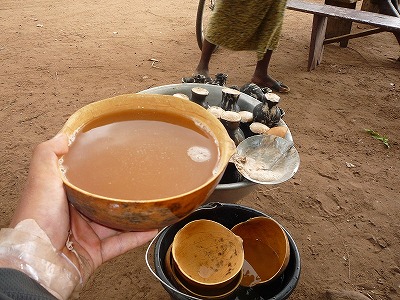 And I arrived at Wa. Wa is a large town in the northwestern part of Ghana, which is the prefectural office's place in Japan. I left my bicycle and went to see the hippopotamus.

I will go out to the village called Wayi Chaw on a bus. Since there is a sightseeing office in WeiChau, we will set up a tour there. Then I came to such a green feeling.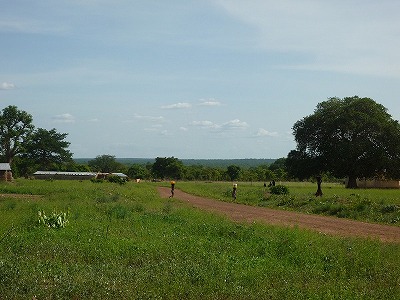 I will go to a canoe and watch Hippo. As I was told that it was a tour, I imagined a canoe like that in Japan, but it was used by local people.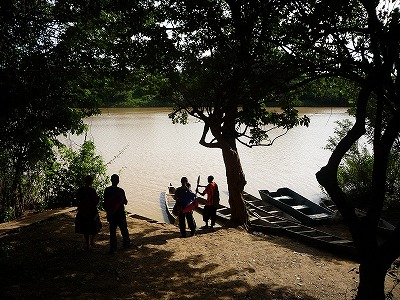 The canoe goes along the river as the ship's head dynamically paddles and slides along the surface of the water. About 30 minutes or so ...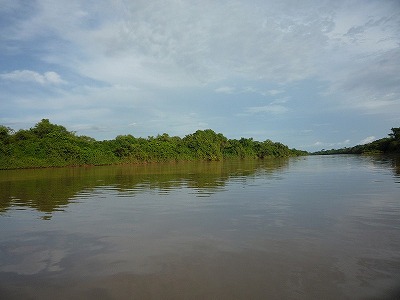 And the appearance of Hippo!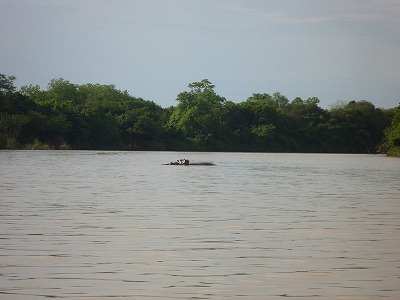 It seems like I can open my mouth a lot.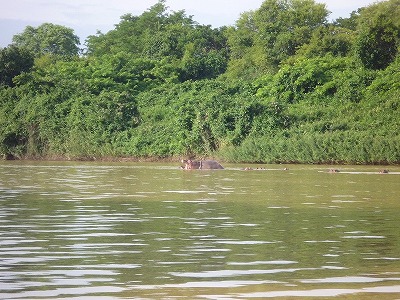 Is it parents and children?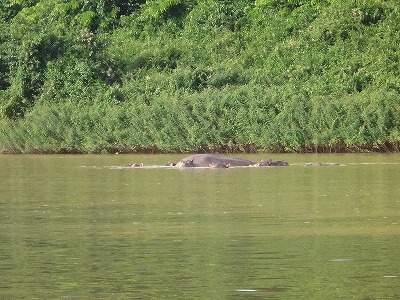 It was on a hot hot canoe, but the hippos in the river seemed pleasant.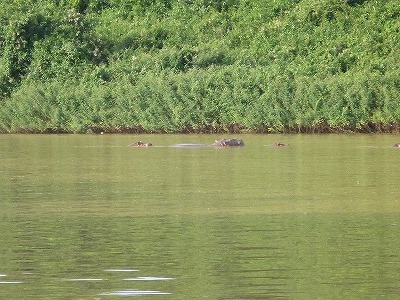 Certainly Hippo was seen. But since it is a form to watch, it was far from canoe to hippopotamus. So, if you have a strong camera for zooming and binoculars, you can enjoy more.

Also, I can sleep here with an observatory on a tree near the river. Since the observation deck is close to 20 meters, I was surprised when I saw it. We set up a handrail sticking a plate to the division of the trunk and make it an observatory. I have to walk for about 30 minutes so far. I arrived when it got dark, so I expected the picture the next morning. Then it was raining. So it's a pity, but only this one photo.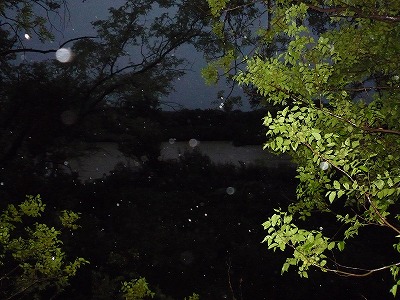 However, June was the beginning of the rainy season. If you visit during the dry season, it will not rain. Moreover, it seems that the dry season does not have the river watering, and the appearance of the hi more clearly.

And, although it is the cost of this Kaba Tour, ...

Canoeing 1 hour 6 Cedi (approx. 400 yen)
National park entrance fee 7 Cedy (approx. 460 yen)
Tree house accommodation 10 Cedi (about 660 yen)

It is cheap. There are no public transportation facilities from the transportation cost to the 4 way Cedi (about 260 yen) from Wa to the Waitchew with the sightseeing office and from the waychau to the settlement where the hippopotamus is located, but it is expensive, but still 20 seddies (about 1320 Circle).

If you sum up all it is 37 Cedy, you can go to see the hippopotamus at about 2,400 yen if you revise it to Japanese yen. Will not you be able to see the hippopotamus at reasonable price as it has not been sightseeing yet?

I will go down south of Ghana. I found a chameleon on the road. As if as a tightrope walking in the air, I stumbled down on the ground without anything, walking with the navel.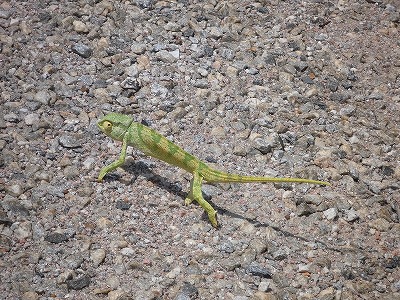 The five fingers of the limb are divided into two, and it seems convenient to grab twigs. Eyes rotate separately from side to side, quickly catching insects found with long tongue.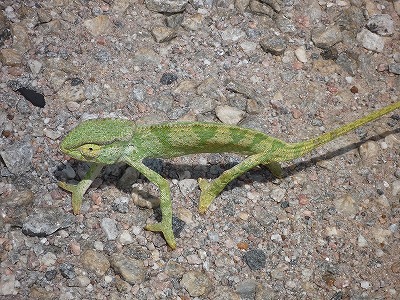 White cloud floating with fluffy. In Mari, the clouds were blue sky and the heat was strict, but in Ghana clouds block the sun, so it is not hot there.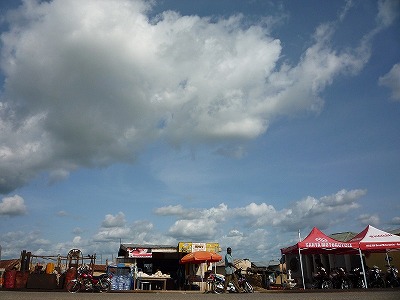 A sign that I was a bit curious.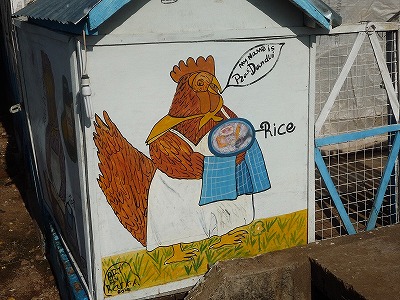 It was a mango in Guinea and Mali, but pineapple came out after entering Ghana. If you buy pineapple, she cuts it for easy eating on the spot.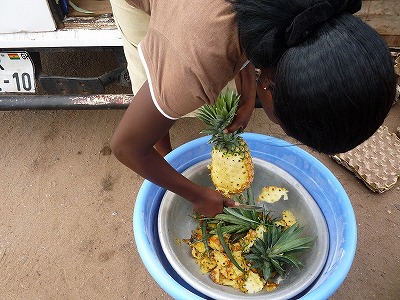 Pineapple became a bite size.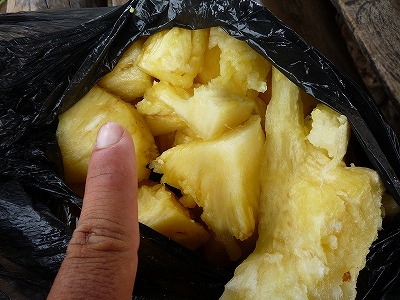 People who were selling pineapple were peddling with a wagon car. I carry lots of pineapple and eggs.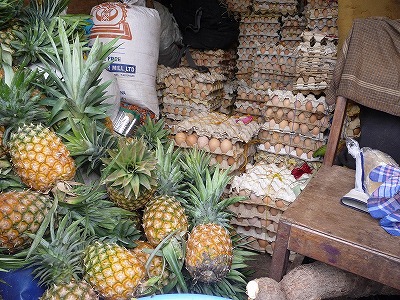 A banana on the roof rack.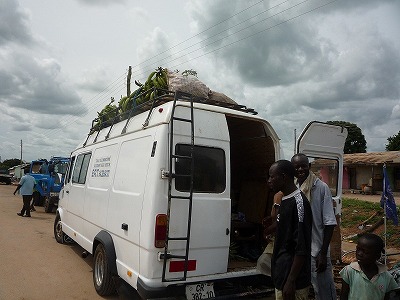 When I was on a break I got along well with my little brother.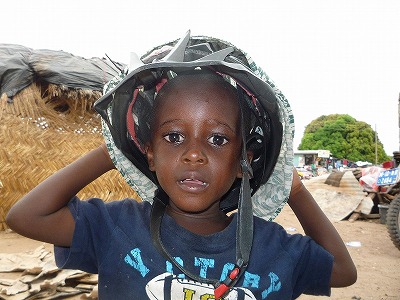 I will put on a helmet and play. Is happy.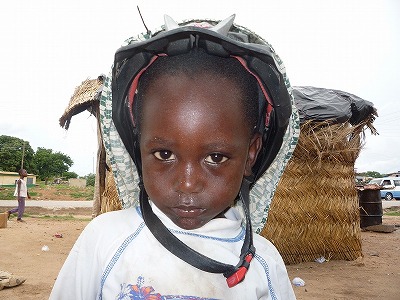 If I thought that suspicious clouds were drifting, it started to rain like overturning boots. Evacuate to the eaves of a private house and overcome it. Then he came up to the goat as well as the person. Make your shoulders narrow between the wall and the bicycle. They do not want to get wet with the rain.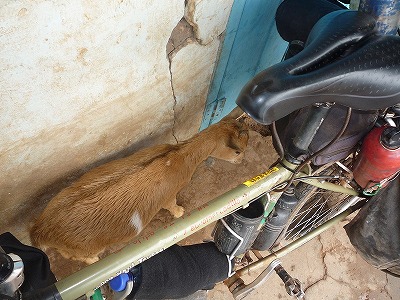 An unusual white walled mosque.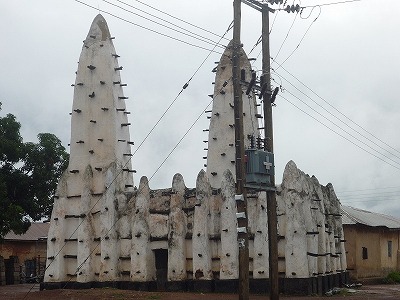 Jirofu cooked rice.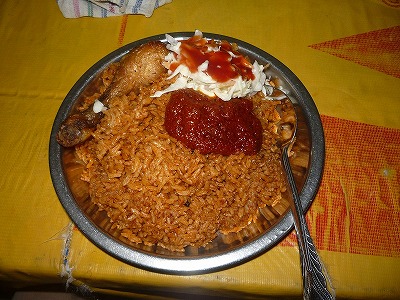 It was shocking that a signboard of the menu appeared in the cafeteria. Because West African meal is a stall that the aunt opens without permission under the blue sky. Even if there is a cafeteria it is usually hard to order from the ordinary dining room where there are no menus and orders the same thing as someone eats or tells a cuisine they know . Thanks to this signboard I was able to eat Joroff.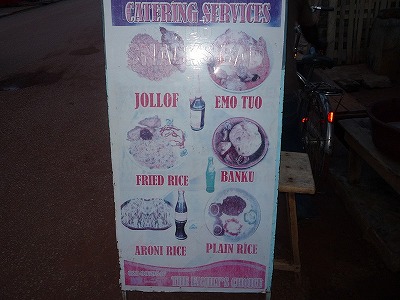 And I came to Kumasi which is the second city of Ghana. Overlooking the city from the inn.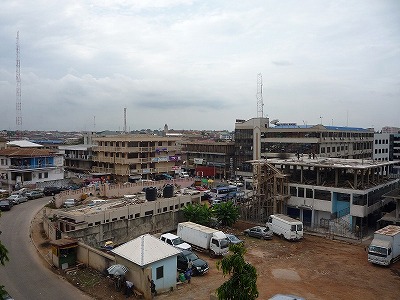 Street in front of busy train station. Tarai at the head.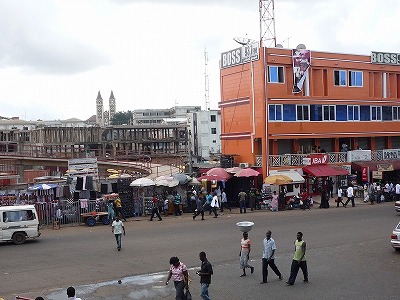 This is also the downtown area. A banana in the head.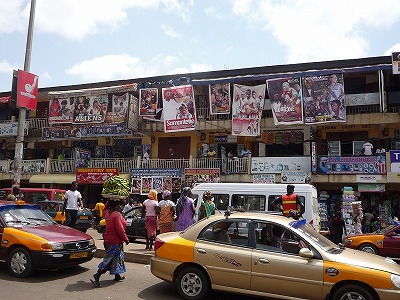 This is the center of downtown area. Many people are walking around here.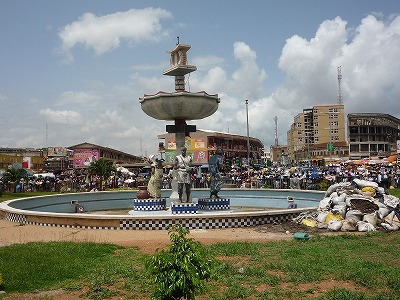 And this is Central Market. The parts of the tin roof are all shops.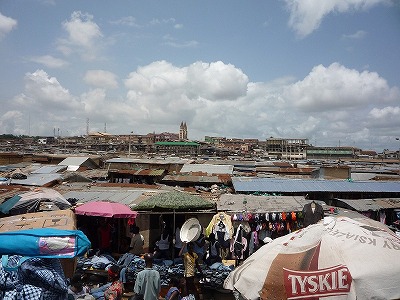 Somehow the track. It does not mean that the train goes by.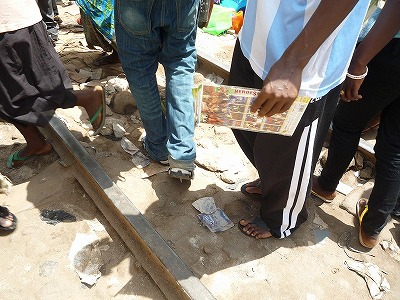 People who go. Candy case on the head.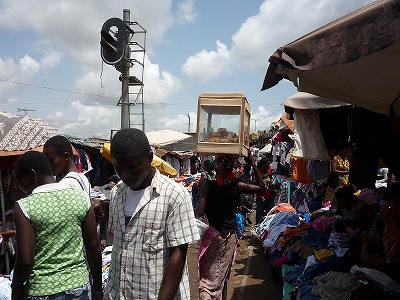 Shops holding eaves.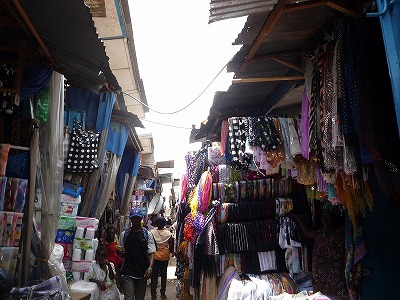 Is it written in the photo of Talai in the head, banana in the head, candy case and Kumasi in the head, can you confirm it? Yes, it is a general sight to get something on my head around here. The figure that lifts a heavy thing to put on the head seems to be a player who is weightlifting, actually it may take a medal when putting out to the Olympics. It is strong. Everywhere, anywhere, it is water for living in a bucket, or you can see a woman walking on the Tarai with items for peddling.

Besides, I am watching it because I am on various places. A mother carrying a baby has a bottle of baby in his head. Girls going to school had more than ten textbooks and notes on top of each other. From now on, it seems that a hand ax looks like stinging at the head of a woman who will go to farm work. I am afraid if it appears in the middle of the night. It is a horror. Sewing machines, drums, heavy objects are impressive. A handbag is on the head. There is no meaning of having it by hand. Also a suitcase. Caster does not roll. It looks like a lie, but all is true.

Meanwhile, a girl of about 2 years old recently tried to imitate her mother, and I saw a figure that tried to get a small poly tank on his head. But, I will not go. But, I repeat it hard. Adorable. It was a very adorable behavior. I guess they will progress better with that.

When you leave Kumasi, you aim for Ghana's capital, Accra. Since I was inland all the way, I went to the sea since Freetown, the capital city of Sierra Leone.

(Sentence / picture: Takuya SAITO @ Charriderman
Cycling around the world for a bicyclehttp://shuutak.com)