"Wounded story" filmed decision, scheduled to be released in 2012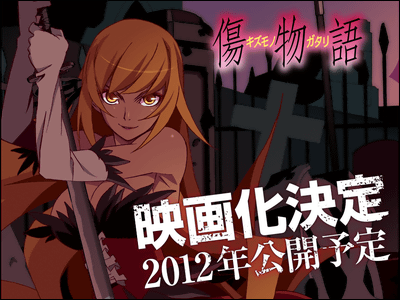 In January 2011 ""Bakemonogatari" The sequel "Wounded story" is not a TV animation but a movie"Although it made an article, it was announced that" Wounded story "will be made into a movie as this content.

It is scheduled to be released in 2012.

Details are as below.
Bakemonogatari - Nishio Ishinagi Animation Project
http://www.bakemonogatari.com/

"Wounded story" filmized, released on March 31 "Flower storyCover, and"Bakemonogatari" official websiteIt became clear in.

Regarding animation of the wounded story, since 2009, when the bakemonogatari was made into animation, the voice requested has been rising,"Bakemonogatari" Blu-ray Disc showed tremendous salesIt seems that animation will be surely done even from that thing. Only in a moment in January 2010BD & DVD of 'Wounded Story' and 'Fake Story' Appears on Amazon.co.jpAlthough it seems that it was registered by mistake, it was very exciting.

After that, in July 2010Anime production decision of "Wounded story"Was officially announced and today it revealed that the medium is a movie.

Just the release time of BD / DVD was a rivalous presence nearby"K-ON!" Also released a movie on December 3, 2011By doing so, from the end of 2011 to 2012 it will be time for anime fans to be blessed.

hereEvangelion: New Theatrical EditionIt seems that there will be no surprises when it comes in, but for now there is no information such as the timing of opening about Eva.