Number of users of "Yahoo! Mobage" exceeded 2 million people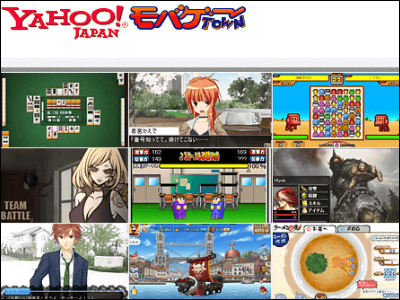 A major portal site "Yahoo! JAPAN" and "Mobage Town" partnered to form a social game platform "Yahoo! MobageAlthough it offers, it became clear that the number of users exceeded 2 million in just three months from the grand opening in October last year.

Also, users of Mobage Town tend to image young people by all means, but the users of "Yahoo! Mobage" seem to be slightly different.

Details are as below.
Yahoo! According to the press release sent from JAPAN, the number of users of Yahoo! which operates "Yahoo! JAPAN" and DeNA operated Mobage Town in cooperation and offers for the personal computer "Yahoo! Mobage" , It seems that it broke through 2 million as of January 3, 2011.

"Yahoo! Mobage" is a thing that users who have Yahoo! JAPAN ID are able to play games basically free of charge (there is also charged item of charged system) on their PCs, He said that he is getting support from a wide range of people, mainly from the group.

Below is the Yahoo! Mobage user base as of January 3, 2011. There are 2.1 million users.

Male / female ratio: male 68%, female 32%
Age composition ratio: 17% under 20 years old, 26 years from 20 to 29 years old, 57% over 30 years old

The number of contents currently included in "Yahoo! Mobage" is about 160, and even after the grand opening on October 7, last year, various campaigns and enormous content additions vigorously to Christmas and year-end and New Year holidays , As a result of strengthening efforts on social functions such as collaboration with "Yahoo! Mail" and introduction of "mixi check", as a result of the successful release of the beta version of September last year, It is said that the number has reached 2 million people.

In addition, the number of users is still expanding and is currently focusing on older age groups. In addition to the addition of famous titles by major game makers such as "Nobunaga's Nobunaga" (planned to start in January 2011) in the future, we will build a highly satisfactory site on the service and function side, It is said that we aim to further promotion in the future such as campaign, and aim for the No. 1 social game platform on the personal computer.

By the way, although I used the phrase "Yahoo! Mobage" as an abbreviation for "Yahoo! Mobage", this abbreviation means "Yahoo! Mobage" spokeswoman sent a title to the press release "Jabagh, exceeding 2 million usersBecause it was said.

To be sure, abbreviated as "Yahmova", Yahoo! Considering that it may be misunderstood as a mobile site version of JAPAN, it may be rather bad.