"Creator's World Pilot Edition work production support project" to support future masterpieces


At the Tokyo International Anime Fair, a booth called "Creator's World" is set up every year, and creators who produce original animation exhibit works proud of. The problem is how to commercialize the original animation, for example, a movie released in 2009SenkororuIs"Movie Revolution Tokyo" that supports young artists from the finance side and the producer sideIt is a work made with the support of, Aniplex has bought up and it reached the theatrical release.

In other words, in order to do business, you need a collaborator to commercialize the work. In order to realize this, we aim to support the creation of pilot version video, career up creators, and aim for acquisition of collaborators for commercialization through appealing work, this time "Animation / pilot version work production support projectThat's why.

Four works were selected for this time, and it was decided to screen the pilot version at Tokyo International Anime Fair 2011 in March 2011.

In what way, what kind of creator is making what kind of work, the information of 4 works from the following.
"Animation / pilot version work production support project" selection stage 4 presentation stage.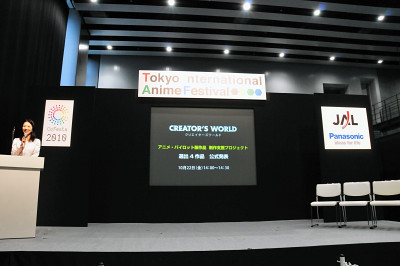 "Tokyo International Anime Festival 2010 In autumn we have created a creator's world animation / pilot version work production support project to support creator who creates original animation for human resource development."



"It is a project to support the creation of pilot version work to appeal to her top talent and work to domestic top creators who create original animation."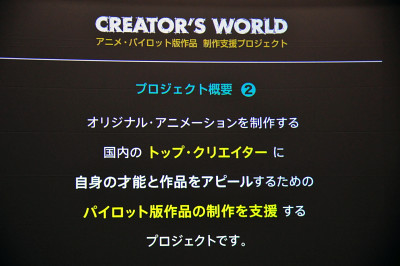 "Targeting creators who have experience participating in Creator's World, we will support the creation of pilot version works to appeal to our top talent and works for presentation at the Tokyo International Anime Fair 2011 to the top 4 judges passing from the entry . "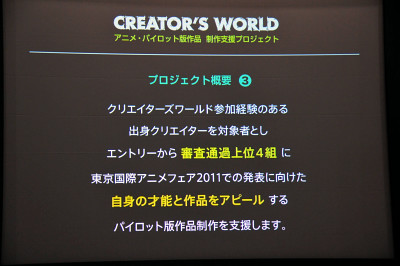 "From the announcement of the project participants at the Tokyo International Anime Festival 2010 autumn, by presenting the pilot version completed work at the Tokyo International Anime Fair 2011 venue and appealing the work, acquiring collaborators for commercialization and raising their own career I will aim for. "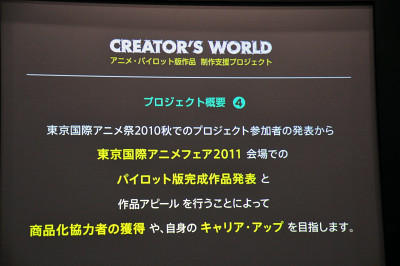 So four selected works were announced.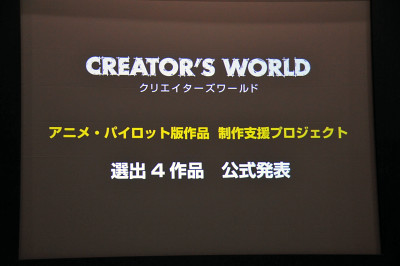 It was French curve /Tetsuro KodamaThinks "INTERIOR interior",Studio Ar F/Roma Fu HigaThinks "Kanai",Ichikawa MiyaThinks "Monricata became a monster",Kenji MutoMr. / SUGARLESS FACTORY / Honesta's "fossil strawberry and dinosaur stone" 4 works.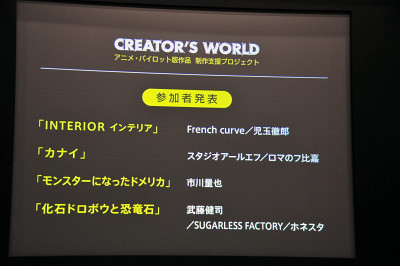 Mr. Kodama is usually working mainly on art setting, and the movie to be released soon "Mardock Scramble"I am in charge of CGI director.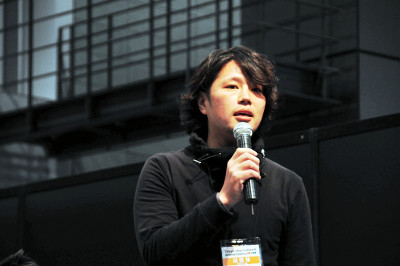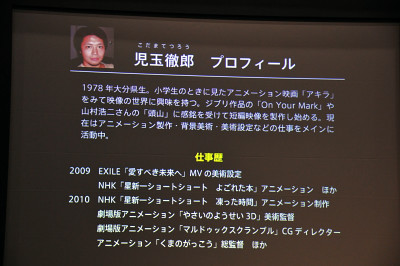 Such work by Kodama is "INTERIOR interior". Sam of a painter who can not sell, Bohman of an unsold player, his friend Gurek, the things in common with all three have no money. Three people decide to apply for a work to win the prize at the competition, but to bring the work to the distant venue so that delivery fee can not be paid ... ....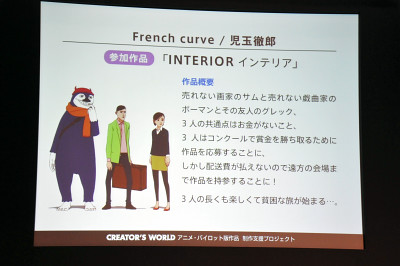 Kodama:
The work is roughly 1 story 10 minutes, assuming 1 or 2 courses. Is the title 'interior' indoor furniture? There may be people who think, but it is still temporary title. We are keeping in mind for commercial use, but we attach importance to workability rather than that. As an interesting place, it is all in 3D. Although there is still 3D production now, in this video we are challenging the expression of stereoscopic view which is similar to normal (not animated) 3D video. It differs from how many fluent things are moving, it becomes a new thing as it looks.

Q:
Why were you paying attention to stereoscopic viewing?

Kodama:
Recently I am keeping in mind that the animation industry has declined and it is hard to sell and it is not actually selling. And now it is an LCD television, but at the end of the year naked-eye stereoscopic television comes out, and if this media becomes popular and becomes an era of glassesless, movies, games and animation will shift to stereoscopic view I thought that it would be added value when it was. Also, since stereoscopic viewing is difficult to see in the net and so on, we are also considering the case of DVD conversion.

Q:
First of all I aim to complete a pilot version of 10 minutes, but are there any appealing points?

Kodama:
Stereoscopic viewing with 2D representation, is not it? The face of the character is not flat but it is rounded along the contour, it looks like. It's like a toy story or a 3D version of Shrek, and the texture is something with a hand-drawn feeling like this image.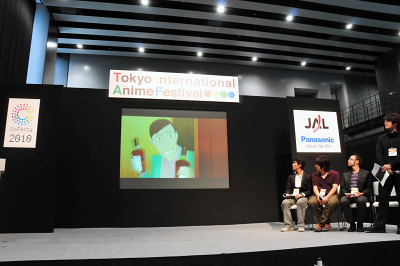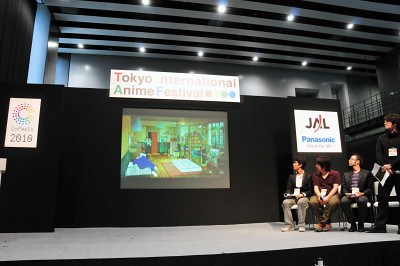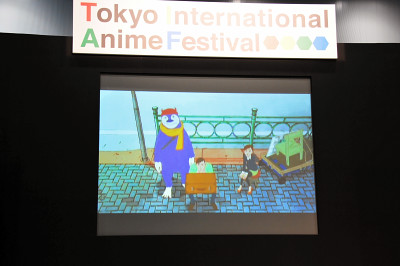 Next is Fuka Hideo of Roma. I have been making original works since about 15 years ago, and recently they seem to have joined in that they do not do original originals.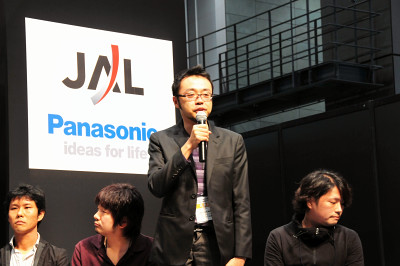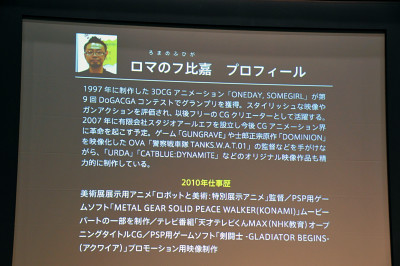 The work is "Kanai". I tried to do what I had been warming for a long time, wanting to do robot things on stage in Okinawa. It is a story of a girl nurturing in a strong and healthy manner in Okinawa with a painful robot action.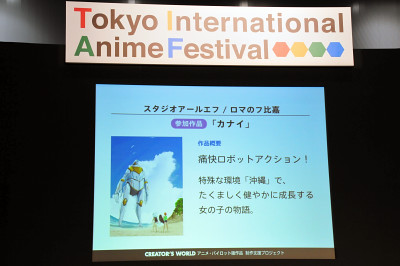 Q:
Is the story?

Higa:
From the mainland, everyone in Okinawa may have a peaceful image in the southern country, but from me who is a human in Okinawa, there are various problems with the US military when living, and still 60 years after the war It is a situation that seems to be connected with war, which is being processed if unexploded ordnance is found at the end of the month. Since I felt it since I was a child, I made it a base of the story, but because I did not want to preach and smell, I made it a sort of bright atmosphere like "I found a robot by three girls!" I am planning to make a work that can be enjoyed by junior high and high school students rather than for adults, which can be enjoyed in common in the world.

Q:
Although the director has said that he has been making original works that go overseas since the start of the activity, have you been conscious this time too?

Higa:
I agree. Okinawa was the best I thought about what would happen if I shifted the stage to Japan, because I was getting bored soon (laugh), although overseas were making full-length English in the stage and such special things from the early work on the stage. I thought it might be suitable. It was Okinawa that I did not feel strange even if I donkei. I also have my own roots and I hope I can do something interesting. In the 1980s when I was growing up, I was excited about going on a kid's movie like Goonies or ET, but I was watching it, but if American people can make Japanese people exciting, Japan I think that it is possible to excite the people of the world with the work that people made.

Q:
Although I aim to complete the pilot version 4 minutes, what is the appeal point?

Higa:
I am in charge of production because I can not paint too much myself, I care about the completeness as a work, so I want to cherish that as well this time. Anyway, since we believe that other items will come with something even interesting one can aim, we aim for that.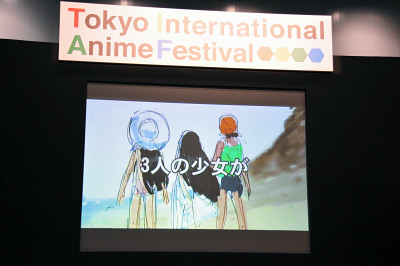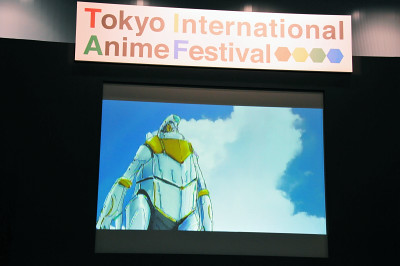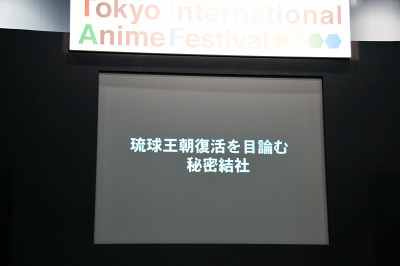 The third is Ichikawa. Originally it was close to the game industry, but as I was aiming for a drama, I gradually shifted to animation by doing artistic work rather than working as a free game CG shop That's right.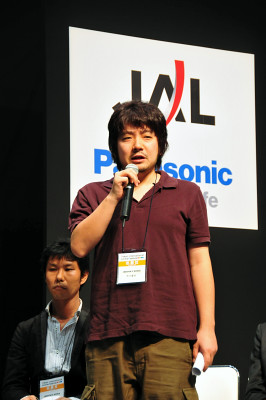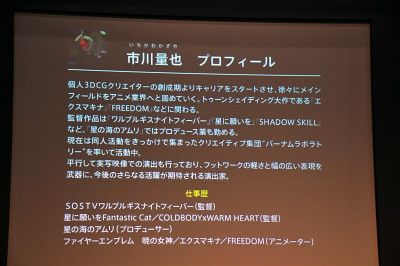 The work is "a monster became a domica". "The world of the desolated slum !! Still can you appeal for love? The hero who has become a day monster from ordinary people Can you regain order to violence, disorder, unreasonable world? There is an answer to the hero's fate Does it have tears, power, love and inspiration action giant. "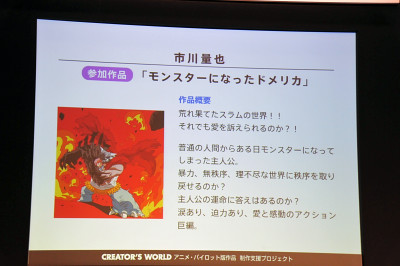 Ichikawa:
It is difficult to establish such a project like this, so it is nice to have a chance to make even a little pilot. As I was from CG, I was asked for new images and new animations, but recently it was getting popular and the animation using CG became not special new, so this time the strength I hope to put out something like that.

Q:
What is the strength?

Ichikawa:
I am making it with a motivation to tell such a story rather than a visual hurdle, and how much problem consciousness in the world can be stuffed into a work.

Q:
What is the appealing point of the work?

Ichikawa:
I think that I want to make it an action, enjoy it with actions, feel heart-like, and invite tears.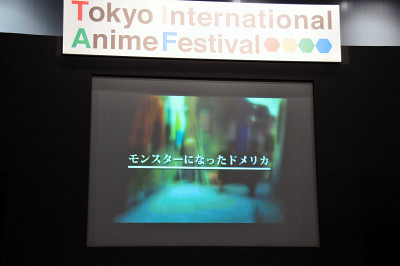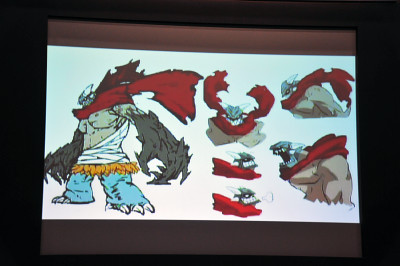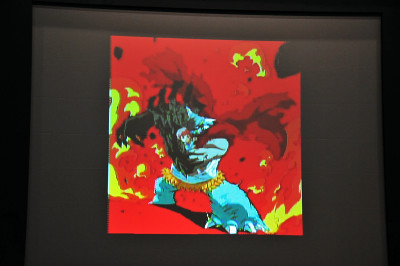 Muto at the end. I heard that he has worked on television and recently he is also handling illustrations for book bindings, he said he got an opportunity to create a wide range of original works.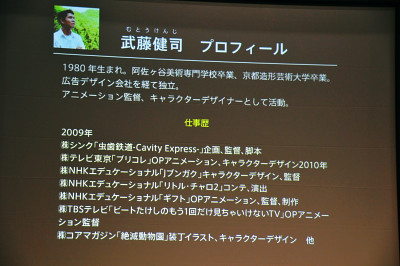 The work is "fossil strawberries and dinosaur stones". "12-year-old boy Yuta and fossil buddies gobi, they follow a fossil strawberry and go on a journey to find" fossils of stolen mother dinosaurs. "Hunting fierce" fossil moving fossils "in dangerous submarine cities , The boy accomplishes mental growth and deepens the bond with partner Gobi, it is a new sensation · dinosaur fantasy inspired by Jules Verne "Underground Travel", Conan Doyle "The Lost World" about.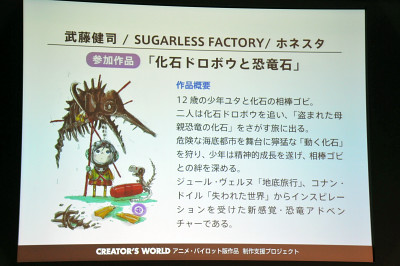 Muto:
I hope to be able to provide exciting and exciting stories for elementary school children.

Q:
In addition to adventurous elements, you seem to think that you also want to be interested in bioscience?

Muto:
It is often said that "Rika away", but that kind of impulsiveEdutainmentI hope to be able to make it naturally. We asked zoologists and fossil buyers to supervise, and although it is fantasy in entertainment, I put this plan out thinking that they should have proper reality and tell the children who are watching.

Q:
What is the appealing point?

Muto:
There are various works in the animation industry, but it is also a proposal as to whether to return to the royal road here. I hope to make adventurers that boys are exciting and exciting.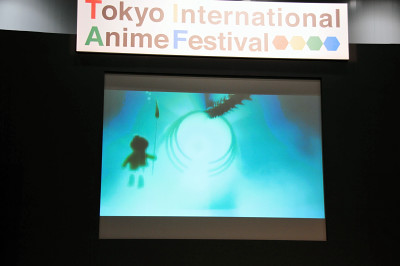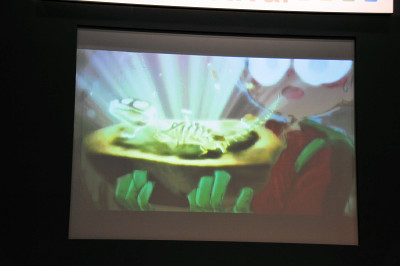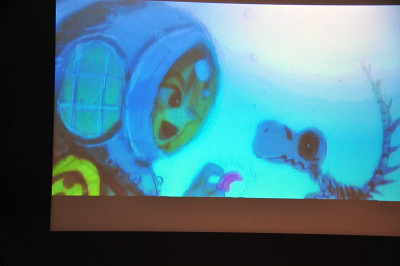 Announcement of completed works will be held at Tokyo International Anime Fair 2011.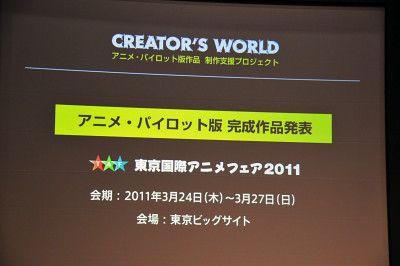 I am looking forward to March for what kind of pilot version the four creators will finish.