I ate a pork belly dumpling of Sukiya at a pre-sale store, which is delicious with thick pork meat of Trotoro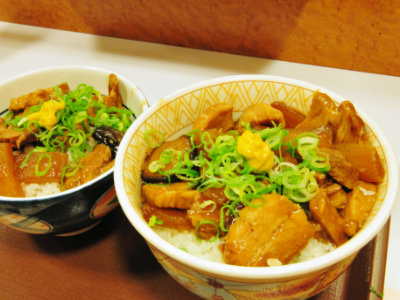 As a new product of Sukiya 'Pork Toro Dono' (Nimamori 380 yen) was pre-sold at some stores only, I went and went eating.

When saying "pig sword", I recall the part of pork which is frequently served in yakiniku, but this "pig pork don" looked slightly different. What exactly is it finished?

Details are as below.Press Release: Pork and Rice Bowl Release!

"Pork and don bowl" A signboard at a pre-sale store. Prior sales stores in Tokyo are "Toranomon 1 chome store", "Aeon Shinagawa Seaside store", "Shinagawa East store", "Shinkiba station south shop" and "Oota Minami Rokugo store" five stores.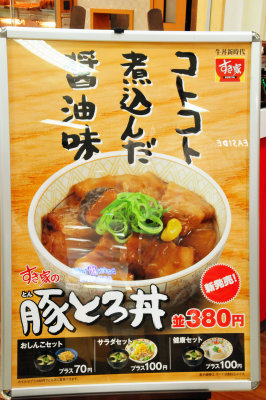 In addition to posters and signboards, "Pork Toro Don" was also added to the menu posted.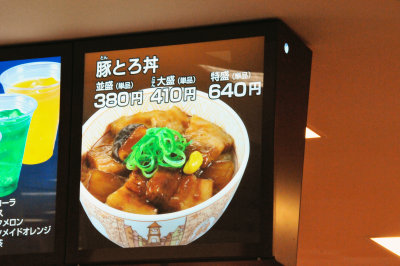 Also on the table is a sticker written with pig mackerel and a recommended set menu.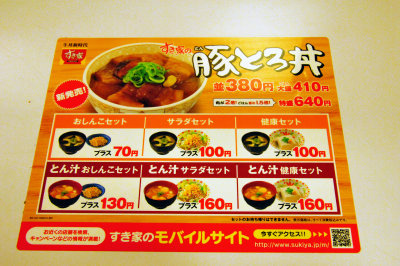 While looking around the inside of the shop, the order "Pork Toro Don" was brought.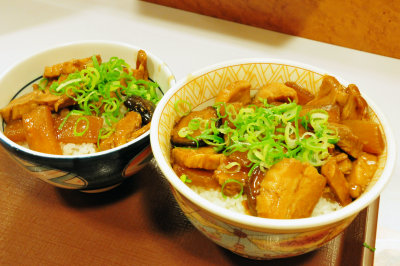 This is Paradise (380 yen including tax). Besides pork, there are radish and mushrooms, and spicy green onion.



Twice as much meat as the meadow, rice is 1.5 times more popular (640 yen including tax)



I will put on mustard that comes about together.



Pork is cut considerably thick. There is thickness as much as ramen shop specializing in raspberry, and meat quality can be relaxed in the mouth by Toro.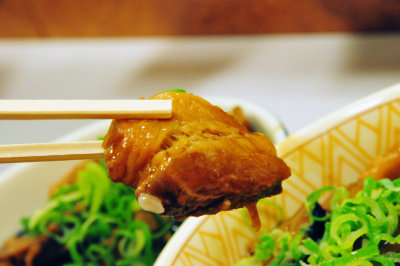 Shiitake, whether special or moderate, was one per cup. As soy sauce taste was soaked firmly and was boiled and it was a nice feeling, so maybe I was happy if it could be added a bit more.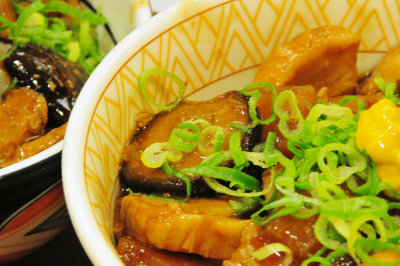 Also a lot of fatty parts. However, because the seasoning is solid, editorial staff who are not very good at lean body also could eat Morimori. Mustard and soy sauce sauce Sauce is well compatible with pork and rice goes on. However, because it received a comment saying that meat is somewhat less for rice, it is better to ask a person who says "I want to enjoy pigs and the like" by asking for a larger size.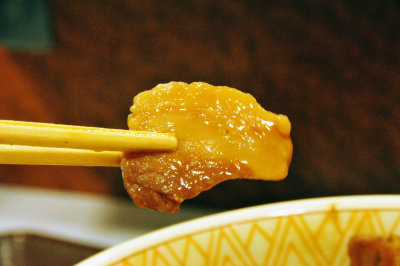 Thank you for the meal. There is a "Sukiya" logo at the bottom of the special bowl, but it was a new discovery that no one wrote it.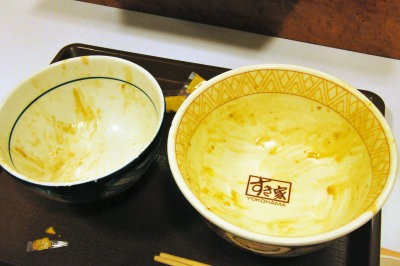 "Pork and don bowl" is scheduled to be on sale at stores nationwide from 9 am on Tuesday, September 14 (Tuesday).