Wacoal releases a bra that looks busty rejuvenating five years old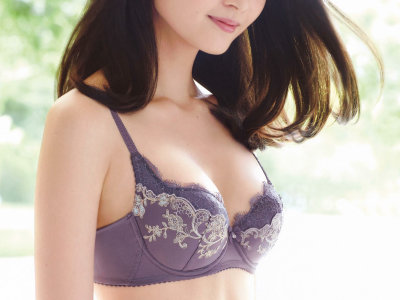 Before,Shocking research results that women's bust changes with age and does not returnWacoal who announced the "Bra for chest age minus 5 years oldIt has become clear that we will release.

Once I heard that the bust that changed has not returned to its original state, it makes me feel hopeless somewhat, but it has become a product that covers my chest securely by correction with bra and can maintain a youthful appearance It seems to be.

Details are as below.News Releases | WACOAL HOLDINGS CORP.

Bra is launched from the brand "LASEE (raze)", aiming to make the age minus 5 years old. The function of raising the chest cleanly like a bowl, making it difficult for a step to stick from the side to the back It is said that it is attached.


When choosing a brassieres, it is important to choose the right size first. However, even if you choose the correct size, the brassiere that fits just for those in their 20s does not necessarily fit those in their 40s. In order to make it fit, it is important to select not only the size but also the bra that corresponds to the shape and softness of the bust changed by aging.

This content is based on "Wacoal Human Science Institute latest research press conference"It was announced and it was thought that advice to choose a bra corresponding to age change" ... ... no, but how can we judge it? "Based on the research result It seems that Wacoal himself developed a thing with a function corresponding to age change.


■ Planning background
From the research conducted by the Wacoal Institute for Human Sciences, we found that there is a certain law in the process of changing women 's body with age. There are three steps to change the bust, and it will change in the order of step 1 "Soga", step 2 "bending", step 3 "flowing outside." There are also three steps in hip change, and it will change in the order of step 1 "deflection", step 2 "go down", step 3 "flow into inside". Bust, hips as well as under bust, waist, abdomen will also change size and shape.
From these data, the point to approach approach 1 to the body of a woman in her forties. "Decollete" 2. "Bust Top" 3. "Back from side" 4. "Stomach" 5. "Waist circumference" 6. "Hip" I narrowed it to six.
And "Laze" advocates to these six points is the following three functions.
(1) Lifting: Pull up and show a line with firmness.
(2) Shaping: Show tight lines smoothly.
(3) Sizing: It projects lines with no step without crimping.
I thought that the idea of ​​"Keep the Beauty", which aims to achieve the visual age minus five years, is the mission of "RASE" by thrusting the three functions in the right place.

This is an image of Bra's "aiming for age minus 5 years old". Indeed the shape of the chest is rounded.



Price and size expansion are as follows. It is set somewhat higher price.

■ Product overview
Product code: BFA · 447
Size: (B) 70 · 75 · 80, (C · D · E) 65 · 70 · 75 · 80, (F) 65 · 70 · 75
Color: BE (Pearl Beige), GY (Grave Gray), SG (Irish Rose), SX (Soft Aqua)
Tax included suggested retail price: 7,875 yen, (D to F) cup 8,400 yen
At the present stage, criteria for choosing bra is mostly biased towards design and valley making, so I would like to expect a sequel of bra that I designed based on age criteria.
in Note, Posted by darkhorse_log