Wacoal releases "Bra that makes small breasts bigger" exclusively, the echo on the net is the driving force of commercialization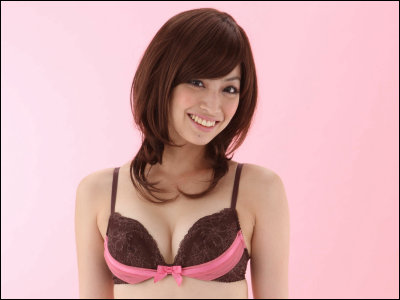 Rich busts are easy to become longing for men and women, but underwear that will realize such a dream "Bra that makes small breasts bigger"It is said that Wacoal will release it today from the online shop exclusively.

In April 2010, as well as this product, released on the net store only "Bra that makes big breasts smaller"When I conducted an analysis survey on blogs, SNS and twitter comments," I think that it is a luxurious affair to those who do not have bust volumes (wanting to show their chests small) "" Bust is small I have not tried to make it bigger, "and so many comments such as" I have never made it bigger "than the traditional volume up function, that is to develop a bra that pursued further breast enlargement.

Details of goods are from the following.Wacoal Mail Order - Wacoal Directly-owned Underwear Mail Order Site | Wacoal Web Store
Internet mail order channel limited "Releasing small breasts" Bra that makes it bigger "released | Wacoal | Kyodo News PR Wire

"Bra that makes big breasts small" released in April 2010 only on the net store is a niche but desperate wish of "wanting to show the bust compact" which was 4th in the questionnaire "asking for brassieres" It was commercialized to solve the problem.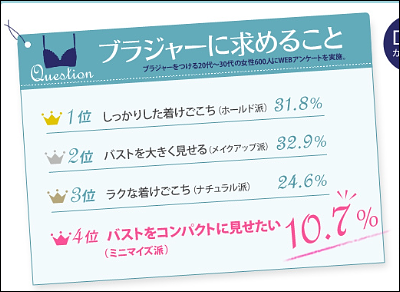 However, later, in the same questionnaire it was ranked second in the questionnaire, people who seemed to belong to the majority "show the bust big" received many comments on this product, so Wacoal has a traditional volume up function We began developing brassieres that pursued further breast enlargement, which means that we have just launched it on the net store only.



■ Planning background
In Wacoal, we conducted an analysis survey on blogs on the web, SNS, and Twitter comments on "Small Bra Bra" released in April 2010 with Internet mail order limited.
As a result of the investigation, on the blog, comments such as "It seems to be a luxurious trouble for a person without a bust volume" and "Bust has never been smaller than a small" I found that many people were given me. (About 25%)
In response to this need, we have developed and released a bra "Bra that makes big" big breast "pursuing further breast enlargement than conventional volume up function.


◆ Contents of comments on 'Blogs showing small size' on blog (n number = 180)
· Voice with big breasts looking for goods 25%
· Your troubles with big breasts 22%
· News related to new releases and sold out 15%
· Interest in "Bra that makes it small" · Purchase intention 12%
· Marketing evaluation focusing on product ideas 10%
· Others 16%
(* Cross Media Analysis Report on 'Small Bra' on August 1 - 31, 2010)


Three-dimensional molding "Pitatpad" and thick newly developed "Rainbow type pad receiver" can realize a rich volume up, reduce the skin of the wire to stabilize the bust top at a high position Is it possible to be able to do?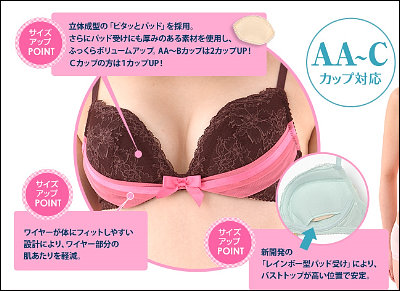 The image actually worn is like this. It's not a flashy thing that comes to mind when asking "volume of bust", it's chic and cute.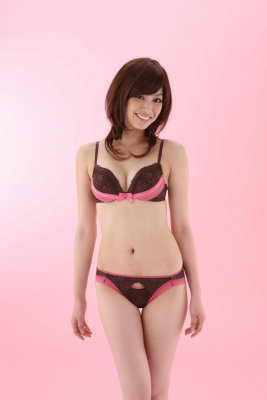 ■ Product overview
Product number · Size: Brassiere BSB · 458 (AA · A · B · C) 65 · 70 · 75
Boy length shorts PSA · 658 M · L
Standard shorts PSA · 158 M · L

Tax included suggested retail price: Brassiere BSB 458 4,935 yen
Boy length shorts BSB 658 ¥ 2,310
Standard shorts BSB 158 ¥ 1,890

Color: 3 colors (wine, melon, pink)


With all three colors, designs differ slightly for each color, but the central ribbon is distinctive.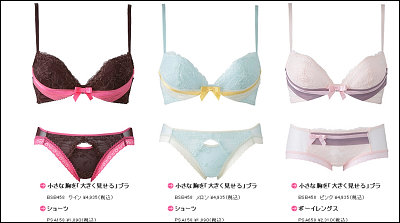 Bust volume up is an issue that can be said as a brassiere proposition, but it is a very interesting thing that we gathered opinions on the net to power up more than before.
in Note, Posted by darkhorse_log