[Recruitment wanted] We are looking for network engineer, web programmer, web designer who wants to work at GIGAZINE → finished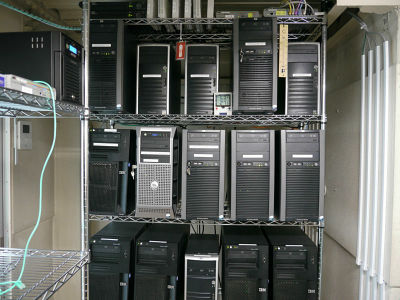 It is Yamazaki of the editor in chief. It started from the other dayRecruitment / editing recruitment, There are unprecedented numbers of job offerings that far surpass the past recruitment so far, so much encouraging texts have been sent as much as we can not imagine, very much thankfully. I thought that the way of thinking can not be understood unless it is a person with independent feeling or a management level, but such a thing did not exist. Really, really thank you. GIGAZINE itself also decided to change not only the contents and quality of the article but also the site itself "GIGAZINE" as the platform on which the article is posted in order to meet those expectations in the future.

Along with that, we are looking for a network engineer who will operate, monitor and maintain the current GIGAZINE server group, and will design and construct a network / server system for a new server replacement. The above picture is part of the current GIGAZINE server. Since these are in the editorial department, I would like to move these to the new server room (viewing the state currently under construction in the text) and to replace them further to lower the operating costs. Also, with regard to GIGAZINE itself, we will also change its article update system itself · Mash up with more flexibly various web services · Introduce a mechanism to enhance reader convenience, and aim for better viewable web design and usability improvement of readers, We are also looking for web programmers and web designers.

As these three are closely related, we will explain the situation of the current GIGAZINE and the points of what we want to realize in the future as follows.
◆ About current GIGAZINE and next GIGAZINE

First of all, the primary objective is to operate, monitor and maintain the current GIGAZINE server group (standard Linux, Apache, MySQL, PHP LAMP configuration server). The server can be roughly divided into the following five categories.

· GIGAZINE.NET main body (system part of article update operating on PHP and MySQL)
· GIGAZINE.JP (part that delivers images)
· GIGAZINE.ASIA (part that delivers advertisements displayed on GIGAZINE)
· Mobile version (part of m.gigazine.net accessed from mobile phone)
· English version (part of en.gigazine.net operated by Amazon EC 2)

This is that server group, too much, sorry, sorry ....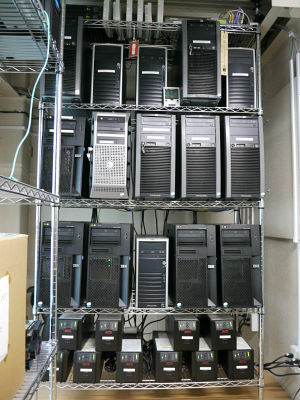 The back side looks like this ...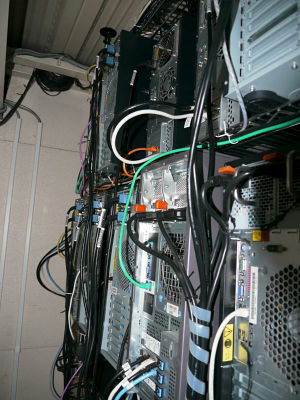 Since there is no place to put the server anymore, I decided to make the server room properly on the new upper floor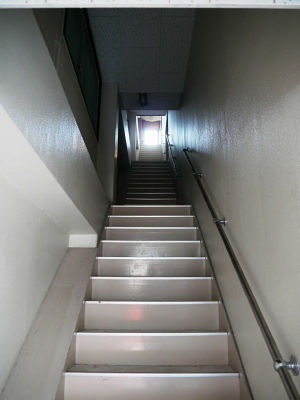 One corner of a new editing department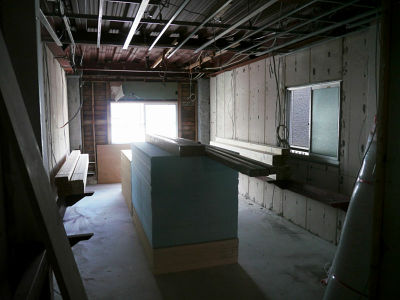 This too.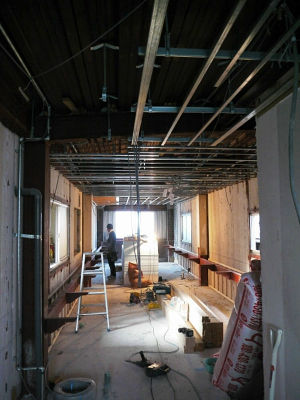 I am trying hard and making it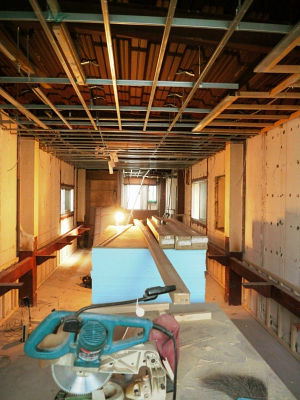 Cable pulling out from the top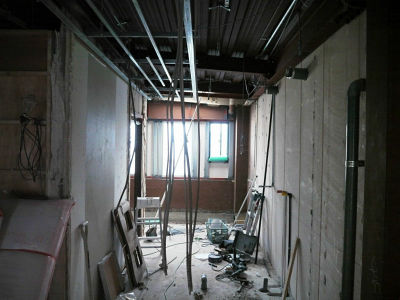 I do not know exactly what it will be if I do it like this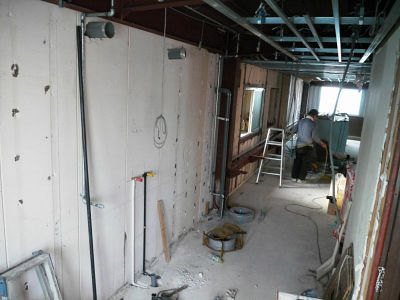 A new server room is visible beyond that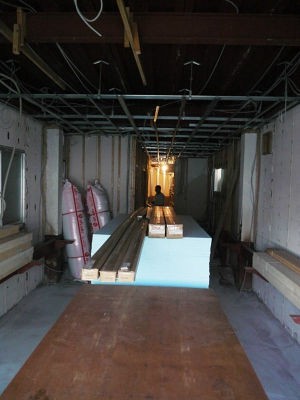 A little closer, more than this is under construction at the moment, so at another opportunity.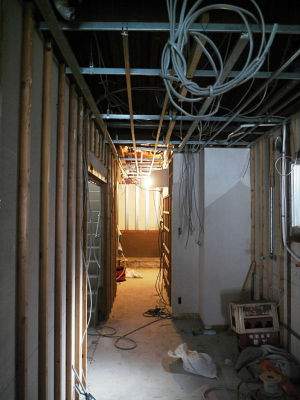 GIGAZINE.ExpressionEngineI am using the CMS called "CMS", but considering the trouble and time such as future function expansionWordPressI think that it would be better to move to. Alternatively, I think that choosing to make it based on a lightweight framework based on GIGAZINE 's purpose of updating article itself is also an option. In addition, we are thinking that we want to improve the functionality and operability of the site itself, by changing the layout and incorporating details, so as to make it more accessible. For example, it is like a multifunctional, easy-to-use reader's e-mail form for inquiries, inquiries, misspellings and something that makes it easy to check the contents sent here. In addition, I think that we will gradually change all or part of everything little by little. While installing these functions, the goal is to operate as a server with a simple configuration with as low a load as possible and lower the cost. When we balance the function and the cost, we have neglected every development as cost-oriented so far, but when thinking about the future, we changed the idea that we should emphasize more functional aspects as well .

Next, GIGAZINE.JP operates by bundling multiple lines to support a huge amount of transfer, but switching of each line is very troublesome, monitoring of the transfer amount becomes stress as well Because it is,CDNTo reduce the operational burden and respond to rapid access increase.

Regarding the advertisement distribution server GIGAZINE.ASIA, we have operated it on our own so far, but the advertisement distribution server "Google"DoubleClick for Publishers (DFP) standardIf it is possible to migrate it, I would like to aim for stable operation by eliminating the server at hand.

Mobile version currently just shapes articles of GIGAZINE.NET for mobile phones, but in consideration of the current flow of smartphone, change to design and operability for smartphone, even moreQuestionnaire conducted in JulyWe are thinking of shifting our focus to the development of a "viewer dedicated to comfortably browsing GIGAZINE that operates on iPhone, iPad, Andoroid, etc." who solicited opinions. For GIGAZINE viewer (temporary), there is also a case to outsource, but since it is feeling that there is no experience of outsourcing software-like things at all so far, it is feeling lost at all, "Make it by making a request here Let's have it, "I believe that I do not care at all. Combining the experience of reviewing the software and net service I have written so far and the vision of "Implementing the functions that the reader wants in this manner" with GIGAZINE's own, centering on the user's experience of the reader I want to do it.

For the English version, monthly sales are irritable, but when it is the most frequent it is about 5000 yen,Amazon EC 2Because it does not even cover the running cost, although it is not very, I think that it is not a state that can be managed properly, but fundamentally and fundamentally we have no choice but to change a lot. The problem is how to realize at this low cost while premising multilingual deployment. If you think about only eyes shortly, you can tell me that it is better to concentrate on the Japanese version of GIGAZINE for the time being, but if that is the case, it is a troublesome place because there is not that point.

Also, three of GIGAZINE.NET · Mobile version · English version analyze access log every 24 hours "VisitorsWe are doing it based on the system based on which we know which articles are hit every day. The long-term access analysis partGoogle Analytics, Which enables more real-time access analysisWoopraIntroduction of the introduction is also taken into consideration. I would like to use the real-time access analysis that is near impossible on paper media, to grasp "What is hit right now" and reflect it in articles.

About GIGAZINE.NET and the English versionRSS, And furthermore,TwitterWe also distribute information via via. Twitter now,Dlvr.itWe automatically distribute the title of the latest article approximately every 15 minutes using this, but shorten this interval to make it more convenient, and also read the article you are reading right nowRetweetI want to realize the introduction of an easy method to do, to display the person who retweeted the article instead of comment field, and so on.

There are many other ideas, and it is a basic part that we want to make such a thing that connects "readers" that many gathered in GIGAZINE as well, and it is the basic part of "my ideal GIGAZINE "to realize the appearance will be the job. In other words, it is an execution unit to realize my vision purely. In addition, in the case of a real store, when the trouble of the site itself of GIGAZINE itself is the "shop front" itself, resolve the problem promptly, taking into account things like disaster recovery, and at any time reader It is also a rich role that keeps the foundation on which articles can be stably delivered for.

The task of server operation is a network engineer, the periphery of GIGAZINE body riding on it is the area of ​​the Web programmer, but the one that "fascinates" the article is the genre of the Web designer, However, it is characterized by being all closely related.

And this is the key, but I think that know-how and skills cultivated in this way need to be disclosed and shared. GIGAZINE has been publishing articles in various ways as it has been, but because it is the three professional occupations of network engineer, web programmer, and web designer, GIGAZINE regularly posts articles related to them I think that I want you to output it. We believe that supporting the Web is technology and that open technology rather than closed technology leaves better results and can become a driving force for developing the entire Internet. For example, if you create and release the GIGAZINE viewer for Android, you want not only to release but also to release the process up to that point, post it as an article, and create the cornerstone of the people to follow is. In addition, I feel that this process of posting such practice as an article, leaving footprints on the net and publishing it is web-like and GIGAZINE-like.

I myself,Introducing visitors and writing the article in trouble with access analysis, I would like to know the server's access load etc. more easilyWrite articles to introduce muninI have done it. There are some people who are necessarily in a similar way somewhere, or there are some people who will hit the wall in the future as well as those introduced as necessary, so there are tools like this, so if you do something like this , I thought that it would be natural for me to articleize know-how such as this would work. Because I came so far with reference to someone's blogs, entries, articles, summaries etc. that are published to the public on the net. What you know may have been done, but it is GIGAZINE's own stance that it is definitely unknown information for someone else, and that for someone is a new discovery for someone else Likewise in the job of network engineer, web programmer, web designer, it seems that it is easier to embody as affinity, and merit and challenge are also great.

"Return the net received from the net to the net"We are looking for people who understand this mind.

◆ Recruitment Period
August 3 (Tue) - August 9 (Monday) 23: 59 minutes

◆ Recruitment occupation
Network engineer · Web programmer · Web designer
* Either one of the three above is OK, or if it is possible to handle more than two of the three above, it is still OK

◆ Work place
Osaka prefecture Osaka city (It is OK to come only when necessary and do the main work at a remote place)

◆ Job Description
Operation of current GIGAZINE · Development of future GIGAZINE

Salary
Negotiable

◆ Working hours
Negotiable

Work schedule
Negotiable

◆ Eligibility
You do not have to ask anything as long as you can work in the past, work experience, academic career, age, sex

◆ Employment Flow "Primary Examination"
First of all, as the first examination between August 3 (Tue) and August 9 (Monday) 23: 59 Today, "Click here" called "Apply for this recruitment" below Please send the following documents attached to the e-mail address displayed by clicking the character string in the form of mail. It can be in Word format, PDF format, Open Document format or text format. Also, please specify clearly whether it is application for network engineer, web programmer or web designer.

·Resume
* Since it does not matter what kind of figure it is, it is easy to understand if you can attach a document that you can understand the past achievements, or show it. Since I am recruiting for myself feeling the limits of my skills, I am saved if you consider the place there. If necessary, please attach a job history record as well. Face photographs are unnecessary, but please write down each of the other items in detail as much as possible.

· What you felt after reading "About current GIGAZINE and next GIGAZINE", what you thought, what you thought, your thoughts
* Since the actual primary examination is this, please write as much as you can, such as your thoughts, ideas, opinions etc.

◆ Employment Flow "Announcement of the passing of the first examination"
Only those who passed the primary examination will send you a guide of the secondary screening by e-mail during August. In addition, it is possible that a mail from here will be judged as spam and it will not reach, so be careful when spam filters etc are installed.

◆ Apply for this job
click herePlease enter the displayed character string and display the application email address. To prevent spam, "ReCAPTCHA Mailhide"using.

※ We will not accept any questions regarding this recruitment. In any case, please understand that we can not reply even if it is inquired.