We asked 22 kinds of new menu of Denny's summer at once in a moment and tried to flatten it, including curry of the world and Doria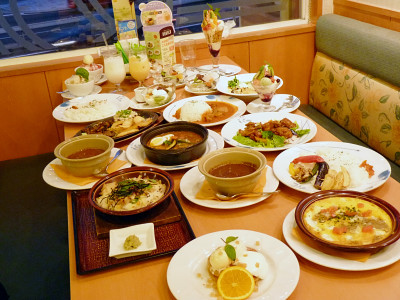 As Denny's said that he added 22 kinds of dishes to the menu at once as a new menu of summer, I came to the store immediately.

"Curry tour of the world"Curry which imagined all over the world issued in the campaign called "Indian style delicious chicken curry" "European style beef curry" "South African style red tomato beef curry" "Dry curry and egg oven baked" "Summer grilled vegetable curry total 5 Types, "Cold Carbonara of Truffles and Onsen Eggs" which are also arranged by their own, and "Japanese doria with plum blossoms and eighteen cups", summer sweetness "Anmitsu" "Cream Azumitsu" "Matcha cream Anmishi "" Ice Black Honey Uji Kinematsu "" Ice Strawberry Milk "," Fruit Milk Pudding Sunday "," Fruit Mini Pulpe "," Honey Orange Pancake "from the classic sweets like family restaurant,"Peach and apple yoghurt shake" that the resurrection was longing for 10 years, A new drink that is compatible with curry "Lact sour drink" and so on. I have finished eating all the dishes full of table tops.

Details are as below.Denny's ★ World curry tour | Menu introduction | Denny's
Denny's launches a new summer menu such as "World Curry Tour!" With 6 different curries - My Life Diary @ News

Arrived at Denny's at dusk.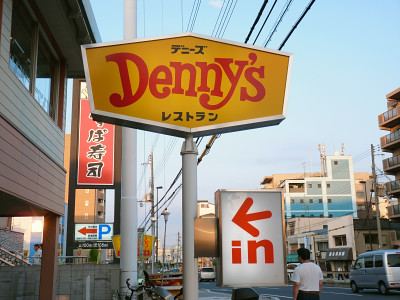 Curry has various menus developed under the theme "World Curry Tour".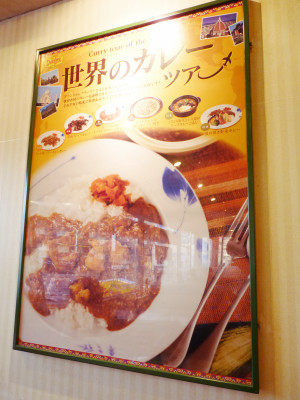 Not only the campaign curry, but also various items were on sale at a stretch. The top of the table is supposed to be very chaotic. I decided to eat from one end.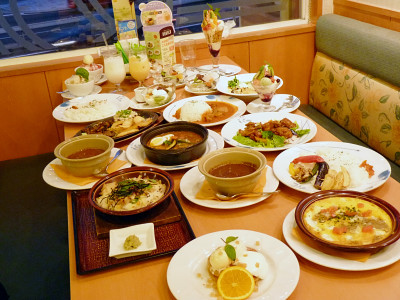 First of all we will win the World Curry Tour. Indian style Delhi chicken curry (850 yen including tax) is distinct from the taste of common curry, distinctive spiceish taste is characteristic. Chicken is soft, but it is a feeling that made Sasami faint. It is a taste with a strong punch, so if you are good at hotness it seems that people who are addictive will definitely come out.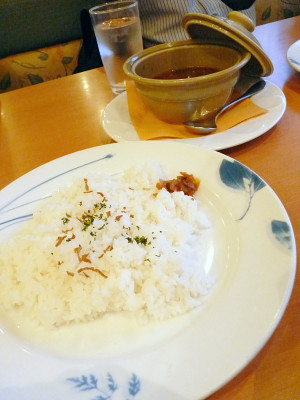 "South African style red tomato beef curry (donation included 890 yen)" donation "is a program launched to eliminate food imbalance"TABLE FOR TWOIt is meant to participate in the price of curry and plus 10 yen to deliver meals to children in developing countries.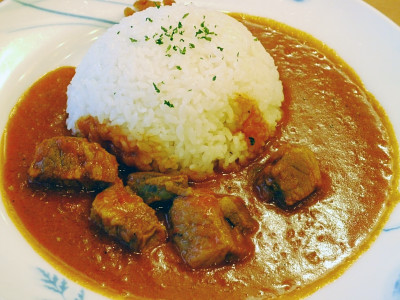 There are tomato flavors, sour like things like chili sauce, it is a curry that can enjoy the most summer-like atmosphere. Although it is spicy, it does not taste disappointing from the menu name, so if you want to enjoy curry straight or eat summer-like food.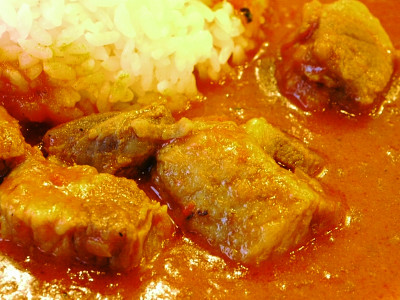 Menu for the participation of "TABLE FOR TWO" as well as oven baking of dried curry and egg (830 yen including tax) (donation included 840 yen).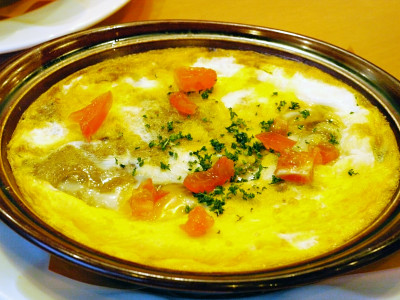 It is quite tightly baked and has a texture close to curry doria. It is not hot, but it comes with a bite from the first mouth, it has a dark taste. Because saltiness comes out as much as a crocked bite, it may be tough to be alone. It is recommended that several people intervene.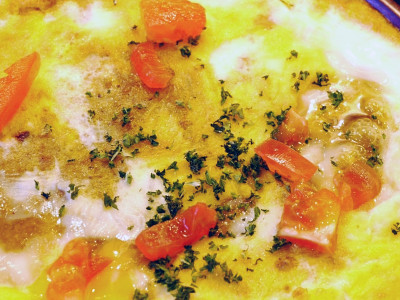 Summer grilled vegetable curry (730 yen including tax)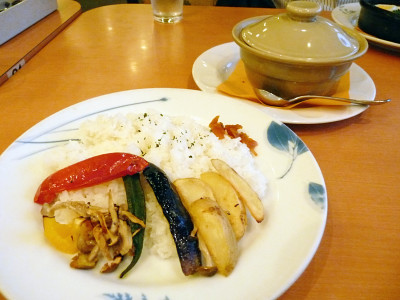 The vegetables of the ingredients are served with rice. I think that it was too grilled, there was no tightness in vegetables.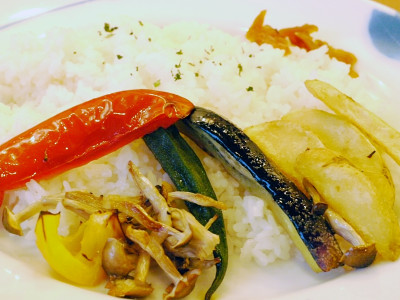 There is no appliance in Rou. Pain is strong, but I was sorry that I just could not feel the umami just because it was painful.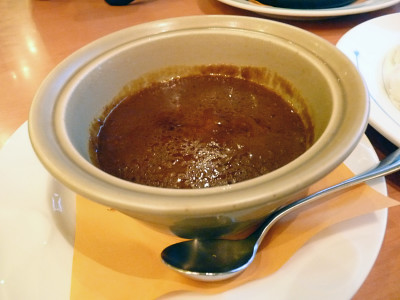 Pungent vegetables and soup curry rice of 18 cereals (780 yen including tax) are intense but the feeling that it is not hotter than "South African style red tomato beef curry". There is no thick in Ru and it is shabu-shabu, so I feel that spicy tears over my tongue.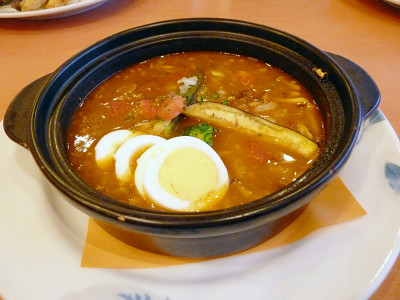 The meat of the appliance is not so big, and the vegetables are full. Since rice is 18 cereal rice, it feels healthy, but I felt a bit of a texture dish. It is rather rice cooking rather than curry.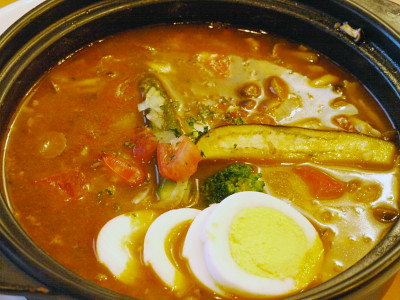 European style beef curry (850 yen including tax) is a Japanese style food curry and there is a fragrance, but it is regrettable that Ru is slightly diluted.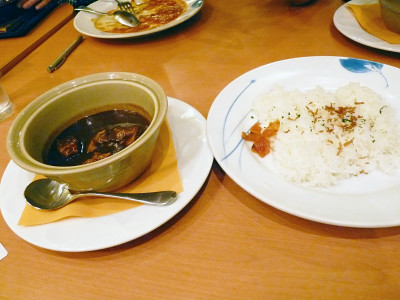 It was not painful at all and I felt like a stew compared with what I had eaten so far. The beef is also soft to the shrimps, if you say it is boiled cooked curry. People who do not like hardship but who want to eat curry are definitely kore. Personally I recommend the most.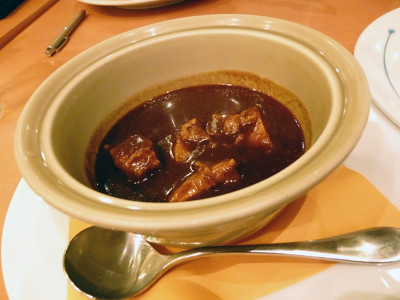 Next is a side dish turn. This is beef carribe grilled meat & Negishi hamburg (950 yen including tax)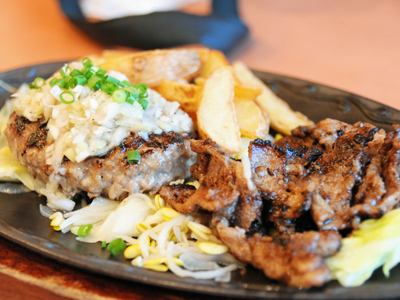 The scallion salt, which you ride on top of the hamburger steak, adds a little refreshing to the usual Denny's hamburger steak. It is a gentle taste even for people who are not good at meat because they can eat without feeling greasiness.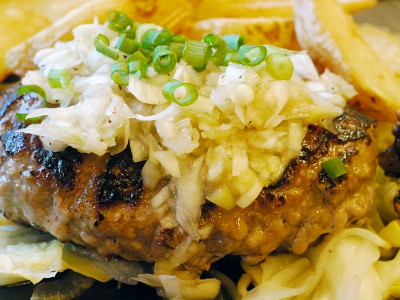 The taste of Calvi is similar to baking at home. The chopsticks are crisp and quite solidly baked. I also want to have rice because the taste is firmly attached to the thick drink.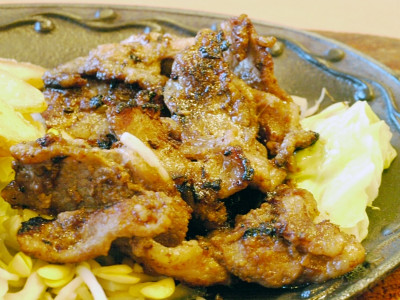 Chicken fried chicken and colored vegetables black vinegar sauce (750 yen in tax) black vinegar is soaked in the clothing of the deep-fried chicken, I do not feel much thick.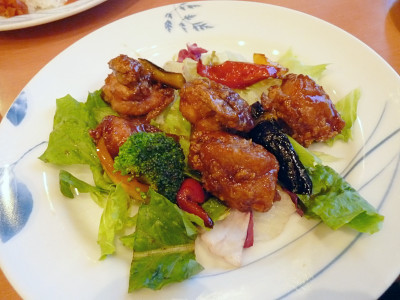 The taste is like "I can buy it at the super food section corner, if it says, it is a feeling of" the taste of trust and achievement ". It was a taste that the rice seemed to advance.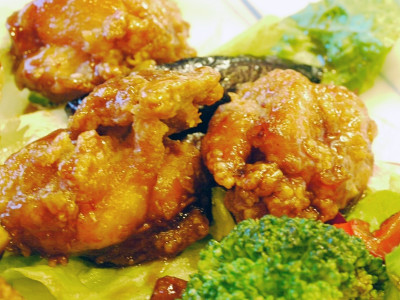 The cold carbonara (750 yen including tax) of truffles and hot spring eggs felt that the richness might not be enough for carbonara. Truffles are conspicuous, but the taste is a level that you do not know clearly.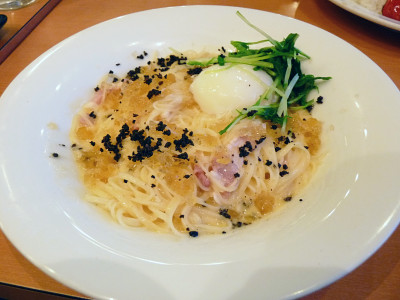 Because consommé Jure 's faulty dash is working, but the juice is also large, it has become a mysterious feel like a cold woman.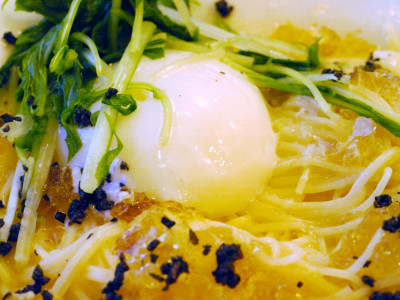 The saltiness of the Japanese style drier (plus 780 yen including tax) of plum shirasu and tororo is lightly blurred, and the presence of shirasu in the menu name is zero. Because the thick layer is thick and it makes it as a trolley, a bit eerie texture.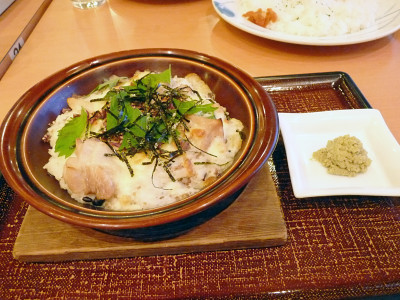 As a condiment, this isabi with wasabi comes with it. Certainly the person who puts wasabi gets sharp, but the taste of cheese is pretty well, so it is serious if you mix wasabi there. To be honest, I do not have a bit of confidence to eat this ... ....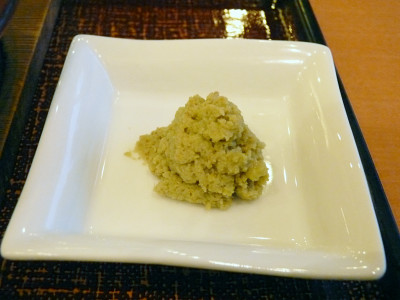 Everything sweet all the time continues. Peach and apples' yoghurt shake (350 yen tax included) feels variously included according to the menu name, but among them, the sourness of yoghurt is pretty high. I understand the peach flavor, but apple seems to be slightly tasteless.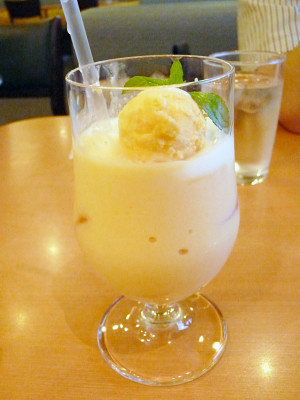 According to what was written in the menu, "It is a taste that the resurrection has been awaited for 10 years", but I can not see the reason for a while .... I think it was a bit difficult for newbies to understand, but surely it is a long-awaited menu for Denny's fans.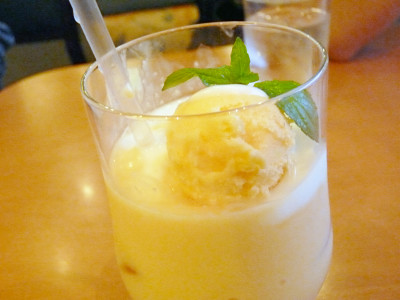 Concentration of lacto sour drink (280 yen including tax) is scanty and it is crispy and it is recommended for accompanying curry, so it is related to Indian curryLassieAs I imagined, I felt it was different from what I thought. Because it is a feeling of the yoghurt flavor that was made, I could swallow a bit, while I did not depend on a bit to drown out the curry's spicy.



Three kinds of anchillies. It is surprisingly contained in a bigger vessel. Black honey is attached to each one.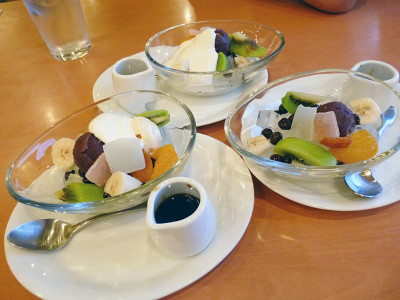 There is a place I was wrapping a little something from Anmitsu (390 yen including tax) because it belongs to Families, but I was surprised at the fact that Hoshi Anzu is contained and it is authentic with the agar.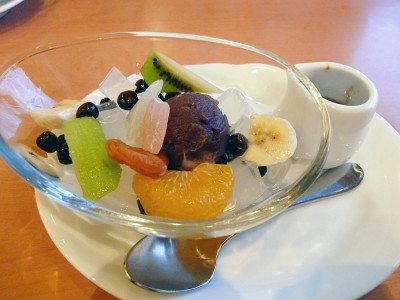 Was the cream Anmishu (450 yen in tax) cream the same as what is used for other parfaits etc? Because it was a western style and it was such a delicious family taste, the compatibility was not very good with anchin ... ....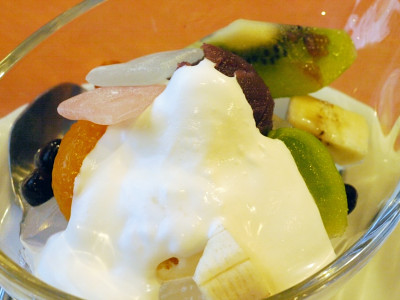 The taste of green tea ice of green tea cream anthony (480 yen in tax) is quite "Matcha!", It is thick and punchy.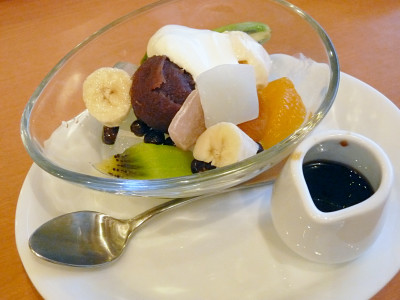 Only kiwi was fresh fruit and originally strong acidic fruit, so I felt a bit curious that it was strangely sour.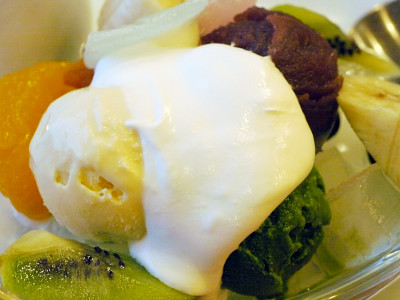 Matcha ice of ice black honey Uji Kanemi (380 yen including tax) is probably the same as what is used anchin and is considerably dark green. It is quite a bit of a hardship. Together with the feeling of caramel of black honey, it was okay to say that it was for adults.



Ice strawberry milk (300 yen including tax) is not a strawberry that added a berry flavor and cheated, but there is also satisfaction feeling because flesh is contained in the lower part of the ice. Ice is on the way, but because I do not have the milky feeling, I want some more condensed milk.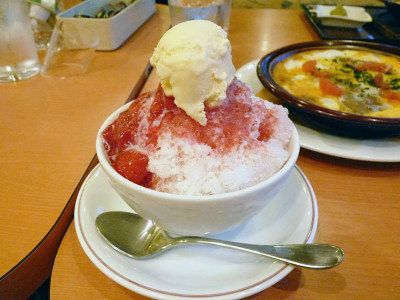 Honey Orange pancake (420 yen including tax) has 2 types of ice cream and 1 kind of cream, and you can eat it without getting tired of getting tired. Orange flavor is also refreshing.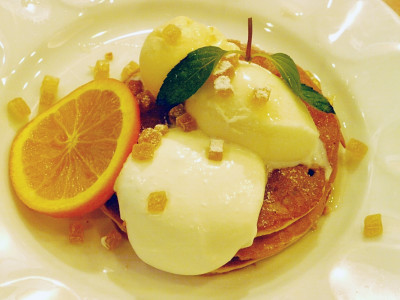 Fruit Milk Pudding Sunday (580 yen including tax)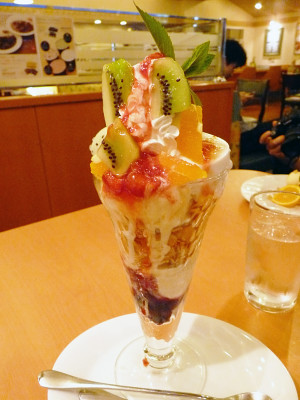 The peach sorbet on top is delicious with taste but it is too monotonous with no change in taste below the cornflakes.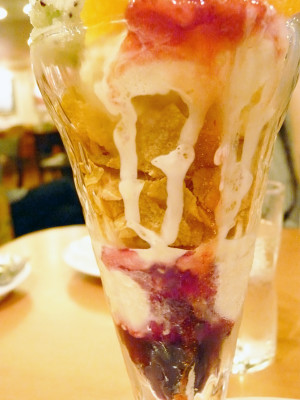 Was it to ease the milky condition of milk pudding or what constitutes the taste overall was a sour taste.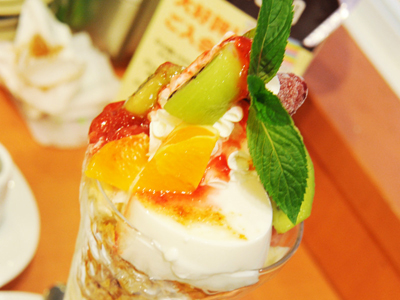 The fruit mini parfait (390 yen including tax) was easy to eat because it was accented because the sourness of blueberry that is in the lowest layer was effective.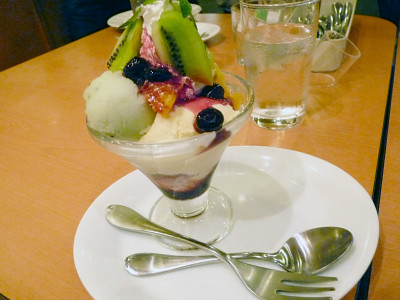 I am sorry that the taste of strawberries and kiwi sherbets on top are drowned out because the ice cream underneath is sweet.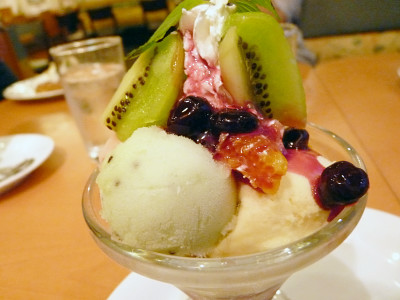 There was a difference in volume considerably between "Fruit Milk Pudding Sunday" and "Fruit Mini Parfait".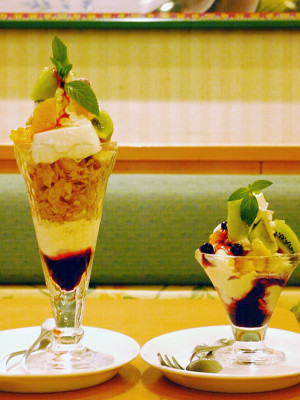 As a summary, curry is quite full-fledged spicy, it is spicy to overturn the image of the family curry except for the mild 'European style beef curry'. It was impressive that the sweetness was higher in Japanese style as a whole and the matcha ice was the bitter taste of adults in particular. I think that it is likely that you believe in your own intuition when seeing the menu is a shortcut for meeting new menus because the one whose contents can be predicted roughly by the menu name is generally more hit than the one with the twist It was.