6 kinds of vegetables, seafood, meat curry, etc. Royal host "New Year's Summer Curry Fair" New Product All kinds Taste Review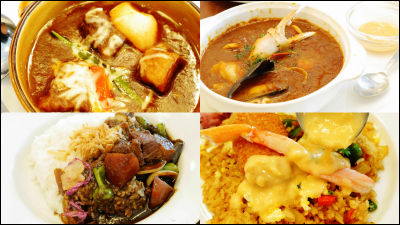 The Royal Host hosts the 32nd year curry fair, which celebrated "Try currying in summer" from Tuesday, June 17, 2014. "Spicy chicken curry to eat with vegetables ~ 5 kinds of Sri Lankan style side dishes ~"Kashmir Beef Curry ~ Three kinds of condiments ~"Bouya base curry ~ Saffron rice & Nan ~"Club Meat Dry Curry - Newburg Sauce -"Nostalgic signature chicken curry"Angus Beef The ROYAL European Curry"In addition to the 6 kinds of curry, appetizers and three types of granita of Italian shaved ice were released as a new menu, so I actually went to eat.

Family Restaurant Royal Host - Royal Host - | Curry Fair
http://www.royalhost.jp/special2/

Arrived at the Royal host.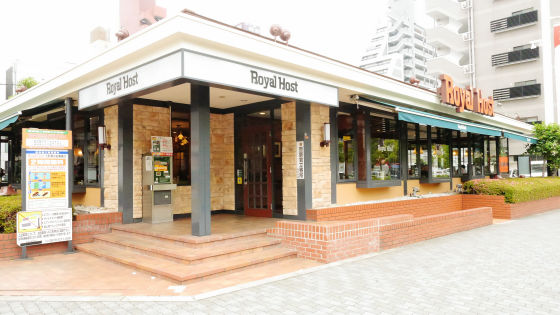 I ordered all new items at once.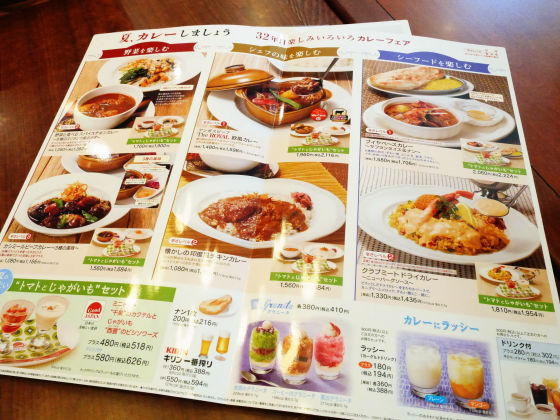 ◆ Appetizer
First of all, appetizer appended to all the curry as a setTomato and potato setArrived. Curry price plus 480 yen plus tax, calories 94 kcal.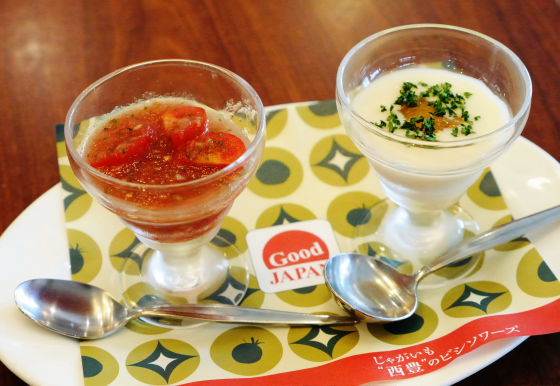 First of all, mini tomato "SenkiFrom the cocktail.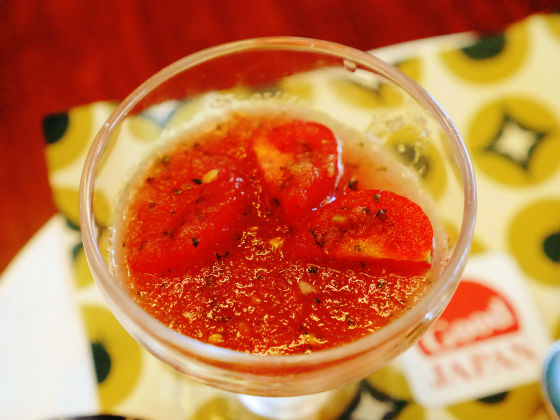 One item suitable for appetizers which can be eaten refreshed with high sugar content Senko and vinegar acidity.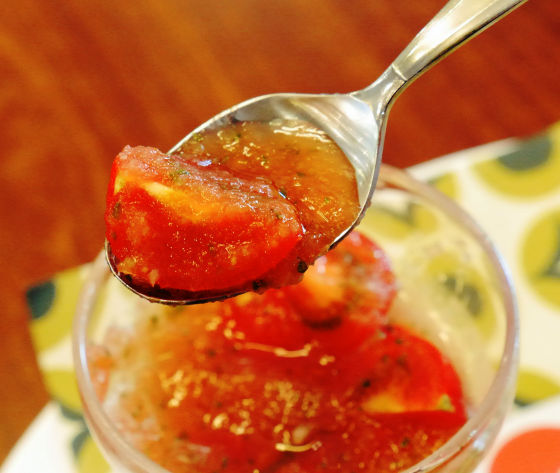 Next is a potato "NishihoVicisoise 's. In the middle is the consommé 's jelly.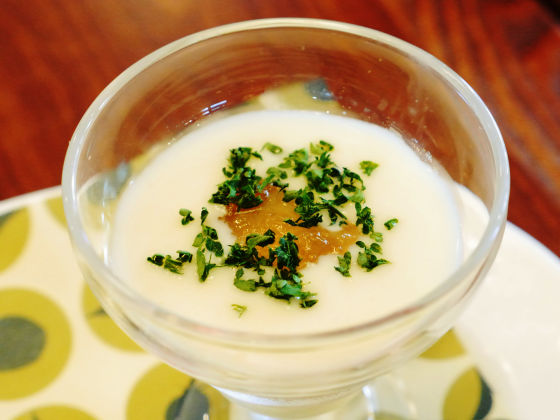 Potatoes are carefully caretted and very textured texture. It is a combination of fresh cream and parsley flavor with a taste of potatoes, which can also be eaten cold and sour.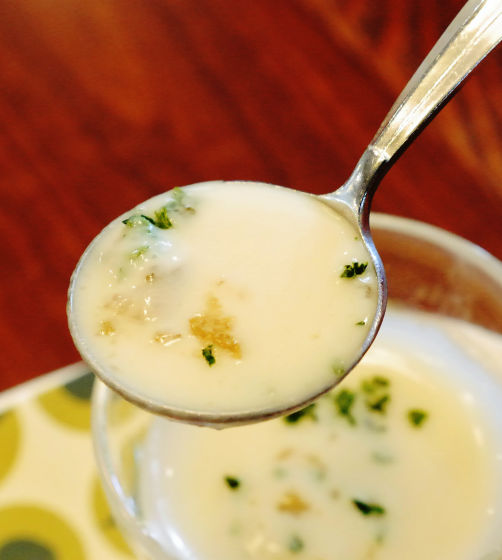 In addition, Indian classic drink "Lassi / Mango Lassie"(180 yen for tax) was also sold as a new product so I ordered it.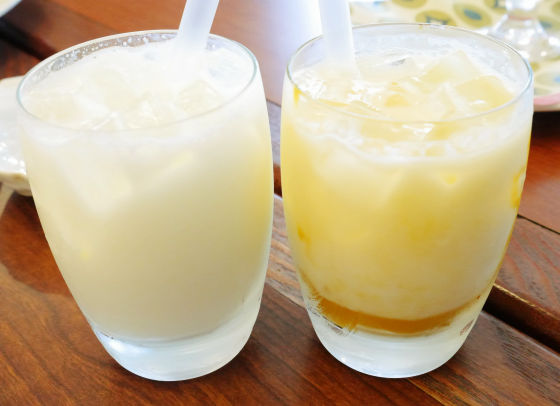 Lassie does not get in the way even if you eat it with curry with moderate sweetness.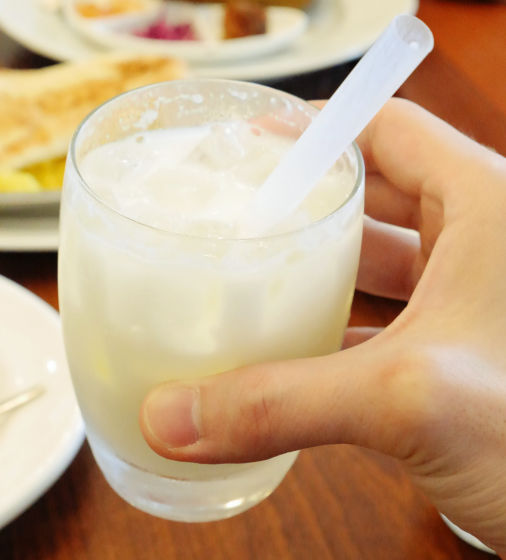 Since there was a guide saying "Please drink from Mango Lassie after mixing", it becomes a beautiful orange color when mixed. When I drink it, the mango is full flavor, it's more suitable for me after meals, but if you ask either mango it is recommended.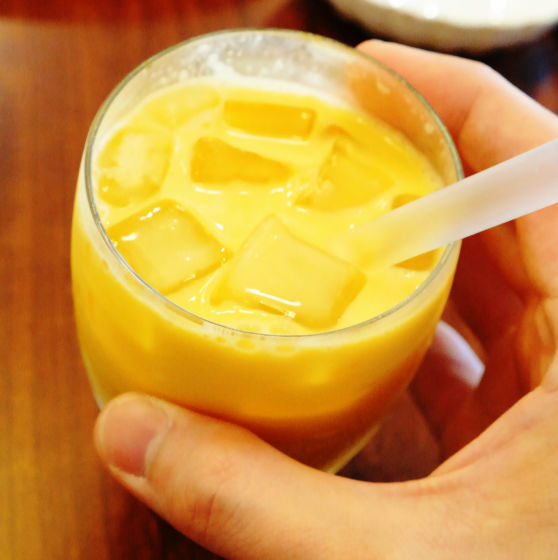 ◆ Curry to enjoy vegetables
Curry reached within while I was doing it. First of allSpicy chicken curry to eat with vegetables ~ 5 kinds of Sri Lankan style side dishes ~"(1280 yen / 916 kcal excluding tax).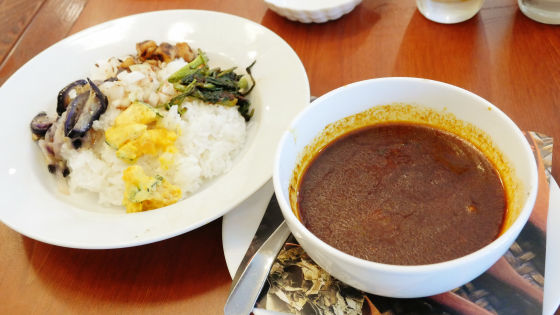 On the top of the rice are five kinds of Sri Lankan style dishes such as "Stir-fried Potato Spice" "Stir-frying Spicy of Air Hearts" "Pumpkin's Coconut Bob", "Honey Mustard Vinegar of Eggplant" and "Onion's Citrus Marinade".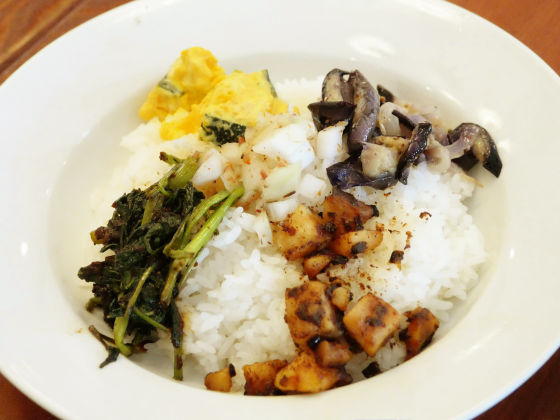 Curry is a stubborn roux like soup curry, used for Sri Lankan cuisineMaldive · FishInstead of bonito bonito was used the seafood's strong flavor. Oil is floating in Rou, which is made from a ginger called ginger and bandanna leaf "Pandan OilThat thing.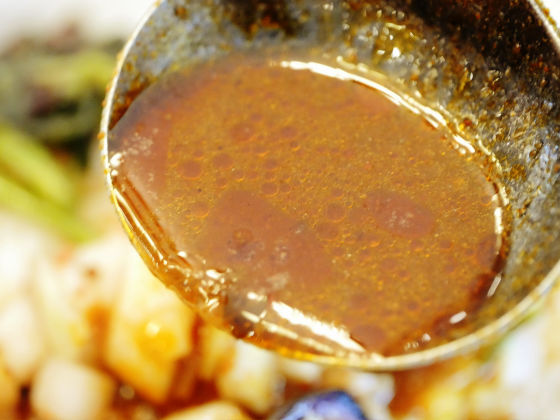 I tried eating with rice cooked with curry, I feel the taste like a fish meal like a fishmeal of fresh noodles and a taste of dumpling so far as to think "a soup of ramen?" For a moment, but an unusual seasoned spice is. Because bonito chips are used, it fits rice very well so I can eat it. Spicyness is "2" in 3 stages, it is not spicy, although it feels pain.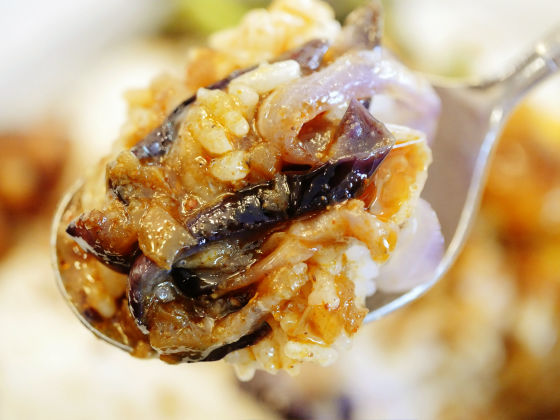 The eggplant is sour, but the pumpkin is sweet, and the seasoning is different for each vegetable, so it is a pleasant thing to not get tired of the end. If you like Southeast Asian cuisine, there is no doubt that spiced spicy curry.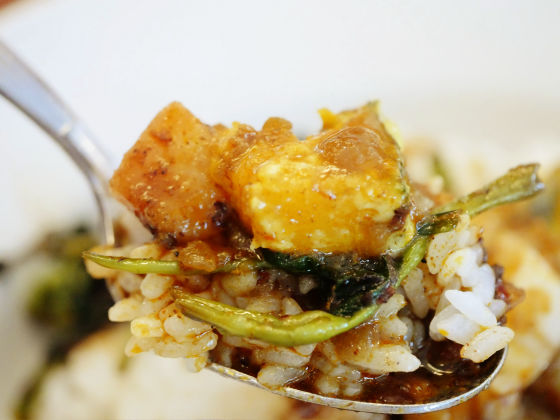 The ingredients' chicken is cooked in the mackerel, and satisfying feeling is also perfect because there are multiple large chicken.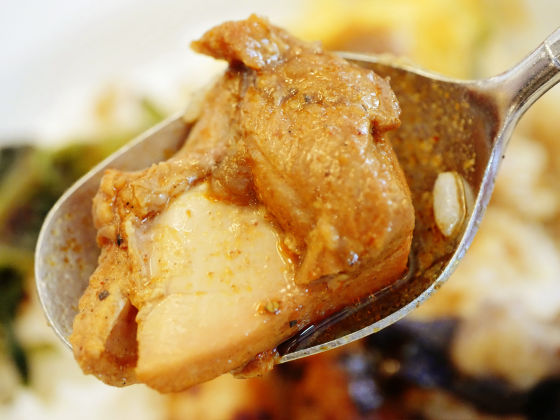 next"Kashmir Beef Curry ~ Three kinds of condiments ~"(1080 yen / 889 kcal excluding tax). Using 18 kinds of spices, the spicy level is "3" and one of the hardest curries.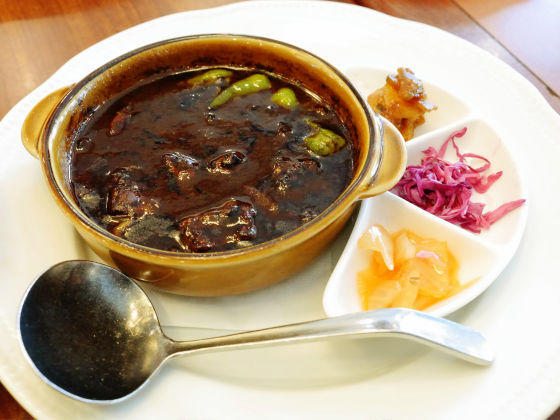 Three types of condiments are also included: garnish onion, red cabbage marinade, banana and apple chutney.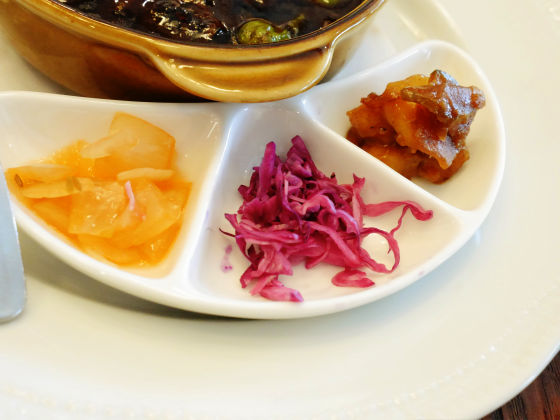 In addition to Kashmir beef which was full of ingredients, carrots and shisats are contained in the ingredients, and it seems that there is a response to eating.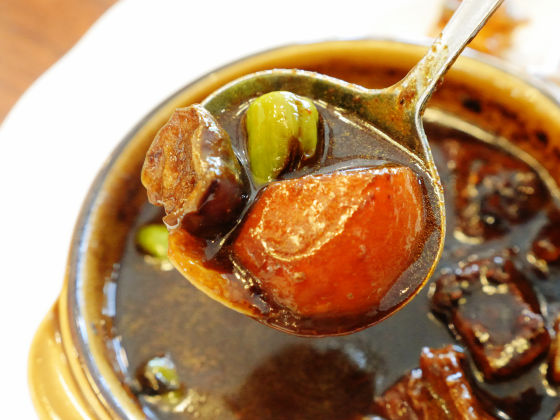 Looking like this when you serve rice. Ru is a savory thing like soup curry.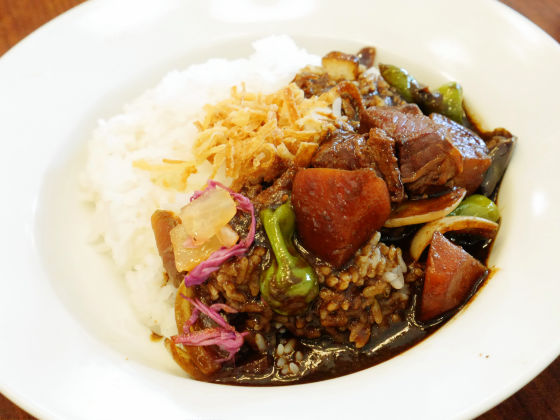 When eating, it is based on strong hot spicy like red pepper, but it is also felt firmly, and when you eat it with meat block you add umami. People who are not spicy, but who are not good at hot objects may be at a tough level.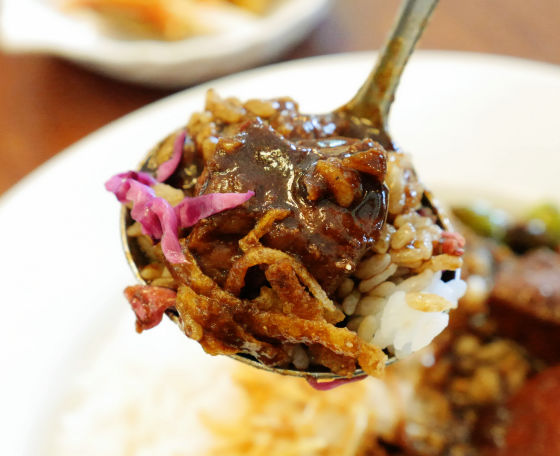 Among the three kinds of condiments, sweet fruit chutney is an unusual taste, it is possible to neutralize harshness by deep sweetness.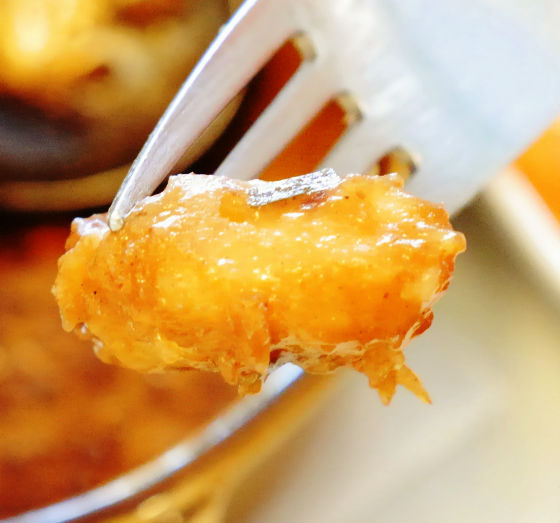 ◆ Curry enjoying seafood
"Bouya base curry ~ Saffron rice & Nan ~"(1580 yen / 815 kcal excluding tax) is a seafood curry with eye-catching scissors of crab protruding from the sea of ​​curry.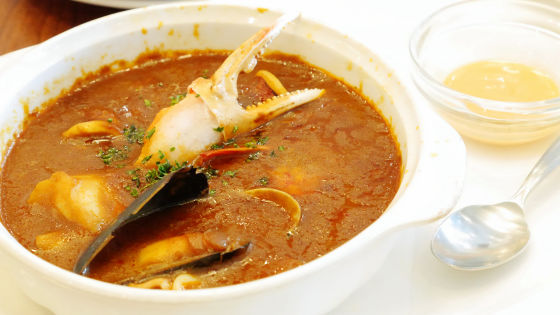 Fragrance crab, mussels, shrimps, clams, squid, squid, red fish are used for the ingredients, just as Bouya base, you can feel the umami of fishes and shellfishes even if you taste it as it is.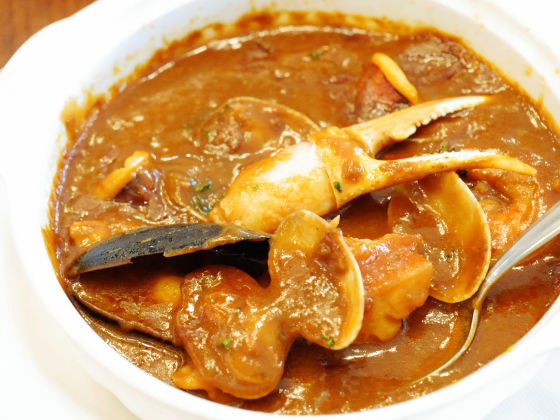 "Ario resource" of the installed garlic and egg yolk is said to finish it to the degree of liking little by little.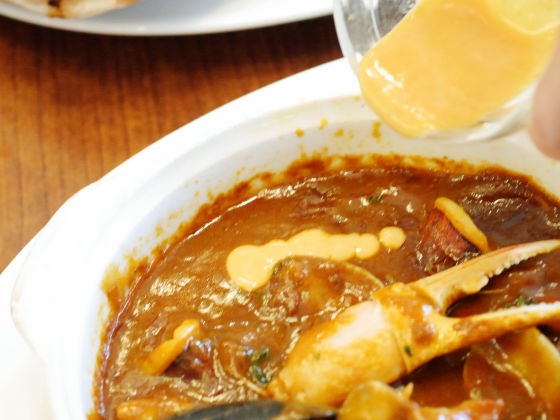 As Ario Resources joins, it adds mellowness and further richness, so you can taste even more luxury curry.



In addition, not only Nan but also saffron rice is set ... ...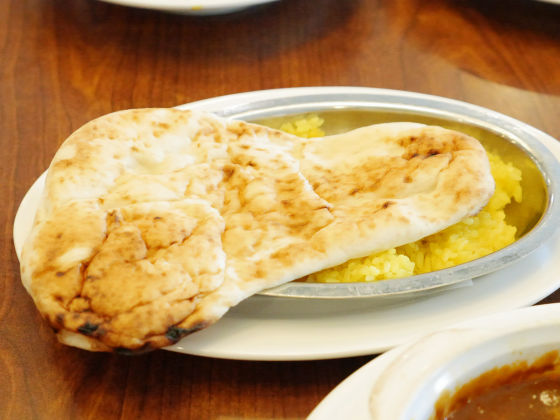 Nan is rich with fluffy rice, not to mention compatibility with curry.



Umami of seafood is also involved in saffron rice.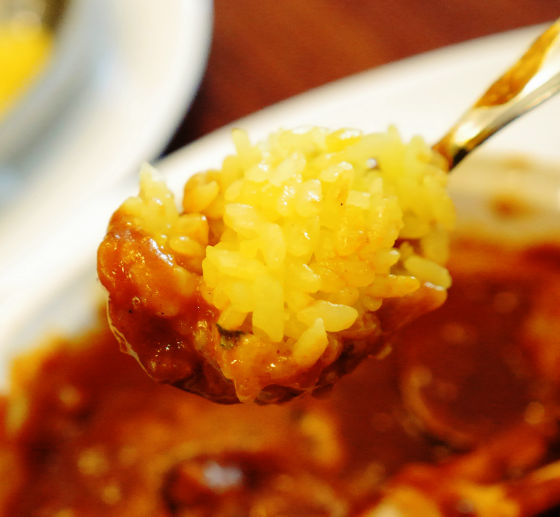 Although it is the most expensive among the six types, it is finished in a satisfying curry that does not feel unsatisfactory.



"Club Meat Dry Curry - Newburg Sauce -"(1330 yen / 976 kcal excluding tax) is not curry sauce, it is one item to eat with a dry curry with a creamy sauce that combines white sauce and Americain sauce.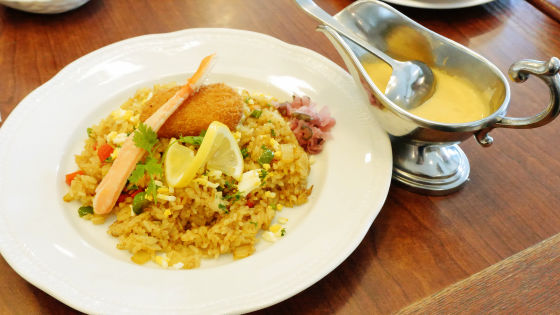 On the dry curry is a crab cream croquette and a crack of faint crabs.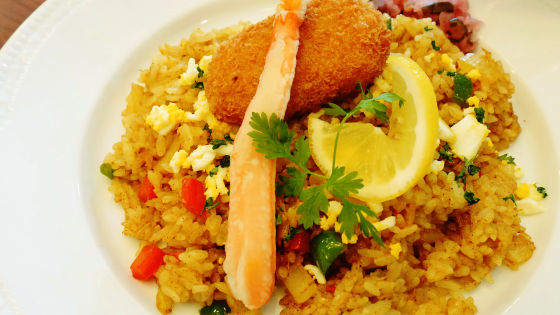 It is based on the back menu of a Western food restaurant which was open 25 years ago and it is a rich creamy feeling to forget that you eat dry curry when you apply sauce. Good crepe crabs are also good.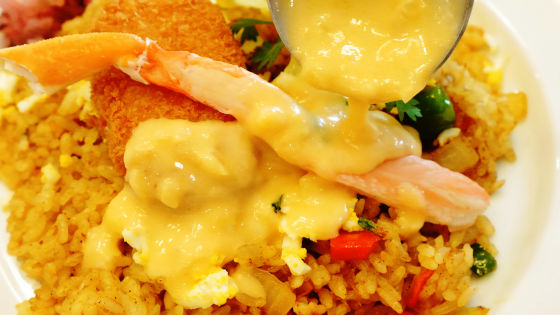 The crab cream croquette is fried like a "forgiving" with a fork and it is fried in color and it is like a western food coupled with a cream sauce.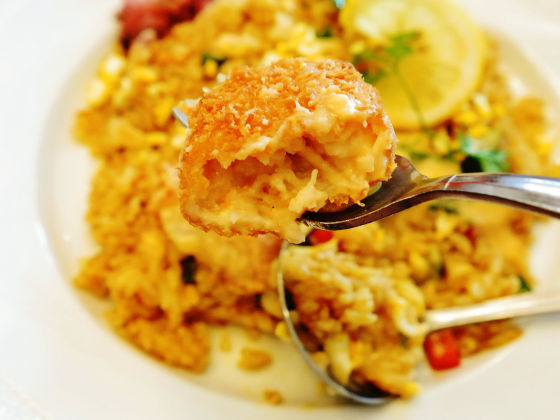 There is no doubt for those who like white sauce, and it can be refreshed with lemon when it gets heavier.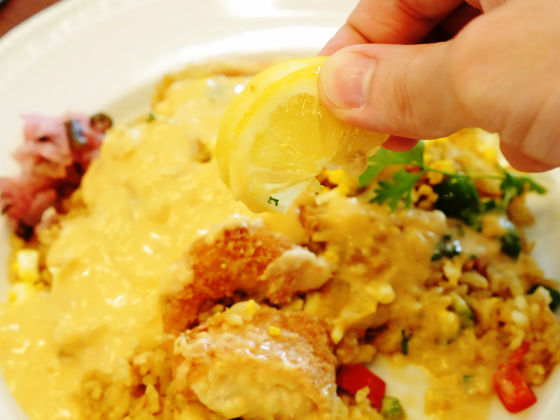 ◆ Curry to enjoy the chef's taste
continue"Nostalgic signature chicken curry"(1080 yen / excl. Tax / 773 kcal).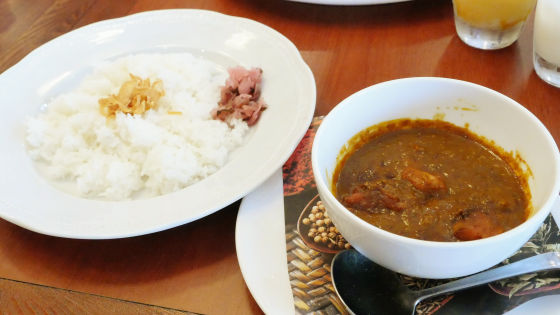 Three of the six curries have a rice with fried onion and Fukumake pickled in the following rice.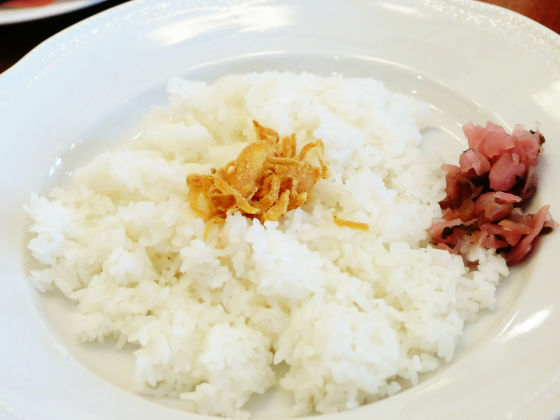 It is a deep flavor with a sweet taste of bouillon and onions thoroughly scoured with authentic spice feel like Indian curry. The chicken has a taste impregnated firmly and a soft finish of beads.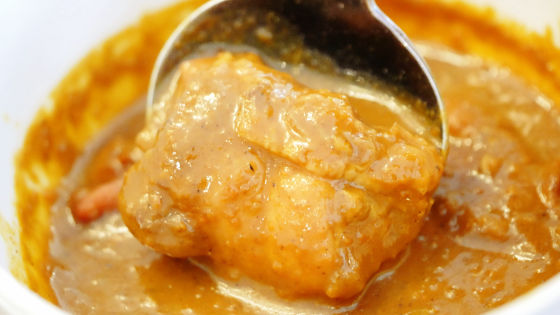 Rui which onion has become muddy is feeling like drool, when it is cooked with rice, not to mention compatibility, fried onion is also crispy and texture is nice.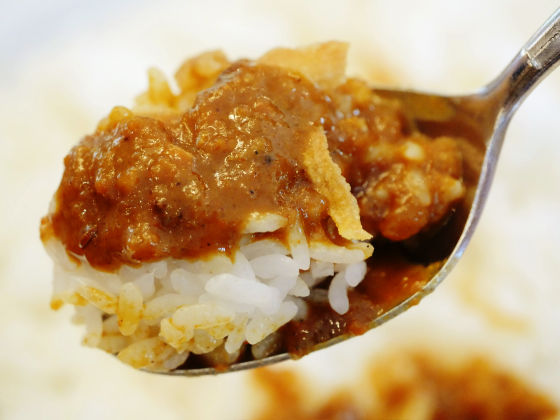 Only in the pot will be offered "Angus Beef The ROYAL European Curry"(1480 yen / tax excluding tax). When opening the lid, you will see a large angus beef with melted glue yeol cheese.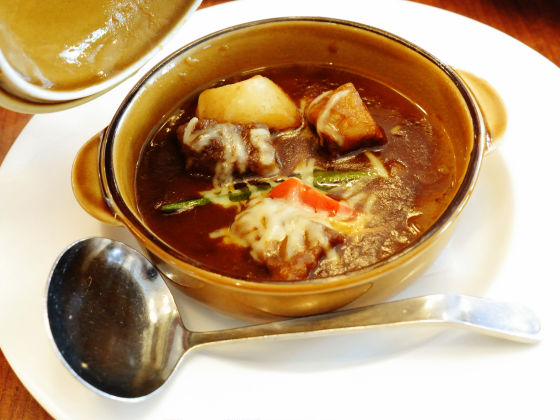 Anyway, when trying to taste Angus beef, I feel a lot of fleshy, soft and greasy feeling not so much though it is a big block. However, it is regrettable that I do not feel so much umami of beef from Ru.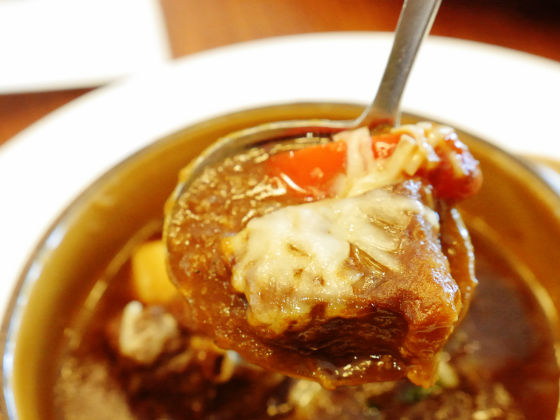 Rou with a good entanglement with rice is the most basic type of curry among the six varieties, but it feels like rice is from cheese, so sweetness of onions and apple is considerably intense so it may be seasoned like a child.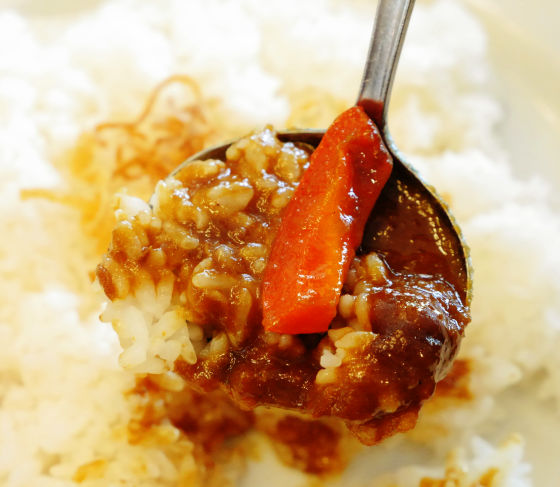 ◆ Dessert
After eating 6 kinds of curry, dessert follows. First of allMatcha's granita"(380 yen / 220 kcal excluding tax),"Strawberry granite"(380 yen / 211 kcal excluding tax),"Coffee granitaThree kinds of (380 yen / 168 kcal excluding tax). Granita is Italian version shaved ice.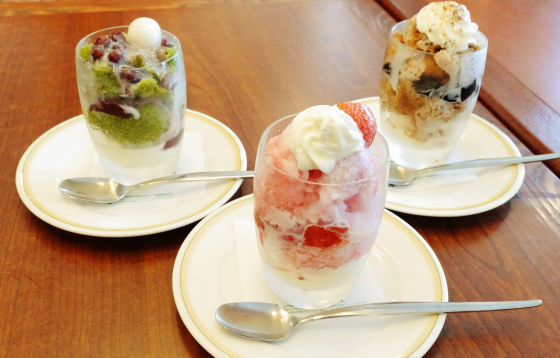 Strawberry granita with whipped cream and strawberry on the top is a dessert with strawberries in the ice and ice cream on the bottom.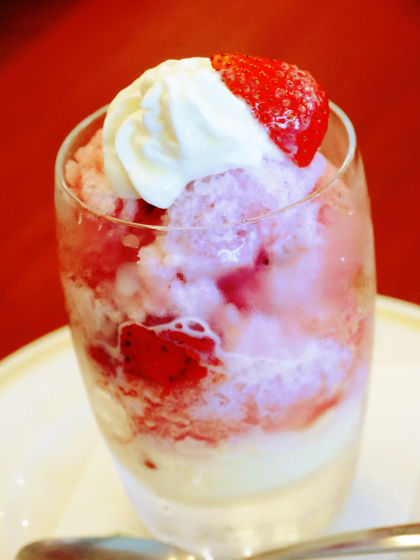 When I eat it, the sherbet of Granita froze after putting in a flavor, so a sherbet with a texture that is gritty is felt every corner of the strawberry syrup. All the sherbets feel like the thickest part of the shaved ice, and it becomes an elegant taste by matching with the bottom ice and whip.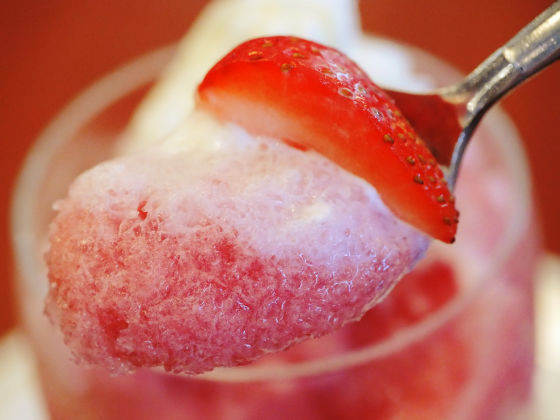 A Japanese-style atmosphere with azuki beans and white balls in the powdered green tea.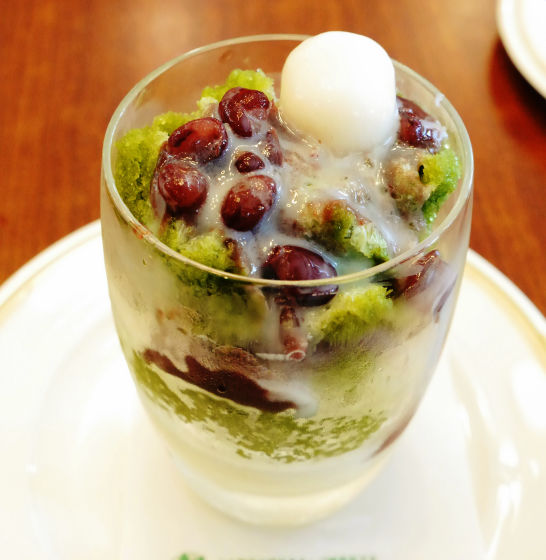 It is a sherbet of full-fledged Matcha which is not too sweet, it will be just right when combined with the sweetness of azuki bean.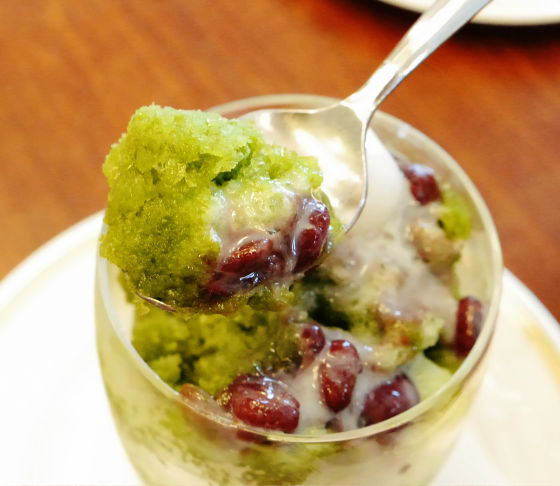 Taste like Matcha Latte when eating with ice.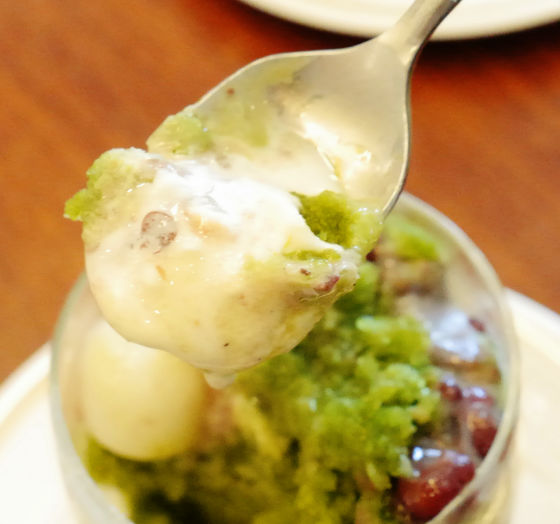 In addition, since every ice creamer is in the bottom of the bottom, care must be taken so that the ice will not remain.



Coffee granita with a fashionable atmosphere with powder on whip.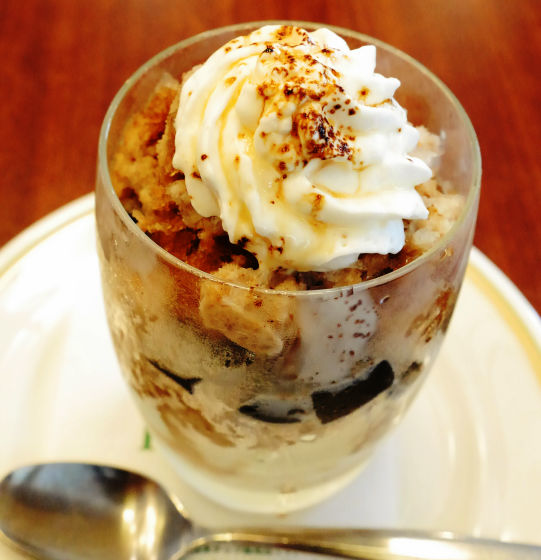 A coffee jelly is sandwiched between ice and sorbet.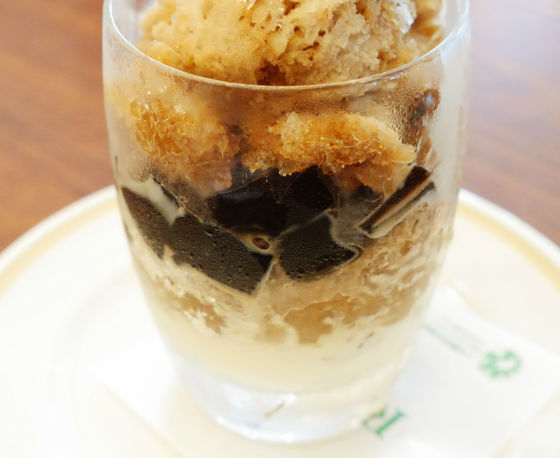 Coffee is moderately sweet as well as powdered green tea, so it looks good as an adult dessert.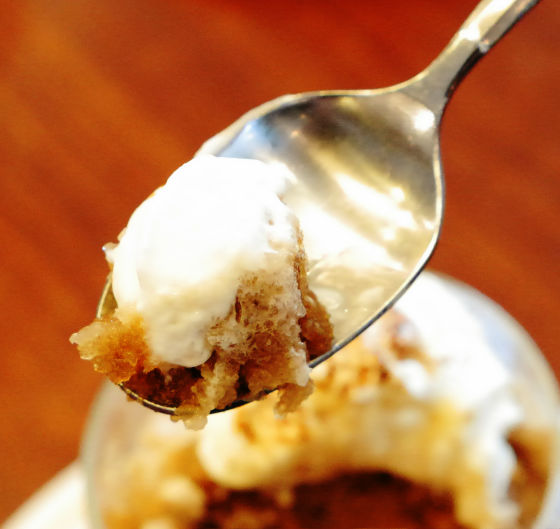 Coffee jelly has a strong aroma of coffee, making it the perfect dessert after meals.



Last dessert wrapped Ice · strawberry · blueberry sauce with crepe "Summer · White ~ Crepe ice ~"(480 yen / 426 kcal excluding tax).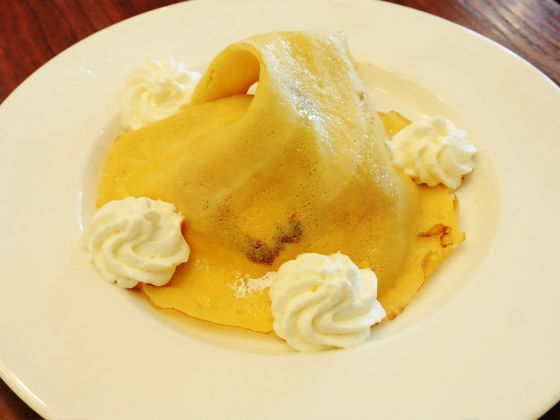 When I put the knife in, the crepe is finished soft enough to sink "shoes" and blades even without attaching a fork.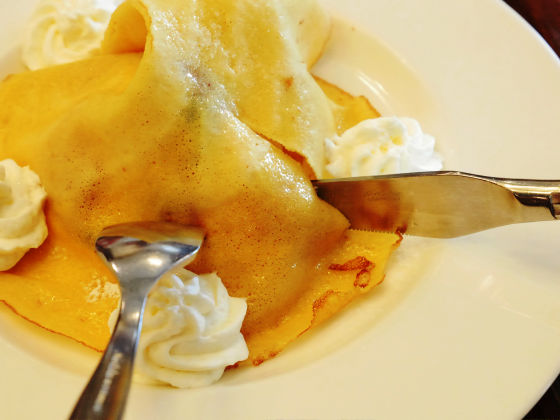 Very strawberry and ice cream with blueberry sauce appeared from inside. I am glad that you order as a child's dessert.



The curry fair "Summer, Let's Curry" will be held from June 17th until late September for the 32nd year of the Royal Host. It is quite alike to feel the arrival of summer with curry.