Do bells like brands? The most popular perfume for meat is Calvin Klein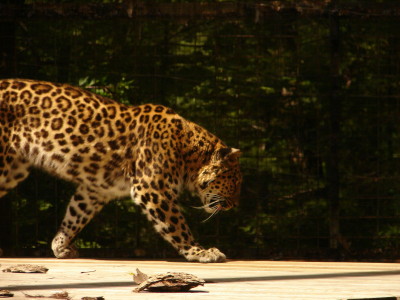 I wonder if there are many people who have had the experience of wanting to go on in spite of a good fragrance fluctuating from the passing people. Although it may not be painful if you encounter a weak scent or too strong aroma, most perfumes should be formulated so that humans feel "good fragrance".

There are also many branding perfumes that emphasize that it is a fragrance that attracts the opposite sex, but it seems that there is also a perfume that not only is attractive for humans, but also captures meat such as lions, leopards, cheetahs and so on. Is there any effect for the topic "carnivorous girls" now ... ....

Details are as below.Obsession for big cats: Scientists find cheetahs and jaguars attracted to Calvin Klein fragrance | Mail Online

Big Cats Obsess Over Calvin Klein's 'Obsession for Men' - WSJ.com

In New YorkBronx ZooIn an experiment conducted at the Bronx Zoo, twoCheetahI watched various kinds of perfume and observed the reaction,Calvin KleinPerfume for men "Obsession for menIt is said that it turned out to be the scent that attracted the most cheetah.

Parent and child of cheetah.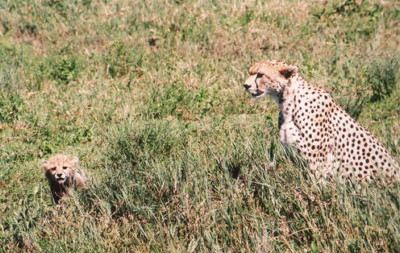 In this experiment conducted in 2003, we compare the time until cheetah noticed the perfume blown onto the log and the time to keep it smelling in 24 perfumes. as a result,Estee Lauderof"Beautiful"Is 2 seconds on average,Revlonof"Charlie"Although only 15.5 seconds could not attract Cheetah's attention,Calvin KleinPerfume for men "Obsession for menFor the trees sprayed on, it smelled over 11 minutes and 6 seconds and it seems she got herself pulled out. By the way, second placeNina Richof"L'Air du TempsIt seems that it was 10 minutes and 24 seconds.

"Obsession for men" is a long-selling launched in 1986, and it is the scent of unique and powerful daytime facing (office) which musk, sandalwood and amber lurk behind Mandarin and spice.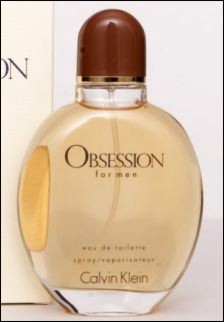 Although it is a trade secret, of course, the raw materials are "denatured alcohol, water, fragrance (parfum), (alkyl acrylate / acrylamide) copolymerΑ-Isomethyl ionone·Oxybenzone·Benzyl benzoate·Benzyl cinnamate· Butyl methoxy-dibenzoyl methane ·Cinnamyl alcohol·Citral·Citronellol·Coumarin· Ethylhexyl methoxycinnamate · ethylhexyl salicylate ·Eugenol·TreimosExtractGeraniolHexyl cinnamaldehyde (chamomileAromatic aldehyde contained in oil) · jojoba ester hydrolyzate ·Limonene·Linalool· Coloring fee "is displayed.

Ann Gottlieb, one of the perfumers who produced "Obsession for Men", said, "The top notes of fresh green envelop the fragrance of licking vanilla and raise the tension. It is a fragrance that stimulates the heart, but it seems that it was true for animals as well. " "Civet (Musk cat), Including the synthesized "animal incense", and it gives sex appeal to fragrance. "

The effect of "Obsession for Men" which captures the feline animal of the feline is also used for wildlife conservation activities.GuatemalaofMaya Biosphere ReserveIn the rainforest of the Maya Nature Reserve,JaguarIt seems that this perfume has been used since 2007 in order to grasp the number of inhabitants.

Since Jaguar does not appear readily in public, grasping the number of individuals depends on a camera with a sensor to record in response to heat and motion set along the "railroad path" of the rainforest. As Jaguar's plaque differs one by one like human fingerprints, we identify individuals from the recorded Jaguar patterns and count the number of individuals.



Roan Balas McNab of the Wildlife Conservation Society who is active in the Maya Nature Reserve listened to the experiments at the Bronx Zoo and thought of putting a cloth impregnated with "Obsession for Men" in front of a camera with a motion sensor.

Bind the cloths to drive into the ground in front of the camera and spray perfume. The photo is Mr. McNab's colleague Rony Garcia.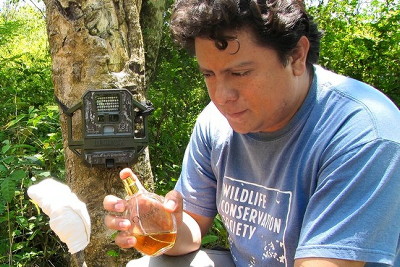 Jaguar said that he can smell the scent of "Obsession for Men" from 1 km ahead. The number of Jaguars passing in front of a scented camera has increased three times compared to when there is no fragrance, and the staying time in front of the camera becomes long in order to thoroughly scent the fragrance, and the image whose pattern can clearly be distinguished It seems that it increased. In addition, it was said that valuable images capturing Jaguar courtship behavior etc. that had never been taken before, thanks to a camera with perfume, I was able to shoot.

Since it approaches the camera and smells like kun, I can clearly distinguish the face and body pattern. Before using "Obsession for Men", it seems that 30 to 40% of the shot images were not useful for individual discrimination.



Since "Obsession for Men" is so strong that Jaguar can be pulled, Mr. McNab initially said that he was being used by poachers, he hesitated to publicize the power of perfume, but poachers For biologists such as animal dead bodies, we used "bait" which can not be used ethically, so we decided that spreading the effect of perfume to other scientists and using it for animal protection exceeds the risk of being used for poachers That's right.

"Worldwide sales of" Obsession for Men "is about 85.5 million dollars (about 7.8 billion yen) last year, even now even near quarter century from release, it is among the top 10 male perfume sales. However, there is no shop selling this perfume in the rainforest near the nature reserve, there is a price of about 60 dollars (about 5500 yen) per bottle, securing perfume is quite a challenge. Every time McNab crosses the border, he checks duty - free shops and does not miss opportunities to buy it cheaply, he seems to ask friends and colleagues who visit Guatemala to bring it.

In the Bronx zoo, I use this perfume to relax a variety of meat such as tiger and cheetah, but because it is still a luxury item, I do not have a budget for purchasing perfume but depend on donation That's right. Since trying to use perfume like aromatherapy to relieve animal's stress seems to be done in various zoos, there are a lot of perfumes etc that are bored of using perfume and gifts not used People may want to look for a zoo that is accepting donation.