Tokyo Marui's Factory Custom Airsoft "M4 CRW(Close Range Weapon)"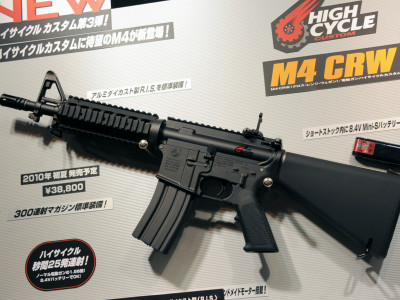 Tokyo Marui has been releasing factory custom airsofts as "High Cycle Models" with increased firing rate. So far, they have released MP5A5 and G3 shorty custom. Named "High Cycle Model", they have released MP5A5 and G3 shorty custom so far. Tokyo Marui brought their 3rd High Cycle Model, "M4 CRW(Close Range Weapon)" to 49th Shizuoka Hobby Show and demonstrated it in the show with their new gas blow back Glock 18C.

Read on for detail.

"M4 Close Range Weapon" displayed at Tokyo Marui booth. The rifle in the right is the model decorated with genuine option parts.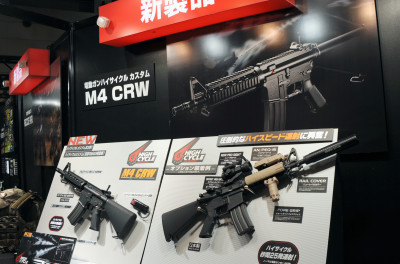 M4 CRW is a shortened M4 rifle with R.I.S. replica handguard, which is frequently seen in special forces and PMC photos. To be sold from early summer 2010 at 38,800 Yen(about $420 USD).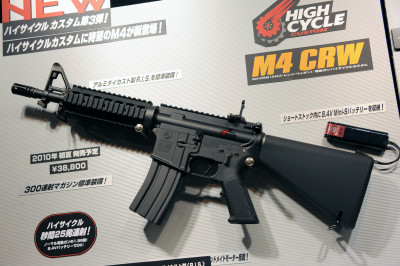 A special label for the custom.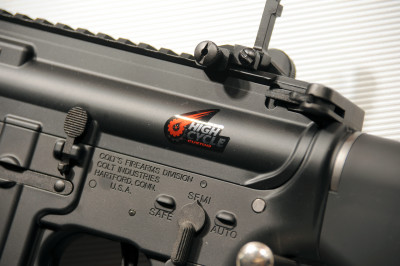 The battery is held in the stock and shoots more than 4000 rounds per charge.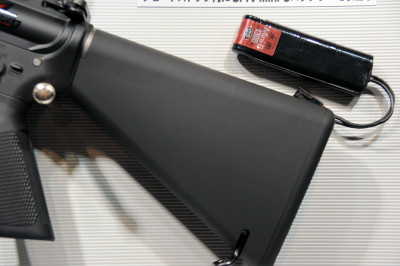 Front barrel is shortened.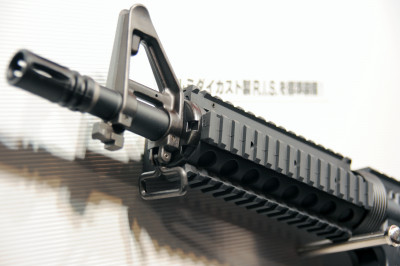 Its 25 rounds/sec firing speed is totally awesome. It's a great rifle not only for barrage but also for sniping and double tap shooting by its short lock time.

YouTube - Tokyo Marui's "M4 Close Range Weapon" demonstration


Custom parts like high revolution motor and low-friction cylinder is used in high cycle model.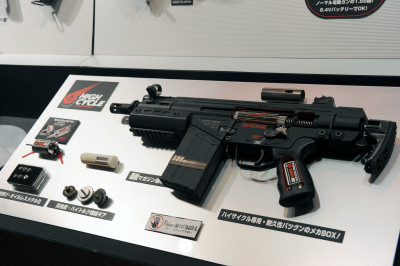 These custom parts are also sold separately for users who customize their rifle themselves.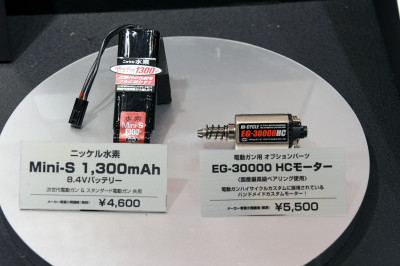 You can decorate your own rifle with genuine custom parts.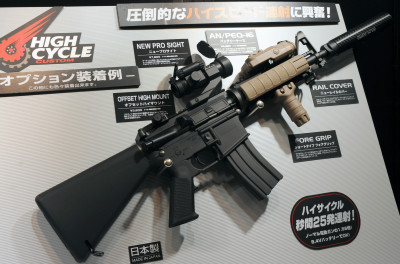 That's what tacti-cool means, isn't that?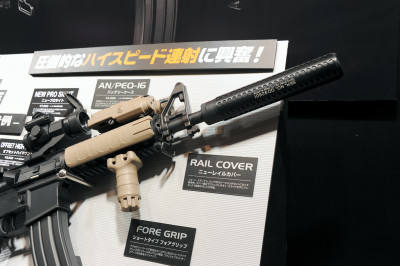 Crane Stock replica is soon-to-be-released.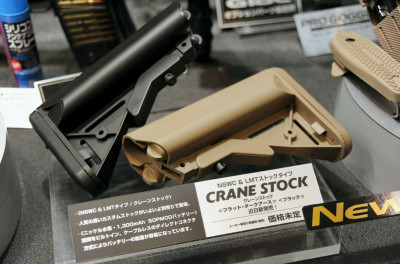 Vltor Carbine Enhanced Modstock replica is also ready.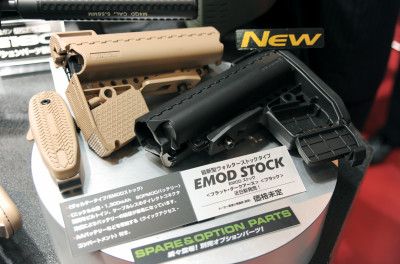 Related Post:
Shizuoka Hobby Show 2010 opened, Showcasing Latest Plastic Models, R/C Car, Model Railway and More! - GIGAZINE

Tokyo Marui to Release "Gas Blow Back Glock 18C" with thundering Full Auto Shot - GIGAZINE

Mateba Revolver, Togusa's gun from "Ghost in the Shell" came out as an airsoft gun in TOKYO TOY SHOW - GIGAZINE

Cosmo Dragoon, Gravity Saber and Cosmo Gun from Leiji Matsumoto's Universe -WF 2009[SUMMER] - GIGAZINE

"Silver Wolf" Full Metal Rubber-Band Gun coming out from Questioners Co. - GIGAZINE