The legendary sniper Golgo 13's M16A2 rifle coming out as an airsoft gun.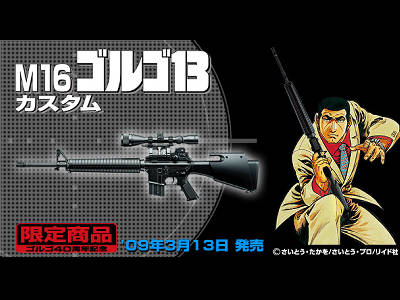 "Golgo 13" is a comic by Takao Saito drawing a story of superb sniper accurate and merciless like a machine. And his special customized "Colt M16A2 Golgo 13 custom" is going to be released from famous airsoft maker Tokyo Marui. Let's see how it is customized.

Read on for detail.
(Japanese)Product Catalog >> M16 Golgo13 Custom

Golgo 13 uses various version of M16s as the story goes. This "M16A2 Golgo 13" is reproducted from episode No.308 "The masterpiece of the assault rifle" The model which customized by Baelinger with the barrel he looked for eight years. The price will be 69800 yen (tax excluded; about 780 dollars)

It will be produced by famous motor-driven airsoft gun manufacturer Tokyo Marui. The technology they have developed since they first commercialized motor-driven airsoft in 1991 is applied to the product, so it has superb quality. Aluminium outer barrel with enhanced base connection provides more stable barrel which brings more accuracy. 3-9*40 optical scope and a cheek piece is also provided showing the rifle sniping-capability.

A 8.4V large size battery in the rifle stock, so to shoot 3000 rounds per charge. the body is colored black jult like in the story. Aluminum carrying case is included as an option, too.

Cheekpiece and a scope says the rifle is "for snipers only"



Aluminium riflecase within the price Urethane pad will hold the rifle firmly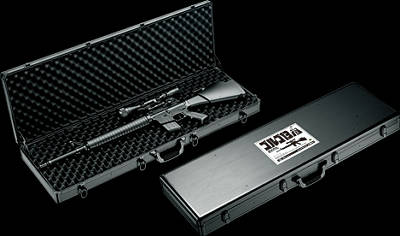 The well designed outlook and high accuracy will provide the excitement not only to the comic fans but to others. The product will come out on Mar. 13.

Related Articles:
Neon Genesis ASOGELION the Movie!! - GIGAZINE