Smartphone with Google's Android, pull out iPhone in share fight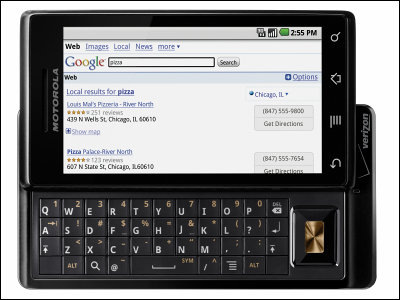 Formal announcement in November 2007And in September 2008The first smartphone "G1"Google's mobile phone OS "AndroidHowever, it became clear that it finally exceeded the iPhone in the share fight.

Android is a great strength to be able to comfortably use all kinds of Google services such as YouTube, Gmail, Google Maps, but will the market continue to expand in the future? In addition, the above image was released by Motorola for Verizon Wireless in the USAHigh performance Android smartphone "Droid"is.

Details are as below.
WHOA: Google Android Outsells Apple iPhone In The U.S. - Yahoo! Finance

According to this article, the market share of smartphones sold in the US in the first quarter of 2010 was RIM's "BlackBerry" (36%), second place is Android-based smartphone (28%), and third place is The survey company NPD says that Apple's "iPhone" (21%) revealed that Android smartphones exceeded the iPhone for the first time.

The reason for Android smartphones made a breakthrough is that it was released for several major mobile phone companies and the market share of Verizon, a major mobile phone company that has not yet launched the iPhone, has been increased.

In addition, AppleA recital of "iPhone OS 4" held in early AprilIt seems that the iPhone series has become the best seller to sell 50 million units worldwide, and it seems that the iPhone's sales still remain strong, apparently it is more than it and Android Smart phones seem to be spreading.

Also in Japan, according to "BCN ranking" which collects actual sales data of major mass merchants nationwide,NTT DoCoMo's "Xperia" Android smartphone released from April 1 is the number one in smartphone sales in AprilHowever, the iPhone sales volume is nearly the same level as the previous month, and Xperia and iPhone do not compete for each other's share, but Xperia's sales will boost sales volume of smartphones as it is, etc. Interesting results Is out.

Besides iPhone and Android,"Windows Phone 7" Microsoft plans to release for the holiday shopping seasonAlthough it seems that various platforms will continue in the future, it will be very interesting that users will be able to choose the best one for themselves from several powerful platforms.
in Mobile, Posted by darkhorse_log