Shipments of Android smartphones increased to 886%, exceeding iPhone's share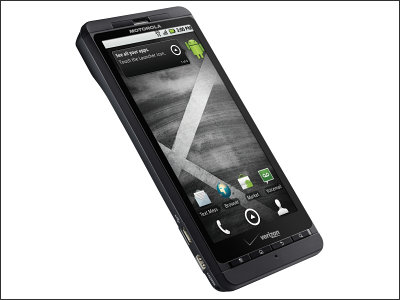 Although it is a smartphone that adopted the Android OS for mobile phones of Google that has been growing rapidly, such as the number of activations per day reached 160 thousand units in June, shipments are the same as the previous year It became clear that the ratio increased to 886%. In addition, the share of Android smartphone in the United States exceeds iPhone.

By the way, the image above is an iPhone 4 killer Android smartphone "DROID X"is.

Details are as below.
Android smart phone shipments grow 886% year-on-year in Q2 2010 (Canalys press release: r2010081)

According to the press release of the research company Canalys, the worldwide smartphone market in the second quarter of 2010 grew 64% year over year.

And the smartphone that adopted Google's mobile phone OS "Android" in the growing smartphone market is a smartphone, and strong makers such as HTC, Motorola, Samsung, Sony Ericsson, LG Electronics, As a result of the launch of a smartphone that adopted the same year, shipments increased to 886%.

Android Soars, but iPhone Still Most Desired as Smartphones Grab 25% of U.S. Mobile Market | Nielsen Wire

According to research firm Nielsen, the demand for Android smartphones in the US began to rise rapidly this year, and it is said that in the second quarter of 2010 iPhone was pulled out.

This is the graph. It is also interesting that the share of RIM's "BlackBerry", which boasts the top market share in the US, has slowly declined. Incidentally, the survey company NPD as of the first quarter of 2010Android smartphones were outperforming iPhone's shareThere seems to be a slight error in the survey results among survey companies.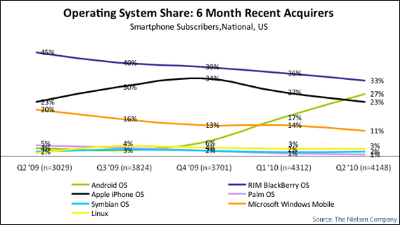 In addition, 89% of iPhone users answered "I want to use the iPhone next" in response to questions about the platform I want to use next for smartphone users, but "I want to use Android next Considering that Android users who answered "only 71%" are answered, is iPhone more user satisfaction is it?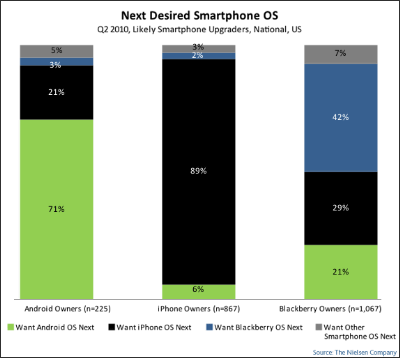 in Mobile, Posted by darkhorse_log