PUMA abolishes shoe box, to low cost new environment friendly packaging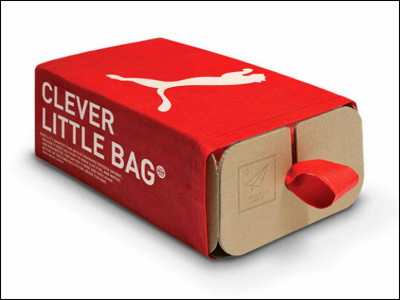 Previously in GIGAZINE like shopping cart manufacturer Newton Running egg cartonSpace saving and environmentally friendly packagingAlthough it introduced, it is also popular for use as a town youth, including soccer shoes, and it will expand widely even in JapanPUMA (PUMA)Announced the packaging "Clever Little Bag" which reduced the amount of paper used by 65%. It is planned to be introduced in 2011 and to complete the transition from the current package by 2015, so it seems that it will be in store in the shop next year in Japan as soon as possible.

Details are as below.PUMA Launches New Sustainable Packaging Designed by Yves Behar | PUMA Vision

Fuseproject: Puma Clever Little Bag

"Clever Little Bag" is a long-term project aimed at reducing CO2 emissions, electricity consumption, wastewater and waste volume by 25% at PUMA production plants, warehouses, dealers and offices by 2015 It was born by a project aiming at resource saving of sneaker packaging as a part of environmental efforts. Industrial designer Mr. Yves Béhar and PUMA have passed over 2000 design proposals over two years, more than 40 prototypes, and finally reached this design without "boxes".

"Clever Little Bag" consists of only two parts, a nonwoven bag and a cardboard. The amount of paper is reduced by 65% ​​compared to the previous box, and the amount of ink used is also greatly reduced. Because it is lightweight it also leads to reduction of transportation cost.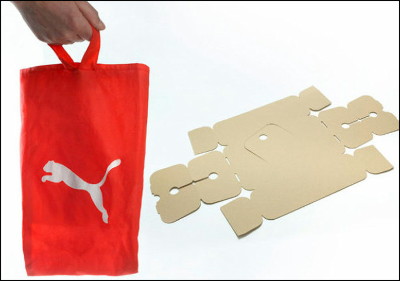 As cardboard becomes a partition, thin paper in ordinary sneaker box is unnecessary. The four walls of cardboard are structured to slightly tilt inward so that it is hard to collapse when stacked. It seems that it can be stacked in warehouses and shops as well as shoe boxes so far.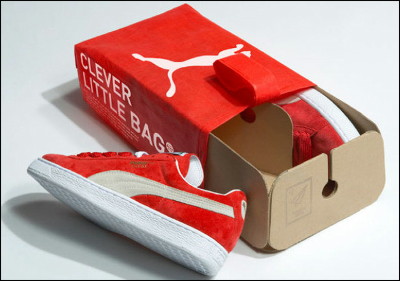 Polyester nonwoven bags recycled PET bottles are bonded with heat without sewing with threads to save labor and resources. By carrying with this bag in the state after purchase, you can also reduce the use of paper bags and plastic bags at dealerships.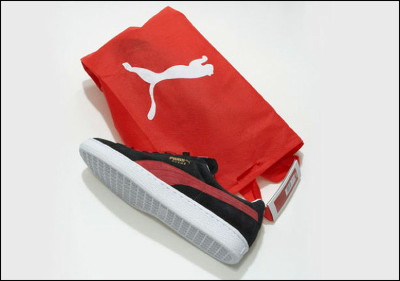 The bag can be used as a shoe bag when traveling or going to a gym, and can be recycled again when it becomes unnecessary.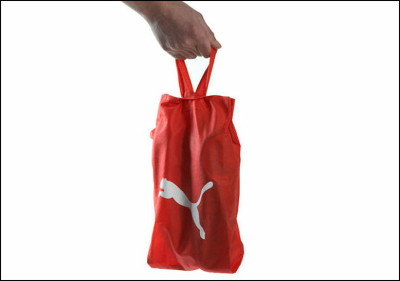 When PUMA's sneaker packaging shipping tens of millions of pets per year shifts to this "Clever Little Bag", 20 millionMega joIn addition to saving electricity, we will reduce the amount of paper used for about 8,500 tons, reduce the amount of fossil fuels and water used by 1 million liters, reduce the amount of diesel fuel used during transport by 500,000 liters, eliminate shopping bags It seems that we can reduce the amount of plastic used by 275 tons.

Promotion video is from below.
YouTube - The New PUMA Fuseproject Packaging