Space-saving and eco-friendly next-generation sneaker packaging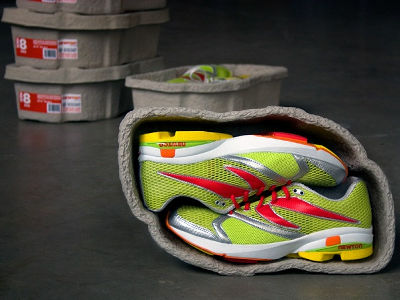 A resource-saving and environmentally friendly package that you want to call a shoe carton rather than a shoe box has appeared. Because it is space-saving, the dealer may be saved.

Details are as below. Newton's Eco-Friendly Packaging a Snug Fit ・ Environmental Leader ・ Green Business, Sustainable Business, and Green Strategy News for Corporate Sustainability Executives

Newton Running, an athletic shoe manufacturer in Buller, Colorado, is a company that makes shoes with low environmental impact, but it seems that they have also developed a new way to replace the conventional cardboard box with the advertising agency TDA Advertising & Design .

This package is 100% recycled paper and fits the shape of sneakers, so no cushion paper is required. Also, instead of stuffing to keep the shape of the shoe, socks on one leg and a shoe bag that can be used repeatedly on the other. Buyers of sneakers do not need to use paper bags or plastic bags if they take it home. Because it is stackable and space-saving, transportation costs, and therefore, fuel consumption and greenhouse gas emissions during transportation can be expected. When crushing and throwing away, the amount of trash is smaller compared to conventional cardboard boxes, and it can be reused as a planter.

Newton is a manufacturer that is not so familiar in Japan, but it specializes in running shoes and has a reputation as a "sneaker that makes your feet faster". If the name of a package with impact increases, the share may increase.

Other athletic shoe manufacturers' environmental initiatives include basketball shoes made from Nike 's manufacturing waste and the efficient use of Adidas natural resources.


in Note, Posted by darkhorse_log