I have eaten three varieties of Mr. Donut's limited new product "Tokyo Pretzling"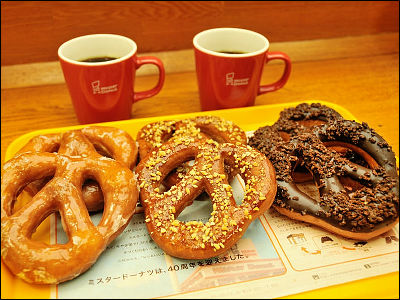 I completely forgot about the existence of the limited quantity new product "Tokyo pretzling" which was newly released from Saturday, March 20, so I bought it and bought it eating. I am using "Deep Sea Salt Hamane" in Tokyo and Izu Oshima as a salt,Maple & Almond(147 yen),Chocolate & Crunch(147 yen),Honey(136 yen) have become three types.

According to the official website, "limited quantity for carefully selected materials use", and when going to the store actually, there are various kinds, such as lost already, sold out, not originally putting on all kinds In addition to other new products to align all four stores in practice also to ladder.

Details are as below.
Taste is in the production area. | New Item | Mister Donut

So this is "Tokyo pretzling". Honey, maple & almond, chocolate & crunch in order from the left.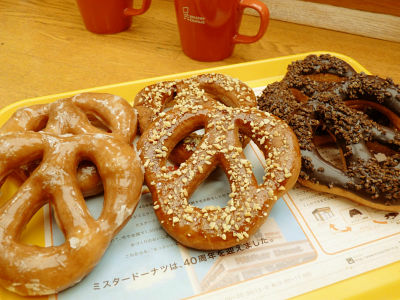 It turns like this when turned inside out. The color is different little by little (2010/03/29 22:26 postscript, according to story from people saying that they are working in Mr. Donuts, originally they have to be the same color, but the kitchen charge handily flies well Because it was not done, it is because it resulted in errors in cooking time).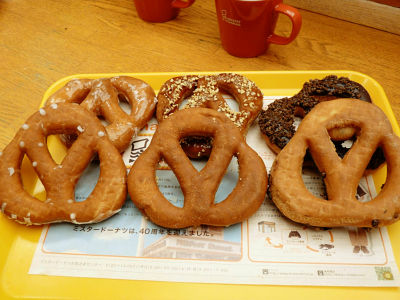 Honey. Even if you go to any store you have only sold out, it looks quite glossy and glossy.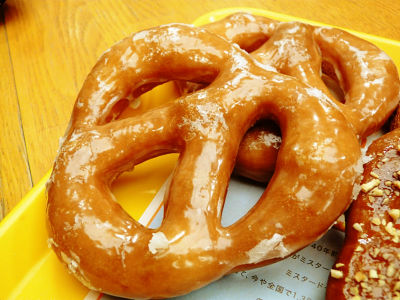 Looking from the side like this.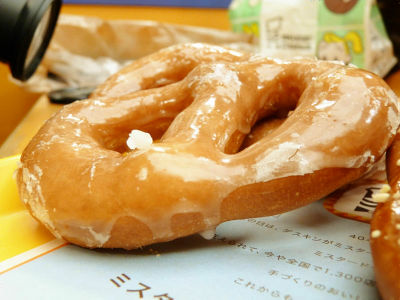 This is Maple & Almond.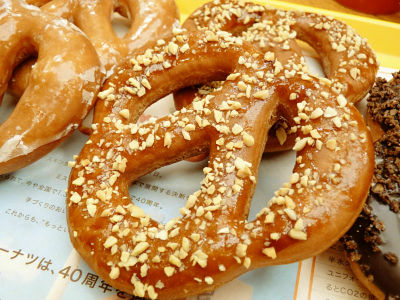 Looking from the side it looks like this.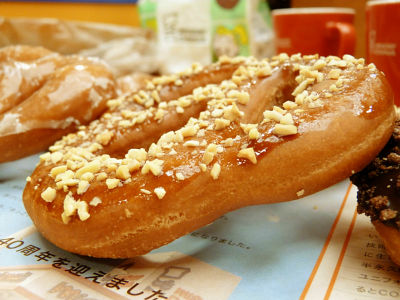 And, chocolate & crunch. None of them smelled very good, and it was bigger than I imagined.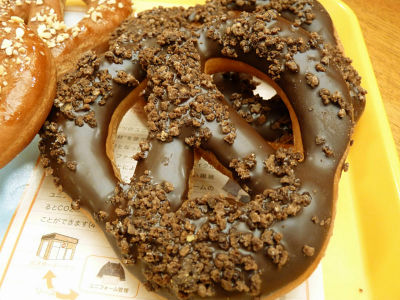 The side of the atmosphere that seems to be somehow somewhere.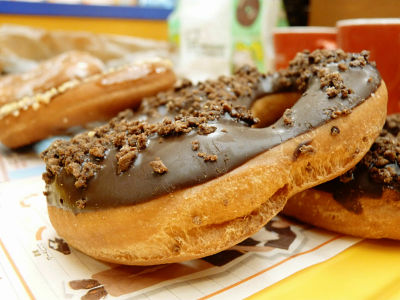 I saw it and tried to see it again.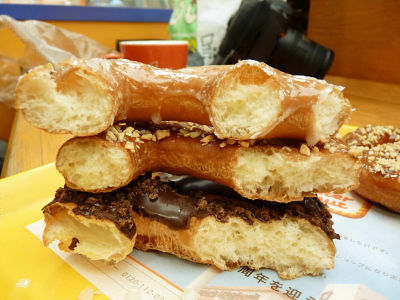 In case of honey. When eating it actually it looks like a sweet honey-like taste as it looks. The glaze with honey is good. Since there is no sweetness on the fabric itself, it will be moderately sweetness in the mouth. However, it is not pretzel-like thing or something, a texture more like "bread" feeling. It is such atmosphere that seems to have enriched the sweet bread with glaze coating of such honey and sugar like this.



In case of maple & almond. The texture and aroma of roasted almonds are very good, the feeling that the fragrance expands at once in the mouth. However, when the slight sweetness of Maple is too faint, when it mixes with the dough in the mouth, it is "to be sweet ......?" So, I'm not good at sweet but maybe it is suitable for those who want to eat this system once.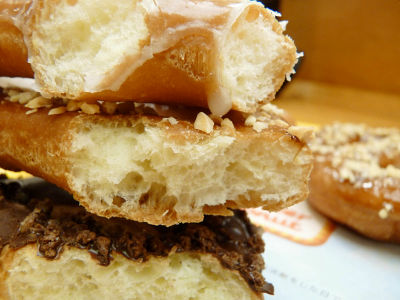 In the case of chocolate & crunch. It is crispy with crunchy toppings on the chocolate coating and it's pretty good. The solid sweetness of the chocolate series was successfully neutralized with the taste of zero sweetness of the dough, and a little rich mochi texture and crunchy's surprise feeling were mixed, which is quite hit. It is a taste that I want to eat another.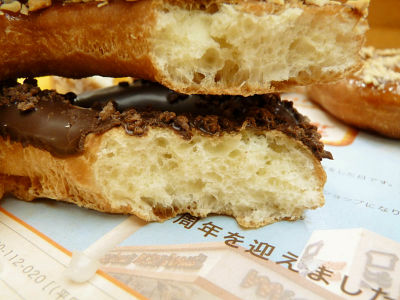 As a whole, all three kinds of "Misudo's drinks all you want with a cup of coffee is impatient" has become a feeling, it seems that it is quite a challenger to eat alone. Personally I imagined something with a more hard texture, but the atmosphere that is similar to the image that I painted or put on each taste on "bread" which is rather tasteless was.

2010/03/29 22:59 Postscript, size is about this.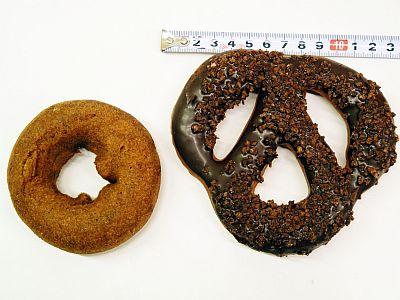 · Continued
"Hokkaido Salt Azuki" "Okinawa Brown Sugar Donut" 2 kinds are Mr. Donut 's limited quantity new product so I ate it