Even with analog TV, Toshiba launches high-performance "REGZA TUNER" capable of recording digital broadcasting on USB external HDD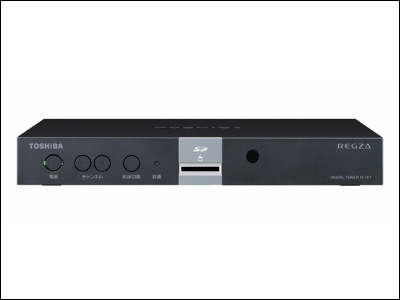 In preparation for the complete transition to terrestrial digital broadcasting approaching on July 24, 2011, while each company is releasing inexpensive simple type terrestrial digital tuner of about 5000 yen, Toshiba pushed high function to the front "REGZA Tuner "was announced.

Since USB external HDD can be connected to multiple units, in addition to being able to record digital broadcasting without worrying about capacity, in addition to carrying super resolution technology to convert SD picture quality video to high definition picture quality, in the future Even when you purchase a terrestrial digital broadcasting compatible television, it has become a Suguremono that you can use as an HDD recorder.

Details are as below.
About the release of a high-function digital high-definition tuner "REGZA TUNER" compatible with external USB hard disk recording and 1Seg recording

According to this release, Toshiba will release a tuner "D-TR1 (Regusa Tuner)" that can support terrestrial digital broadcasting, BS digital broadcasting, 110 degree CS digital broadcasting that can be recorded on a USB external HDD type from late April That's right.

REGZA TUNER will be able to watch digital broadcasting by connecting with the company's LCD TV "REGZA", analog TV, liquid crystal display, etc. It also supports recording reservation and program search from "REGZA Program Guide · Fine".

By using a USB hub, it is said that up to 4 external HDDs can be connected simultaneously and up to 8 HDDs can be registered. Moreover, by installing the SDXC card slot, it is possible to output AVCHD movies and JPEG images shot with video cameras to TVs, as well as one-segment recording to SD memory cards.