Jump SQ. Anime manga serialized on the site "Better and fairly beautiful" became a monograph, Jump SQ. The thickest comic in history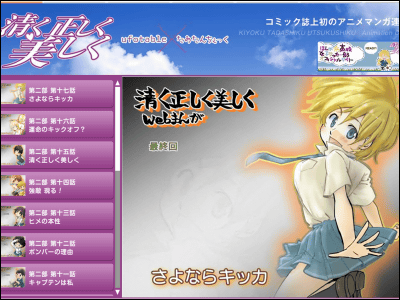 Shueisha'sJump square official websiteComic magazine's first animation manga serialized aboveBe clean and beautiful"Will be converted into a book.Release date is March 4th (Thursday)So, jump SQ. It seems that it will become the most thick paperbook in history.

About the thickness of comic books is almost the same, but what kind of book will it be?

Details are as below.
Amazon.co.jp: Pure and correctly beautiful (jump comics): た た ん ち っ っ く: 本

"Clean and correctly beautiful" is an animation production company that produced "sky boundary" and "Toriko"ufotableIt was serialized in Jump Square from December 2007 to March 2008 by Ettachi which is a comic production team of ufotable. after that,Anime manga on the jump square siteThen, 17 episodes of Part 2 are released.

Animation manga is manga which animates a part by cell division (people and background, etc.) of frames as same as animation. Since manga is still open on the official website, it is easy to understand if you look at it actually.

(Note that sound comes out)Jump square [clean and correctly beautiful] ufotable × た ん ち っ っ っ く

Jump SQ. Although there has not yet been announcement on the site, the book is released on Thursday, March 4 (Thursday). Although the number of pages is not specified, "Machiassobi"According to the ufotable producer Kondo at the talk event" It will be the thickest thing in the book of the jump SQ. " The price is 700 yen.

I am happy with comicizing, but it is a bit disappointing that my animation will become a still picture ....