Free India-born high-function defragmenter software "Puran Defrag Free Edition"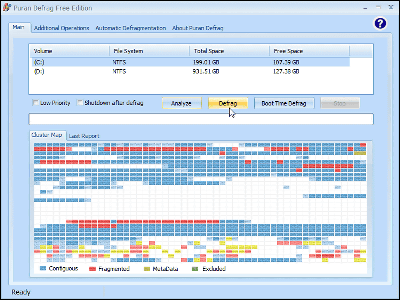 Free defragmenter software compatible with Windows XP / 2003 / Vista / 2008/7 and natively supporting the 64-bit version also supports this "Puran Defrag Free Edition"is. Is a developerPuran SoftwareIs a company located in India, originally this software is "Puran Defrag"It was released in 2007, it is shareware of 19.95 dollars (about 1700 yen) which becomes version 7 this year, but it is regarded as its free version. There is nothing like that because there is something functional restrictions because it is free, but it is quite strong, as it is functionally the same. However, the free version is limited to personal use and non-commercial use.

Functionally fundamentally charged functions can be used as they are, so Puran Intelligent Optimizer, an optimized defragmentation function called PIOZR for short, directory integration for speed increase, free space optimization, automatic defragmentation function, boot time Defragmentation function by defragmentation, support for rebooting and termination after boot time defragmentation, defragmentation by lowering priority that does not become heavy during work, defragmentation by file / folder individually, defragmentation by command line, etc. are possible .

Download and install, the actual usage is as follows.
Puran Defrag Trial Download
http://www.puransoftware.com/Puran-Defrag-Download.html

Go to the above page and click "Download" on the lower side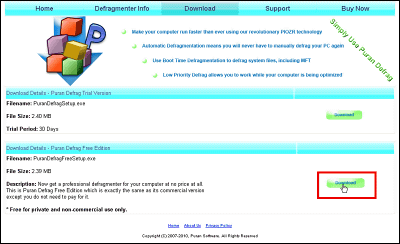 Click to launch the installer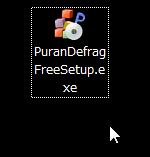 Click "Next"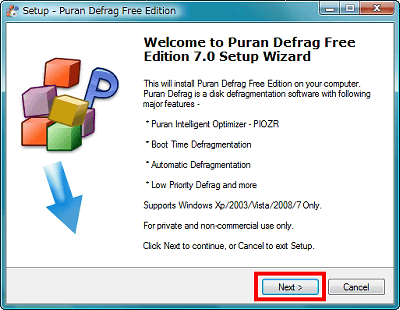 Please check the upper one and click "Next"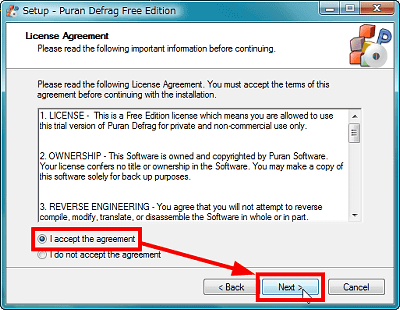 Click "Next"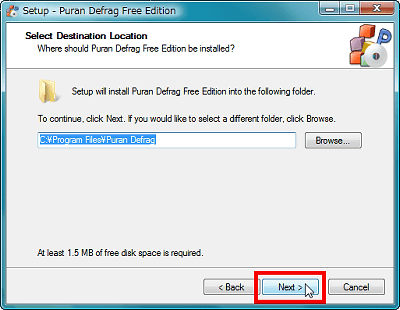 Click "Next"



Click "Next"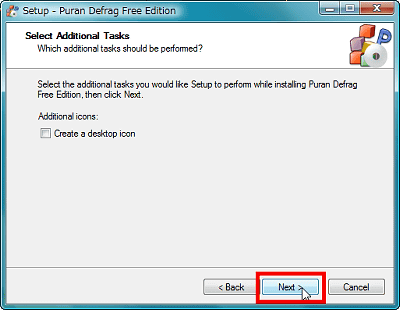 Click "Install"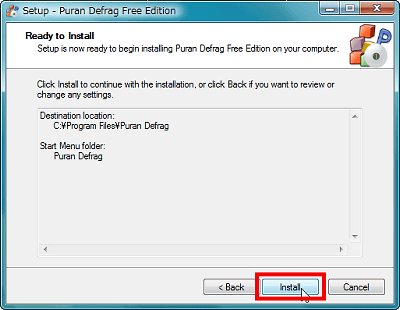 When you click "Finish", "Puran Defrag Free Edition" starts up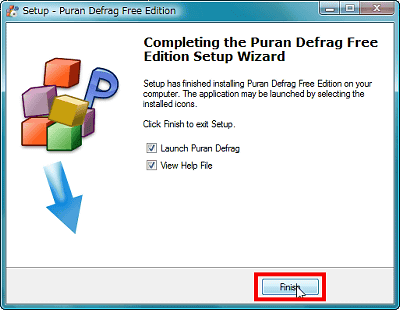 This is the screen right after startup



Select the drive you want to defragment from the list above and click "Analyze" to start analyzing how hard the hard disk is progressing.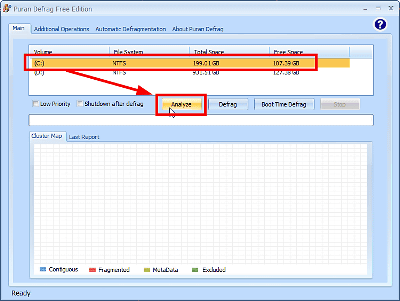 When the analysis is completed, the "Last Report" tab is automatically opened, and the analysis result report is displayed in this way. If you scroll down, you can see what percentage of the whole disk is fragmented.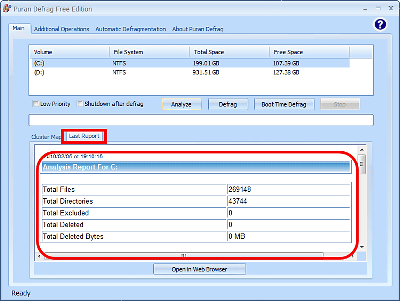 In addition, analysis result is displayed graphically by clicking "Cluster Map" tab. The area where blue is defragmentation unnecessary, the portion where red is fragmented, the yellow is metadata such as MFT, and green is set as excluded from defragment. To start defragmentation click "Defrag" button OK. When shutting down after defragmentation, check "Shutdown after defrag" and if you are working with a personal computer even during defragmentation, please check "Low Priority" to lower defragmentation priority. I will just leave it until the end.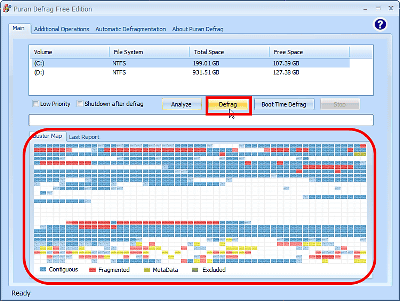 Also, by clicking the "Boot Time Defrag" button, defragmentation of files that Windows is using and can not be defragmented, that is, "boot time defragmentation" becomes possible. It starts from the top, restarts, restarts, restarts, restarts, performs boot time defragmentation, shuts down, restarts, performs boot time defragmentation, restarts and restarts Disk check, boot time defragmentation after rebooting, and last 4 disc patterns can be selected from disk checking and shutdown.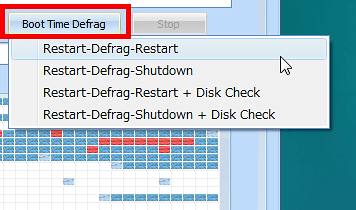 In addition, various settings are possible from "Additional Operations" tab. From top to bottom, fill the gaps between files to prevent fragmentation, optimize directory placement to increase system access speed, leave a faster area of ​​the disk for Windows temporary file storage, Use PIOZR to boost the entire system to speed up, specify files and folders to be excluded from defragmentation, do not defrag files of specified file size, add defragmentation menu to right click, defragment before defragmentation Delete the files in the list, and so on.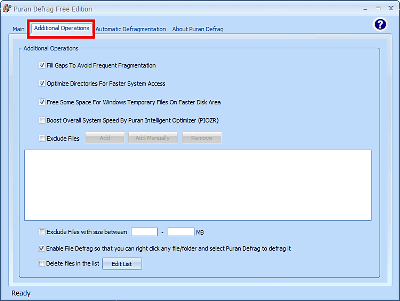 If you want to schedule the defragmentation automatically automatically, click the "Automatic Defragmentation" tab and click "Add".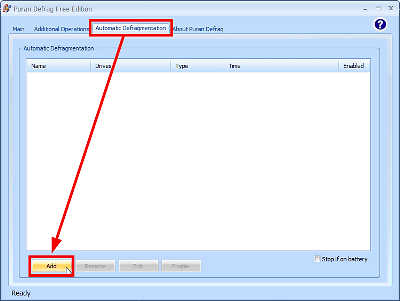 If you put a check in the above, it will be normal defragmentation, if you check below, it is boot time defragmentation. Select either and click "Next".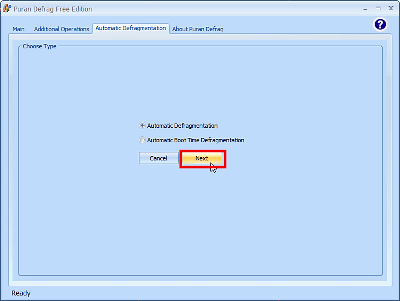 Check the drive to be defragmented, select what type of defragmentation to perform, then select the schedule of defragmentation.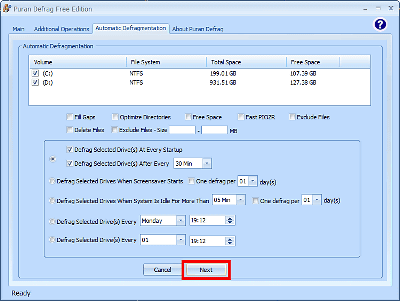 Finally append the name appropriately and make it easy to understand and click "Finish" to complete the reservation.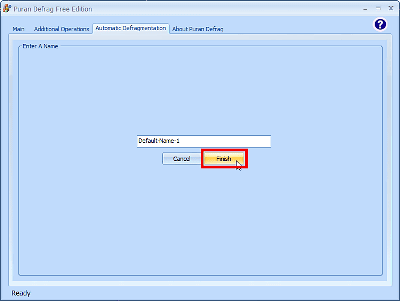 Automatic execution was reserved in this way. To delete it, click "Remove" and it is OK.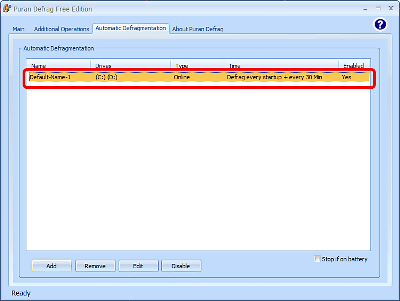 You can also defragment each file or folder, select the file or folder you want to defrag and right click and choose "Puran Defrag", only that selection will automatically be defragmented.