Free defragmentation software "Auslogics Disk Defrag" that processes fragmentation with explosive speed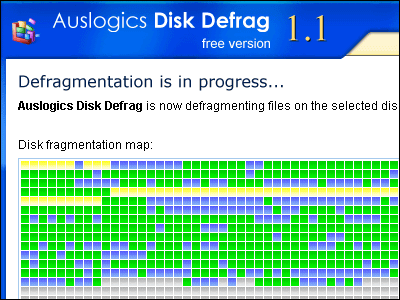 "Auslogics Disk Defrag"Is a free defragmenter software compatible with Windows 2000, 2003, XP, Vista with its own engine, that features will defragment at any rate of explosion anyway. We are collecting all the files at the beginning and doing nothing extra such as ...... and specializing in defragmenting fragmented files anyway. Therefore, it is suitable for large capacity hard disk drive. Also, the amount of memory used during execution is extremely small.

A report such as the time it took and the% speed improvement was displayed properly after the proper completion, so I actually installed and tried it with 4 hard disks.

Disk Defrag - Reclaim the Speed ​​Of Your Disks
http://www.auslogics.com/disk-defrag/index.php

Download from below.

Window Forever - Auslogics Disk Defrag

People who actually used it are on the download site of the overseas people, but the point that it operates at high speed is highly appreciated.

Auslogics Disk Defrag - Review and free downloads at Download.com

Click on the installer to download it, click "Next"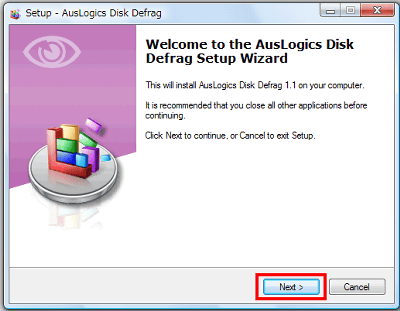 Click "Next"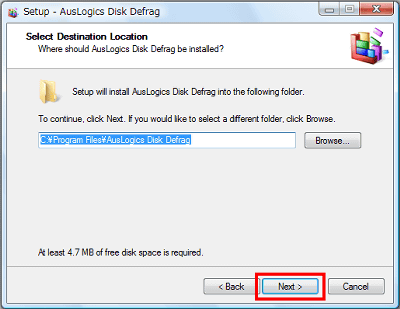 Click "Next"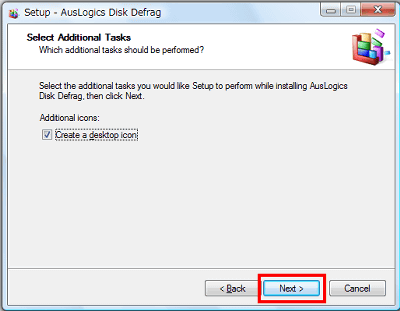 Click "Finish" to automatically start up



Select the drive you want to defrag and click "Next". This time I tried it with D drive of PC with Windows Vista installed, total capacity 147.94 GB, free capacity 110.89 GB.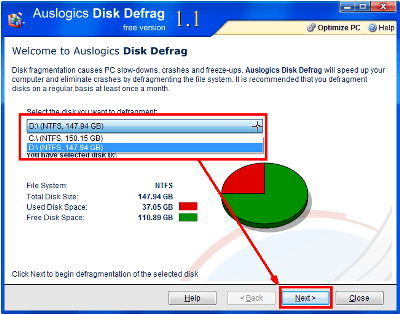 Defragmenting. The total number of files, the number of fragmented files, the number of defragmented files, and the number of skipped files are displayed in real time.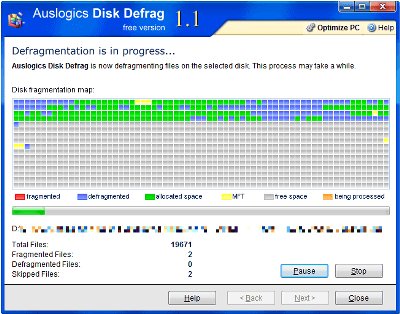 Completion in no time. Apparently there were only two fragmented files, and both were locked and seem to have been skipped. Click "Display Report" to display more detailed report.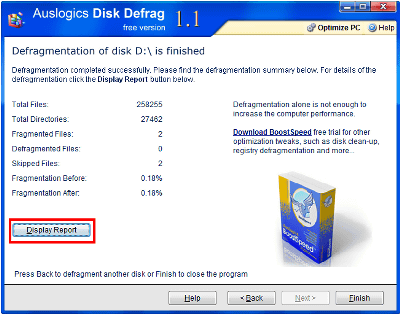 Like this. It took 4 minutes 48 seconds.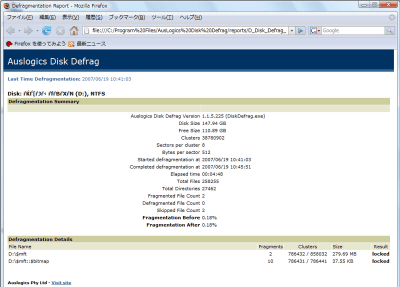 I did not know how fast this was, so I also tried it on the second PC, the C drive of the laptop with Windows XP SP2. It has a total capacity of 15.24 GB and free capacity of 3.35 GB.

Defragmenting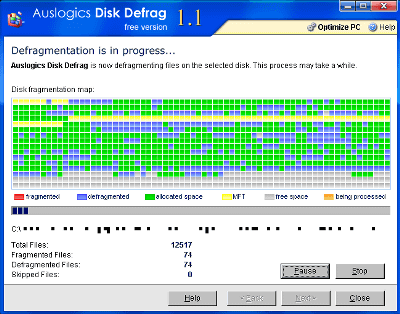 Complete. It seems that it was speeded up by about 4%.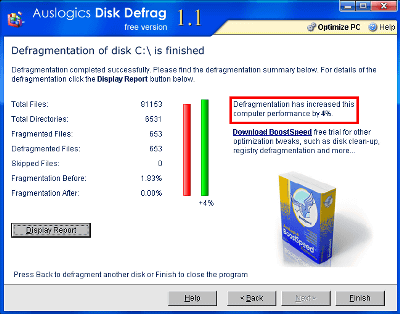 The number of fragmented files was 653 and all defragmented. Before defragmentation, 1.83% of the total was fragmented, but now it is 0%. It took 7 minutes 33 seconds. It is still fast.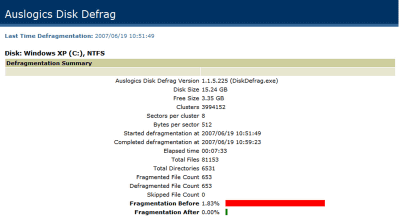 I tried even on the D drive of the notebook PC equipped with the third Windows XP SP 2 in further condition. It has a total capacity of 85.41 GB and a free capacity of 65.16 GB.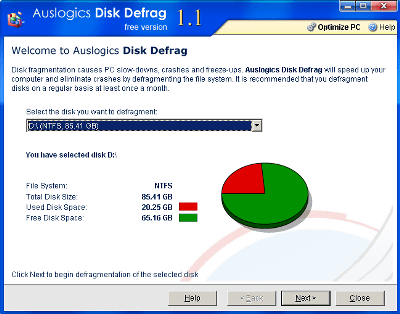 During defragmentation ...... After thinking carefully it has not defragmented since bought, so it takes time indeed.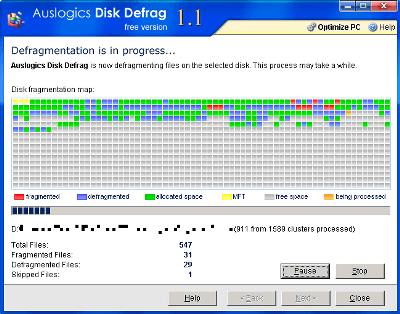 finished. Oh! It seems that the speed has been increased by 8%.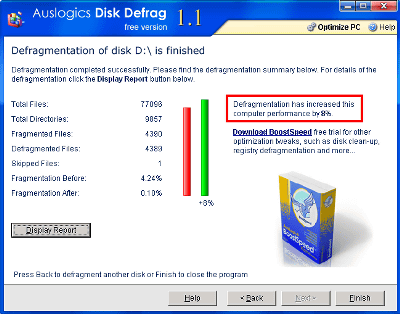 There are 4390 fragmented files in all, defragmenting 4389 of them. It seems that 4.24% of the whole was fragmented, but it was reduced to 0.10% by defragmentation. It took 21 minutes 32 seconds.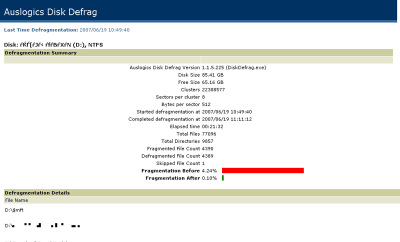 And last time, I tried it with the laptop with Windows XP SP 2 with the hotest and heavily overworked in GIGAZINE editorial department.

The free capacity of C drive is only 1%, normal defragmenter software does not move due to lack of free space.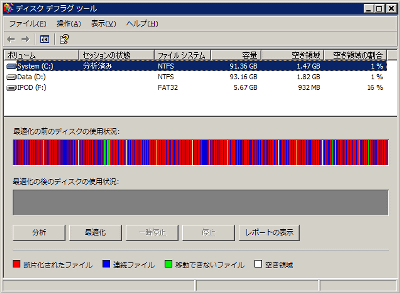 D drive is also terrible, still only 1% free space.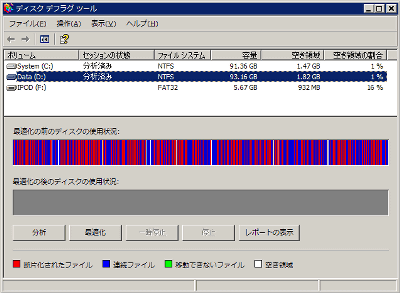 So, I decided to defragment this terrible C drive. The total capacity is 91.36 GB, among which 89.82 GB is used, and the free space is only 1.53 GB ......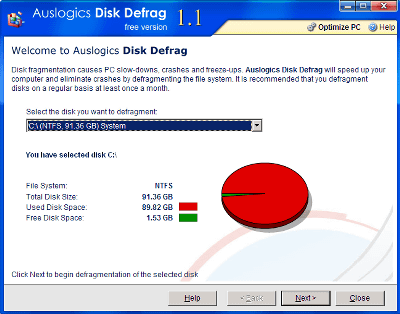 Oops, as soon as I started defragmenting something dialogue ... ... apparently 15% of free space seems to be needed actually. Please ignore and click "OK" to force defragmentation.



It seems that it has moved for a while though it has become somehow incredible.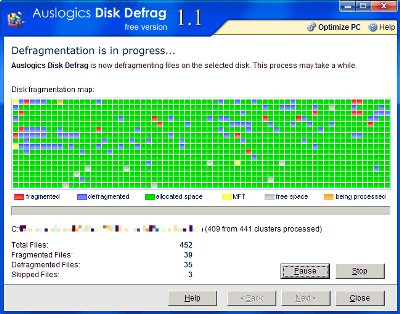 To some extent the progress screen is awful ... ...



finished. 5% improvement. The number of files fragmented was 15,672, of which the number of defragmented files was 12,644, 3028 were skipped. Before defragmentation, 61.44% was fragmented, but it was improved to 59.26% after defragmentation ... ... It seems that fragmentation of large files could not be resolved because the free space is small.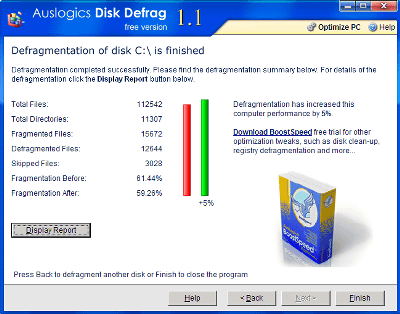 It took 1 hour 59 minutes. Even a free space close to such an extreme will move for the time being, as expected it will do its own engine ... ....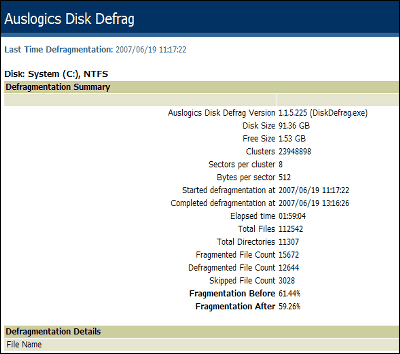 So, it seems to be necessary for free space as well, but in addition to moving at a fairly high speed, since the speed increase which can be experienced is actually occurring, people who do not normally defragment from usual times If it is a large capacity HDD owner, I think that it is very convenient to use. In addition to that it is free free software, so it's quite recommended.