"EVANGELION 2010 Calendar" on sale at Lotteria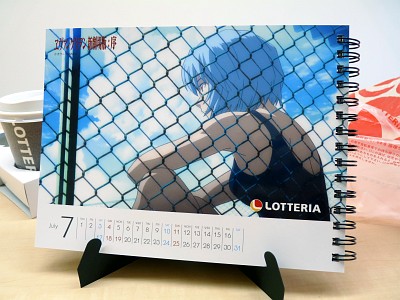 Some of you must have started hunting for next year's calendar, and we thought this one will surely please anime fans and make a nice souvenir if you're visiting Japan sometime soon.

Japanese burger chain Lotteria, who's been collaborating with Evangelion time and again (as you may recall the original bottle and coaster) has released a gorgeous desktop calendar for 2010 featuring the movies Evangelion: 1.0 You Are (Not) Alone and Evangelion: 2.0 You Can (Not) Advance on November 19.

The calendar of each month have two sides (Evangelion: 1.0 and Evangelion: 2.0) so you'll get 24 beautiful illustraions in all.

Pics after the cut!
The calendar is priced at 1,000 yen (about $11) with a free drink. You can choose from beverages that usually cost up to 240 yen so the calendar itself costs about $8.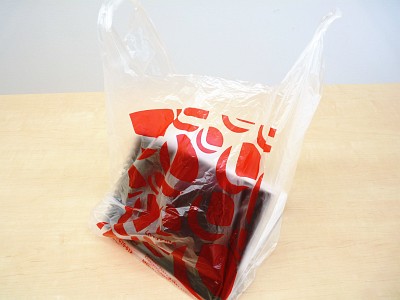 The calendar's wrapped in plastic so it's safe to carry home with your cup.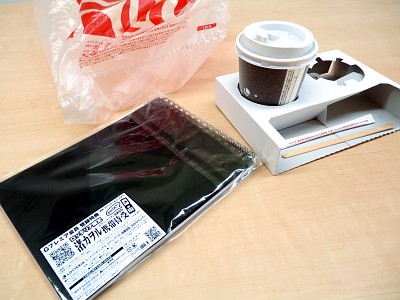 There's a chance to download a Kaworu Nagisa wallpaper if you own a cellphone in Japan.


The front cover has Evangelion 2.0 logo. 20cm×15cm (about 8"×6")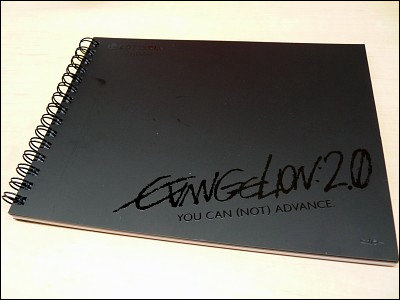 Discreetly printed Lotteria's logo.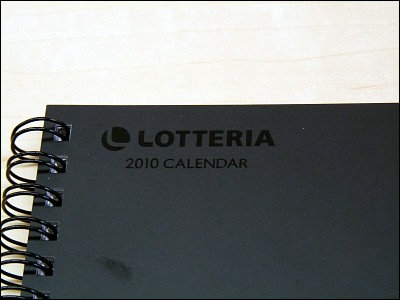 Evangelion 1.0 logo on the flip side.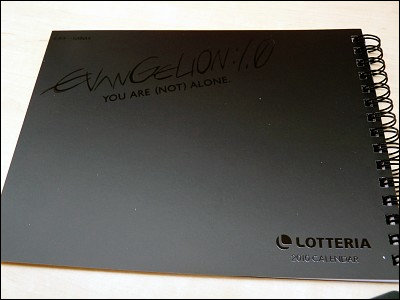 Opening from the 2.0 side. The papges are glossy like photo prints and the illustrations are printed beautifully. Doesn't look too cheap.


We ordered a cup of coffee for the free drink, by the way.


Stand the calendar on your desk by this little easel.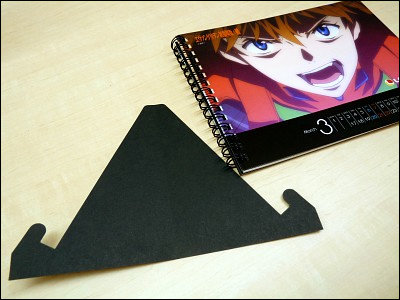 The side with white calendar features Evangelion 1.0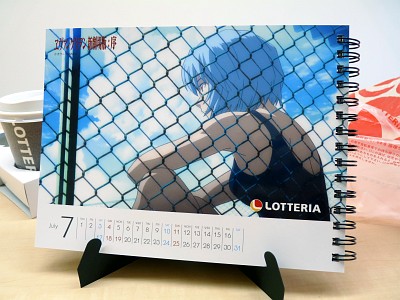 Black ones are 2.0 version.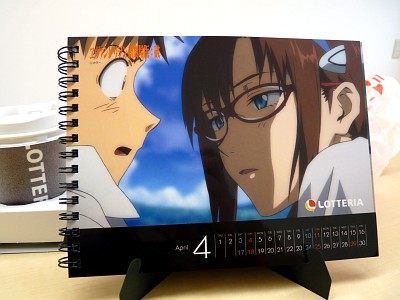 Flipped open, it'll show the calendar of current month in 1.0 and next month in 2.0.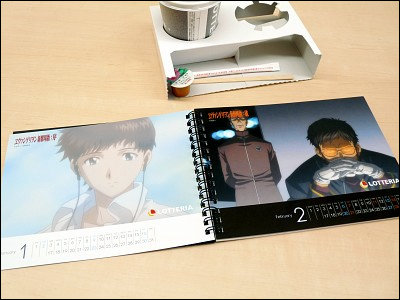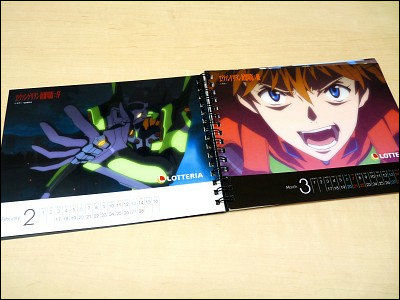 Sachiel, Shinji Ikari and Mari Illustrious Makinami.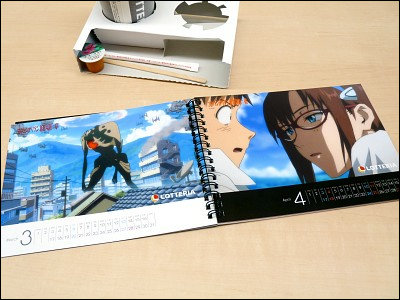 Unit-00 and Rei Ayanami.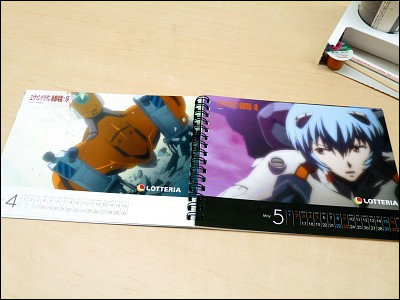 Misato Katsuragi and Shinji.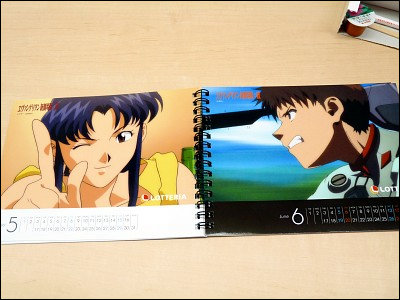 Unit-01 and Unit-02.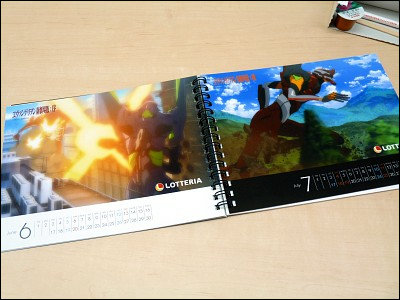 Rei Ayanami and Unit-01.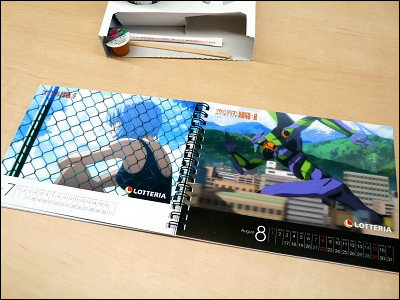 Ramiel and Misato.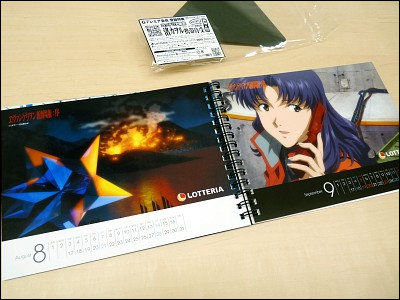 Rei Ayanami and Unit-03.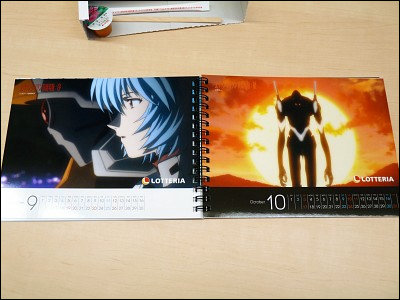 Shinji and Mari.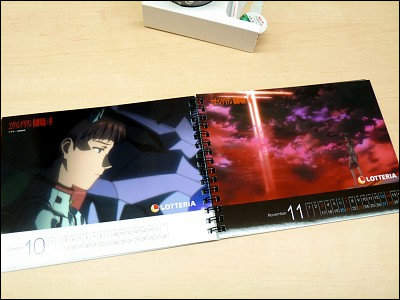 Tokyo-3 and Kaworu Nagisa.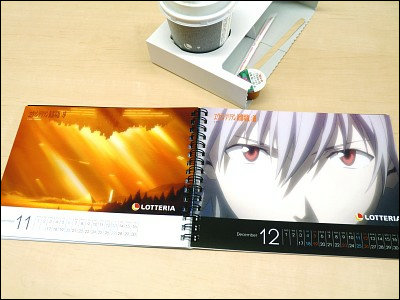 The moon giant. From here on it'll be a 20-sheet note pad.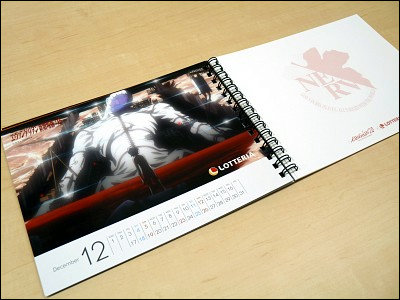 Poster at our local Lotteria.

in Anime, Posted by darkhorse_log