It was discovered that Mos Burger plays a super-discount burger of around 100 yen for the first time in about 30 years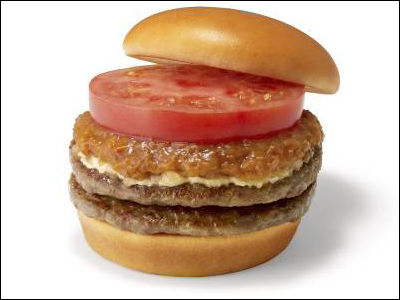 Last November "Counter against McDonald's? Mos Burger releases new low-priced products"It was thought that it would be suppressed to 200 yen by saying that, so it was announced today that it will become a more challenging price of 100 yen range.

By the way, it is the first time since 1985 to sell a burger of 100 yen range, but selling the burger products with a selling price of 160 yen as "Mos Burger" is what it will be since 1980 (150 yen / tax) The pretty big expectation is "(tentative name) new hamburger" (160 yen) and "(tentative name) new cheeseburger" (190 yen). All prices are tax inclusive. By the way, the picture above is "W (Double) Mos Burger" which was announced together this time.

What kind of hamburger will be, the details to worry about from below.
Expanding price range of hamburgers products against the background of diversification of customers(PDF file)
"Superb Hamburger Sand Tomato & Lettuce" "Newbie Hamburger Sand Lettuce" Released(PDF file)

These "(temporary name) new hamburgers" and "(tentative name) new cheeseburger" are low-priced new products that will replace the current simplest "hamburgers" and "cheeseburger". It is said to use a dedicated patty which made the weight to about three quarters, compared with the patties of regular hamburger products.

The release date is early July, it is said to be released at the Mos Burger store nationwide (some stores excluded). The photos and images are not yet announced, but it is a very worrisome point.

In addition, the following three price ranges are announced in this announcement.

"Volume zone", upper price (390 yen ~): honey burger sand, W Patty series
"Regular zone", medium price (conventional product): Mos burger, Teriyaki burger etc.
"Light zone", low price (~ 190 yen): New hamburgers, new cheeseburger

This is the "Volume Zone" and this is the W Patty series that appeared. It is on sale from March 24 (Tue).

This is "W (double) Mos Burger"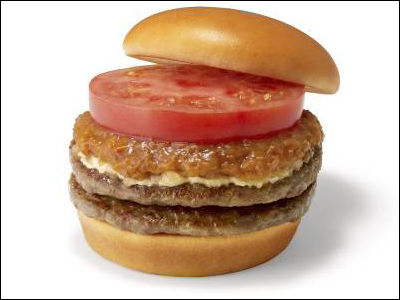 The price is as follows with tax included.

W (double) Mos burger: 440 yen
W (double) Moss Cheese Burger: 470 yen
W (double) Teriyaki burger: 440 yen
W (double) Thousand vegetable burger: 440 yen
W (double) hamburgers: 340 yen
W (double) Cheeseburger: 370 yen

In addition, this "volume zone" that appeared newly appeared "exquisite hamburger sand tomato & lettuce" and "exquisite hamburger sandwich lettuce". This is also on sale from March 24 (Tue).

This is "exceptional hamburger sand tomato & lettuce", 420 yen including tax.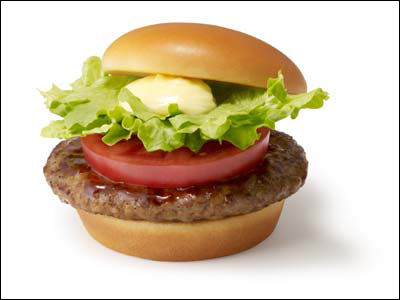 And this is "hamburger sand lettuce", 390 yen including tax.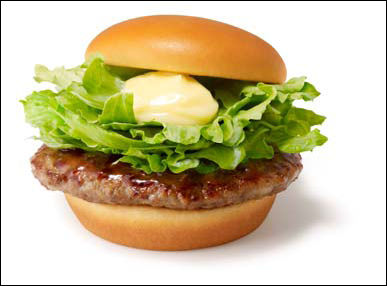 The Japanese-style sauce is based on raw soy sauce which is hard to circulate on the market (Nara Soy Sauce: fragrant soy sauce which did not perform sterilization by burning in the manufacturing process at all, it was sterilized by filtration equivalent to burning) and based on beverages It is said that domestic grape vinegar made for use ("mild fruit vinegar of taste close to" balsamic vinegar ") is used as a sauce.
※ The PDF file of release does not bother "why" but "bamboo ice cream" is all the way to go birth

I feel I am starting to seriously start somewhat, but what will happen? Whether we can regain former glory, it is great expectation.