"This is Moss's premium." Mos Burger has confidently recommend "Recommended Hamburger Sand" masterpiece bacon "I've been eating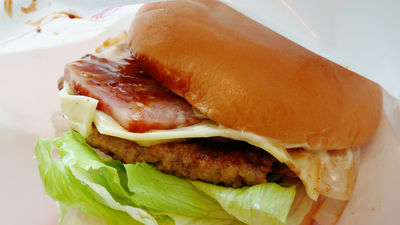 Born in 2008, Moss' s exquisite hamburger sand series, where various variations have appeared so far. Its latest work "Exquisite hamburger sand "masterpiece bacon""Was newly added to the menu of Moss on Tuesday, December 8, 2015. Speaking of the "hilarious hamburger sand" series "Bistro-style mushroom sauce"Or"Grilled tomato & cheese demi"Hamburger with themes of various ingredients such as hamburger has appeared, but this time there was a premium bacon that entered" masterpiece bacon "premium bacon which finished pork used for raw ham according to Japanese taste caught It was said that it was BLT, so on the same day released "Morning Morning Burger Roast Chicken Yuzu FlavorWe ate together with it.

Exceptional Hamburger Sand | Moss Burger Official Site
http://mos.jp/cp/tobikiri/

Morning Morning Burger Roast Chicken Yuzu Flavor | Morning Morning Moss | Moss Burger Official Site
http://mos.jp/menu/detail/121042/12/

That's why I came to Mos Burger at once.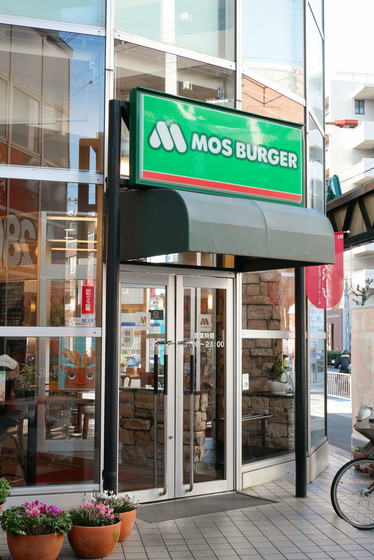 Inside the store signboards ......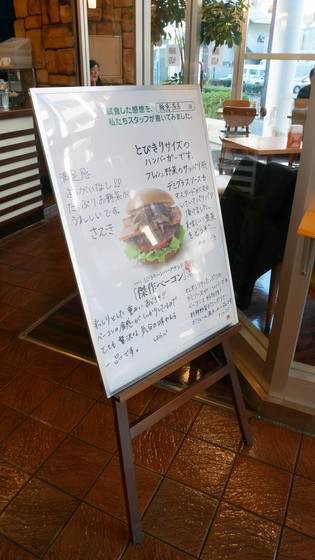 In the menu on the cash register, I advertised "honorable hamburger sand" masterpiece bacon ".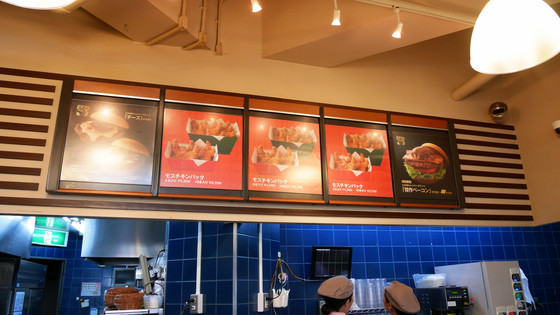 That's why I ordered sliced ​​cheese of "honorable hamburg sand" masterpiece bacon "and" Morning burger roast chicken yuzu flavor ".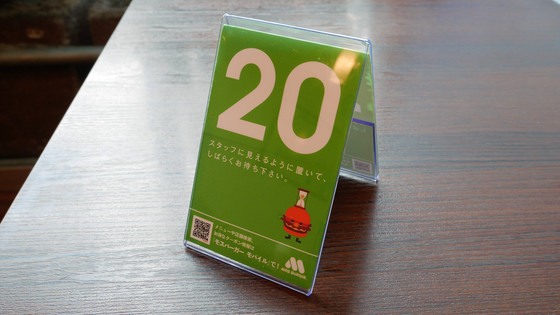 Waiting The goods arrived in 6 or 7 minutes.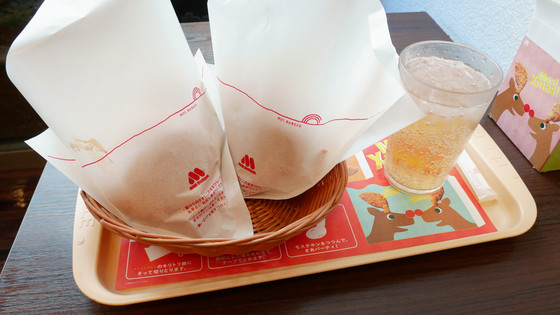 This is "Honorable hamburger sand" masterpiece bacon ". As the hamburger has already begun to collapse at the time of being offered, it can be seen that if you take it out of the wrapping paper you can not eat it properly.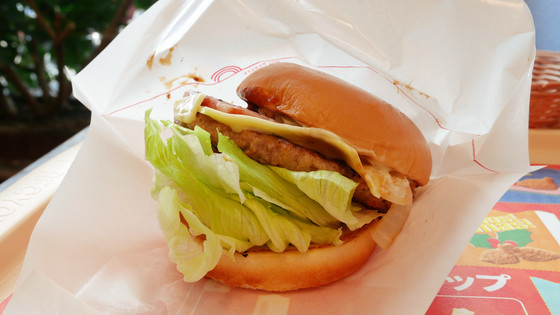 Under the buns are bacon, cheese, domestic tatami hamburger lettuce sandwiched ... ...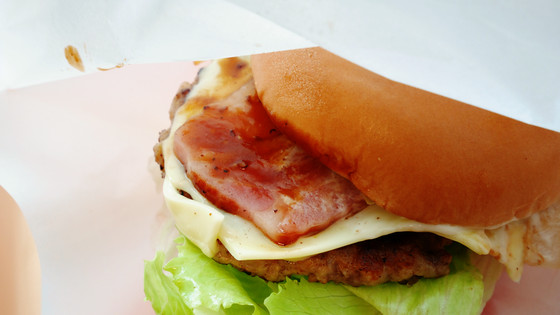 Between lettuce and hamburger steamed sliced ​​tomatoes are seen as chirred.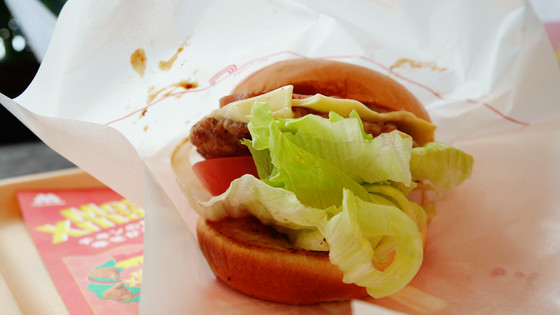 When lifting the buns, you can see Demi Mustard Sauce, Onion Saute and Mayonnaise between Bacon and Buns.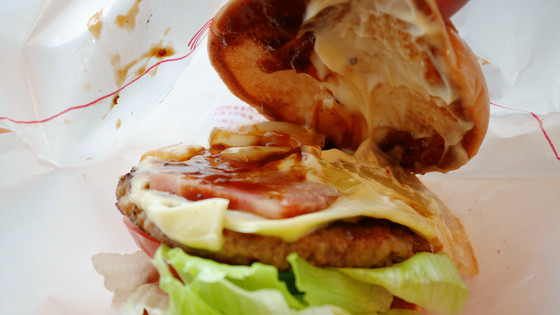 The collapsed hamburger is half the height of the iPhone 6.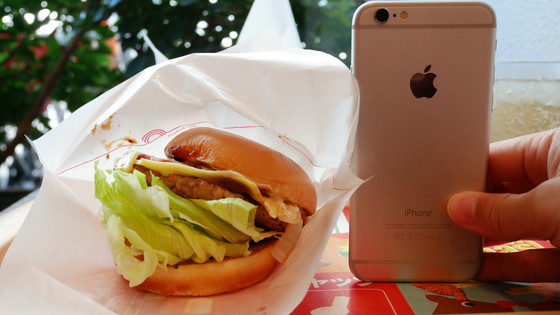 Morimori's lettuce is characteristic when it is held in hand.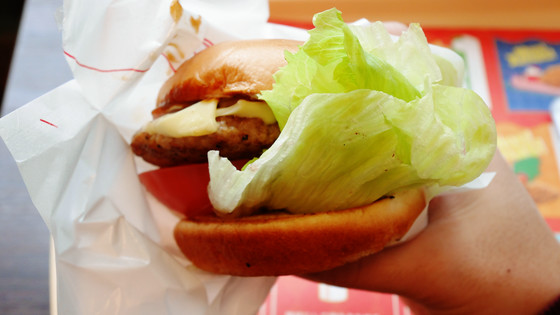 When eating it actually, the mouth and smell of bacon widens to the mouth at the moment of bumping. Bacon which looked like ordinary size showed its presence as much as there are plentiful ingredients such as Morimori's lettuce, thickly cut tomatoes, patty with domestic beef and pork, plenty of demi mustard sauce etc. To be honest I am surprised. The compatibility of bacon and shakiyaki lettuce and fresh sliced ​​tomato is quite satisfactory, and it seems that hamburger supplements juicyness which seems to be unsatisfactory only with bacon. I have plenty of demi mustard sauce and mayonnaise, but the flavor of bacon can be felt firmly without losing these. Also, since bacon can easily be chewed, it will not happen that only bacon comes out of the slus and buns while eating. However, as a hamburger, it is possible to enter a category that is hard to eat honestly as it has plenty of ingredients.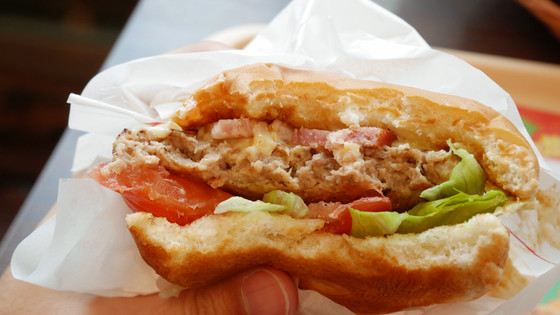 Also, it is regrettable that Demi mustard sauce and onion saute spill from hamburger steadily and accumulate at the bottom of the wrapping paper. However, even if Demi Mustard sauce or mayonnaise gathers at the bottom of the packet, it will only make you feel stronger the salty and aroma of bacon so it is a great ant. In addition, sliced ​​cheese adds richness, but impression that you can enjoy enough even with ants or pears. If you want to add rich flavor, it seems good to ask for sliced ​​cheese.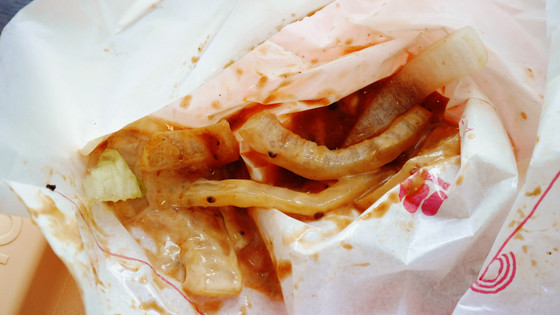 And this is "Morning Morning Burger Roast Chicken Yuzu Flavor".



Below the buns mayonnaise and lettuce ......



In addition, sliced ​​tomato, onion sliced ​​roasted chicken. The red paste on roast chicken is ketchup.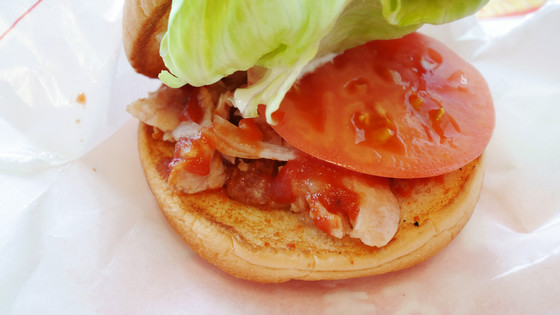 Gabri brought here also in hand.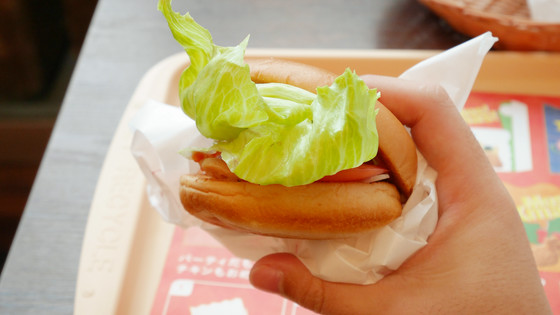 I thought "Roast chicken from the morning", but since there are few vegetables and chicken fatty, it can be eaten with a sense like a salad sandwich. From the chicken you can feel the aroma of tightly but the main flavor of the burger is tomato ketchup so the overall taste is quite sweet. Although it says that it smells of yuzu, I felt it as a whole to the taste for children.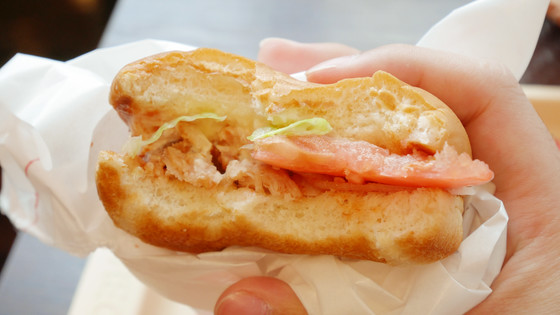 "Limited hamburger sand" masterpiece bacon "is limited-time sale, 550 yen without sliced ​​cheese, 580 yen separately with sliced ​​cheese. "Morning Morning Burger Roast Chicken Yuzu Flavor" is a single item of 270 yen, but since it is a morning morning menu, it is offered until 10:30 in the morning.