"CodecInstaller" free software that can download and install necessary codecs for movies that can not be played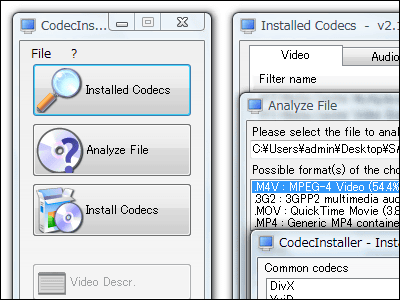 There is a movie like a mountain on the net, but there are things like "How can we play this file together?" In such a case, "for reproduction"CodecAlthough installing should be installed, there are cases where you do not know which codec should be installed.

In such a case it is useful for this free software "CodecInstaller"is. It is possible to analyze the movie file to identify the required codec or to list the codecs already installed in your PC and to download and update the version if you need to upgrade the version It is. It is a bit of a matter of installing the whole package that gathers common codecs, so it's for people who wants to know exactly what codecs to install themselves.

Download and install, the actual usage is as follows.
CodecInstaller - audio and video codecs analysis tool. Install common codecs.
http://www.jockersoft.com/english/codecinstaller.php

Click the full package from the above page to download it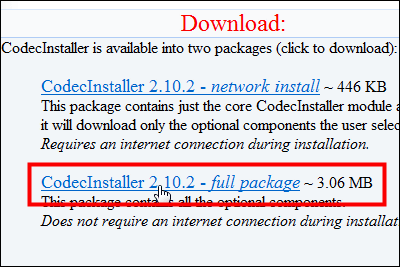 Click on the downloaded installer to run




Click "Next"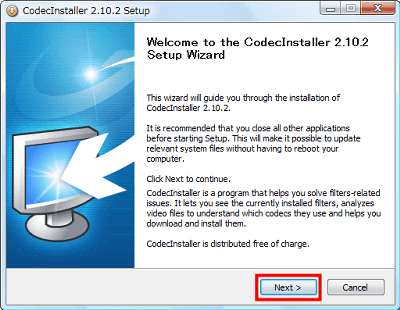 Insert the chuck and click "Next"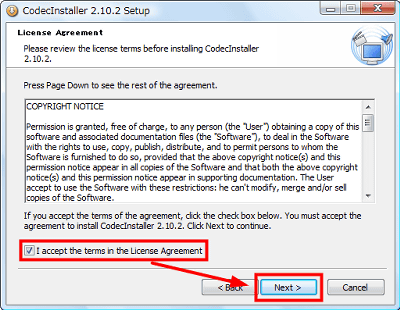 Click "Next"



Please uncheck and click "Install"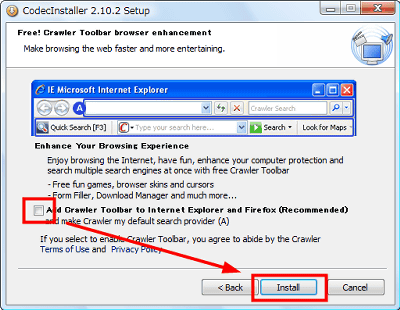 Click "Finish" to automatically start up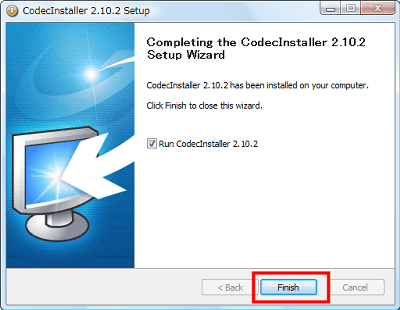 This is the initial screen. From top to bottom, it examines the codec installed in the PC, analyzes the codec used in the file, checks and downloads the codec update.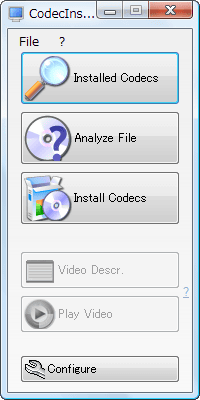 First, click "Installed Codecs" at the top and check the codec list in your PC. It can be roughly divided into two categories, video codec and audio codec.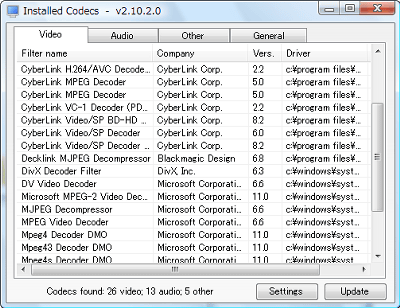 If another codec has priority over why the codec is installed, select the filter name for the codec you want to use and click "Settings"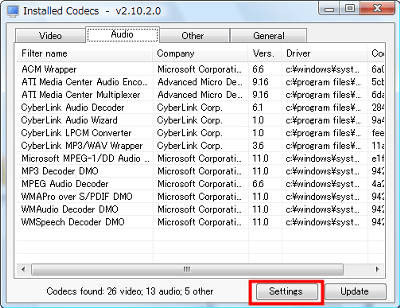 Then you can set the merit value in this way




Depending on the merit value, you can choose whether or not to use the filter for that codec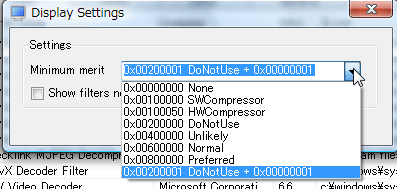 Next, let's analyze the codec used in the file. Click the button at the upper right of this window that appears after clicking the second "Analyze File" from the top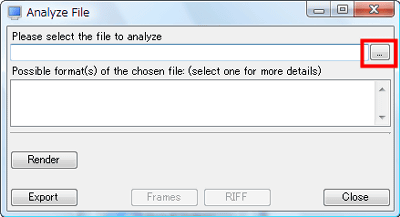 Please select a file you do not know what codec is used and click "Open"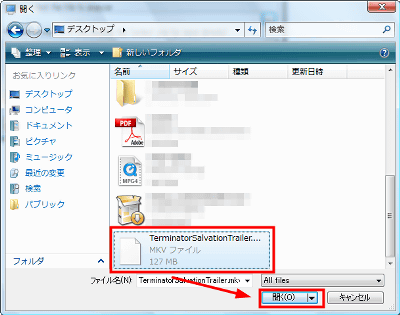 As the percentage of what the probability that the codec is likely to be used in the middle is displayed, please click "Render" after selecting it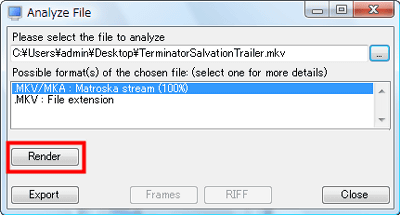 If you say "Can not play the file", it means that the codec necessary for playback is not installed on your PC. Apparently it seems to require "Matroska". Click "Close" to close it.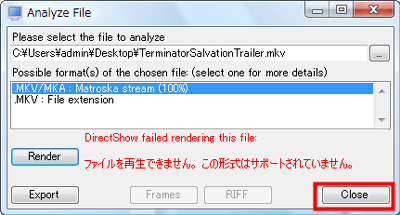 For example if this is another renewable file.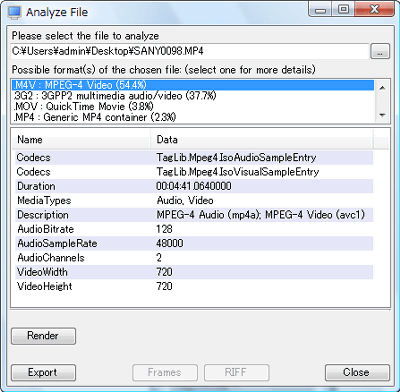 Clicking "Render" will show you which filter of each codec is used for playback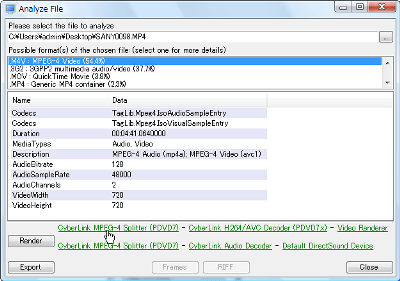 Click for further checking possible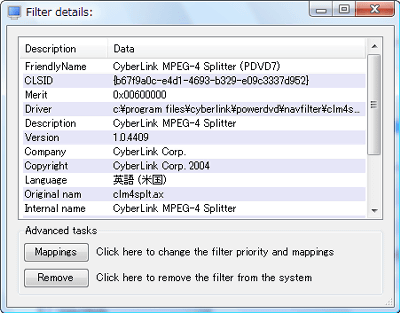 By clicking "Mappings" in the previous window, you can change the merit value and remove the media type.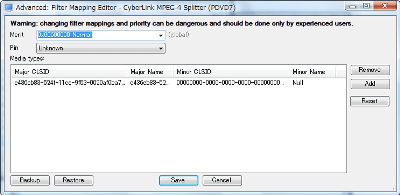 Click "Install Codecs" to download codecs that are not installed. A list of representative codecs is lined up, and if "Installed" is checked, it has already been installed.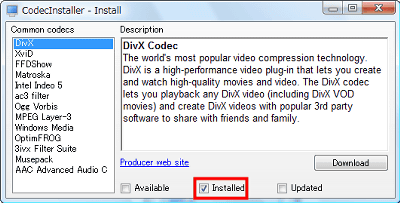 Since it is already known that "Matroska" is not installed this time, when I clicked "Matroska", nothing is checked. Click "Download" to get it.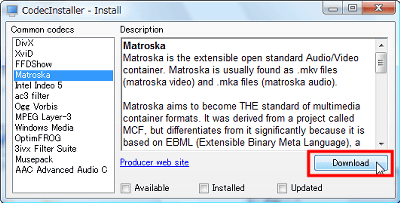 As the page for download is automatically opened in the browser, click "click here", you can download the codec installer.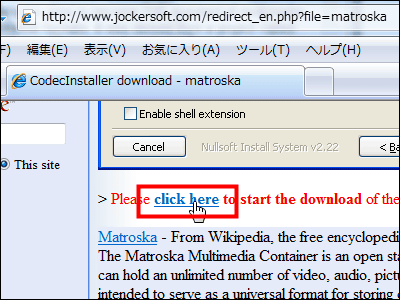 Although it is free software, it is strictly "Donation wear"It seems that it will be nice to make a donation.