"EeePC 901" disappears from a major consumer electronics retailer, is the harbinger of a more advanced successor model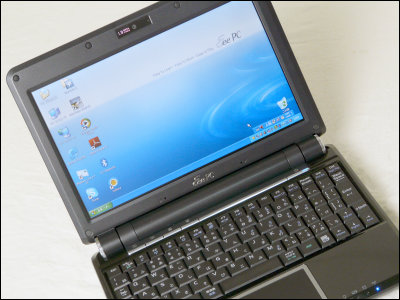 In addition to Intel's Atom processor, 1 GB memory, 12 GB SSD, 1.3 Megapixel WEB camera, Bluetooth, IEEE 802.11 n compatible wireless LAN is also carried and it has low Despite price"EeePC 901" that can be used as a highly functional mobile machineHas disappeared from the online shops of major electronics mass merchants.

BeforeThe number of arrivals in the game shop has drastically decreased, and the new PS 3 has appeared after inventory disappearedConsidering it, it may be thought that it is a harbinger that a successor model with higher function appears.

Details are as follows.
As of 12:20 on November 12, "EeePC 901" is out of stock with the Yodobashi camera's online store "Yodobashi · dot · com", Bic camera's "Bic camera .com", Sofmap's "sofmap.com" etc.

ASUSTeK EeePC 901 - X (Pearl White): Yodobashi · dot · com

ASUSTeK EeePC 901-X (Fine Ebony): Yodobashi · dot · com

Netbook PC: Bic camera. Com

Notebook ASUS Product List No 1 | sofmap.com

It seems that only "EeePC 901" has disappeared in Yamada Denki and Kojima online shops.

Yamada Denki WEB.COM ASUS

Challenge to the world's best Kojima - Shop online - PC - Ultra mobile PC (Mini PC)

With this, nearly all major electronics stores sell "EeePC 901" inventory is lost, is this just temporarily out of inventory?

The first generationEeePC"And adopted Celeron M for CPU"EeePC 900"The display became large with the price unchanged"EeePC 1000", And the thin type"EeePC S101"EeePC901" other products have remained sold unchanged and that we mentioned earlierA story that a new EeePC with dual-core Atom and touch screen may appear in the beginning of next year, There is a possibility that a successor model of "EeePC 901", which is more sophisticated, will appear in the near future.