Toshiba 's low price notebook computer "NB 100" began selling early nearly 20,000 yen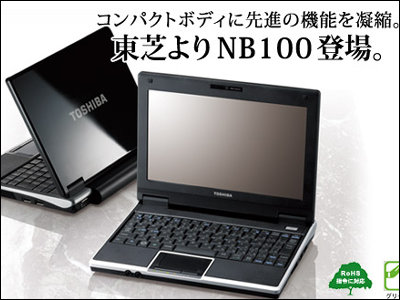 It was released from Toshiba against ASUS's "EeePC" and others, which is causing a major boomLow-priced laptop computer "NB 100" for domestic manufacturer's first, But it became clear that the price has fallen sharply early.

Although it was originally domestically produced and it was slightly expensive, it has fallen to the price that can sufficiently compete with overseas manufacturer's low price laptops.

Details are as follows.
Price .com - Toshiba NB 100 PANB 100NL Price comparison

Major price comparison site "Price .com"As of 13:30 on November 4," NB 100 "is sold for 56,610 yen.

The price fluctuation graph looks something like this. From the mid-70,000 yen in early October when reservation reception started, the price dropped down to 60,000 yen or less in one month. This is a tremendous falling price.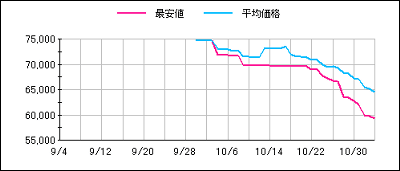 Also, at Yamada Denki's online shop, since it is sold for 17% of points (11,66 points) reduction of 59,800 yen, it is actually 50,000 yen less.

Notebook computer dynabook NB 100 Toshiba PANB 100 NL (TOSHIBA: Yamada Denki WEB.COM

It features 8.9-inch Clear Super View liquid crystal (1024 x 600) which adopted Intel's Atom processor N270 (1.6 GHz), 1 GB memory, 120 GB HDD, LED light, wireless LAN, Bluetooth Ver.2.1 + EDR, Considering that it is a low-priced laptop computer of a domestic production model that held a basic, firmly equipped with a million pixel camera, a microphone, a stereo speaker, I feel that it is a bargain.