Cheap and stylish "Aspire one" than "EeePC 901" cuts prices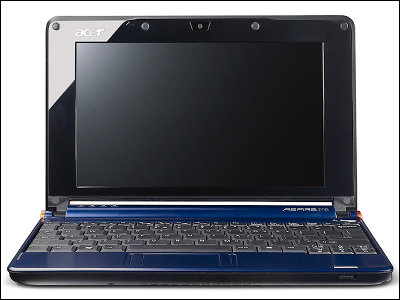 Acer 's low - priced laptop "Aspire one", which is also on sale in Japan since August 23, has been revealed to fall.

On the functional side "EeePC 901In addition to being inaccessible, it has become a stylish design "Aspire oneIs it possible for EeePC to become a powerful competitor though price reduction?

Details are as follows.
Netbook Prices Are Now Falling - Bits - Technology - New York Times Blog

According to this article, Acer selling "Aspire one" announced that it will cut down both Windows XP and Linux models in the American market.

With this, the Windows XP model currently being sold for 399 dollars (about 44,800 yen) is $ 349 (about 38,800 yen), the Linux model is $ 379 (about 41,600 yen) is $ 329 (about 3 It is said to be 6100 yen).

Currently in Japan "EeePC 901" is sold for 59,800 yen, "Aspire one" is sold for 54,800 yen, but can we expect further price cuts by this price cut?

Although it is the spec of "Aspire one" which is worrisome, it carries Intel's Atom processor N270 (1.6 GHz), 1 GB memory, 120 GB HDD, 300 thousand pixel camera, multi card slot, stereo speaker, etc., OS Is Windows XP Home Edition.

In addition, since the battery driving time is about 3 hours with the standard battery, although it gets closer in terms of mobile performance compared with "EeePC 901" which drives for 8.3 hours, it is sufficient performance as a compact note that can be used easily It is.