A chart comparing the average price of condom in major cities in the world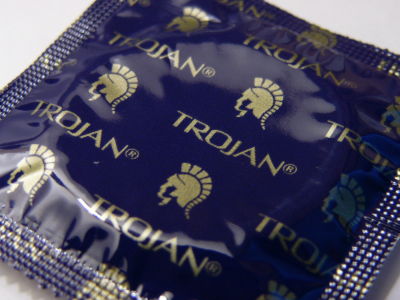 There seems to be a graph comparing the average price of 12 condom in major cities of the world. In Japan, there are things that cost less than 1000 yen for cheap ones and those with more than 6000 yen for high items, but how much is the average price in major cities of the world?

Details are from the following.World's Most Expensive Places to Have Sex: Environmental News Blog | Environmental Graffiti

Cheap Condoms, Expensive Condoms: Condomunity

This is the graph showing the average price of condoms. The graph itself is in the shape of a condom.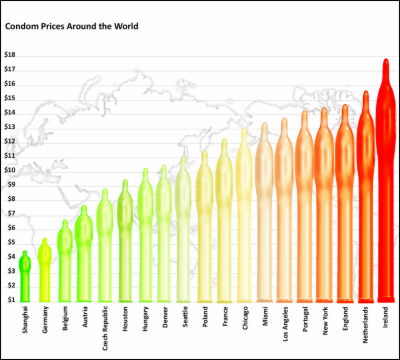 Specific numerical values ​​are as follows.

Shanghai:About 4.5 dollars (about 472 yen)
Germany:Approximately $ 5.5 (about 576 yen)
Belgium:About 6.9 dollars (about 723 yen)
Austria:About 7.8 dollars (about 817 yen)
Czech Republic:About 9 dollars (about 943 yen)
Houston:About 9.7 dollars (about 1016 yen)
Hungary:About 10 dollars (about 1047 yen)
Denver:About 10.8 dollars (about 1132 yen)
Seattle:Approximately $ 11.2 (about 1174 yen)
Poland:Approximately $ 11.8 (approx. 1236 yen)
France:Approximately $ 12.4 (about 1299 yen)
Chicago:Approximately $ 13.2 (about 1383 yen)
Miami:Approximately $ 13.3 (about 1393 yen)
Los Angeles:About 14 dollars (about 1467 yen)
Portugal:About 14.3 dollars (about 1498 yen)
New York:About 14.8 dollars (about 1551 yen)
England:About 15.1 dollars (about 1582 yen)
Netherlands:About 15.3 dollars (about 1603 yen)
Ireland:About 18 dollars (about 1886 yen)

It is not in this graph, but Japan may be rather expensive.
in Note, Posted by darkhorse_log