Blog part "FoxMeter" that can check the visitor's transition status of Firefox 3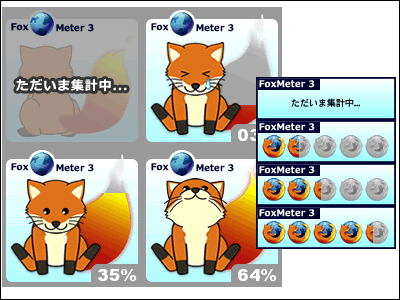 Free access analysis which understands the satellite picture of the other building "Nakano-san"(As of June 2008, 64 thousand sites are in use), the Hit Steering Committee has released a new blog parts service FoxMeter (Fox Meter).

By installing this blog part on the site, the user who visits the siteFirefox 3You can display the transition rate to real time, depending on the transition to Firefox 3 "ForkkeiIt looks like the facial expression will change.

Details are as below.
Transition status to Firefox 3, blog parts to check the share of browser
http://nakanohito.jp/stage/foxmeter

By installing, Firefox users can calculate the usage ratio of Firefox 3, and the expression of Firefox's mascot "Fokuku" changes according to Firefox usage rate. In addition to Firefox, browsers such as IE, Safari, Opera, etc. can also investigate utilization rates for each mobile carrier, and furthermore compare own site and other site average value, and evaluate relative relative to each browser share You can also display comments.

Statistics are displayed like this.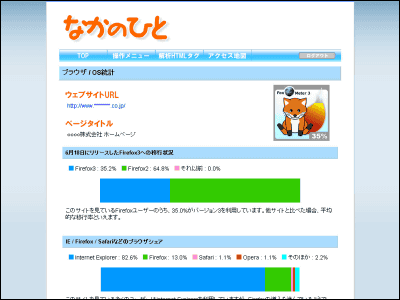 In addition, it is said that the "Foguku" versions of blog parts will be offered exclusively on 3333 sites.